[2023 Updated!] Top 5 Sharpen Image Online Solution to Help You Instantly Sharpen Pictures
In today's world where everyone is involved with apps like Instagram. We all sometimes want an easy solution to sharpen image online. But, as much as we-are exposed to tools on the Internet, it is hard to select the one that works for you.
However, there's no need to hurry, as we have researched for you. Here are the five famous tools that will help you Sharpen image online AI. Read on to find out more about it.
1.

5 Best & Free Sharpen Image Online Tools to Sharpen Your Photos Right Away

From the millions of tools available on the Internet, we have selected the best five free sharpen image online free tools for you. Here is the list.
Pinetool
Pinetool is an easy-to-use online image sharpener. The best thing about this tool is that it is extremely easy to use. The website has a simple layout that you can figure out quickly.
All you need to do is upload the image you want to sharpen, adjust it according to your liking and then press the sharpen button. After that, the tool will process your photo, and you can download the results when it is done.
Fotor
Fotor is an all-rounder image sharpener online. The best thing about this tool is that the website is pleasing to look at. Therefore, when you sit down to get your work done, it will be an aesthetically pleasing experience for you.
Other than that, if you cannot access the tool on the website when you're on the go. You can use the application on your mobile phone too. How convenient is that?
IMGonline
IMGonline is a safe online sharpen image tool that you can use with the help of your computer. All you need to do is log onto the website and upload the photo you want to sharpen and adjust to your liking.
After that, the tool will use AI to sharpen your image to the best of its capabilities. The best thing about this tool is that it's safe and secure. You do not have to worry when you upload your images on the website, as it keeps no logs. Your data will be safe and sound.
LunaPic
Luna pic is another sharpen images online tool that is easily accessible on the internet. To use it, all you have to do is set up a good internet connection and have a computer/laptop on that you can use the website. And that's pretty much it.
The website is so easy to use that you won't have to be an expert. Unlike the other complicated editing tools available on the Internet, the Luna pic tool is the easiest one you can use to sharpen your images. So, if you want to sharpen your image but you do not have a knack for technology, then this tool will be the best bet for you.
Raw Pics
Raw pics image sharpener tool will take your raw pictures and turn them into masterpieces. The tool is integrated with the best algorithm that will ensure that you get the best quality result for your photos.
And the best part about it? It is free to use. It doesn't matter if you are a professional or want to edit some holiday pictures. This tool will have your back, no matter what.
2.

Better Choice: HitPaw AI Photo Sharpener to One-click Sharpen Your Blurry Photos

Now, for those of you searching for a better choice for a sharpened image tool. We have got the perfect suggestion for you. The HitPaw Photo AI tool Is one of the best tools to enhance or sharpen your images.

HitPaw Photo AI is the best tool out there for several reasons. For example, this photo enhances your images in one click and has a system that will sharpen up your images with the help of a single click too. It's that easy!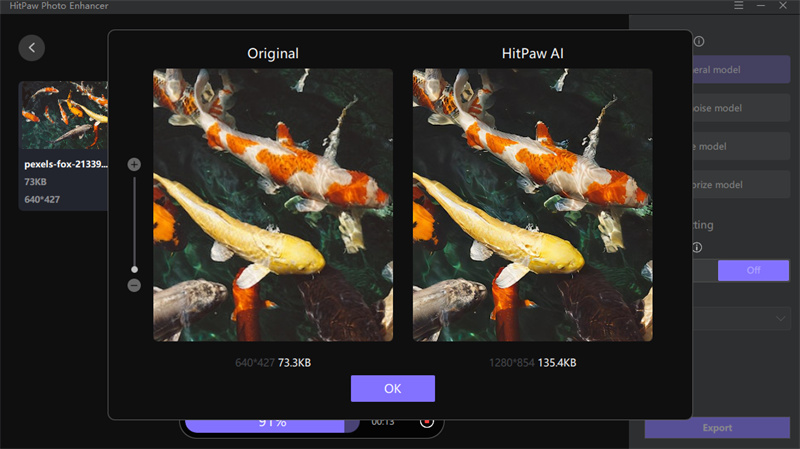 Other than that, this tool also supports batch processing. This means that you'll be able to sharpen a couple of images in one go which will help you save tons of time.
That is not all. You can also use the HitPaw Photo AI tool to customize your photo size when sharpening the images. Moreover, it is available on Android, Mac, and windows. So you'll be able to use it across all platforms without downloading multiple tools.
Free version available
Easy UI
Hassle-free work
Batch processing
Here is how you can use the HitPaw Photo AI tool to sharpen picture quality.
Step 1.Download and install the HitPaw Photo AI by the button below.

Step 2.Once you install the tool on your device, upload the image you want to sharpen.

Step 3.Now, you will have four options to choose from. Choose the general model to sharpen your image and enhance it all together.

Step 4.You can preview the image to your satisfaction and export the image to download it into your computer.
3.

Why Should You Choose to Use a Desktop Tool Not Online?

Online tools are fairly easy to use. Mainly because you do not have to download any software on your computer. Other than that, there's no subscription required. All you have to do is access the website. But there's more to it than meets the eye. Desktop tools require a bit more effort, but they are far better than online tools for several reasons.

Pros of desktop tools:
Safe to use
Better editing options
Fast
Free of viruses
Cons of online tools:
They are unsafe to use
These tools can damage your computer through malware
Ineffective tools
Conclusion
Sharpen image online is a necessity these days. However, online tools are not the safest option out there. But you can always rely on tools like the HitPaw Photo AI tool for your work. This tool supports batch enhancing, so you can edit all your pictures with a single click. HitPaw Photo AI mobile app