Best Voice Changer for PC Free Download in 2023
An ideal voice changer for PC is a tool that can easily change your voice so that you can use it further as per your needs. Such tools are easy to use and are majorly used on PC while gaming or for marketing. With an abundance of these voice changing tools in the market, people always get confused as to which to select and use. If you are among such confused users, then this article will definitely help you. Today, we have a list of top 10 voice changing tools that you can use in 2023. Have a look.
1.

HitPaw Real-time PC Voice Changer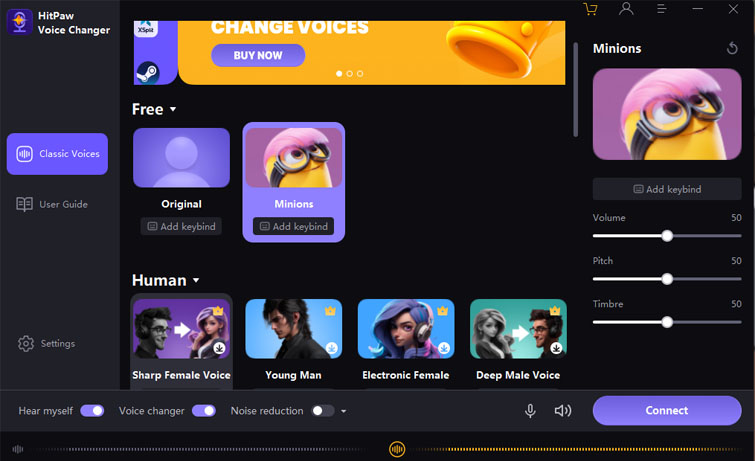 HitPaw Voice Changer is a real-time Voice Changer for online gaming, streaming platforms, and creating voiceovers for videos. It got all the features that you need in a top-notch voice changer for PC with a well-designed interface. It is compatible with all the most popular services, such as Streamlabs OBS software, Elgato Stream Deck, TikTok Live Studio, Twitch, Omegle, and Gamecaster, and works with chat, video streaming, and AR filter apps as well.
A wide range of built-in voice effects to alter the characteristics of a voice
Allow for real-time voice transformation during live conversations or calls
Adjust various parameters and effects to achieve desired voice output
Background effects to enhance the overall audio experience
Be compatible with various communication platforms and applications
Employ AI to generate more natural and realistic voice transformations
2.

Clownfish Voice Changer - Free Voice Changer for PC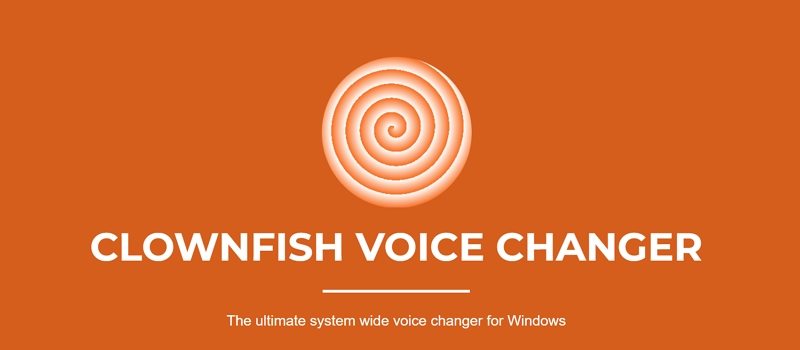 Clownfish Voice Changer is one of the best voice changer for PC options and also the most user-friendly and easiest to use. The tool offers easy methods to change voice from one style to another. In addition to this, the tool also permits users to use it on different platforms for free. This tool is an easy yet effective voice changer that is compatible with Viber, Discord, Hangouts, Steam, and different other gaming or chat apps. Once installed, the voice changer app PC works together with all apps that use a microphone, allowing users to apply voice effects such as Robot or Alien to their voice during live stream sessions or calls.
Text-to-speech support
Built-in sound player for effective audio management
Supports the VST plug-in
Beneficial audio control features and sound players
3.

MorphVOX Junior - Voice Changer for PC Free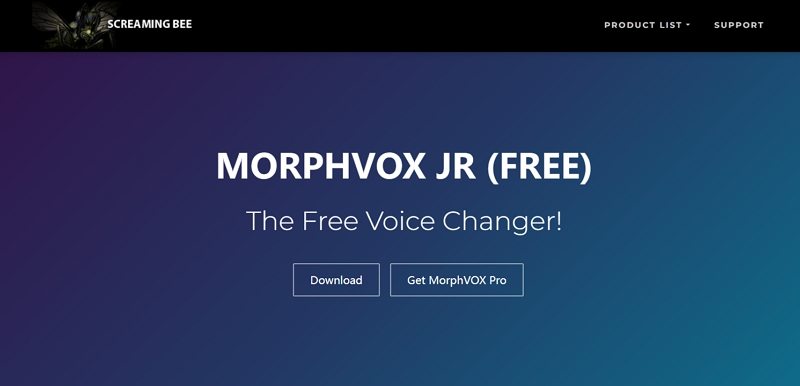 Morph Vox is another option for the best PC voice changer. The tool is well known for its advanced features. It is available as MorphVOX Junior for free and comes with the MorphVOX Pro moniker as a paid version. On the other hand, the free version might not be perfect provided the restrictions applied. For example, it only offers 3 voice options. A single female, male, and kid. Hence, for the best experience, it is suggested to use the premium version. The tool changes voice in real-time and is therefore perfect for online gaming and communication. This free voice changer for PC comes with two operating modes as well.
Provides many voice parameters to change your voice
Built-in sounds and voices available for users
Allows users to perform fine personalization of voice changing and editing
Optimal voice change effects
4.

AV Voice Changer - Professional Voice Changer PC
If you are wondering how to get a voice changer on PC, then AV Voice Changer is the next option for you to try. The tool permits users you to change every aspect of the voice and make it entirely unrecognizable to the audience. Users can sound like anything they wish for, a child, a woman, or a robot. The tool offers users with a series of voice preferences, and voice effects to select from, which actually help users generate a unique voice every time. Enhanced with the virtual audio driver tech, this voice changer for PC free immediately works well with almost all types of VoIP tools, chat applications, and role-playing games.
Voice editors
Voice recorder
Create custom sound effects
Voice and file Morpher
5.

Voxal Voice Changer - Real-time Voice Changer App for PC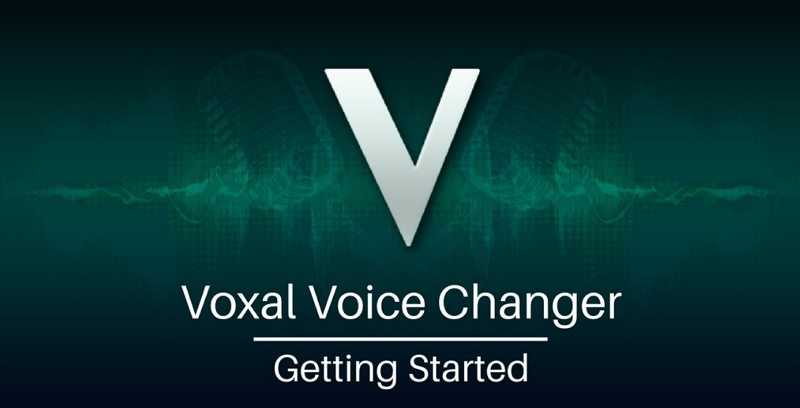 Another option for the best voice changer PC is Voxal Voice Changer. It is ideal for users looking for voice customizations. The free version of the tool offers tons of features that users can use to change their voice. It comes with tons of excellent voice presets for girls, boys, aliens, robots, and much more. Users can directly record new files or use the existing ones. Although there are tons of enhanced features to be utilized for voice changing on Skype, Discord, CS:GO, Valorant, and different other programs, users will still find this voice changer PC free pretty simple to use.
Universal settings for all apps
Tons of sound effects
Make personalized voice effects
Allows to apply effect in real-time
Low CPU usage
6.

MasqVox Voice Changer - Real-time Voice Changer Software
This contender for best free voice changer for PC is famous for its real-time voice changing feature. Users can use MasqVox Voice Changer to change voices while using Skype. The tool permits users to entirely turn the voice of a person or audio into different pitches. The UI of this tool is well-organized and clean.
Lightweight software
Comes with different voices of cartoons and other characters
Real-time voice changer
Multiple effects to change your voice
7.

SuperVoiceChanger
This free voice changer PC is a real-time sound-changing tool that offers your sound a different and unique style. SuperVoiceChanger can work with different platforms such as WhatsApp, Skype, Line app, and recorder. It is very simple to use and users will not require changing any advanced settings since everything is already and automatically set in the software.
All settings are automatically set
Changes sound or voice on its own
Can be used while chatting with others
Advanced customization features
8.

VoiceMeeter Voice Changer PC
VoiceMeeter is a voice changer free PC tool that focuses majorly on pro users. We are speaking of users who know well about audio-mixing. If you are someone who is not happy with the voice effects provided above in the list, users can use this tool and create an audio effect that best suffices your needs. Using this tool is a bit difficult and it is only recommend for users who has the technical knowledge about audio mixing tools. The intuitiveness of this free PC voice changer in making a personalized new audio effect is its most selling feature.
Free to use
Support MME, DX, KS, WDM, ASIO interfaces
Easy and fast installation
9.

Adobe Audition
The Adobe Audition voice changer PC tool takes your voice and converts it with its voice effects. With the assistance of this voice-changing tool, users can entirely alter the sound quality or even imitate someone else. Users can use it for various purposes such as voice-overs, gaming, and also podcasts. Users can add depth to their podcast with a deeper voice effect or make the environment lighter with an animated voice using this voice changer for PC.
Completely change the pitch of the audio
Automatic Pitch Correction effect adjusts the notes
Vocal Enhancer effect works on the frequency of your voice
10.

All-in-One Voice Changer for PC
All-in-One Voice Changer is a PC voice changer app that can be considered as an upgrade to Skype Voice Changer. It operates on the same principle but permits users to connect it to other IM tools such as QQ International and Yahoo Messenger. Hence, it is basically a voice changer designed particularly for online chatting. It is a perfect tool for making prank calls to your relatives and friends. It even allows users to change the voice type in between conversation to make things funnier.
Move to the right and left to adjust the voice pitch.
Preview each change to get preferred results.
Import a recorded audio and change voice
Conclusion
All in all, we just had a look at the top 10 voice changer PC free tools. Each PC voice changer will have its advantages and disadvantages. You can use any of this voice changer app for PC to change your voice and use it as per their preferences. HitPaw Voice Changer is one of the best voice modifier for PC. Apart from providing tons of exciting voice styles, its interface is also simple and easy to use.