10 Free Online Voice Changer You Can Never Miss
Voice changers, as the name suggests, are used to change voice to suffice different needs. This tools are standalone programs that need to be installed on your device in order to use them. However, most of the users prefer online voice changer. This is obvious because users do need to install a separate program or app on their device, thereby saving a lot of space. In addition to this, online voice changers are easy to use in comparison to standalone tools. This article lists the best and top options that you can use. Keep reading to know more.
1.

MyEdit - Free Online AI Voice Changer

MyEdit is a free online voice changer that is capable of making simple edits to audio using the browser. The platform allows users to change the pitch and tone of the voice. All users have to do is upload the file, make the adjustments, and download the end track. With the audio trimming feature, users can edit music easily. The AI engine speeds up the process for users and lets users restore audio tracks. In addition to this, users can easily get rid of vocals from a song to make a karaoke version of any song without needing to compromise the quality. Therefore, if users are seeking for a voice changer free online solution, then this might be it.
2.

Female to Male Voice Changer

This voice changer online free can assist users change their voice from female to male or from male to female. No download is needed to use Female to Male Voice Changer. Just add the audio clip, then tweak the voice settings as per your preferences, and then users can quickly get a voice-altered audio file. If you are happy with the tweaked audio, tap the download option to save it to your device. This girl voice changer online platform requires no registration. In addition to this, it is completely free and easy to use.
3.

VoiceChanger.io

Voicechanger.io is an online voice changer free tool. Even though the platform is only developed as a small hobby project, it provides quality output, offering you tons of sound effects to select from. Users can make a new recording with this platform or upload their own recording. Next, users need to click apply to use any of the sound effects and get a completely altered voice. Users can use this celebrity voice changer online to listen to the tweaked voice and switch to another one until they get the effect they need.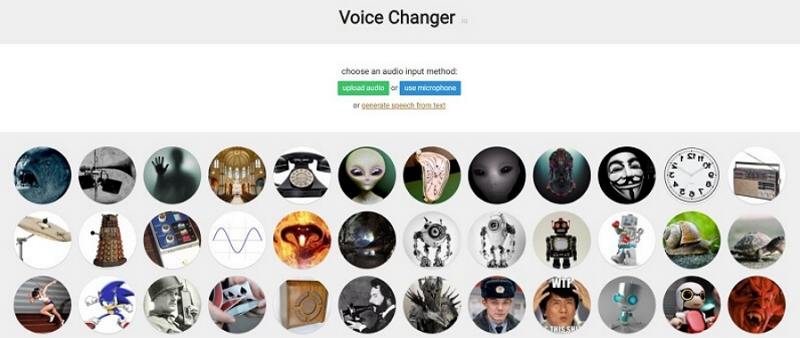 4.

Myvoicemod

Myvoicemod.com is a free voice changer online that offers over 10 sound versions to you. Although it does not have as many sound effects as different options mentioned in this list, every effect is unique and differs with each other uniquely. Users can make their voice sound robotic, evil, mysterious, or clumsy. This online free voice changer also comes with an audio recorder. If users do not have a recording, they can make a new one with it and use an effect to pull a prank on their friends or make a voiceover for their video.

5.

Voice Spice Recorder

Voice Spice is a free tool that can be used to change voice online and allows users to record their voice in man, woman, hell demon, robot, and more. In addition to this, the tool also enables users to tweak the text to speech in male or female voice automatically. Users are also let to select from more than 15 different languages. All you have to do is set the gender and language, input the text in the blank text box, and tap the Create Message option to generate female or male voice speech quickly using this online change voice tool.
6.

Free Online Voice Changer

Free Online Voice Changer is popularly used as Darth Vader voice changer online and is also one of the best online voice changer that comes with an audio recorder. It provides 11 sound effects for users to change their voice. The platform is not labeling its sound effect but the logos are well designed to make you understand easily. Users can understand the potential sound effects from the logo itself. On the other hand, the overall sound effects of this Ghostface voice changer online are plain and there are not many sound effects to offer.
7.

Text to Speech Voice Changer

This online voice changer allows users to select from different human voices to read the text aloud. Users can select a different voice profile for every line of text. In addition to this, users can convert text to speech with a single click using just the browser. Text to Speech Voice Changer is the simplest voice changer online tool to use. All you have to do is just paste or type your text, choose a voice that you wish to use, and hear your text being read aloud by the platform. The platform is very simple to use and free to use.
8.

Celebrity Voice Changer Online

Celebrity Voice changer is a real-time free online voice changer that enables users to add audio effects to their voice and sound similar to a celeb in only a few seconds. The platform is based on deep learning tech and regularly enhances to keep up with the newest AI voice trends. This voice changer free online comes with a series of features that users can use to make their content more engaging for their subscribers. All versions are free, but users can make in-app purchases if they want to use extra celebrity voices.
9.

Online Tone Generator

Apart from being one of the best noise generating site, Online Tone Generator is also a great voice changer online free tool that users can use to change voices. On the other hand, users cannot record audio using this tool, and users must use a different online website to make an audio file that they would like to change with this site. In addition to this, the Pitch Shifter feature allows users to change the pitch of an audio file by using the slider or adding a new value into the box next to the Semitones button. The process to download using this online voice changer free is a bit complicated since users have to make sure that the Save output to downloadable file option is selected. Next, play the audio file for as long as users are satisfied, and then tap on the link that is shown in the Recordings tab of the screen. All files that users edit with this tool will be saved in MP3 format.
10.

Voice Maker

This celebrity voice changer online is the last in our list. Users can combine audio effects to create their own unique voices. Users can tweak the voice settings as per their preferences and get the output easily. Voice Maker can make a new recording with this platform or upload users' own recording. This free voice changer online tool allows users to record their voice in different sound effects as well.
Bonus Tip:

Best Real-time Voice Changer to Make More Realistic Voice

Looking for a more realistic voice changer? HitPaw Voice Changer will be your best option. It utilize artificial intelligence technology to modify and alter the sound for highly realistic and natural-sounding voice. What's more? It continues to improve, offering more realistic and customizable voice transformations. Whether for entertainment, creative projects, or personal exploration, it provides an engaging and enjoyable way to experiment with different vocal styles and expressions.
Various voice effects like robot, demon, woman, man, ghostface, or anime actor
Generate high-quality voice and produce more natural-sounding results
Modify pitch, tone, rhythm to transform voice into different genders, ages, accents
Best for changing voice on online gaming, streaming, and creating voiceovers for videos
Customize various parameters and effects to achieve desired voice output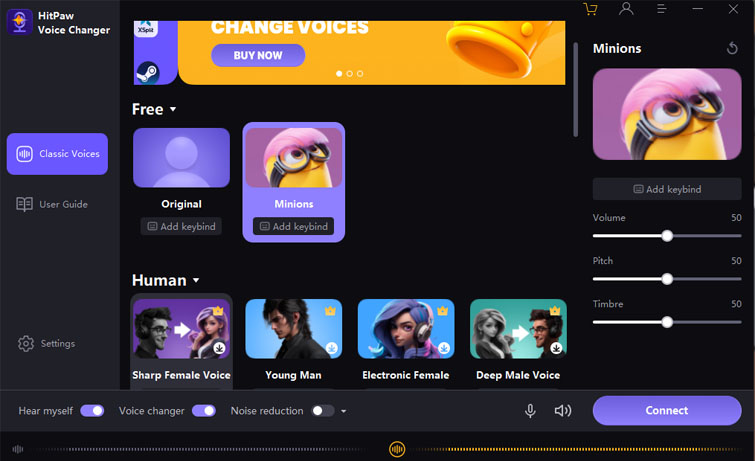 Conclusion
With that being said, we just had a look at different voice changer online that can be used by users as per their preference. All of tools mentioned above comes with sound effects that are unique from each other. HitPaw Voice Changer is most reliable voice changer for highly realistic and natural-sounding voice transformations