Top 10 Voice Changer for Discord Mac with Pros and Cons
The popularity of voice changers is increasing day by day. People all over the world are using voice changer tools to suffice their different needs such as for promotion, gaming, streaming, and sometimes prank. If you are a Mac user then this article will definitely be helpful for you since it sheds some light on some of the best options for paid and free voice changer Discord for Mac. Keep reading to know more.
Part 1.

Best Free Voice Changer Discord for Mac Recommended 2023

This section contains the top free voice changer Mac options that users can use as per their requirements. Have a look.
1. VoiceMod - Real-time Voice Changer Discord for Mac Free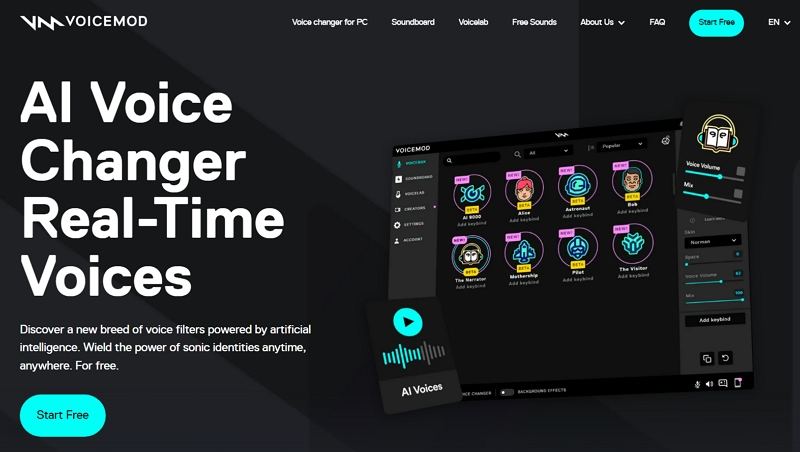 VoiceMod free voice changer for Mac is a voice modulation tool used all over the world. The tool is absolutely free and is easy to use. Users can change the pitch, change their voice, and instantly add a different voice skin. The tool has many different features and works with many gaming-centered apps.
Pros
Change local voices in MP3 and WAV
Cross-platform application
Compatible with multiple chat software
Cons
Doesn't support Zoom
Limited voice effects
2. MorphVOX Junior - Free Voice Changer Discord for Mac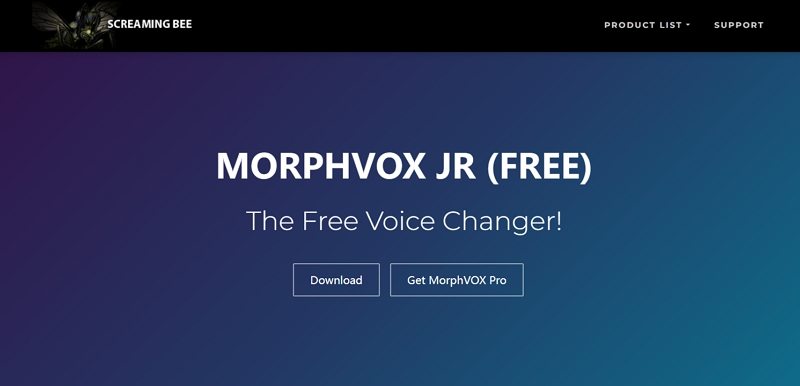 This free voice changer Mac is compatible with most Apple devices. MorphVOX Junior comes with different voice altering tools to directly apply to real-time voices. Users can change their voice completely into a personality they want or the opposite gender. It is developed for online gaming, but users add it with social apps to prank anyone.
Pros
Optimal voice change effects
Tons of built-in voices and sounds
Offers different voice parameters
Allows fine customization of voice changing and editing
Cons
Not easy to use
Mac version better than Windows version
3. Clownfish Voice Changer Mac - Free Voice Changer Mac Discord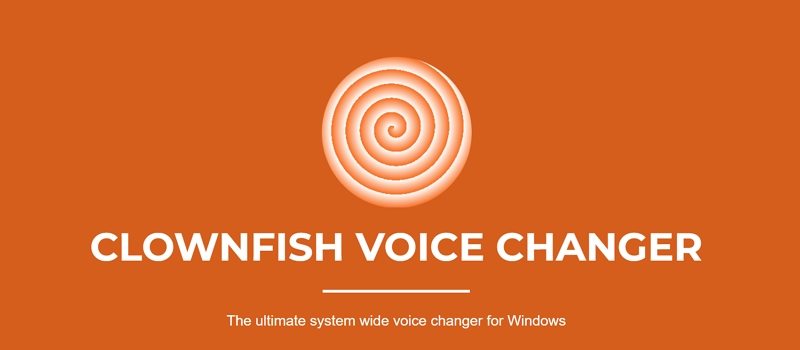 Clownfish Voice Changer Mac is a simple tool for Apple devices that users can use to alter voices. The tool can change the voices on Steam, Skype, Hangouts, Viber, Ekiga, TeamSpeak, Discord, and different other apps that uses microphone. Once the recording of a sound is done, users can apply up to 15 effects, including Atari, Alien, Robot, Radio, Male, Slice, Baby, and Female, among others. Moreover, it has a music player with enhanced playback controls.
Pros
Works with most VoIP apps
Simple to use
Advanced audio player
Cons
Some voice effects are difficult to understand
Only 15 voice effects
4. Voxal Voice Changer - Free Voice Changer Software Discord for Mac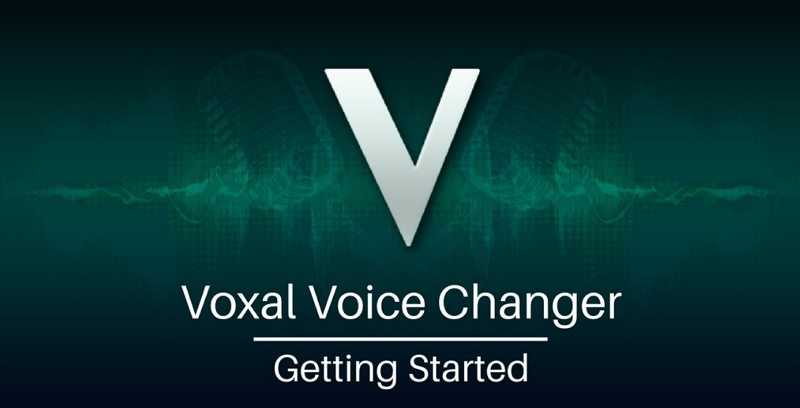 The next voice changer Mac free option is Voxal Voice Changer. The tool is a popular tool among users since it works in real-time. This indicates users do not have to record a session and then alter the output. The tool will tweak the voice as users go on speaking using the mic. The tool also works with VOIP apps. This indicates users can use it to customize or modulate their voice while streaming online games. Apart from gaming, this free Mac voice changer tool is also compatible with messaging apps.
Pros
Customize voice recording easily
Downloaded over 10 thousand
55 different voice filters
Create pictures with any sound
Cons
Does not have advanced editing options
Not a real-time voice changer
5. Voicechanger.io - Free AI Voice Changer Discord for Mac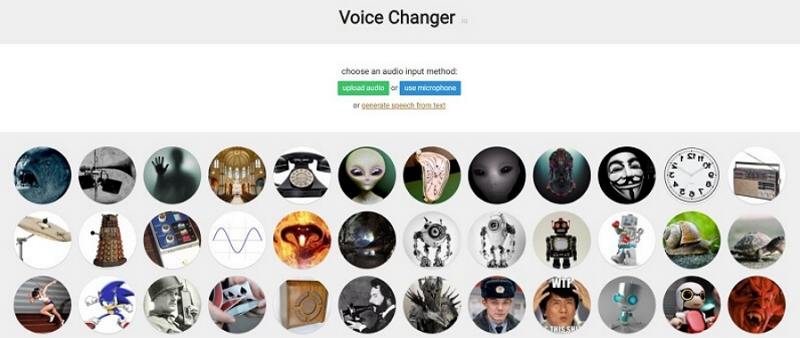 If you wish to know how to change speech voice on Mac, then Voicechanger.io can be a good option. In its current version, the tool offers limited service. On the other hand, The tool comes with captivating sound effects, including Sonic The Hedgehog, anonymous, alien, and more. The tool is helpful for making audio from text. In addition to this, the tool is entirely free and provides decent offline support. Moreover, users can download Google TTS audio format and tweak pitch speed using this voice changer for Mac Discord. On the other hand, some users noticed that the quality of downloaded recordings was not that good.
Pros
Unique voice effects
Easy to use
Tool to create custom voice
Cons
Lacks support for apps like Discord and Zoom
No real-time support
Need to upload audio for conversion
Part 2.

Best Paid Voice Changer Discord for Mac You Can Trust

This section lists the top paid Discord voice changer Mac options that users can have their hands on. Keep reading.
1. Voice Changer Plus - Voice Changers Mac Discord
Voice Changer Plus is a good voice changer Mac Discord option when it comes to paid versions. With this tool, users will get access to over 55 voice effects. The tool is fun to use that can share and save users' recordings. The tool can even play users voice in reverse. The available voice effects are Echo, Robot, Faster, Backwards, Mosquito, and Slower, among others.
Pros
Supports trimming of voices
55 voice effects
Save and share voice recordings
Cons
Unintuitive installation process
Limited free version
2. AV Voice Changer Software - Professional Discord Voice Changer for Mac
By using this Mac voice changer, users can make their voice unrecognizable to friends, family, and other audience. AV Voice Changer Software permits users to select any sound and voice that is available. Users can create a totally different and unique voice every time they use it.
Pros
Can record and edit any type of sound or voice
Can create different sound effects
Different keyboard shortcuts supported by this Voice Changer
Quality of the edited voice is good
Cons
Shows some problems with Mac
The ad pop-ups irritate a lot
3. Audio Voice Changer - Real-time Voice Changing Discord on Mac
This voice changer for Discord Mac is a paid app used to change voice effectively. Audio Voice Changer works well with all Mac devices and provides real-time voice changing features with different unique voices and effects. The app is preferred by many users, thanks to its privacy settings. The app offers different options to users for changing voice in real-time. The latest updates of the app makes it compatible with Apple Intel and Silicon devices. Users can get hold of this tool with a price tag of $4.99.
Pros
Option to record the audio and edit it later
High-quality customization and voice changing options
Good customer support that helps solve any problem
Different types of sounds, including robot, female, lazy, and mouse, among others
Cons
The tool is not very advanced and can only handle basic voice customization options
Some users claim that the tool crashes frequently and often even after downloading and installing the tool again and again
4. Voice Generator
Voice Generator is a bit unique and simple to use as well as can be effectively used to change voice. Users can easily tweak voice online with this voice changer for Mac devices and every other operating system. Users can easily upload the files and then alter the voice into the effect as per their requirement. However, users can face some problems while changing the voice in real-time. The tool provides many other features as well.
Pros
Web application is compatible with every operating system
Ability to make voice from texts
Comes with more than 34 voice-changing effects and can change voice the way users want
Cons
Real time voice changing is not that effective and users often face issues
Not too advanced to shell out money
5. Voice Changer with Effects
Voice Changer with Effects is the next voice changer Mac app that can be used for voice editing on Android devices as well. This app permits users to edit and record the voice by adding different crazy sounds and effects to the recorded voice. The tool also permits the user to make different outputs with different voices.
Pros
Supports editing and recording of voices
Easy to use
Ability to add different sounds and effects to your voice
Cons
Does not have advanced editing options
Not a real-time voice changer
Part 3.

Overall AI Voice Changer for Discord to Change Voice for Discord in Real Time

HitPaw Voice Changer is one of the best voice modifier for Discord. It allows you to modify voice in real-time during voice chats or calls on the Discord platform. You can add various effects, alter your pitch, mimic different voices, or even imitate specific characters or accents, enhancing the overall voice communication experience.
Pros
Various effects like Monster, Devil, Chipmunks, Robot, Alien
Set the keybind and switch your voice with 1 click
Support Discord, PUBG, LOL, CF, Skype, Zoom, and more
Noise Reduction to remove noise and echo while changing voices
Natural voice effects with high-quality output
Cons
It is relatively a new product in the market.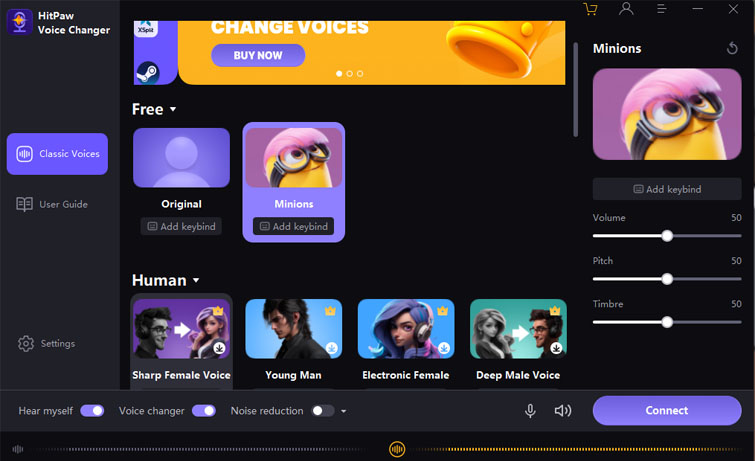 Conclusion
Having said that, we just had a look at some of the best options that users can get if they are looking for a voice changer Discord for Mac. We had a look at free and paid options that you can use to change the voice. You can free download the best voice changer Discord - HitPaw Voice Changer to get hold of the advanced features.