Best Girl Voice Changer to Sound Like Anime Girl
The best part about technology is that it can be used not only for development of mankind but also for its entertainment. Now that girl voice changer applications and platforms for example. These tools are used to change the voice of the users so that users can not only use them to suffice their professional requirements but also to prank on their friends. If you are looking for such tools, then this is the right place for you to land. We have curated a list of tools can be used as ideal girl voice changers and they are suitable for new users as well as professionals and offer great advanced features and advantages.
Part 1.

Best Girl Voice Changer for PC and Mac

This section lists some of the best voice changer girl tools that can be used on your Windows and Mac devices. Have a look.
1. HitPaw Girl Voice Changer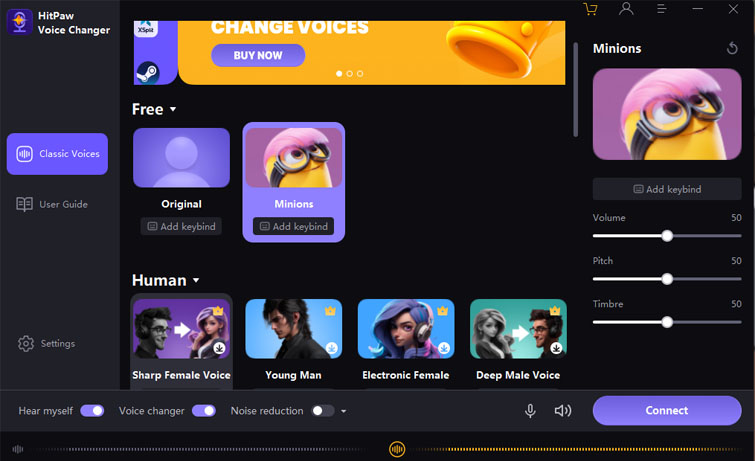 HitPaw Voice Changer is designed to to modify or convert your voice to sound like that of a female or a girl in real time. It provides a range of features and effects that can alter various aspects of the voice, including pitch, tone, timbre, and resonance. By adjusting these parameters, you can create a more realistic girl or woman voice. It is particularly popular among content creators, gamers, or individuals who want to add a feminine touch to their voice recordings or live conversations.
Change your voice to cute girl, anime girl, Lolita and more
Best girl voice changer for Discord, Fortnite and all popular platforms
AI tech to achieve highly realistic and natural-sounding voice changer
Customize pitch, speed, modulation, and effects at your will
Popular among content creators, streamers, and gamers
2. MorphVox Anime Girl Voice Changer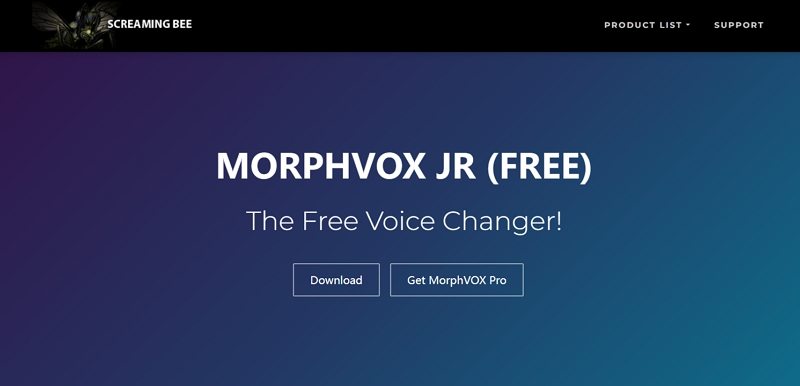 MorphVox is a real-time girl voice changer for Discord application. It is based on superior voice-learning tech that assists users change their voice in-game as well as online. The tool comes with tons of voices for users to choose from: woman to man, man to woman, the demon, man to woman in heavy traffic, and Cyborg Warrior. Unlike other voice changers in the industry, users will get high quality for the tweaked voice. In addition to this, users also get different options to change your voice with this anime girl voice changer.
MorphVox uses very less CPU bandwidth and power
The tool also permits users to change their voices
Using this tool, users can explore high-quality sound effects and voice filters
2. Girl Voice Changer for Discord
This free girl voice changer is a pretty popular option and is famous for providing users with unique voice filters. Whether users need to alter their voice in real-time or record audio, Girl Voice Changer for Discord does not disappoints, thanks to its advanced built-in features. Fortunately, the tool supports multiple online apps and can be used as a voice changer to sound like a girl in most of the online programs.
It is simple to install and does not has a complicated user interface
The tool use top-notch microphones to change many voices
The tool is flexible as users can use it in real-time for other purposes
Part 2.

Best Girl Voice Changer Online to Sound Like A Girl

This section lists some of the best girl voice changer online options that can be used on any device from just a browser. Have a look.
1. Girl voice changer
If you need something to process your audio files, then the Speechify Girl Voice Changer is one of the best girl voice changer options that you can have. The platform assists users to change their online appearance by changing the voice tone and pitch. Users can also alter their girl voice to a male voice very easily. Users can do voiceovers in a funny voice with the help of this e girl voice changer.
Speechify supports different languages, making it perfect for users who speak different languages
The platform is user-friendly and easy to use
Users can personalize the voice, speed, and other settings to suffice their requirements
2. Female Voice Generator
Veed is a free girls voice changer online platform that allows users to create powerful voiceover output. The tool comes with different useful features, such as changing the voice pitch and tone. It also provides free basic video editing features such as adding photos, especially captioning and voice to videos. This cute girl voice changer tool's collection includes free stock audio and movies that users can use.
Tons of voices and sound effect along with visuals and harmonics
Ability to change the decibel intensity of the voice-making
Has the industry's largest online content editing platform
3. LingoJam Girl Voice Changer
LingoJam Male to Female Voice Changer can be a perfect candidate for a girl voice changer for Fortnite. This free online platform allows users to transforms their voice from male to female. The major difference between a female voice and a male voice is in the pitch. Women's voice has a higher pitch. Hence, users can change their sound to a man-akin voice by elevating the pitch. This online voice changer to girl platform can be used for YouTube as well. It does not allow users to tweak the pitch by itself. If users select the higher pitch sound effect, their voice will be altered and sound like a woman. In addition to importing an audio file to edit, users can also record sound and tweak the voice.
Users can also upload their pre-recorded audio files
It is one of the best platform for making deep fake sounds
Easy for users to use it on the go
Part 3.

Best Girl Voice Changer for Android and iPhone

This section lists some of the best voice changer girl smartphone apps that can be used on Android and iOS operating system. Have a look.
1. Girl Voice Changer PRANK (Android)
This girl voice changer free app is majorly used as a Prank App. Girl Voice Changer PRANK modifies users' voice into various tone with the help of effects. The major use of this ap is to have fun by pulling a prank on your friends.
The tool smartly changes voice by adding different frequencies to the voice
Allows to apply effects, record your voice, and share them with your friends
Used to create scary voice and prank funny voice
2. Girls Voice Changer (iOS)
Another girl voice changer application that you might need is Girls Voice Changer (iOS). Users can record their voice using this app and listen for themselves how they sound in a girls voice. The app does nothing but just this.
Record your voice and apply effects of your choice
Instantly hear the modified voice
Save or Share with friends and family
Conclusion
With that being said, we just had a look at different programs, apps, online platforms, and tools that can be used as an ideal girl voice changer to be used on Windows, Mac, online, and smartphones.These tools are excellent options that can record your voice more efficiently and clearly, which you can use for fun during any live stream or show. We suggest using HitPaw Voice Changer for PC and Mac as it are more suitable for new users and offer great advanced features and advantages.