Best Real-time Voice Changer for Zoom to Make Your Voice Special
More and more people started using Zoom to conduct remote meetings. However, sometimes noise from different elements and background sound issues hinders the user experience. And for this reason, many of them use a voice changer for Zoom to improve the users experience and voice quality. If you too are looking for such a tool, this article will help you get it.
Part 1. Best Voice Changer for Zoom to Make Your Voice Special and Funny
HitPaw Voice Changer is the best Zoom voice changer software available at your disposal right now. The tool comes with helpful features and tons of sound effects. You can instantly change your voice during the meeting as well as in different apps while you play games, live stream, or chat. You will be able to have an amazing online experience on Zoom as well as on Discord and Fortnite, among others.
Change voice in real-time with different voice effect
Compatible with all popular meeting tools such as Zoom and popular games
Acts as a perfect tool to change voice for meetings, gameplay, live streaming, and other chores
Easily remove noise and echo while changing voices
Easy to use and high-quality output
Follow the below steps to know how to change voice in real time on Zoom with this best voice changer for Zoom.
Step 1:Begin by downloading and installing HitPaw on your device. Go to Settings section and tap the drop-down to select the output and input you are using.

Step 2:Choose the effects you prefer and speak into your microphone and adjust the microphone position as per your preference. You might require to adjust your microphone if needed.

Step 3:Open Zoom and at the top right click the Settings option. After the settings window appears, click the Audio tab.

Step 4:For Microphone, choose Microphone (HitPaw Virtual Audio Device) as input device. Uncheck Automatically adjust volume option. After that, you can easily change the voice in real-time in Zoom.
Part 2. Best Zoom Voice Changer Apps for Android and iPhone
This section talks about different apps that can be used to change voice in Zoom meeting. Keep reading.
1. Voice Changer with Effects
Voice changer with Effects is one of the popular voice changer for Zoom app that comes with 40+ voice filters to make voice changing enjoyable and fun. Whether it is a prolonged husky robot voice, a raspy zombie voice, a seductive woman, or a cute baby's voice, the app can suffice your needs.
Features
Generate voice from the text
40+ voice filters
1.3M+ Downloads with the Rate of 4.3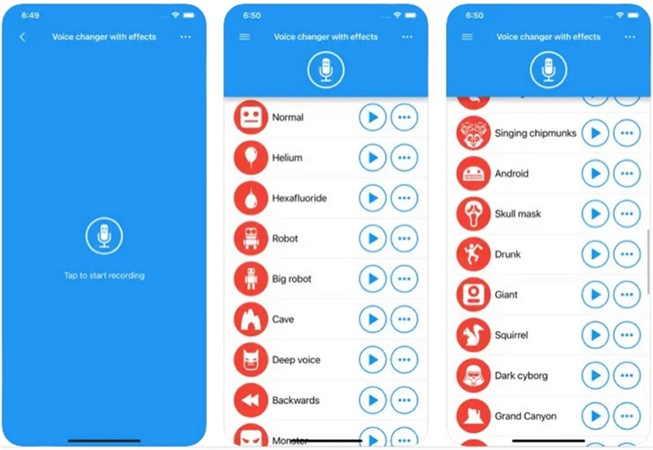 2. Voice Changer Plus
Voice Changer Plus is another Zoom voice changer app for mobile users that can be used on online Zoom calls. It is compatible with the Zoom and comes with tons of interesting voices and sound effects. Users can select their preferred option and alter the voice sound during zoom calls. The app comes with a simple recording feature, making it easy to save the altered voice effect for additional use.
Features
55+ voice and background effects are present
Strong Voiceover feature
Choose specific photos for sharing
Ability to add additional effect to files post recording
Part 3. Best Online Zoom Voice Changer for Video Calls
This section talks about the online voice changer Zoom platforms that users can use. Keep reading.
1. Voice.ai
Voice.ai is best for people who does not wish to install a separate voice generator and waste time and storage on their PC. Can you change your voice on Zoom using this tool. Well, this online tool works with different applications such as Zoom and is also a voice clone tool, thereby helping you to import your voice and make it sound like any character's voice. The mixture of 15 million unique speakers used to design this platform is what makes it stand out.
Features
Change your voice in real time on multiple streams
Create the voiceovers in a few clicks
Supports voice cloning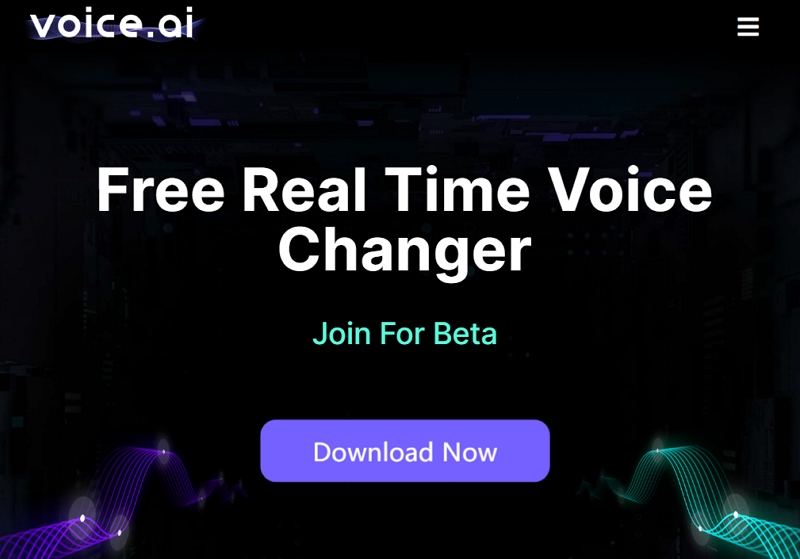 2. Speechify Voice changer
Speechify allows users to change voice in Zoom meeting as well as works with different applications too. In addition to this, users can install the chrome extension of the platform and explore the TTS feature for free. Users can also alter the accent and language of the voiceover on the platform. Also, they can increase or slow down the reading speed easily. The platform presently offers text to speech natural voices in more than 30+ languages across different accents.
Features
Supports 30+ languages
Compatible with many modern games
It has many sound effects to download
Frequently Asked Questions on Voice Changer for Zoom
Q1. Can you use a voice changer on Zoom?
A1. Yes. Users can use any voice changer on Zoom. We suggest you to use HitPaw Voice Changer since it is the best Zoom voice changer software available right now.
Q2. Does Clownfish work on Zoom?
A2. Yes. Clownfish is compatible with Zoom. It works well with Zoom and many others chatting apps like Discord, Viber, Steam, and so on.
Q3. Does Zoom have a voice filter?
A3. Nope. Unfortunately, Zoom does not have its own voice filter.
Conclusion
All in all, we just had a look at the best voice changer for Zoom. HitPaw Voice Changer can be used to instantly change your voice during the meeting. The tool serves as a great voice changer for different operating systems and does more than that. With this tool, users get an amazing online experience on Zoom.