How to Use My Heritage Photo Enhancer for Free Online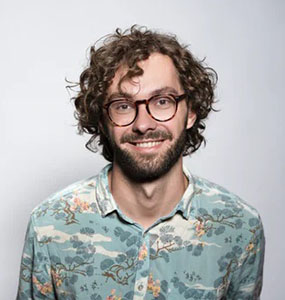 Are you looking for a quick and a hassle-free method to enhance the looks of your old photos? Then you should take a look at MyHeritage Photo Enhancer. Let's learn what My Heritage photo enhancer app is all about. Then you can decide whether you are going to use it or not.
One of the best things about this photo enhancing app is that its functionality is based upon deep learning technology. This is a licensed technology owned by MyHeritage. The deep learning technology can effectively upscale photos and enhance the overall resolution. This will eventually help you to end up with getting exceptional results out of the historical photos you have. It is also important to keep in mind that this photo enhancing app can deliver the best results for photos containing multiple people.
This app will automatically enhance all photos and there aren't any manual operations involved in it. Hence, any person who has low-quality and blurred photos can think about using this app.
Part 1: Is MyHeritage Photo Enhancer Free to Use
You will be able to sign up with My Heritage photo enhancer free and enhance up to 10 images without making a payment. After that, you ill need to purchase a subscription to continue with enhancing the photos. People who buy the subscription will be able to enhance unlimited number of photos with the app. You have to pay $199 for the very first year. From there onwards, you will have to pay $299 per year for this app.
Part 2: How to Enhance Old Photo with MyHeritage Photo Enhancer
Let's take a quick look at the steps that you should follow when you are using My Heritage photo enhancer software. Then you just need to follow these steps and enhance your photos.
Step 01Head to the official website of MyHeritage Photo Ennhancer, and click on Upload photo to select your image.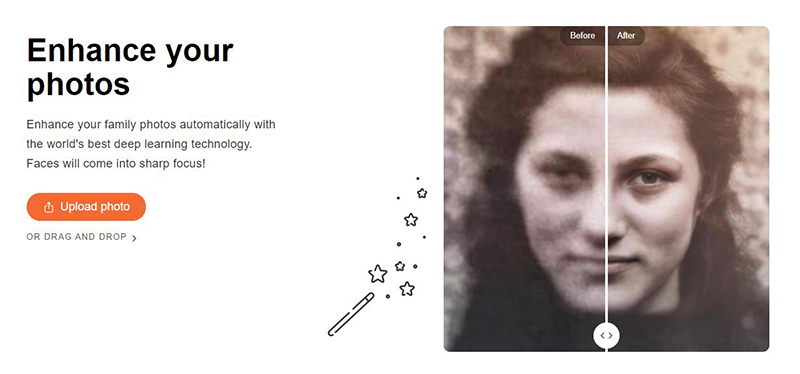 Step 02After a few seconds, you can preview the enhanced image.
Step 03Click Download photo to save the image, or share it to Twitter or Facebook. You can also upload another image for enhancement.
Part 3: MyHeritage Photo Enhancer's Review
Let's see what people say about MyHeritage photo enhancer animation app. You can get a similar experience as per one of this MyHeritage photo enhancer review.
Pros of MyHeritage photo enhancer:
It is based upon an advanced algorithm that can effectively improve the quality of images.
You can boost the sharpness of images.
You don't have to do any manual work to enhance photos.
It delivers instant results to you with enhancing photos.
You can get unlimited photo enhancement from the app.
Cons of MyHeritage photo enhancer:
The app is quite expensive to use.
You don't get a dedicated mobile app.
Interface might be challenging.
Part 4: MyHeritage Photo Enhancer Alternative to Best Upscale Image
As you can see, My Heritage photo enhancer app is quite effective and easy to use. However, it is quite expensive. That's where you can look for a My Heritage Photo Enhancer alternative. The best alternative app that we can recommend to you is HitPaw Photo Enhancer.
HitPaw Photo Enhancer is an app that will help you to enhance the resolution and quality of images. Regardless of the nature of photo you have, it is possible to proceed with enhancing its quality with the help of this app. It will make sure that no quality loss would take place for the photo.
Along with HitPaw Photo Enhancer, you can get automatic photo enhancement. Hence, you will not have to do any manual work to enhance the photos. This provides an effortless photo enhancing experience to you. The upscale present in HitPaw Photo Enhancer is based upon an AI algorithm. That's why you can expect to receive effective results with photo enhancing. You can also preview the photos and compare the difference in quality.
Steps of Upscaling Images in HitPaw Photo Enhancer
There are three main steps to follow when you are enhancing an image with the help of HitPaw Photo Enhancer. Here's a detailed overview of the three steps.
Step 02Once you are done with installation, you can launch the application. As soon as you launch the application, you can see its main interface. This is where you can drag and drop an image for enhancing.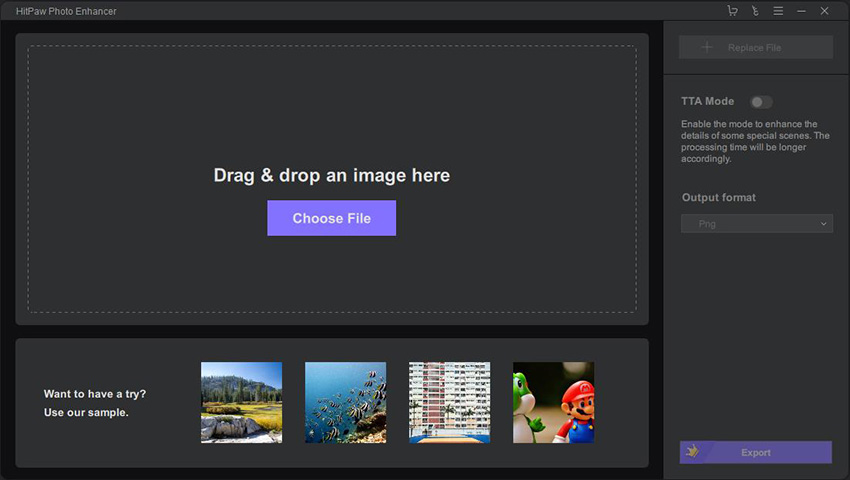 Step 04Click on preview and see whether you got the required result.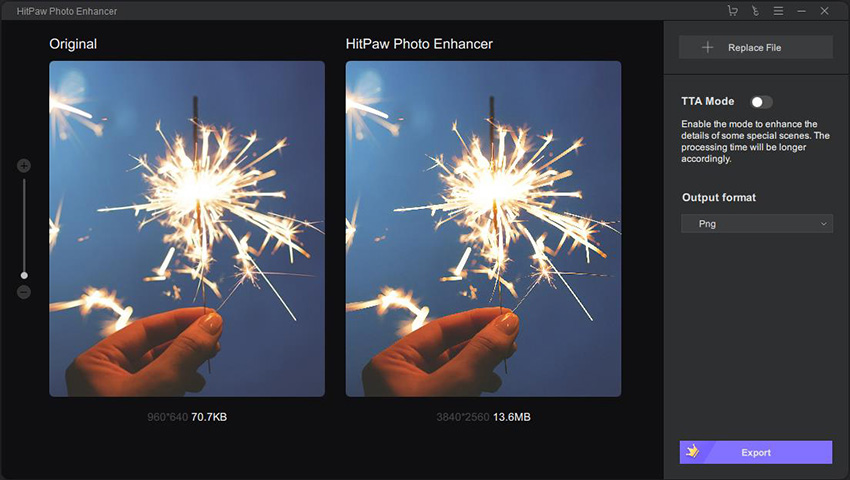 Step 05Then export the upscaled image.
Conclusion
We are living in era where we can use technology to enhance old photos or blurry photos. One of the best tools available to do it would be photo enhancer MyHeritage. However, it can be quite expensive for some people. That's where you can think about using an alternative such as HitPaw Photo Enhancer. You will fall in love with the results offered by HitPaw as well.