10 Best Photo Enhancer Apps for Android/iPhone/Windows/Mac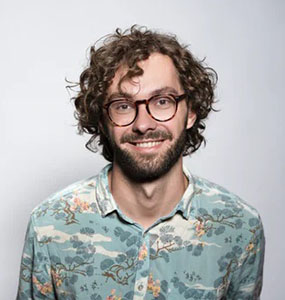 This tutorial aims to walk you through a curated list of the most efficient and user-friendly photo enhancer app for Android, iPhone, Windows, and Mac users.  
No matter how good you're at photography, a photo can be blurry, not clear enough, or worse, damaged. Luckily, the internet is awash with tools that help you enhance a photo in just a few seconds but not all apps are worth your time and money.
To help you out, we present you with the best free photo enhancer app to improve your image quality on Android and iOS devices as well as desktop.
Video Guide - Free Top 3 Photo Enhancer APP on Android [Newest 2023]
Here's a video telling you the best 3 photo enhancer app on Android in detail. Come & check it out.
Part 2: 3 Best Photo Enhancer App for Android
Here are the most popular enhancer apps for Android devices. Read on to learn which tool best suits your requirements.
HitPaw Photo AI is such an excellent all-in-one photo enhancer that you shouldn't miss. It equips with 4 functions that can immediately help you to fix your photo problems.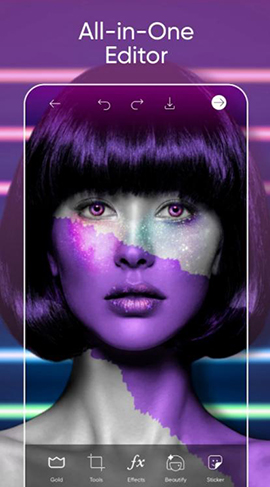 Repair face details for its perfection
One click to remove the blemish and wrinkle
Fix and colorize old photo
Animate your photo or make it 3D style
If you just to want to get a perfect profile photo, you can use its one-click beautify function to get a perfect skin condition, removing the annoying wrinkles or blemishes from your face.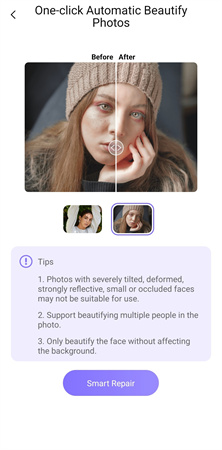 The stylization function is also perfect to show yourself. It provides ability to turn your photo into Japanese style, hand-painted style or 3D style works.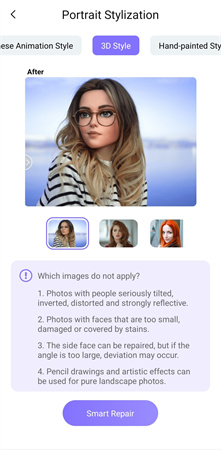 PicsArt is a one-stop photo editor and collage maker that also allows you to enhance the photos effortlessly. With just one tap, users can clean up pics and remove unwanted objects from them. Plus, you can replace or remove the background and apply tons of aesthetic filters.
What makes it the best photo enhancer app Android is the millions of free PicsArt stickers.
The name Adobe Lightroom needs no introduction in the world of photo editors. It is a powerful application that comes loaded with plenty of advanced tools for improving and enhancing your images with a few clicks. This powerful photo editing software is known by many as it has always been one of the standard in this industry. 
With this tool, you have got access to ready-made presets that automatically enhance your photos. Expect some time in getting acquainted with its interface.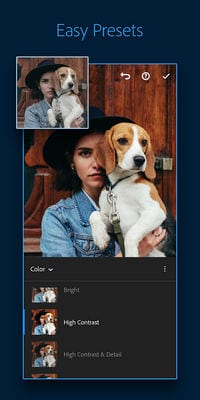 Having over 100 million installs, it is ranked amongst the best photo enhancer app for Android. Users can import JPG and RAW files and apply dozens of amazing filters to enhance the visuals. What's more, you can customize these filters with precise control as needed. It is a professional photo enhancer which provides tons of features to make your images look better.
Its powerful photo editing features are undeniable, but it is so professional that it is not easy to use. If you are a novice, you will need to watch many tutorials before you can use it. Also, this photo enhancer app is not free.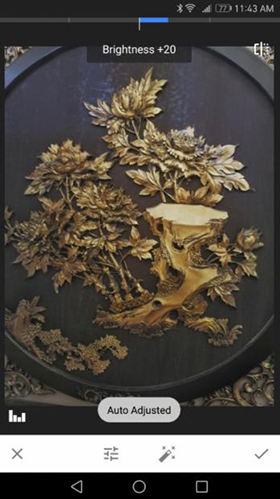 Part 3: 2 Best Photo Enhancer App for iPhone
This section will introduce you to the best photo enhancer app iPhone to help you beautify your images easily.
Remini uses advanced, movie-grade AI tech to turn your old, blurry, and/or damaged photos into clear form with just one tap. You can also enhance your daily photos and selfies into HD output and share them directly on social media.
What's best is you get to see before and after comparison to evaluate the results before saving the project. This iPhone app photo enhancer is free to use but offers in-app purchases to access all the features.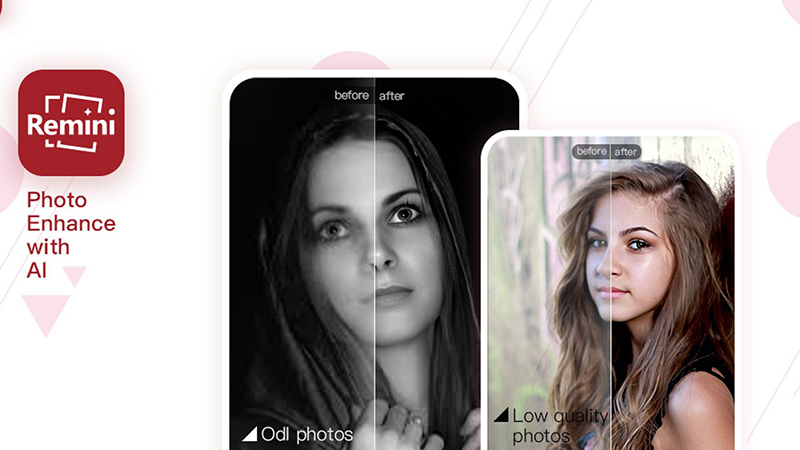 EnhanceFox has been in the market for quite some time and has won user confidence as the best iPhone app for photo face enhancer. Without much trouble, users can clear a blurry picture using AI generation technology.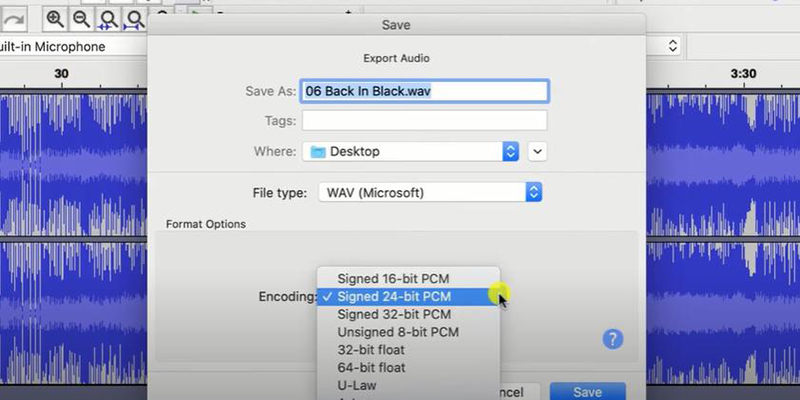 Part 4: 3 Best Photo Enhancer App for Windows 8/10/11
If you're a Windows user, the below photo enhancer app Windows desktop could help you enhance your photos without any hassles.
When it comes to the best and most comprehensive photo enhancer app Windows 10, HitPaw Photo AI stands apart.
Using advanced AI technology, it automatically adjusts the saturation, contrast, and brightness of your photo as well as makes it more clear to give the best possible visuals. Unlike its competitors, HitPaw is very easy to use and also allows users to preview the effect before saving the photo. hitpaw frequently updates its features, and this version has an AI feature that can fix most of the images, and the speed is greatly improved.
Note: It is recommended that there should not be too many faces in the picture.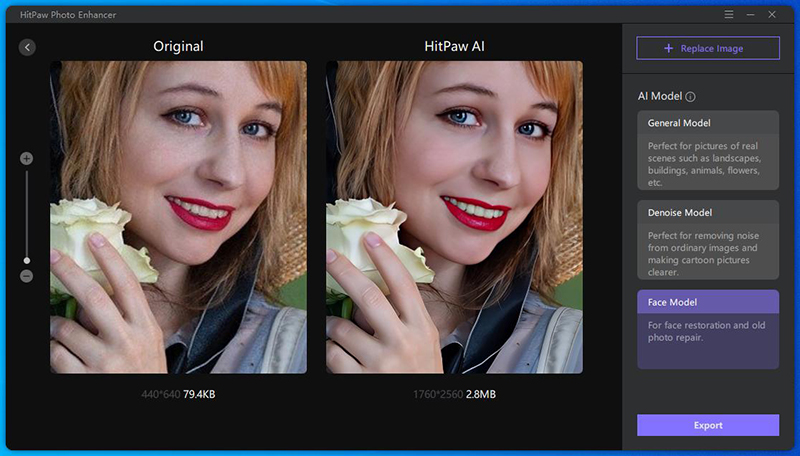 This photo enhancer app Microsoft store is available for free for every Windows user out there. Don't get confused by its simple interface, it offers all the basic photo enhancing features that enable you to improve your blurry photos rather instantly.  
You get to see all the editing features on the quick tab that you can apply in a jiffy.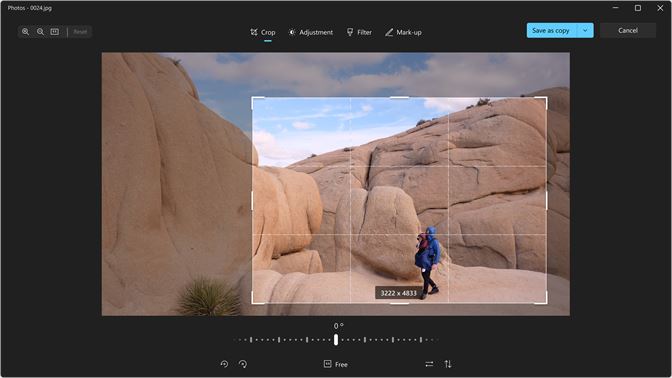 If you're looking for a top-ranked photo enhancer app for Windows 8, then HTC Photo Enhancer is your perfect choice. It offers a built-in library of stunning filters and effects to beautify your blurred or old photos.
If you don't want to go through manual editing, simply hit on the auto-enhance function after uploading the photo to let the program correct it automatically.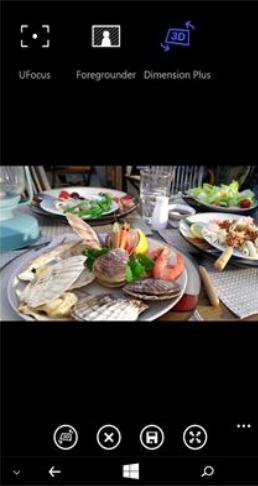 Part 5: 2 Best Image Enhancer App for Mac
Below is a handpicked list of the best Mac photo enhancer app that anyone can use regardless of their skill levels.
Fotor is a photo background enhancer app online that enables Mac users to improve photos quite easily. The best thing about this tool is its simple and intuitive interface so that even first-time users don't face any issues in editing photos.
All you need to do is drag and drop the images and start editing right away without any log-in requirements.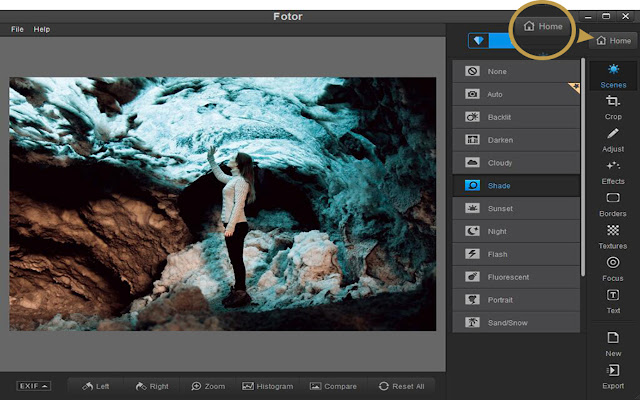 Launched recently, GIMP has already become one of the best free photo enhancer/editor app for Mac. Users can open multiple images at once and enhance them with ease.
Aside from that, you can convert images into different formats as well as export the edited images to JPEG, PNG, GIF, TIFF, and more file formats.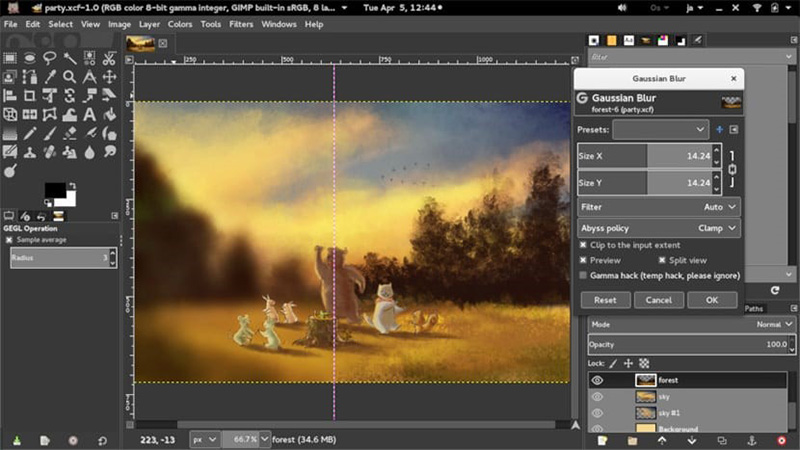 Part 6: Pick Up the Best Photo Resolution Enhancer for Your Device
Now that you know the basic interface of all the photo enhancer tools, it's time to decide which tool is best for you.
Honestly speaking, the best tool is the one that meets your individual preferences and requirements. But when compared in terms of efficiency, user-friendliness, impeccable features, and cost, then HitPaw Photo AI stands apart from the rest of the players.
With a monthly subscription for just $8.99 and 24/7 customer support, HitPaw is your best bargain without any second thought. What sets it apart from other tools in the list is its advanced "AI Models" for enhancing different types of images.
No wonder, HitPaw is a go-to auto photo enhancer app for both beginners and professional users. Use it once and you won't be disappointed – that's for sure.  
But if you're a Mac users, you can choose GIMP to enhance images. If you want to enhance images online for free, you can select Fotor or MyHeritage as you desire.
Conclusion
Many a times you have no option but to clear a blurry, cloudy, or damaged photo. This article shows that enhancing a photo is no longer a tech-savvy procedure as long as you're using the right photo resolution enhancer app.
You can rely on any of the aforementioned applications to improve the quality of a photo but as long as our recommendation goes, install HitPaw Photo AI to get the best outcome. With the stellar features it offers at such a friendly price, HitPaw Photo AI is definitely your ideal choice to never let blurriness ruin your favorite photos.
Feel free to ask any questions.