[Top Pick] BEST 9 Photo Sharpeners in 2023 for Windows/Mac/Mobile
With the development of dedicated photo sharpening software, the process of improving the quality of photo has become much smoother and easier. Here're 9 photo sharpeners for you to effortlessly make your pictures crystal clear.
1.

9 Highly Recommended and Popular Photo Sharpening Software

"Photo sharpening" refers to the processes of dehazing, enhancing details, and removing blur from photographs. This fundamental process is familiar to any photographer. Sharpening software is typically used to fix out-of-focus photos and correct other issues like motion blur and camera shake.

In this article, I will tell you about the 9 best photo sharpening software available so that you can easily sharpen digital photographs.
HitPaw Photo Enhancer
If you want to improve the quality of your videos, HitPaw Photo Enhancer AI is what you need. Using three distinct models—the Denoise Model, the Animation Model, and the Face Model — it employs artificial intelligence technology to significantly enhance the quality of the videos. We highly recommend HitPaw Photo Enhancer to sharpen and make clear your photo.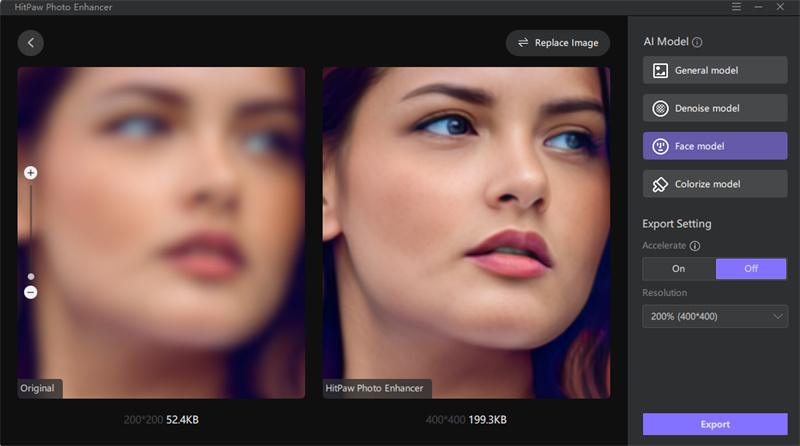 AI one-click enhance
Support batch sharpening
Customize your photo size
Available on Win/Mac/Android
Here learn how to use HitPaw Photo Enhancer to quickly and easily improve individual photos or an entire batch at once.
Step 1. Download and Install by the button below

Step 2.Upload the actual photo

Step 3.Choose a model of AI

Step 4.Preview the effect and export if you're satisfied with the photo
Luminar
This image-sharpening software is recommended for installation because it provides a wide variety of fascinating filters and effects. Luminar offers multiple sharpening tools and three methods for enhancing digital photographs.
PhotoScape
PhotoScape is a free photo-editing software that can improve the sharpness of your images. It's easy to use and may be adjusted for different purposes by both experts and amateurs. You have control over the sharpening radius (from 0.1 to 0.8) and the amount of sharpening (from 10% to 500%).
Blurity
It is the best photo sharpening software for amateurs who need to quickly remove all types of blur (motion and focus blur). Blurity employs deconvolution technology to recover images with severe blur and make text readable.
VanceAI
By using cutting-edge AI technologies, VanceAI Image Sharpening software quickly and easily sharpens your photos with just a few mouse clicks. It has options for sharpening, detailing, and blur correction.
AI Image Sharpener
AI Image Sharpener is a tool designed with AI in mind. You can use it to precisely improve photo edges and increase sharpness for a good appearance. Many users use this online tool to improve image clarity and crispness, increase brightness, and achieve greater precision.
Focus Magic
Focus Magic is a picture-sharpening app that effectively handles blur by utilizing expert forensic strength deconvolution technology. It is used on images that are out-of-focus, blurry, or old. It effectively corrects motion blur and camera shake.
GIMP
GIMP is a free, open-source program for image editing and color correction that includes a comprehensive variety of tools and photoshopping portraiture advice. You can also edit text, use masks and layers, create and apply effects, etc.
inPixio Photo Focus
InPixio has long been marked as the go-to digital photography software for PCs running Windows. You may enhance the clarity of your high-resolution photos with the help of InPixio Photo Focus, a program designed specifically for that purpose.
2.

Try Photo Sharpener on Your Mobile & Easily Sharpen Your Photo Everywhere

A photo sharpener only takes a few seconds to restore clarity to blurry photos and images. There's no need for special skills or human activity, as everything happens automatically. To easily sharpen your photos anywhere, try using HitPaw Photo Sharpener on your mobile device.

In just a few simple clicks, you can make your selfies more attractive, fix any blurriness in your photos, improve the quality of your existing ones, add color to black and white images, and much more with the help of the best Al technology.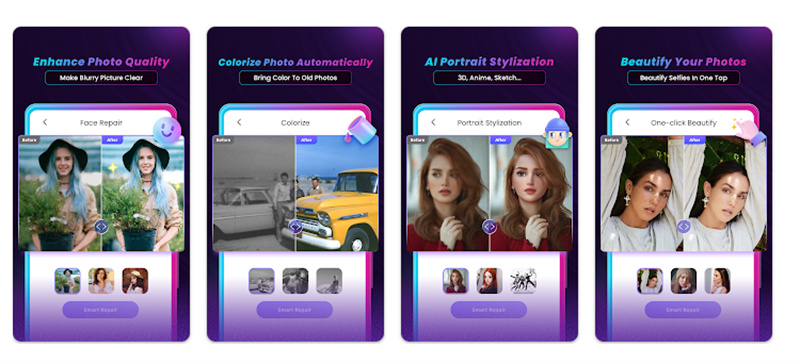 Safety starts with knowing how developers collect and share your data. Data privacy and security vary by use, region, and age. Developer information may change.
Face repair to one-click beautify for your portrait
Colorize your black & white photos
Animate your photo to 3D style, Japanese anime style
Price: Starts from $6.99
Platform: Android, and iOS are coming
Conclusion
Picture sharpening software improves visual quality greatly, but the appearance of artifacts is almost certainly unavoidable. Fix blurry, pixelated, and damaged images. With HitPaw Photo Enhancer , ad-free AI image optimization, improvement, resolution, and blur removal, even the blurriest photos may be brought back to life in a few seconds.