Top 9 AI Image Sharpening Free Tools
People often mention how we are spoiled by choice these days. There are options for everything. You can find hundreds of applications for AI image sharpening. But, when there are so many options available at your fingertips, it can become a bit overwhelming to select the right tool.
But do not worry. This article will explore everything about AI image sharpener and more. Read on to explore more about it.
1.

BEST AI Image Sharpener for Your Desktop and Mobile Devices to Upscale the Images

Whenever people talk about the best AI image sharpening tool, there's one name that makes it to each and every list. It's the HitPaw Photo Enhancer tool. And the reason why it's one of the top choices in every list is because of its amazing features.
One of the best things about the stool is that it can enhance pictures with one click. How amazing is that? All you need to do is press one button, and your job will be done.
Other than that, it can also perform other tasks like blurring and removing noise from pictures. You can also enhance your photos in a batch. Therefore, if you are a professional working in the media for me, this feature can save you tons of time.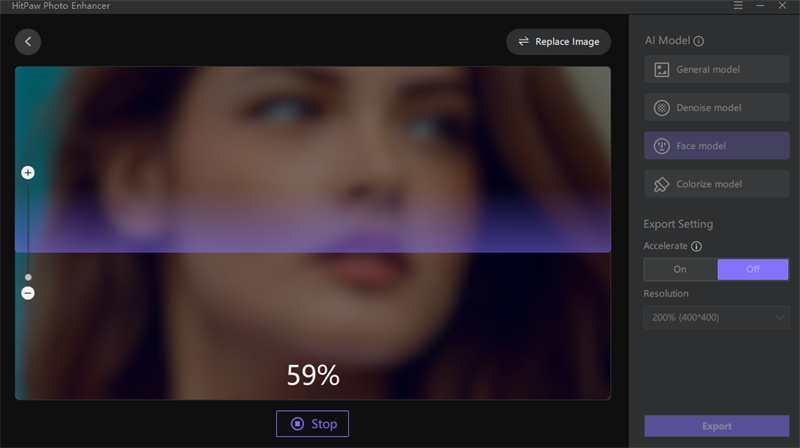 Let's look at some of the pros of the HitPaw Photo Enhancer tool.
Enhances pictures in one click
4 different types of AI models are available
The user interface of HitPaw Screen Recorder is simple to use.
Easy-to-use interface for ai image sharpener

Now that you're convinced about the credibility of this tool let's look at how you can use the HitPaw Photo Enhancer as an image sharpener AI.
Step 1.Download the photo enhancer tool from the button below, install it on your computer and launch it

Step 2.Now, from your screen - click on "choose images" to upload the picture you want to enhance. You can also drag and drop an image from your computer to make the process easier.

Step 3.Once you have selected the image that you want to enhance, you need to choose the AI model that you need to apply to that picture.

Step 4.Once you apply the model, take a look at the final result and see if there are any adjustments that you want to make. Once you are satisfied with the result, click on export to finish.
HitPaw Photo Enhancer for Android
We understand that you may not have access to a computer every time. For those times, you can use the HitPaw Photo Enhancer tool for android.
You can use it for different features like face repair, colorization of photos, and animation of photos. You can even use the tool to create a Japanese anime of your photo. Other than that, if you are a selfie lover, you can also use this tool to beautify your selfies with one click.
2.

Top 7 Popular & Free Websites for AI Image Sharpening Online

In case you don't want to download an AI image sharpening free tool. Here is a list of the top five popular and free websites to sharpen your images online.

All you need to do is log onto the website and start your work. You won't have to wait for anything to download or a dedicated work computer. Use any device for ai image sharpener free.
VanceAI
Vance AI is a handy website that can be your go to options if you want to quickly use an image sharpener AI tool. The website has a clean interface so you won't have to scratch your head trying to understand how to use it.
Adobe Lightroom: Optimized for Photos
Savor a quick and simple method for improving image quality on the internet. AI is the technology that powers it. Any little, hazy image may be automatically made sharper, cleaner, and super HD with an image enlarger. With only one click, enlarge and sharpen images for the web and printer. Automatically improve contrast and brightness, brighten colors, and fix low light problems. Make your photo-editing process easier with only a few clicks!
Neural Love - AI Image Sharpener Free
Neural love is a diverse photo editing tool that can be used as an AI image sharpening online. The best thing about this website is that it has plenty of tools other than image sharpening. Therefore, you will be able to crop images, unblurred images and do a lot more with just one website.
AI. Image Enlarger
Lightroom is closely related to Adobe Photoshop and was created with the purpose of editing and enhancing photos. This could be the ideal program for individuals that work only with images and are interested in dealing with RAW files for picture-perfect quality, even if it doesn't have nearly as many capabilities as Photoshop.
Smartmine - Free AI Image Sharpening
Smart mine is an ai image sharpening online free website that you can use if you want to sharpen an image online and you don't have the time to download and install a tool on your computer.
The best thing about this website is that it is fairly easy to use for everyone. This means that anyone can use this website without any prior training. Therefore, if you're at home and you want to edit a few pictures. You can just log onto this ai image sharpening online and get the job done.
Fotor - Free Image Sharpener AI
Footer is an ai image sharpening online free tool that you can use to edit your images without having to download any software on your computer. This website is best for people who do not have any space on the computer. Or if you are out somewhere and you do not have your computer with you, you can always use Fotor to get the job done.
Imglarger - Free AI Photo Sharpening
Imglarger is hands down the best online website for editing images. It has so many features that you will spend the whole day trying them.
Other than that, the user interface is also very easy to use. And the best part is that you can even use this tool for professional purposes to save yourself from the hassle of installing heavy software on your devices.
Although, online photo enhancer websites are great to use. They are not the best option for you because of the number of reasons. Example, online photo enhancer websites can often be used for cyber security threats.
Other than that, they can also cause malware and virus transfer to your computer. Therefore, it is always best to use a reliable photo enhancer tool like HitPaw to ensure your safety.
Conclusion
AI image sharpening tools are readily available over the Internet these days. However, not every tool is up to the mark. For example, some online photo enhancer websites have security threats. Therefore, you should opt for safer options like the HitPaw Photo Enhancer tool.