[Top List] Best Free & Paid 10 Photo Sharpening APPs List
Blurry pictures can often be irritating and annoying, they can also look your pictures look less appealing and attractive. In this article you can find the best Free and Paid photo sharpening app for sharpening your images and removing blurry areas, making sure that you get your desired results.
1.

[Editor Selected] 10 Most Popular Photo Sharpening APPs for Android/iOS

There are multiple Android/iOS app that sharpens photos tiktok, efficiently and easily. Here are, 10 of the most popular and powerful Android/iOS app for sharpening blurry photos:
HitPaw Photo AI (Platform: Android and iOS)
One of the best app for sharpening photos is the HitPaw Photo AI, which can easily sharpen your images, it can also colorize black and white images, animate photos to 3D or Japanese animation style and more with only one click.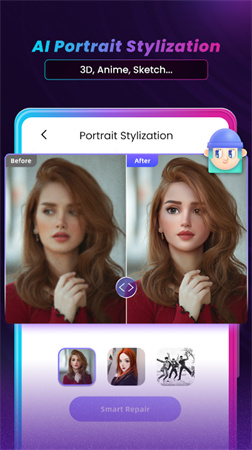 It also helps you restore damaged, blurry, and pixelated images to their original quality. With HitPaw's ad-free AI image upscaler, HitPaw Photo AI can optimize image texture details, improve photo quality, boost image resolution, and quickly correct blurry photographs.
VSCO (Platform: iOS)
VSCO can work as an app for sharpening photos is well-known for its filters, not so much as a tool for sharpening photographs, although it works well for that as well.  It is supported on iOS devices and you will need to subscribe for the VSCO X Premium subscription if you wish to utilize the app to its full capacity.
Adobe Photoshop Express (Platform: Android)
In comparison to the standard Photoshop programme, the Adobe Photoshop express is a photo sharpening app android, it is a charming application that is far more user-friendly and accessible. You won't be able to achieve the same level of precision with this app, of course, but not many applications can make that promise.
Pixlr (Platform: Android and iOS)
The PIXLR picture editor is one of the app that sharpens blurry photos, it looks quite polished. Of course, being a FREE programme, it occasionally displays pop-up ads. But if you buy the full version, you may avoid it. A wide range of tools are provided by the programme itself. These are fully tailored to satisfy the social media requirements of the current age and feature filters, overlays, etc.
Snapseed (Platform: Android and iOS)
A lot of people are talking about this newly released software. It is an app that sharpens old photos and also provides a collection of 29 special tools that enable fine-grained editing. The application is completely free and simple to use.
Fotor (Platform: Android)
The Fotor Photo Editor software is an easy-to-use software.  It has a variety of de-blurring tools that it is particularly proud of, as well as a few creative blur features like the fully customizable bokeh blurs.
Afterlight (Platform: Android and iOS)
When it comes to photo editing applications, Afterlight is another newcomer, but it can easily correct blurry photos for you. It is designed for "fast and simple" editing and includes a number of tools to assist you in improving the quality of the pictures you take with your phone.
Sharpen image (Platform: Android)
If you're searching for an app made especially for shaping photographs, you might want to have a look at the Sharpen Image app. It's a really simple tool with two sliders. One controls the pixel size (texture), while the other affects the overall sharpness.
Enhance photo quality (Platform: Android)
Despite what its name would imply, the Enhance Photo Quality software provides a wide range of image editing capabilities. This covers things like colour tweaks, frames, and filters. Of course, its photo-focusing features are the most crucial.
Prisma (Platform: Android)
The Prisma App is a really good tool. However, it doesn't provide much in the way of photo correction for blurry images. This could provide some boosting capabilities if you're trying to edit fuzzy photographs, but probably not as many as you'd want.
2.

[Bonus] Try Faster & Better Desktop Solution - AI Sharpen Your Photo on Win/Mac

Apart from all the online tools, You can try the faster and better Desktop Solution, The HitPaw Photo AI, It is one option above the best photo sharpening app which makes your images look sharper and better in just the blink of an eye.

One of the finest AI-powered tools available, the HitPaw AI Photo Enhancer enables you to effectively sharpen your photos in just a few easy steps. By eliminating the fuzzy areas from the photos, it can sharpen your images without sacrificing quality and even improve their aesthetic appeal.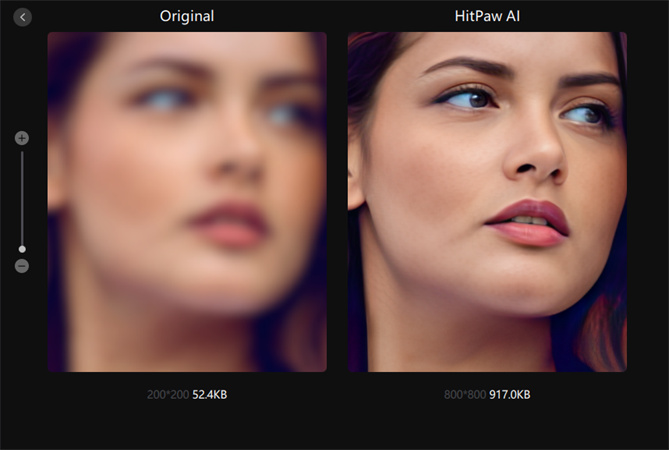 Thanks to its incredible and powerful AI, the HitPaw Photo AI is a fully automated image enhancer that handles everything by itself.
By providing one-click optimization, HitPaw increases the efficiency, speed, and ease of your work by implying that there aren't any challenging steps or procedures required.
It provides you with a choice of 4 AI models, providing you a variety of results and assuring that you get the desired results.
You may easily boost your photo's resolution to 2K or 4K, giving it a more professional and appealing appearance.
Given that only one photo can be resized or improved at a time in the majority of tools that allow image resizing, The HitPaw Photo AI supports batch enhancing, which can greatly speed up your process and save you a lot of time.
You can enhance your photos in The HitPaw Photo AI with only a few easy steps.
Step 1.On your Windows or Mac computer and download The HitPaw Photo AI.

Step 2.In the Photo Enhancing window, upload the picture you want to modify. (You can use many images at once.)

Step 3.Decide which of the four AI models is best for enhancing your image.

Step 4.Click export at the end of the process and then simply save your image to your device.
Conclusion
You could have discovered the solution for how to sharpen your photographs after reading the post. Your photos may now be sharpened quickly. One of the best photo sharpening app being the HitPaw AI Photo Enhancer, with its amazing 4 model AI technology.