[Editor Selected] Best Stable Diffusion Upscalers in 2023
In today's digital landscape, high-quality visuals are critical to stand out from the crowd and make an impact on your audience. But what do you do when you're stuck with a low-resolution image that just doesn't cut it?
Fear not, for we've got you covered. In this blog, we'll take a deep dive into the Best Stable Diffusion Upscalers of 2023. These upscale stable diffusion tools are the secret to enhancing even the tiniest of details in your images and bringing them to life like never before. Read on to find out more about stable diffusion upscaler.
1.

Why Do We Need Upscaler for Stable Diffusion?

Image upscalers for stable diffusion are essential because they help enhance the quality of low-resolution images without compromising their stability. When an image is upscaled, the process of adding additional pixels to an image can often lead to distortion, blurring, or pixelation, resulting in a loss of detail and image stability.

Upscalers for stable diffusion utilize advanced algorithms to upscale images while preserving their quality and stability, resulting in sharper, clearer, and more detailed images.
2.

Why Traditional Upscalers Can't Be Used to Upscale?

The conventional methods of resizing images, such as the nearest neighbor and Lanczos interpolation, have been met with criticism for their limited use of the image's pixel values. These algorithms simply enlarge the image canvas and fill in the new pixels using mathematical operations based solely on the image's existing pixel values.

As a result, these methods cannot accurately fill in missing information in distorted or corrupted images. This inherent limitation makes these algorithms insufficient for more complex image-processing tasks that require more accurate image reconstruction.
Traditional upscalers are not equipped to handle more complex image processing tasks, such as the preservation of image stability and the restoration of lost details in low-resolution images.
3.

How to Use AI Upscaler to Improve Your Stable Diffusion Picture?

Using an AI upscaler to improve your stable diffusion picture is a relatively simple process. Here are the general steps to follow:
Open the AI upscaler software and upload the image you want to enhance onto the source canvas.
Adjust the resize factor to your desired level. Most AI upscalers default to a 4x upscaling factor, but you can choose a lower factor if you prefer a smaller image size.
For best results, select an AI upscaler that is known to work well with most images, such as R-ESRGAN 4x+.
Once you've chosen your upscaler, click on the "Generate" button to start the upscaling process.
Wait for the process to complete, and the enhanced image will appear in the output window on the right.
To save the enhanced image, simply right-click on the image and choose the "Save" option.
By following these steps, you can easily upscale your image using an AI upscaler and achieve better quality and stability for your pictures.
Here are a few options that you can explore for stable diffusion upscaling.
LDSR
Latent Diffusion Super Resolution (LDSR) is a state-of-the-art image upscaling algorithm that utilizes a diffusion-based approach to generate high-quality, high-resolution images from low-resolution inputs.
This method is based on the concept of image denoising, where a low-resolution image is treated as a noisy version of a high-resolution image and the goal is to remove the noise and recover the high-resolution details. However, it is a slow process so keep that in mind.
ESRGAN 4x
Enhanced Super-Resolution Generative Adversarial Networks (ESRGAN) is an advanced image upscaling algorithm that utilizes a deep convolutional neural network and a generative adversarial network (GAN) to generate high-quality, high-resolution images from low-resolution inputs.
4.

Easier AI Upscaler to One-Click Enhance Your Stable Diffusion Works

Does this sound intimidating? Well, there is an easier way for stable diffusion upscale.

HitPaw Photo Enhancer is a user-friendly image upscaling software that can be used to improve the quality and resolution of mid-journey photos. This software uses advanced AI algorithms to upscale low-resolution images without losing image quality.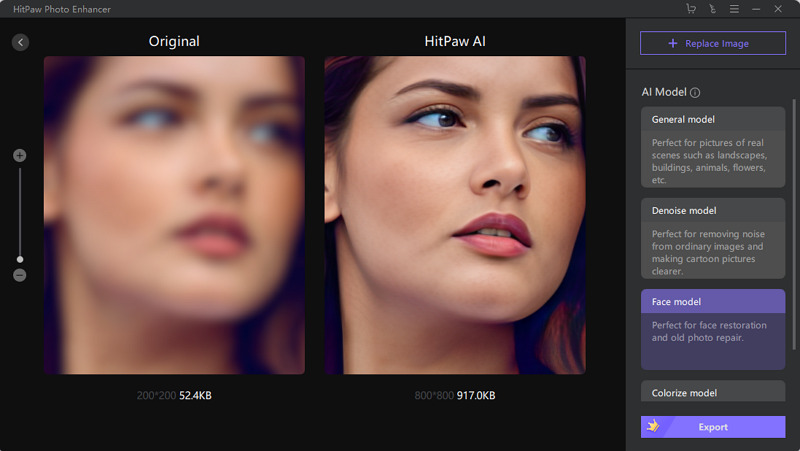 Step 1.Download the software by clicking the button below

Step 2.To upscale Mid-journey photos using HitPaw Photo Enhancer, simply upload your image to the software and choose the desired upscale factor.

Step 3.HitPaw Photo Enhancer will then use its advanced AI algorithms to analyze and enhance the image

Step 4.If you're satisfied with the effect, you can export it

One of the key features of HitPaw Photo Enhancer is its intuitive and user-friendly interface. The software is designed to be easy to use, even for those with limited technical knowledge. It also supports batch processing, allowing you to upscale multiple images at once, saving you time and effort.

HitPaw Photo Enhancer offers AI one-click enhance for easy and efficient upscaling of low-resolution images
Supports batch processing, allowing users to upscale multiple images at once and save time
Allows users to customize the size of their photos when upscaling, providing greater control over the final output
Available for both Windows and Mac , making it accessible to a wide range of users as the best stable diffusion upscaler.

Conclusion

The development of AI upscalers, such as LDSR, Latent Diffusion Super Resolution, and ESRGAN, have made it possible to upscale images while preserving their natural colors, sharpness, and overall quality.

Furthermore, user-friendly software, such as HitPaw Photo Enhancer , offers a simple and effective way to upscale mid-journey photos without the need for advanced technical knowledge. These features offer a wide range of features and customization options, including batch processing and sharpening tools, making it easier than ever to produce high-quality images for as a stable diffusion best upscaler.