In-depth Review on Remove.BG About Pros, Cons & Alternatives
At times, you may want to remove background from PNG or other images to give them the desired look. remove.bg is one of the recommended free image background remover tools. With it, you can remove image background in no time without any losing or trouble.
So, if you wish to know more about this impressive tool to finish bg remove, this post gives a thorough introduction and unbiased review of remove.bg.
Part 1.

What is Remove.BG?

Remove.bg is a platform based on AI that lets you discard any background from an image. Being used by numerous people and business enterprises throughout the world, it impressively cuts the image-enhancing time. Using this tool, you can remove the background in a minute or so using your internet interface and laptop or mobile apps. You can additionally choose to use its API integration for a smooth workflow of integrating remove.bg into systems and apps.

This remove background API is helpful specifically for photographers as it encourages bulk processing so that if you wish to perform editing on multiple screenshots at once, you can do so. Its user-oriented interface is easy to use with no drags and drops while helping to solve complexities like color contamination and hair in images.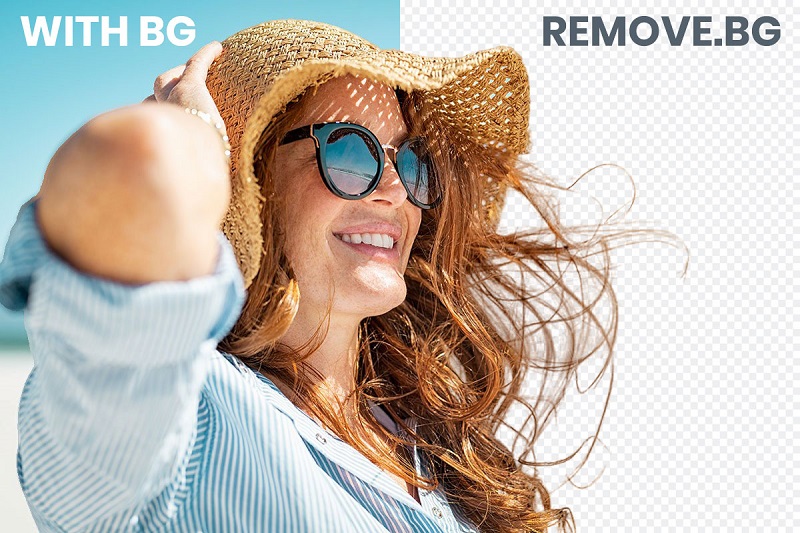 Part 2.

Is Remove BG Safe to Use?

If you are wondering, is BG remove safe to use? Then, let us tell you that yes, remove. bg is totally safe to use. This tool remove image background automatically so that you don't need to manually select the background and foreground layers individually. All you have to do is to select the photo and download the resultant image with the eliminated background, which makes it safe to remove bg background.
Part 3.

Is Remove BG Free to Use?

So, is remove BG free? Does BG removal cost money? Actually it features a free account and as well as subscription plans. When it comes to remove.bg pricing, you get three options as below. Now to clarify the question, read below!
Free account
Remove background for free using the remove.bg free account that offers support to images with low resolution up to 0.25 megapixels. Its free account gives you bonus credit for testing the high-resolution download including 50 free previews with API and apps, every month.
Subscription plan
The subscription plan is the best option when it comes to pricing. This works exceptionally when you need to process specific images monthly. The monthly subscription plan renews every month, and you can also choose to cancel it anytime. But, keep in mind that its subscription credits are valid till the time your subscription is active.
Pay as you go credits
Pay as you go credits works best when you are unsure about the image volume or when you are not interested in paying monthly. This plan stays valid for two years after purchasing and can be bought with a one-time payment. You can combine pay as you go with the subscription plan, wherein the PAYG credits can be used as a backup option when you run out of subscription credits.
How do I cancel remove BG? If you are subscribing to remove.bg, you can cancel remove BG subscription by going to Credit & Plans in your account profile, and then click Cancel Subscription button to confirm your cancellation.
Part 4.

Unbiased Review of Remove. BG

Remove. bg is an automated tool that removes image background using a simple UI with an uploading/inputting area of the picture's URL. It features a web-based version and remove.bg app version. It can also be downloaded for Mac, Windows, and Linux including Photoshop integration. While using this tool, the user can decide whether they wish to leave the image background blank or personalize it with multiple themes.
Pros
Quick and small.
Easy to use.
It allows downloading as a layer feature.
Provides high-quality images.
Cons
Unclear pricing structure.
It offers limited adjustments.
It has no drag and drop feature.
Some customers feedback that the customer service is poor.
Sometimes they cutout images incorrectly and edge wasn't good.
Part 5.

How to Use Remove.BG?

Remove.bg is overall a super easy online image background remover tool. You can follow the below given simple steps to use remove. bg to remove the background of the image.
1.Start by uploading the image on the remove.bg online.

2.After this, remove the background from the image automatically in just a few seconds.

3.Now, if you want you can customize your image or add a background that you like.

4.Once you are done making changes, download the image.
Part 6.

Best Remove BG Alternatives

There are plenty of Remove.bg alternatives that aim to remove background from images. Some tools are similar to remove.bg, and some provide more adds-on features. Upon analysis and research, we've listed the alternatives below for you to choose from.
1. HitPaw Video Converter
The new background remover feature of HitPaw Video Converter is designed to automatically remove the background of an image. It uses the latest AI tech to identify the subject in the image and distinguish it from the background. To use it, you simply upload an image to the website and let the tool do its work. Once the background has been removed, you can download the edited image as a transparent PNG file and you can easily place it on any background you like.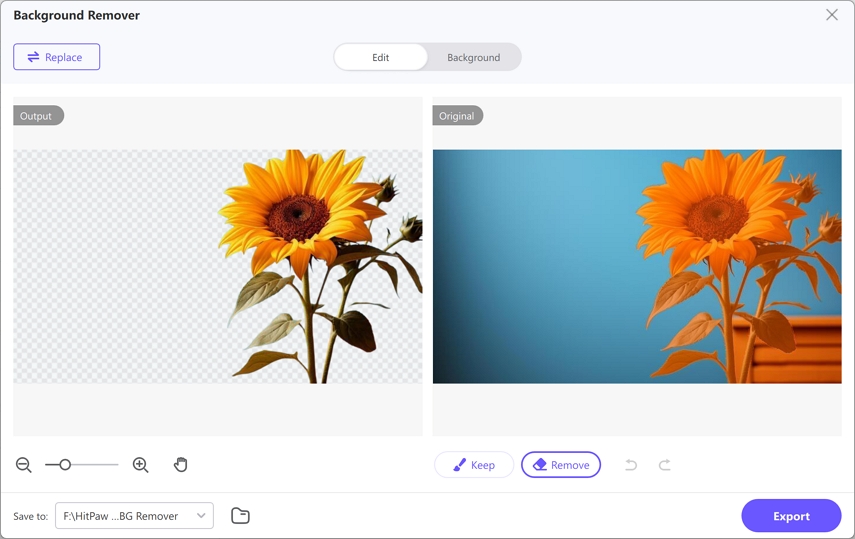 Highlights of HitPaw Video Converter
Automatically detect the subject in an image and remove BG of image
Produce high-quality output in a transparent PNG format
Save time and efforts compared to manually removing backgrounds
Simple and intuitive interface, making it easy for users of all levels to use
Keep all user data private and secure
2. Hitpaw Online Background Remover
Hitpaw Online Background Remover is a free online background remover that is pretty easy to use. It is compatible with a wide range of devices like Windows, Mac, iOS, Android, etc., and offer a high level of security. To remove background from any image, use this tool in just three simple steps. All you need to do is to upload the image by dragging and dropping it. Then, tap on the remove background option to begin. After this, you can edit the image by adjusting scale, background, and size. Followed by which your fresh image can be downloaded.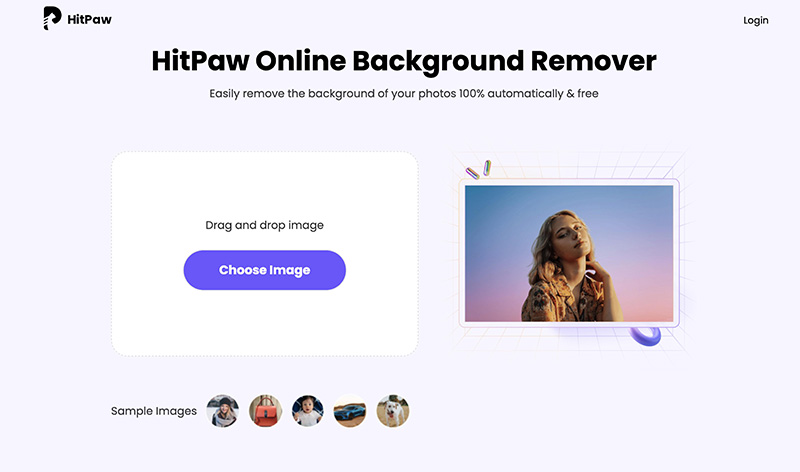 Features of HitPaw Online
100% Free
No limitation
No ads
3. Photoshop
Using the Adobes' Photoshop background remover, you can smoothly remove the background from any image. This background remover uses Adobe Creative Cloud Express to let you add colors, graphics, shapes, etc.
This tool also removes the background in just three easy steps. By letting you select the image and then upload it automatically to instantly remove the background. After this, your image can be downloaded in PNG format.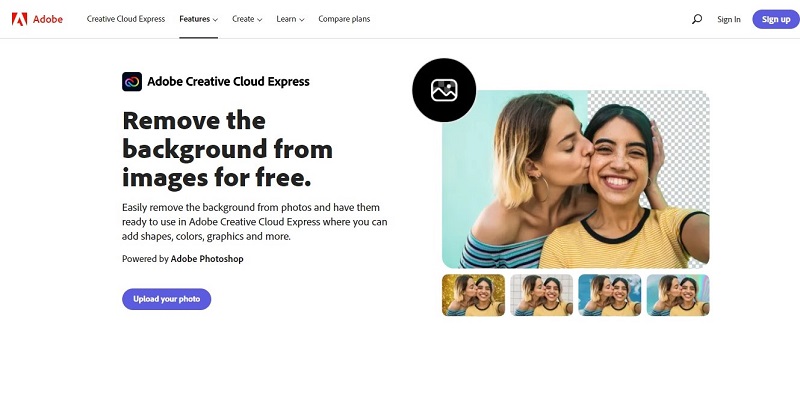 4. Slazzer
Slazzer is another great background remover choice for Mac, Windows, and Linux pc. This free online background remover offers clear and smooth cutouts while saving your time due to its AI capabilities. Using this tool to remove BG online is also super easy. Just select the image for which you want to remove the background either by choosing the file or by dragging and dropping. After which, the tool works automatically to remove the background so that you can download the desired image in HD.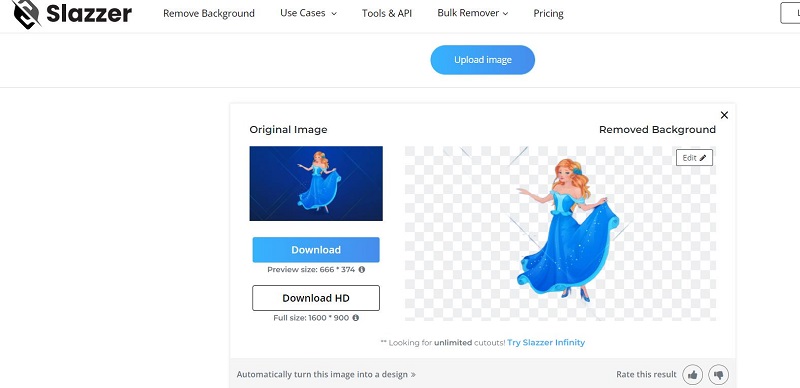 The Bottom Line
Overall, remove.bg is a simple and practical image background removal tool. If you only need to remove the background, it will be a good choice. If you're having trouble using remove.bg, you also have the option to use an alternative tool, HitPaw Video Converter is one of the best remove.bg alternatives. Hopefully this post will provide a comprehensive remove.bg review for you.