How to Fix Pixelated Image: Restore the Quality of Your Image
When taking a picture, regardless of for what purpose you're generating a photo, you'd have liked to have a clear and high-quality image. No one likes having a blurry and unclear image which doesn't serve the purpose of anyone who intends to use the photo in one way or another.
Unfortunately, many people have complained about their pictures getting pixelated, and they are clueless about how to fix pixelated pictures. It would help if you weren't concerned when your photo gets blurred or pixelated, as you can fix pixelated image issues by reading this post.
Part 1.

Why Do My Pictures Look Pixelated?

Before knowing how to fix pixelated pictures, let us discuss why your photos get pixelated.
1. Resizing photo:

Resizing a photo is the main culprit behind you having the image pixelate issue. When you opt to rescue your small-size photo to a large version without doing any work with the resolution of your photo, the bitmaps will appear on your screen. This way, your picture will become unclear and blurry.

2. Scanning photo:

If you're scanning your picture in a scanner, the image might get pixelated due to the cheap quality of the scanner.

3. Camera or human error:

Camera or human error might also become the main factor behind your images getting pixelated or blurred.

4. Incompatible software:

Your image might get pixelated when you try to open it on incompatible software or application.
The good thing is that you can fix pixelated image, and we'll tell you how to unpixelate an image courtesy of the best photo enhancer.
Part 2.

Use the Best Method to Fix Pixelated Images in One Click

Fixing pixelated images isn't as simple as many would've anticipated. Instead, you have to look for a tool to help you fix pixelated image issues without damaging your photo. Luckily, HitPaw Photo AI emerges as the best photo enhancer that can help you get rid of pixelated image issues with minimal effort. It is special software that can make pretty old and blurry looking watchable and eye-catching.

Importantly, HitPaw Photo AI comes with AI-powered technology, meaning all you need to do is import the pixelated photo and let this photo enhancer do the magic. So, HitPaw Photo AI must be your go-to software as it allows you to serve your purpose in one click.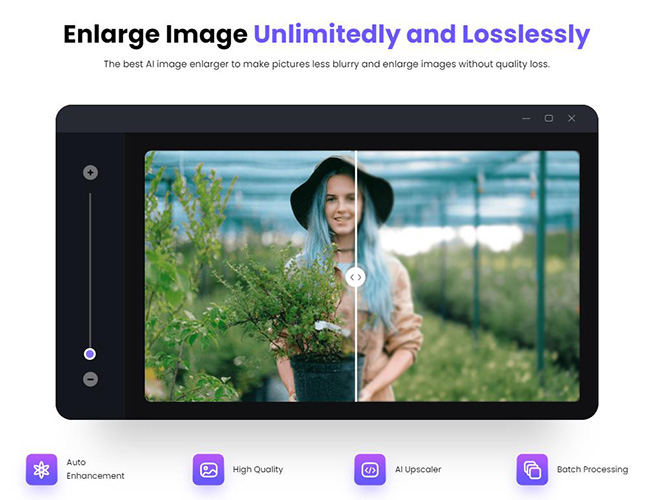 Below are the some of the salient features of HitPaw Photo AI:
Al image enhancer available for Mac and Windows.
Enhance image resolution and quality in one click.
Remove noise from pictures and make pictures less blurry.
Upscale and enlarge images without losing the resolution.
Allows you to multiple upscale images simultaneously.
Offers an intuitive user interface.
Comes with 4 immaculate AI models, including General Model, Denoise Model, Face Model, and Colorize model.
How to fix pixelated pictures using HitPaw Photo AI?
Step 1.To begin with, navigate to the official website of HitPaw Photo AI and grab the software. Once the software is installed, start it to begin the proceedings.

Step 2.Tap on the ''Choose Images'' icon to import the image you'd like to depixelate. HitPaw Photo AI supports 4 input formats: WebP, JPG, JPEG, and PNG.

Step 3.HitPaw Photo AI comes up with 4 AI models: a colourise model, a face model, a denoise model, general model. You can select any of these AI models to fix pixelated image. But, it is recommended to use Face Model as it helps you to make the pixelate image less pixelated.

Step 4.Once the Al model is selected, tap on the ''Preview'' icon to preview the editing process. If all goes well and you're satisfied with your photo, tap on the ''Export'' icon to download the picture to your computer gallery.
Part 3.

How to Unpixelate an Image in Photoshop

Seeing your photo becoming pixelated isn't something you'd have aspired to be in this situation. It isn't enjoyable, and you'd love to depixelete your image. Luckily, you can use Photoshop to fix pixelated images, as fixing pixelated images on Adobe Photoshop is almost impossible. Follow the exemplary methods below to know how to unpixelate an image.
1. Fix low-resolution photo pixelation
If you're worried about the pixelation issue and want to know how to fix a pixelated image, you can adjust an image's pixels and resolution settings in Photoshop. Doing so will assist you in enhancing the resolution of a low-resolution photo.
Step 1.Install Photoshop from its official website and launch it afterwards. Next, import the pixelated image to depixelate image.

Step 2.After visiting the top menu bar, navigate to the Image and Image size icon. Change your photo's resolution by 300 after entering the Image size box.

Step 3.Choose the ''Camera Raw Filter'' icon after navigating to the ''Filter''.

Step 4.Visit the Camera Raw and adjust the Noise Reduction and Sharpening after hitting the ''Detail'' icon.

Step 5.Navigate to the top menu bar again and select Hue/Saturation after pressing the Image and Adjustments icon.

Step 6.You can adjust the image's color by visiting the '' Hue/Saturation'' box Next, tap on the Save icon after hitting the File to download the image.
2. Use sharpened and blue filters that fix pixelated image
You can rely on different filters present in Photoshop to remove the blur and pixelate from the image. It allows you to use the sharpen and Gaussian Blue feature to fix pixelated image. Here's how to make a pixelated image clear using Photoshop.
Step 1.After launching Photoshop on your PC, launch the pixelated photo in it. Next, press the Gaussian Blur icon after hitting the Filter and Blur icons.

Step 2.Visit the Gaussian Blur window, and don't waste any time before adjusting the slider to an appropriate level. Click OK Next, select Unsharp Mask after pressing the Filter and Sharpen icons. Later, enter into the Unsharp Mask Window and adjust the slider to a befitting level before hitting the OK.

Step 3.Once you fix pixelated images, you can press File and Save to download the photo.
Reminder:
Using Photoshop to depixelate images isn't a bad idea either, as it is highly professional software with a reputation for making low-resolution photos look relevant and attractive. But, the thing is that many users who have only started editing the photo won't have any clue how to use Photoshop.
Thus, due to the hectic user interface of Photoshop, it is not recommended for newbies. The best way to fix pixelated image is to take the brilliant services of HitPaw Photo AI, which offers an effortless user interface despite providing professional and advanced features.
Summing up
If you're having a pixelated image problem, you can take notes from this post where you can most recommend ways to fix pixelated image. Photoshop might help you know how to fix pixelated pictures, but it might be challenging to handle. So, HitPaw Photo AI remains the best option for fixing pixelated image. It is the most recommended software, and you shouldn't twice take the services of this excellent photo enhancer.