Take 8 Best Apps to AI Upscale Image Right Now
AI image upscaler have changed how we look at pictures on our phones and computers. They use some complicated algorithm formulas to make pics more precise and sharper. It's gotten popular as a way to make old, fuzzy photos look better. It makes them more detailed and stuff.
Enlarging works for all kinds of things, like taking pictures, fixing up old movies, and making game graphics look better by turning low-quality pictures into high-quality ones that look realistic. It's a significant improvement for making photos better. In this article, we'll check out some apps you can use on your phone to enlarge pictures.
Part 1: Top 8 AI Photo Upscaler Apps
Here are the top 8 apps that can make your pics way better with upscale image using AI.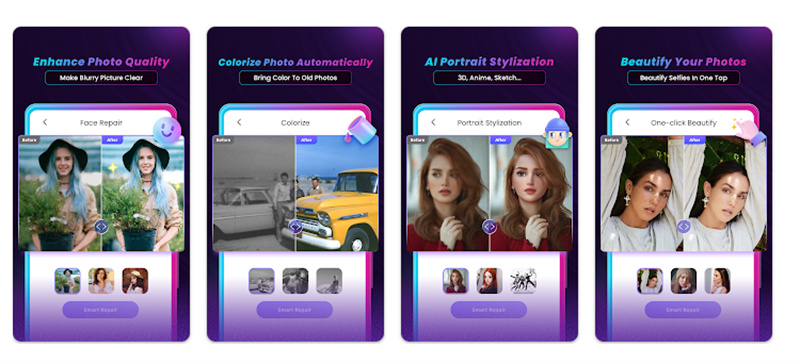 This app is best because it can do all sorts of things to transform your photos and improve their quality. It works on Android and iPhone, and people like it on both. It's got some incredible functions to change your pics and make it stand out from other AI upscale image apps.
Key Features of HitPaw Photo Enhancer App:
Make blurry shots crispy: it takes crappy quality photos and makes them super sharp n' clear.
Get rid of the vile effects; the app cleans your pictures so all the noisy junk disappears.
Customize colors; you can change the shades and tones according to your preference.
Simple to use, anyone can operate it without any limitation.
2. Picwish
Picwish is an outstanding app as it uses an AI image upscaler that upgrades your pictures and takes them farther. iPhone and Android both got it, and most people say it's good on both. Picwish is an excellent choice to improve your photo quality, especially by making the resolution bigger. Since it can do so much, there are lots of perks to using it.
Pros
It's easy to figure out, so anyone can easily make their images look better without problems.
It seriously boosts the sharpness for more explicit photos with more details.
Cons
You sometimes need the internet, so you can only use it if you're online.
Compared to paid versions, it may have fewer advanced customization options.
3. TouchRetouch
The TouchRetouch app is good at changing pictures. It's the best AI photo upscaler, making photos more transparent by making them bigger using computer smarts. The app works the same on iPhones and Android phones. People with those phones said they liked it and gave it good ratings. This program is an excellent choice for anyone trying to improve their pictures because it lets you pick different options.
Pros
The app's computer smarts feature lets users make pictures bigger and better quality by upping the resolution.
TouchRetouch is easy to use whether you're just starting or have experience, so photos get better smoothly.
Cons
You must pay for TouchRetouch; you can't use it for free.
Some users wish it had more advanced tools than other programs.
4. Adobe Photoshop Express
Adobe Photoshop Express is good at AI upscale photo. It uses the best computer smarts to make photos more transparent by making them prominent. IOS and Android users said good things about it and gave it good ratings, which works on both. Because it has different features, people who want to make pictures better quality like this program.
Pros
The app functions allow AI upscale photos to make images bigger and better quality by raising the number of pixels.
Adobe Photoshop Express has many tools and features to change photos exactly how you want.
Cons
Using all these options takes a while because there's a whole menu of them, so that it can be intimidating for newcomers.
It's free to download and use initially, but you might have to pay more for some features and options.
5. Picsart
It's good at making pics look better by enlarging and enhancing them using AI picture upscale. It works well on iOS and Android, and people recommend using it. Picsart has many valuable tools, perfect for fixing and improving photos. To upscale image with AI, use this app by making photos significantly better but also clearer and with more details.
Pros
The app's computer smarts make photos crisper and more detailed super fast and easy.
Picsart gives you different creative tools to add artistic stuff and effects to pictures.
Cons
You can use it for free, but it might show ads or let you buy other things, which could bother some.
Even though Picsart's free, some advanced features might cost money if you want the full experience.
6. Fotor
Fotor is good at changing images because of its advanced AI upscale picture and AI increase image resolution abilities. Fotor available on Android phones and iPhones, and people appreciate it for its features.
Pros
The app makes crisper pics by bumping up the resolution tons, improving the quality heaps.
Its layout makes sense whether you're just starting or good at editing.
Cons
Fotor might charge you extra for some advanced tools, which isn't cool if you want everything free.
While it's easy to use, Fotor might have fewer pro-level tools than programs made just for experts, limiting what you can do if you're advanced.
7. Pixelcut
Pixelcut has excellent AI to upscale image to make your pics bigger, giving you better features to enlarge photos with computer smarts. This app is on Android phones and iPhones, and many people like it.
Pros
Pixelcut's photo upscale AI ups the resolution and improves the quality when making pics bigger, making your pictures look way better.
It's easy to use whether you're just starting or good at editing photos.
Cons
Even though some stuff is free, advanced tools or materials might cost money, which would be annoying.
Pixelcut might have fewer pro-level editing options than programs made just for experts, which wouldn't be chill if you're experienced.
8. Snapseed
Snapseed is good at fixing up pics because it uses AI upscalers to improve pictures. It gives users different ways to improve their photos than other apps. Snapseed is on Android phones and iPhones, and many people like it.
Pros
Snapseed adds magic to pictures to increase the resolution and quality.
It's got loads of editing tools, from filters to tiny, precise changes for creative options.
Cons
With so many tools onboard it takes a moment to figure out how to use it all, costing beginners time.
Sharing your masterpieces on social sites isn't as easy as with other apps.
Part 2: Bonus Tips to AI Upscale Photo on PC
In this online world we're living in now, quality pics are like everything, right? That's where an editing program for computers like HitPaw Photo Enhancer comes clutch. This app has all the tools you need to make your photos look fly, especially with that AI picture upscaler.
Let me tell you what it can do:
It bumps picture quality, turning low-resolution photos into highly detailed visuals.
HitPaw cleans up the pics and keeps them looking renewed.
It gives you tight color controls to buff up or change the tones n shades in your photos.
HitPaw has an easy interface that works if you are starting or a pro.
To upscaler image operating AI function:
Step 1:Install HitPaw on your computer.

Step 2:Pick the pic you want to upscale.

Step 3:Look and adjust with the resolution.

Step 4:Save the better photo to your laptop.
Part 3: FAQs about AI Picture Upscaling
Q1. How does the AI image upscaler work?
A1. AI image upscalers applies the technique which help make the blurry pictures sharper.
Q2. Can AI improve the photo quality?
A2. With the help of HitPaw Photo Enhance, AI enhances resolution, reduces noise, and improves photo quality and colors.
Final Thoughts
AI image upscale changed up the game for real! Nowadays, you can take little fuzzy snaps, which look clear because technology adds back the missing details. Apps use AI magic to improve picture quality. It sharpens those snaps, removes blurs, tweaks colors, and is easy to use.
HitPaw Photo Enhancer is the best choice if you are trying to buff up many images on your PC, not just your phone. It lets you maximize picture resolution quickly. It's the best application for enhanced snaps on a device.