[2023] The Top 8 Apps to Unblur Photos Instantly Without Quality Loss
Regardless of how experienced a photographer you're, getting blurred images is common. Since you'll want to post the perfect images on social media platforms, you will need help with the blurred photos to please you.
Luckily, you can find several breathing apps to unblur photos, and we will reveal those apps to unblur photos free in this guide.
Part 1: The Best 8 Apps to Unblur Photos in Android and iOS
Finding the best app to unblur photos could be tricky, but you can jump onto the below apps to remove the blur from the images.
HitPaw Photo AI App
If you ask us about the best app to unblur photos, we won't look past the HitPaw Photo AI mobile app.
It is an excellent app for iOS and Android users that assists you in sharpening blurred images automatically.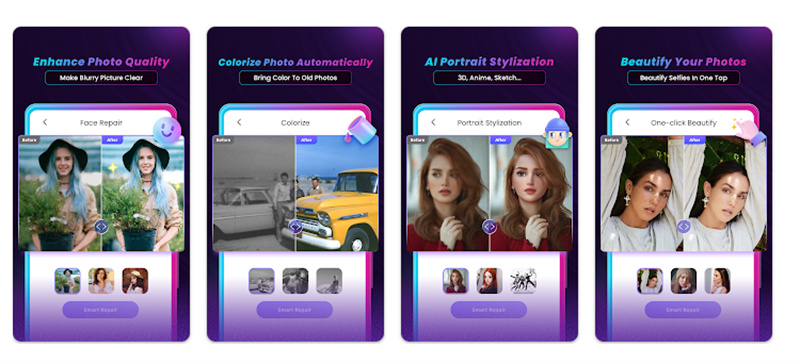 Since it brings in AI-powered technology, only importing the blurred photos into the main interface of HitPaw Photo Enhancer will be enough to fix the images. Importantly, HitPaw Photo AI has a simple user interface, helping you unblur a photo easier than you think.
The face repair feature allows you to remove the blur from the photos
Allows you to colorize black-and-white photos
It helps you animate the photos to 3D style
Comes up with the simple user interface
Import multiple images simultaneously
Adobe Lightroom
If you're looking for a free app to unblur photos, you can give Lightroom a chance. It is regarded as one of the best apps to unblur photos.
Besides offering a simple user interface, Lightroom lets you use different adjustments and filters to make your image look clearer. By allowing you to adjust light exposition, apply a gran effect, and alter overall crispness, Lightroom has become an excellent app to unblur a photo.
VSCO
Another app to unblur photos is none other than VSCO. It is one of the most commendable apps that allows you to make your photo look flawless and top-notch.
Using this app, you can change your photos' contrast, white, balance, saturation, and other aspects.
Snapseed
If you're one of those who tend to ask '' is there an app to unblur photos'', giving Snapseed a shot won't be a bad idea. It has a beautiful color correction and exposure adjustments to make your image look fantastic and worth watching.
This app to unblur photos applies various brilliant effects to your images helping you to make the photo quality intact.
Afterlight 2
You can look back and admire the credentials of Afterlight 2. Being one of the best apps to unblur photos, Afterlight 2 has fantastic features, including Clarify and Sharpen. If you don't like photo editing, Afterlight also comes up with the undo feature.
The app to unblur a photo is praised by millions of people around the globe, citing the photo sharpening abilities.
Photo Un.blur
iOS users looking for apps to unblur photos can take the Photo Un.blur on board. It doesn't come up with a hectic user interface, and eliminating the blur from the photos is easy.
This excellent app to unblur photos has innovative features to make your photos look stunning and top-notch.
Focos
You must pay attention to the Focos when looking for the best app to unblur photos. This app supports iOS users, helping them make necessary adjustments to their photos. With multiple editing functions, this app can blur a portrait image into a terrific photo.
PhotoSuite

If you're aspiring to find the most reliable app to unblur photo and, despite looking at the various options, you couldn't find any, PhotoSuite might be the most reliable app.

With offering tons of photo sharpening features, this app to unblur a photo doesn't shy away from making the images look perfect.
Part 2: [Stable & Fast Solution] Your AI Desktop Solution to Unblur Photos
Taking the services of mobile apps to unblur photos is a good idea, but you might not get the results you've been looking for. Thus, you can look at the HitPaw Photo AI, which increases the quality of photos, automatically unblurring blurred photos.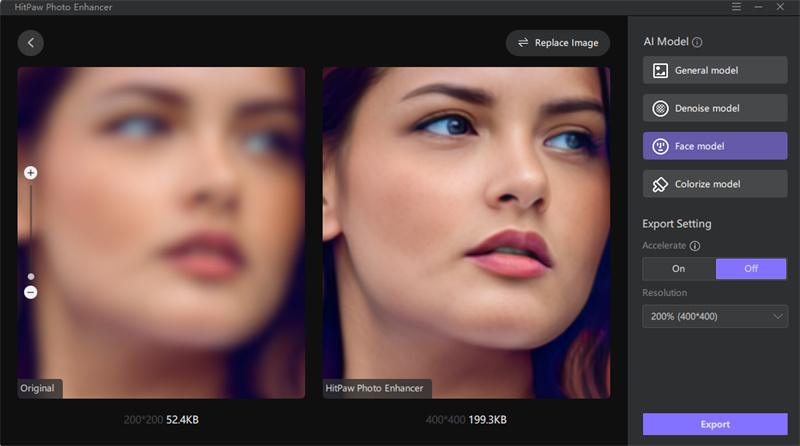 It comes up with General Denoise models that help you eliminate the noise from low lightning and high ISO images. Apart from removing the blur from the photos, HitPaw Photo AI also enables you to edit the other credentials of images courtesy of the AI photo enhancement technology.
Allows you to enhance the quality of photos in one click
Offers the AI-powered technology
Supports batch sharpening
Customize the size and shape of photos
Allows you to process multiple images simultaneously
Support Mac and Windows
Conclusion
Having multiple reliable apps to unblur photos helps you to select the most appropriate option. After reading this post, you can choose a befitting app to unblur photos, where we've listed several terrific apps.
However, if you don't like using the app to unblur a photo, HitPaw Photo AI will automatically allow the sharpening of the images. This AI-powered tool. It allows you to unblur a photo without distorting the quality of images.