Effective Way to Improve Image Quality in Photoshop in 2023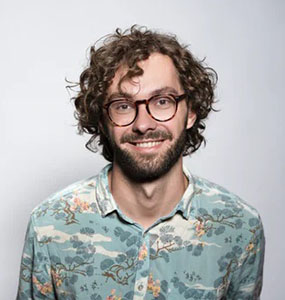 Nothing is more frustrating than finding out that your best or memorable photos are pixelated or blurred. What's worse is that most photo editing tools available online compromise the photo quality when you try to sharpen or upscale it.
That's why many people use image enhancer Photoshop to improve their favorite photos. If you're new to this amazing tool, then all you need is to stick to reading to learn everything about it including its pros and cons. Additionally, we will introduce you to a perfect alternative to Photoshop to enhance photos.
Part 1: Can I Improve Photo Quality with Photoshop
The answer is a big YES. Adobe Photoshop is a fan-favorite when it comes to improving a smaller photo into a larger, high-resolution image without losing its original quality. It employs cutting-edge AI tech to increase resolution and clean edges to increase the details.
The result you get is not Hollywood standard or movie magic but it works fine thanks to its advanced features like Super Resolution. This specific tool quadruples the size of your photos with just one click while upholding the visual quality.
However, you have to spend considerable time getting acquainted with its too professional interface while trying to Photoshop image quality improve.
Part 2: How to Improve Picture Quality Photoshop
What makes Adobe Photoshop stand apart is the fact that it offers multiple ways to enhance picture quality. We will outline three different methods for improve photo quality Photoshop to help you choose which way suits your requirements.  
2.1 Effective Ways to Upscale Image Photoshop
Now, we are going to introduce 3 effective methods to enhance image resolution in Photoshop. Let's dive in.
1. Using Super Resolution
Here's how to Photoshop upscale image:
Step 01Open your image in Adobe Lightroom.
Step 02Click on Photo > Enhance and select Super Resolution from the available tools.
Step 03The program will automatically get the best resolution for your image as well as double the image in size and quadruple the pixel count. Before saving the output file, try using the Sharpen, Noise Reduction, and Texture features to further fine-tune your images. You can manually adjust each of these tools as you want.
2. Enhance Image Manually
If you want more control over your photo's resolution and pixels, then Adobe Photoshop also got you covered. Here's how you do that:
Step 01Import your image in Adobe Photoshop and click on Image > Image Size.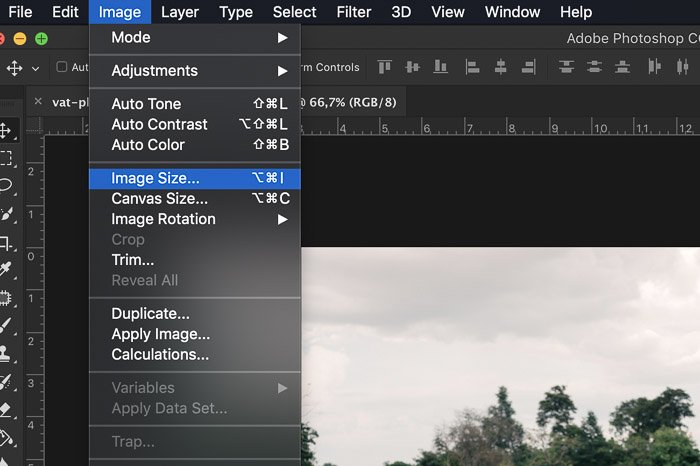 Step 02A dialog box will open as shown in the figure. Here, enter values for Width, Height, Resolution.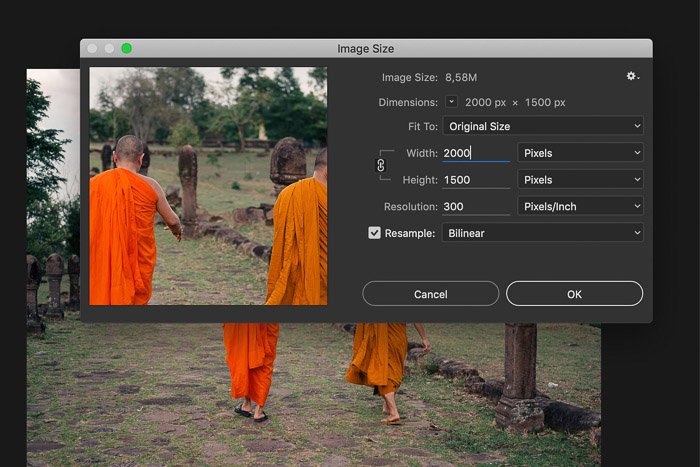 Step 03Then, select Resample and choose 'Bicubic Smoother' to get the best results. Hit Ok and save your work.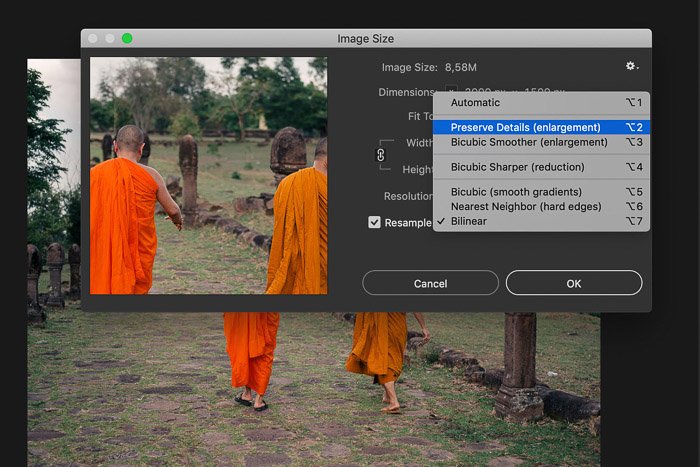 3. Sharpen Your Images
Another simple method for Photoshop improve photo quality is to sharpen your images. This feature further enhances your images and improves the details. Follow the below steps to do that:
Step 01After adjusting the Resolution, click on Filter on the top tab and select Sharpen.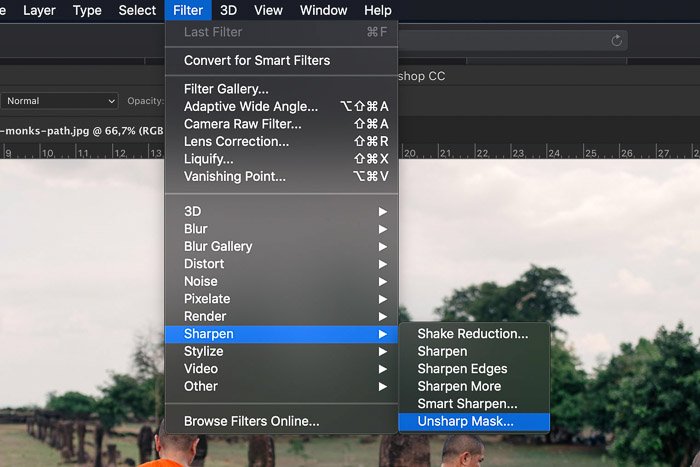 Step 02Now, manually drag the Amount slider to 100% and also adjust the Radius to 1.0. You can apply and check other values as well.
That is how you can just get frame-worthy photographs that deserve a place on your wall.
2.2 Cons of Photoshop to Enhance Photo
Photoshop improve image quality comes with its own set of downsides as well. Based on users' reviews and our research, here are the common disadvantages of using this tool:
Its interface is too professional
Prices at $29.99/month, it's quite expensive
Slows down low-end PCs
A steep learning curve, very difficult to master even for semi-technical users
Users complain of incomplete updates or beta versions
Because of this, Adobe Photoshop is not considered a go-to choice for basic-level photo enhancement. You should use this program only when you need professional-grade photo editing apart from image enhancement. To help you out, we will walk you through another top-ranked photo enhancer in the following part.
Part 3: Best Automatic Photo Enhancer for Photoshop Alternative
When to comes to the best alternative to improve photo quality Photoshop, then HitPaw Photo Enhancer is your ideal choice. Unlike Photoshop, it offers a one-click process to improve even the most blurred or damaged photos.
HitPaw takes pride in being a complete automatic photo enhancer.  Users don't have to go through a tech-savvy procedure to sharpen their photos. Instead, the program uses AI and advanced algorithms to detect the original faces and restore the original pixels automatically. Its powerful AI models transform low-resolution images into a clear, HD focus in just seconds.
3.1 Features of HitPaw Photo Enhancer
Here are the highlighted features of this powerful software that make it a perfect alternative to Photoshop photo enhancer.
1

Offers 3 AI models for enhancing portrait images, landscape images and more.

2

Removes images noise.

3

Provides batch enhancement feature.

4

Greatly imcreases image resolution and quality.
3.2 Steps to Enhance Photo Using HitPaw Photo Enhancer
HitPaw takes pride in offering a simple and intuitive procedure to enhance any photo. The process is so straightforward that even an 80-year granny won't feel any technical issue in using it.
Check out yourself how to use this image quality enhancer Photoshop:  
Step 01To begin, go to the HitPaw website and download HitPaw Photo Enhancer or directly download from the button below. Follow the on-screen instructions to install it.
Step 02Now, launch the program and click on "Choose Images" to import the photo you want to enhance.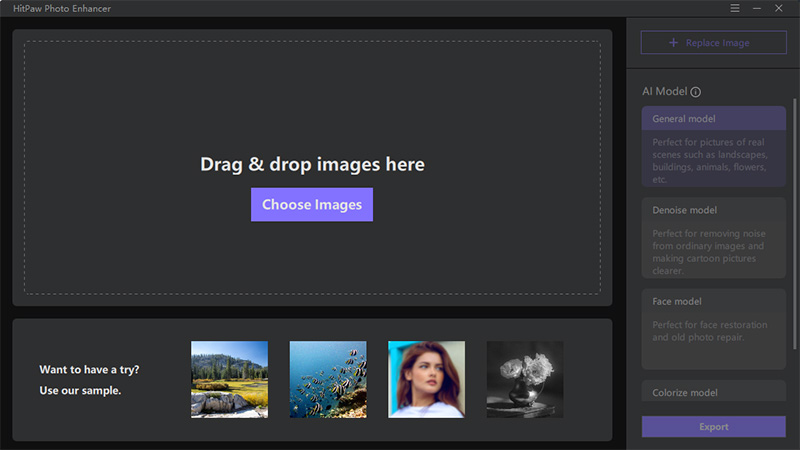 Step 03Based on the type of your image, choose an AI model.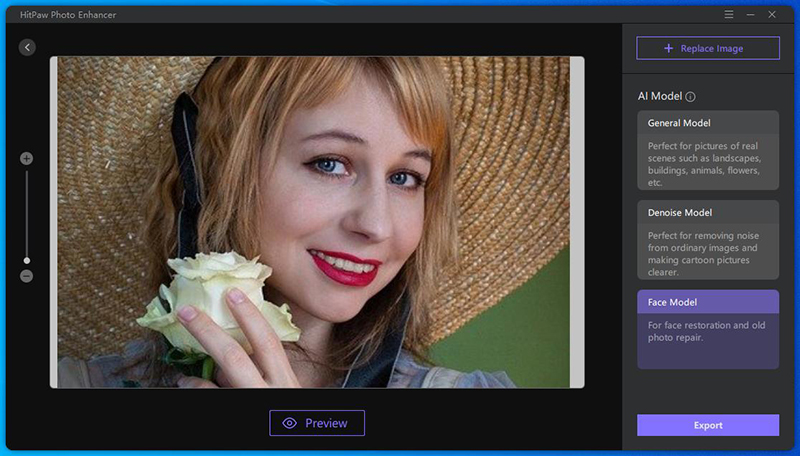 Step 04Click on Preview and you can preview the effect after a few seconds. If you're satisfied with the final result, click on Export button to save it.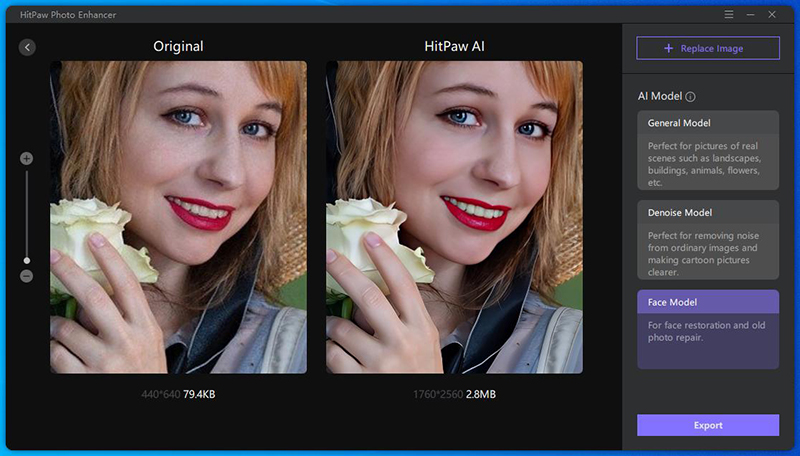 Conclusion
After reading this article, you will not face any issue in how to Photoshop upscale image 2021. This software offers several ways to improve an image quality but at the same time, it is quite expensive and difficult for not-so-tech-savvy users.
That's why we recommend users to install HitPaw Photo Enhancer to upgrade an image's resolution and quality with just one click. Compared to Adobe Photoshop, it is cost-friendly, easy to use, and works perfectly even on low-end PCs.