Free & Paid 7 Image Upscalers Saving Your Time & Efforts in 2023
In this article, we will be discussing the top 8 best AI image upscalers that are currently available and how they can help you enhance the quality of your images.
Whether you are a professional photographer, graphic designer, or just someone who wants to improve the quality of their photos, these AI image upscalers are worth checking out. Read on to find out more about image upscaler.
1.

[Best AI Image Upscaler] Upscale Your Photo to 8K or Unlimited in Batch and Super Fast

There are several image upscalers available on the internet. But there's always a winner. In this case - the HitPaw Photo AI tool is the best to upscale image.

If you are tired of your old, grainy photos that don't do justice to your precious memories? Look no further than HitPaw Photo AI ! This amazing software uses advanced AI algorithms to enhance the quality of your images, making them clearer, sharper, and more vibrant than ever before.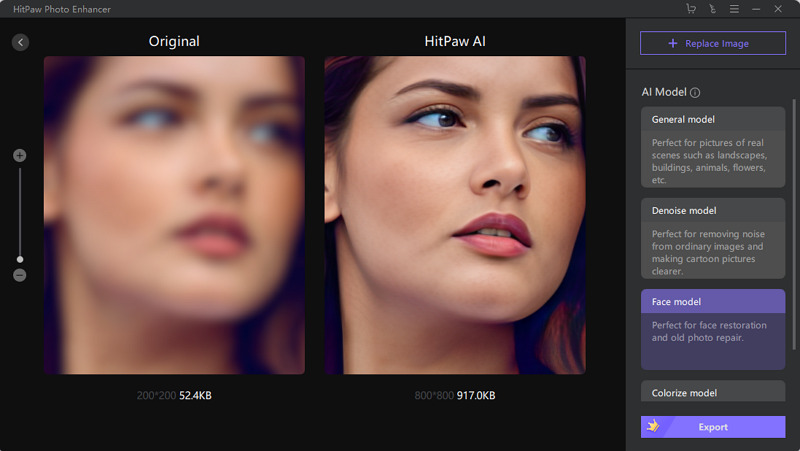 With just a few clicks, you can transform your ordinary photos into stunning masterpieces that will take your breath away. Plus, the user-friendly interface makes it easy to use for anyone, regardless of their level of expertise in photo editing. Whether you want to enhance your family photos, your travel shots, or your professional work, HitPaw's photo enhancer tool is the perfect solution
Say goodbye to blurry, low-resolution images and hello to stunning, high-quality photos with HitPaw!
Reliable tool
Ad free
Great user experience
Here are the steps to use ai image upscaler.
Step 1.Download and install the HitPaw Photo AI tool on your computer

Step 2.Click the "choose files" button to import the photo you want to enhance

Step 3.Choose a suitable AI model to enhance your photo

Step 4.Use the preview option to compare the original image with the enhanced version and see the difference

Step 5.Once satisfied with the enhancements, click the "export" button to save the enhanced image to your computer
That's it! With these simple steps, you can use HitPaw's photo enhancer tool to enhance the quality of your images and make them look their best. Whether you are a professional photographer or just someone who loves taking photos, HitPaw's photo enhancer tool is a must-have tool for anyone who wants to improve the quality of their images.
2.

Top 6 Image Upscaler Online to Instantly Improve the Resolution of Your Image

With the help of AI algorithms, image upscaling has become much more effective and efficient. Today, numerous AI-powered image upscales are available for both Windows and Mac systems. Here are some of the best online ai image upscale tools that you need in your life.
Fotor
IMG Upscaler
IMG Upscaler is an upscaling image tool that uses advanced algorithms to increase the resolution and quality of images. It is designed to enhance the visual appeal and clarity of low-resolution images, making them more detailed and sharper.
IMG Upscaler can be used to enhance images of various types, including photographs, digital art, graphics, and even screenshots. The tool is popular among graphic designers, photographers, and content creators who want to improve the quality of their images without compromising on their originality or style.
Clipdrop
Using Clipdrop Image Upscaler, users can upload their low-resolution images to the software application. The software will use its algorithms to analyze the image and upscale it to a higher resolution. The software employs a deep learning neural network to learn from high-resolution images and use that knowledge to predict and fill in the missing details in low-resolution images.
Icons8
Icons8 Image Upscaler is a popular tool among graphic designers, photographers, and content creators who need to work with low-resolution images and want to enhance their quality without losing any visual integrity. It is an easy-to-use and cost-effective solution for anyone who needs to upscale their images without investing in expensive hardware or software.
The resulting images have more detail, clarity, and sharpness, making them ideal for use in high-quality prints, digital media, or other applications that require high-resolution images. The software can upscale images up to four times their original resolution without losing any quality.
Zyro
Zyro Image Upscaler allows users to upscale their low-resolution images to higher resolutions with improved quality. It uses advanced algorithms and machine learning technology to analyze and enhance images, resulting in more detailed, sharper, and clearer visuals.
The tool supports various image file formats, including PNG, JPG, and BMP, and can upscale images up to four times their original size without compromising quality. Additionally, it offers a batch processing feature that allows users to upscale multiple images at once, making it a time-efficient solution for graphic designers, photographers, and content creators who work with large amounts of images.
Avaide
Alvaide image upscale tool is an easy way out for people who want to use an AI image tool online. This tool will use AI algorithms to produce a high-quality image that you can use for your work.
All you have to do is upload the image on the website, and the rest would be done by the AI itself.
Pixelcut
Pixelcut makes it easy for you to upscale your images on the go. It's because you can download the apps on your phone and enjoy your daily life while working
The tool used AI to add more pixels to your image. So, after a few seconds - your image will look way better than the original version.
3.

Why Do You Need a Reliable Image Upscaler Software?

A reliable image upscaler software is essential for various reasons. An image upscaler software can enhance the quality of low-resolution images by increasing their resolution without compromising their quality. It can remove image noise, enhance details, and make the image clearer and sharper.
The Reasons Why Use HitPaw As the Top Solution:
Reliable
A foolproof method to upscale image
You get an ad-free experience
The quality is not compromised
Some Problem You Might Come Across When Using An Online Image Upscaler:
They're not reliable
Spam ads
Doesn't always work
Quality may be compromised
Conclusion
With the growing demand for high-quality images in various industries, the need for reliable and efficient images and more upscale software has become more important than ever. If you're wondering how to upscale an image - the HitPaw Photo AI should be your go-to tool for this task. It's an easy way to ditch image upscaler online tools that can often be unreliable.