Best Free Online Photo Enhancer to Improve Quality and Resolution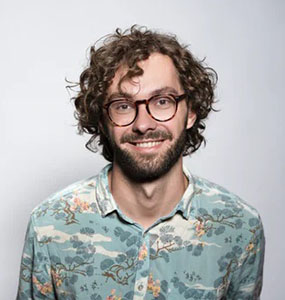 Have you got old, blurry, and/or damaged photos that you want to enhance online? Worry not as this article will talk you through several efficient photo enhancer online tools.
If you're searching for free photo enhancer software apps to brighten up your photos and reveal their true colors, then you have come to the right platform. The internet is awash with such apps that empower users to enhance any photo without a tech-savvy process.
To help you out, we have compiled a list of most comprehensive yet easy to use photo enhancer online free apps. Give it a read and choose which tool is best for you.
Part 1: What Kinds of Enhancement Can Image Enhancers Achieve
People use photo enhancers to clear a blurred or damaged photo as well as upscale an old image to further highlight the details. Here are some of the enhancements you can expect from a competent image enhancer.  
1.1 Enhance Eye Online
Enhancing eyes to give a more natural eye color is probably the most common feature of any quality eye enhancer photo editor online. It allows you to remove blemishes and erase wrinkles around eyes.
Some photo enhancers allow users to change the eye color to check what looks best on them. Better yet, many people tend to change the eye color of their friends and siblings and send them surprise transformations.
1.2 Enhance Makeup Online
A photo enhancer online makeup aims to provide a super-quick way to enhance your skin, nose, eyes, lips, hair, and other bodily details to make you look dashing and cool.
The success lies in enhancing your makeup without sacrificing your natural look and that's what you should expect from a professional photo enhancer.
1.3 Enhance Quality Online
No matter the quality of camera we use, a lot of images we click encounter unwanted issues like blurs, gains, etc. That's where a photo quality enhancer online free comes into play.
All you need to do is upload your blurry image and the program will automatically adjust background, highlights, sharpness, and other details to improve to clear important details. Choose an automatic photo enhancer to upgrade the quality with just one click.
1.4 Enhance Pixel Online
The number of pixels in an image is directly related to its resolution or quality.  That is, the greater the pixels, the higher the quality. An online photo pixel enhancer tool offers a one-click process to increase pixels of a low-resolution image.
1.5 Photo Zoom Enhancer Online
Sometimes, you need to highlight specific details of an image. An online photo enhancer free not only make an image look clear but also allows you to zoom in important part for your audience without losing the original quality.  
Part 2: 2 Best Professional Online Photo Resolution Enhancers
Here are the two top-ranked online photo enhancer professional tools to improve the quality of your photos.
2.1 Adobe Spark
The name Adobe Spark needs no introduction in the world of online photo enhancing. Aside from improving the photo resolution, users can also create collage, aesthetic graphics, flyers, and animation effortlessly.  
However, beginners need some time to get acquainted to its somewhat complicated interface.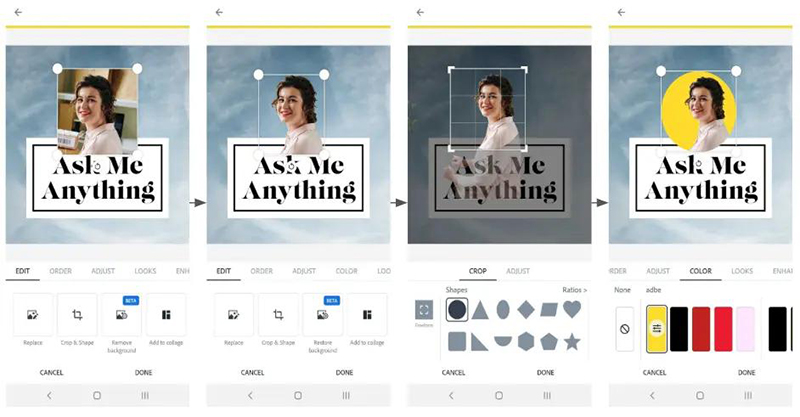 2.2 Pixlr
Pixlr is one of the best free online photo enhancer professional tools to enhance your images. Using advanced AI, it automatically detects the main part of your image and removes the unnecessary part. Plus, it also removes image background with just one click.
Users can apply tons of filters and effects to transform their photos in an intuitive way.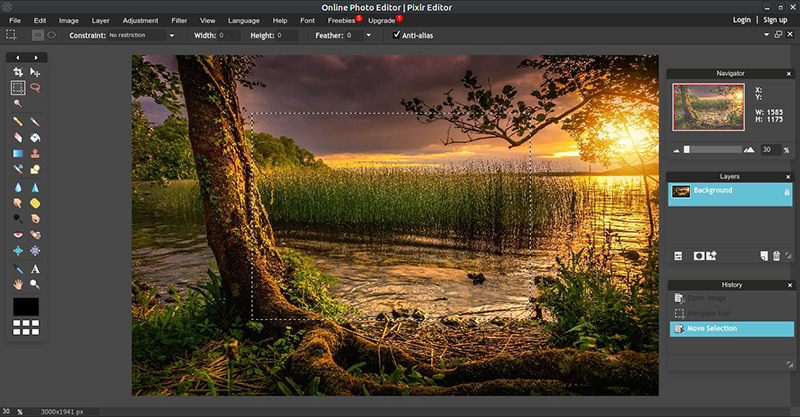 Part 3: Other Useful Auto Photo Enhancer Online for Beginners
If you are new to photo editing, then the below photo quality enhancer online tools are your best options to start editing right away.
3.1 Let's Enhance
Just as its name indicates, this free photo enhancer online tool enhances the resolution of raw images with no quality loss. Since Enhance is an automatic tool, you can upscale images with just one tap.
However, it offers only 5 free images and after that, users have to buy the premium version to get its services.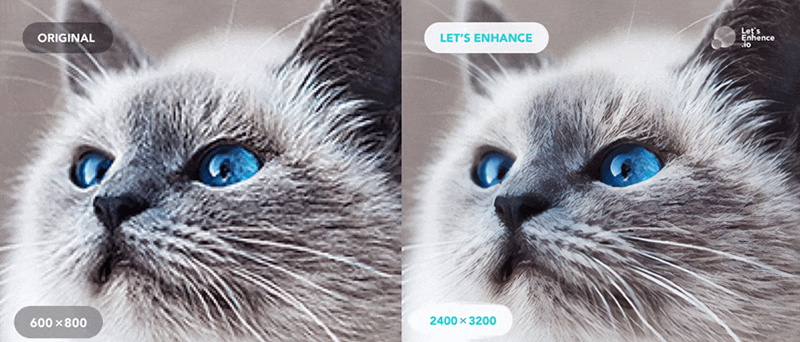 3.2 Fotor
Another top-ranked photo enhancer free online tool that comes with a sleek and friendly UI. It enables you to adjust photo colors, apply effects and filters, and use advanced portrait touch-up tools to improve your raw photos with just one click.  
Its premium version gives you access to royalty-free 1,000,000 stock images licensed for commercial use.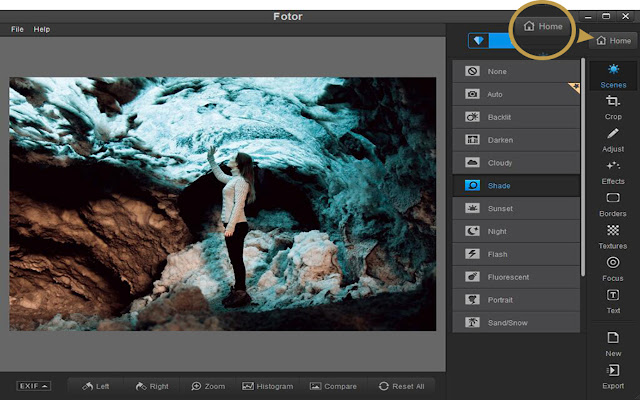 3.3 Deep Image
Deep Image uses AI to remove artifacts from images and enhance them without compromising the quality. The best thing about this free online photo enhancer tool is batch upload which allows users to enhance multiple photos simultaneously.
Note that you can enhance just 5 images for free. To continue editing, users need to get the premium version.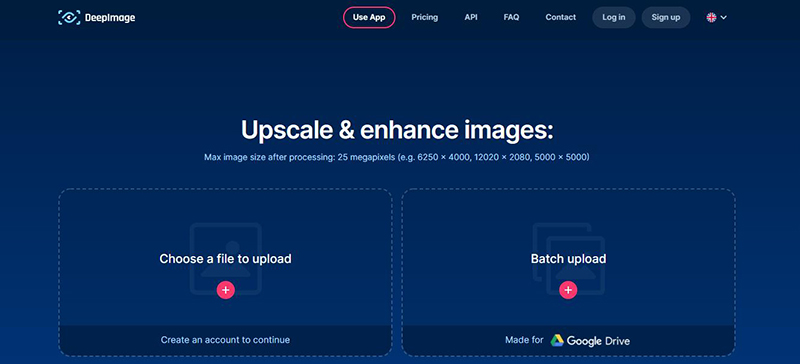 3.4 Imagic Photo Enhancer
Want to enhance your photo super quick, go for imagic photo enhancer online free. This remarkable tool automatically calculates the shadows, contours, and highlights needed to upscale your image for better visuals.
It also adds required depth and dimensions to beautify the image and further highlight the details.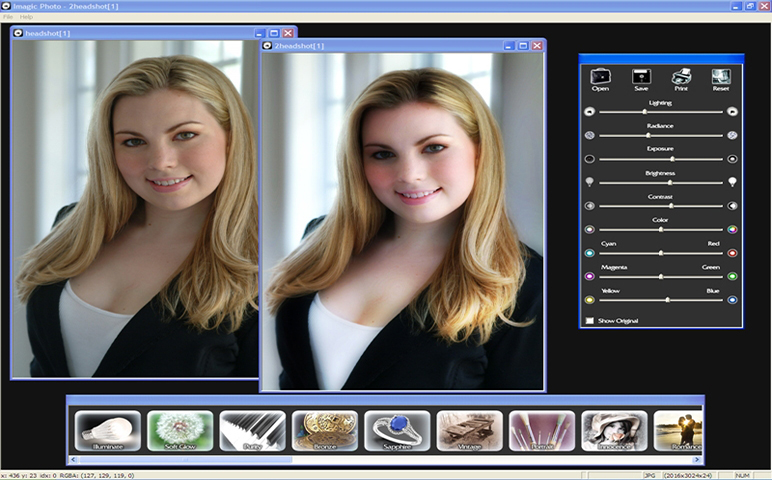 Extra Recommendation: Best Photo Quality Enhancer for Desktop Users
To have a stabler experience of photo enhancement, you can try some photo enhancer software on your computer. HitPaw Photo AI is the most comprehensive and expansive photo enhancer software for desktop users. Using the advanced AI technology, it lets users upscale their blurred or damaged photos with just one click.
Its sleek interface allows even not-so-tech-savvy users to enhance their images without any hassle. What makes it stand apart is its powerful TTA mode to upgrade any image in to ultra-high quality.
Features of HitPaw Photo AI
One click auto enhancement.
Employs latest AI tech to improve images.
Offers powerful TTA mode to get better quality.
Users can preview the effect before exporting.
Text Guide of HitPaw Photo AI
Check out yourself how easy it is to use this remarkable tool.
Step 02Once installed, launch HitPaw Photo AI on your PC.  
Step 03On its home interface, hit on Choose File to import the photos you want to enhance.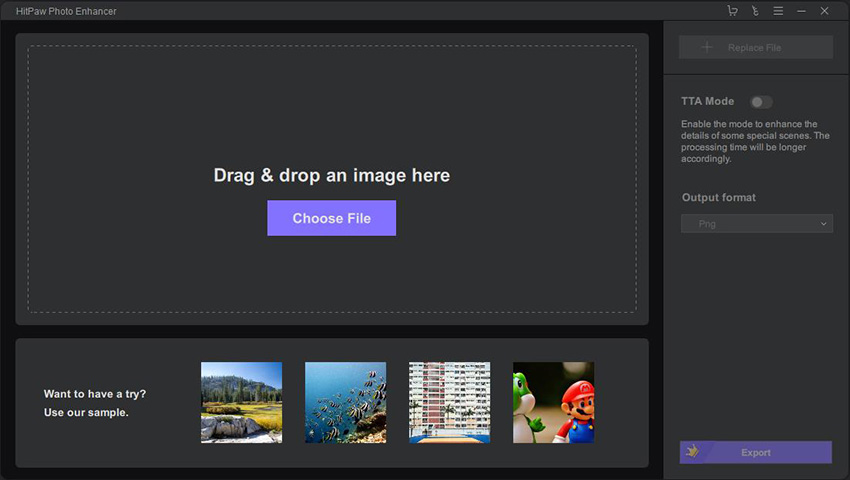 Step 04When the photo is uploaded, simply click on preview to begin the process. The program will take just a few seconds to upscale your photo. You can also enable TTA mode to get better quality.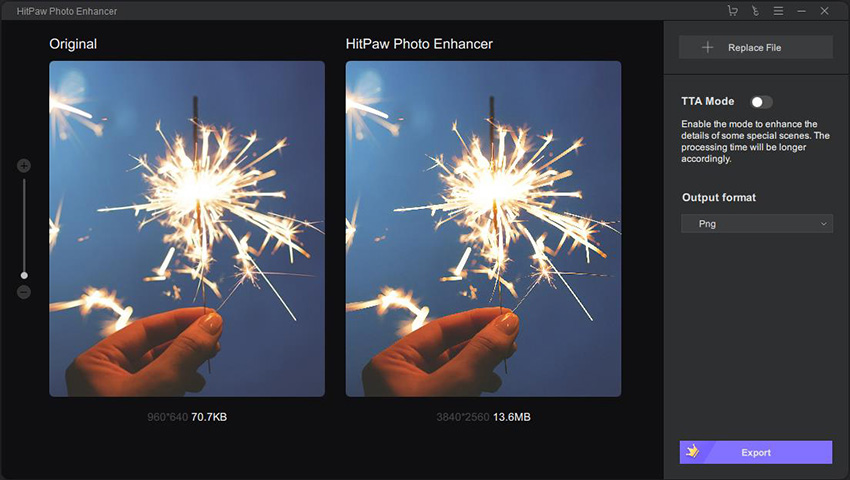 Step 04Finally, choose the output format and hit Export to save the output file on your computer.
Conclusion
To sum up, this article shows that upscaling your blurred or damaged photos is a quite straightforward task. All the online photo resolution enhancer tools discussed in this guide are user-friendly, intuitive, and produce quality output.
Use HitPaw Photo AI on your Windows PC to upgrade your images with just one click regardless of how blurred or damaged they are.   
In case you still want to learn more AI photo enhancer tools, here is an article for your reference.