10 APPs that Make Pictures Clear| Comparison| Price & Platform
Taking pictures and making videos are the best ways to keep precious memories safe for a long time. Unfortunately, there are occasions when we capture a moment that ends up a little fuzzy because of a technical glitch or poor camera result.
That's why sharpening blurry images are so important for keeping precious memories safe for the long haul.  Therefore, we will go over some of the top photo apps that can fix blurry photos.
1.

Top 10 Clear Pictures APPs that You Shouldn't Miss (Price & Platform)

Luckily, there are many cheap and free smartphone photo editing apps. Best apps? If you're looking for a perfect app to make photos more clear, here's a detailed review of the top 10 picture-clear apps on the market!
Hit Paw Photo Enhancer for Android
Price: starts from $6.99
Platform: Android, and iOS are coming
HitPaw Photo AI mobile app is a must-have all-in-one photo enhancer. Four functions instantly address photo issues.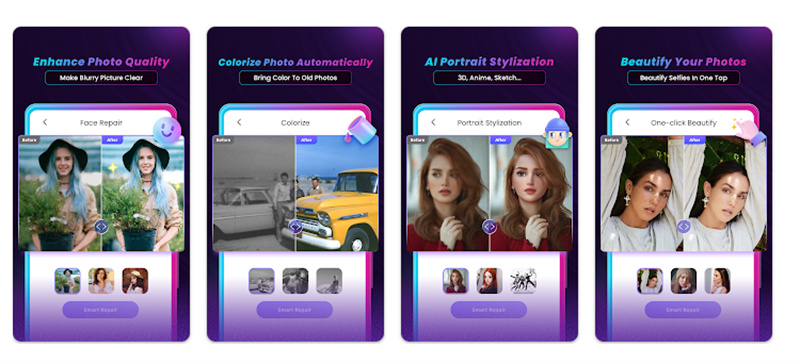 Refine face details
One click removes wrinkles and blemishes
Recolor ancient photos
3D-animate your photo
After light
Price and Platforms: $0.99 | iOS | Android | Windows
I used to edit photos old-school. I used Instagram tools alone or with my phone's Photos app's "enhance" feature. After light, a basic photo editor caught my attention.
VSCO Cam
Price and Platforms: Free | iOS | Android
VSCO Cam has emerged as a popular smartphone picture editor in recent years. Its filters are its main draw, albeit it has more editing options than most apps.
Photoshop Express
Price and Platforms: Free | iOS | Android
Photoshop Express's developers presumably promoted picture collages for smartphone users who wanted to post many photos on Facebook and Instagram. The "Decorate" feature lets you add digital stickers to your photo before saving and uploading it on social media.
Snapseed
Price and Platforms: Free | iOS | Android
Snap seed is another good image editor. Tuning, cropping, and flattening are all available. Its sharpness tool is among the best we've seen, enhancing photo detail without making it grainy like many others.
Live Collage
Price and Platforms: Free | iOS | Android
Photoshop Express collages are fantastic for comparing clear photo apps or highlighting pictures from the same occasion or theme. Live Collage, with its many layouts, is our favorite picture collage program. It offers classic and enjoyable photo organization with colorful backdrops. Customized fonts, colors, and sizes are also available.
Instasize
Price and Platforms: Free (Premium Available at $4.99/month) | iOS | Android
Instasize has many photo-editing features in one location, saving you time from jumping between apps. Instasize's main capabilities are cropping and resizing, but it also lets you adjust exposure, brightness, color, warmth, shadows, highlights, contrast, sharpness, and saturation. Photo filters are plenty.
Foodie
Price and Platforms: Free | iOS | Android
Like me, your social media feeds were full of food photos. Food-specific applications to enhance images aren't surprising.
Camera+
Price and Platforms: $2.99 | iOS only
Considering it has the highest price tag, Camera+'s unique selling proposition is certainly baffling. Life hacker dubbed it "The Best Photography App for iPhone" upon its initial release, while TIME compared it to a "high-quality SLR lens" if the iPhone's built-in camera was a digital point-and-shoot.
Mextures
Price and Platforms: $0.99 | iOS only
Mextures, one of the most sophisticated tools here, shines with its support for several layers of editing. Adjustment layers can be stacked on top of one another and then moved and edited separately, opening up practically infinite possibilities for user expression.
2.

More Stable Desktop Software to Make Your Photos Clear with Faster Speed

When it comes to comprehensive image enhancement software, no one does it better than HitPaw Photo AI. In addition to fixing blurriness and sharpening photos, you can also enlarge them without sacrificing quality.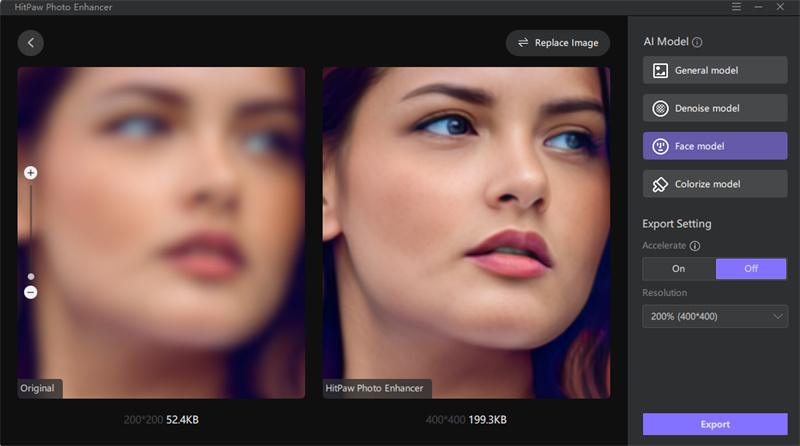 Explicit landscape photos may help preserve imagination and memories
Enlarge the anime artwork to maximize effect without compromising quality
Fix the unsteady building footage and enlarge each frame
Increase painting resolution to improve the experience
Step 1.Download and install the software from the button below.

Step 2.Import the photo to upscale. Drag the original photo or click Choose File. HitPaw Photo AI accepts PNG, JPEG, JPG, and WEBP files.

Step 3.Choose a suitable AI model and click Preview to see the effect.

Step 4.Click Export to save the upgraded shot.
Conclusion
Whether you're a hobbyist or a working pro, having access to the apps to make pics clearer software is essential. We suggest HitPaw Photo AI mobile app since other popular alternatives may be too pricey or complicated for you. It's a great app that's well worth the price.