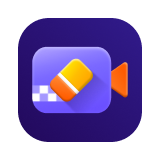 HitPaw Video Object Remover
Best
AI-Powered

Object Inpaint and Remover Tool
Remove unwanted objects, people, and clutter in 3 seconds
Automatically track and identify the object movement with AI-recognition
Easily remove background of video in 1-2-3 steps
Accurately adjust the removed area with the magic selection brush
Change video background to a solid color or a backdrop uploaded
Do as Your Please,
Enjoy with the Perfection
Most Expected Features Assembled in One Perfect AI Video Obejct Removal
How to Remove Unwanted Object and Background from Video
6,000,000+ People Love Us
Just try it and it will help you
Why you don't try it? It helps me make my videos better and it worked great, I'm getting older, but I have no difficulty trying this tool. Really recommend.



Many thanks to HitPaw Video Object Remover
For me, being immersed in reminiscence videos with my ex-boyfriend seems really bad. Thanks to HitPaw Video Object Remover, I am now completely free of him and pursuing my new life.



The best video object remover I ever had
I have used a lot of similar tools before, but the results are not ideal. But HitPaw Video Object Remover is totally different, it's not only simple, but also works well for me, it's worth a try!



HitPaw Video Object Remover deserves five stars!
I really hate having a lot of strangers in the camera, they will make my picture bad. It was HitPaw Video Object Remover that saved me! Thank you so much for bringing my work back to perfection!



Sérgio Medeiros in Brazil
HitPaw Video Object Remover really helps me!
It must be your best choice. It made me find that removing the background is very simple, just import the file, select the mode, and click remove, and it does not require any skills at all.



Rossiter Schweinsberg in German
The most helpful Video Object Remover Tool for me
I believed most people have been troubled by this problem, which is that there is a very cluttered background in the video. But I removed the video background easily and miraculously with HitPaw Object Remover!



Janneke Hake in Netherlands
FAQs for HitPaw Video Object Remover
Featured with advanced AI-powered technology, HitPaw Video Object Remover is the best object remover for videos. It uses AI-powered algorithms to analyze the structure of the image and remove any unwanted objects from videos, without leaving any traces in the background.
No, HitPaw Video Object Remover can meet both short video and long video removal needs, and also supports MP4, MKV, MOV, AVI, WEBM, GIF formats.
HitPaw Video Object Remover supports object removal and background removal, which can help you to remove objects, people, clutter, etc. that you don't want in the video, and can also help you to remove the background and turn it into a transparent background.
After importing the video, you can select AI Remove Objects and Background Fill Mode to complete your desired operation. This will not degrade the video quality, and HitPaw Video Object Remover is used offline with no risk of privacy breach. We do not collect video files uploaded by users, so you can use it without any worries.
It depends on computer performance and video resolution.
Ready to Start with
HitPaw Video Object Remover