Top 5 Apps to Remove Person from Photo Easily and Fast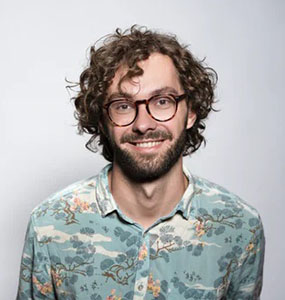 When you take a picture, you want it clutter-free and clean. You want to be the center of attention in your clicks. However, taking photos at different locations can bring in unwanted people.
Go a few years back, and you had to live with it because there was no way to remove them. Things have changed drastically, thanks to the rapid progress in digital technology. It has allowed removing people from photos through various tools. If you are troubled by this problem, just don't worry, in this article, you will learn the best remove person from photo apps for your issues.
Part 1. Why and When You Need to Remove Person from Photo
There can be multiple reasons to remove a person from your photos. Maybe a stranger has bombed your vacation click, something you want pristine. Maybe you're at a wedding where you only want to focus on yourself, but then someone else accidentally becomes part of the photo.
You might want to remove someone from an older photo because you're no longer on good terms with them. It could be your ex or anyone you don't hang out with anymore.  Or, maybe a person didn't stand still during the photo shoot and now appears as a haze in your picture. These scenarios are good reasons to erase a person from your pictures.
Part 2. 5 Apps to Remove Person from Photo on iPhone and Android
With the arrival of smartphones, we have witnessed a bombardment of different apps that help you remove people from your photos. Although there are hundreds of such apps, we have selected what we think are the best ones. So, let's discuss these erasers one by one in detail.
1. Snapseed
A quality app to remove a person from a photo by Google works on iOS and Android. So, if you keep switching, you're lucky, as Snapseed will serve you well on both platforms. With its Healing tool, you can easily remove unwanted people from your photos. It even removes small spots, blemishes, and objects.
You first need to open Snapseed and select the Healing tool to edit an image. After arriving at the Healing screen, select the image. Select the pencil icon on the bottom right and swipe your finger on the person you want to remove. Once you have edited the photo, click Save, and you're ready.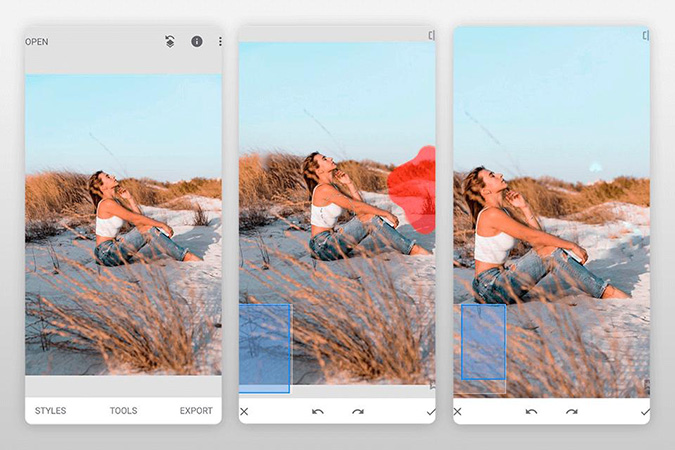 Cons
Works best only when the surrounded area has a plain detail like sky or sea
It has a learning curve, especially when using different tools
Imperfect social media integration
2. Photo Retouch 
Photo Retouch is a free app to remove a person from a photo, helping you produce the photos you want. It offers highly effective tools such as Objective Removal & Quick Repair for quality editing.
Just download the app and select the Object Removal tool. Paint the area you want to remove, and you'll get your final product.

Pros
Works on both iOS & Android
Cons
The free version leaves a watermark on photos after editing
It leaves a mushy texture on the edited area sometimes.
3. TouchRetouch
Some consider TouchRetouch the best app to remove a person from the photo. It offers a simple brush that can magically make unwanted people disappear from your photos.
Download the app and import the image you want to edit. Choose the output resolution and select either the Lasso or Brush tool. The Lasso tool lets you draw a continuous line around the object and people. After selecting the people you need to remove, hit the start button, which will disappear.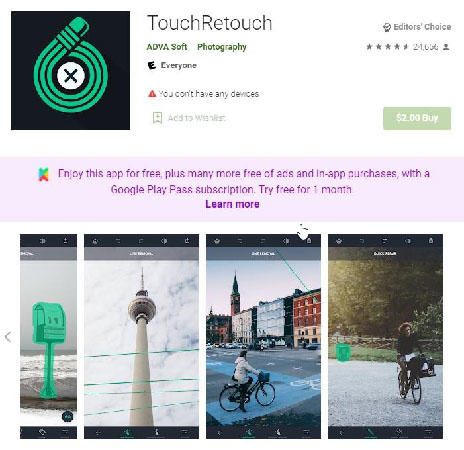 Pros
It offers a variety of tools
Cons
Costs $1.99
It doesn't work perfectly on a complicated background
Cloning tools can get complicated to master
4. YouCam Perfect
YouCam Perfect is another app to erase a person from photo backgrounds. Its AI-powered unwanted person removal tool is designed to eliminate unwanted people or animals from your images. You don't have to be a professional to use it, as the tool is simple and quickly executed.
First, you need to download the YouCam Perfect app on your iOS or Android device. You're provided a brush ranging from 0 to 100 to select any person you want, no matter the size. Draw on the unwanted person, and the app will highlight it in red.
Once you finish drawing, the person will be removed, and the area will be filled automatically on iOS. However, you will need to click the 'Remove' button on Android to remove the selected person.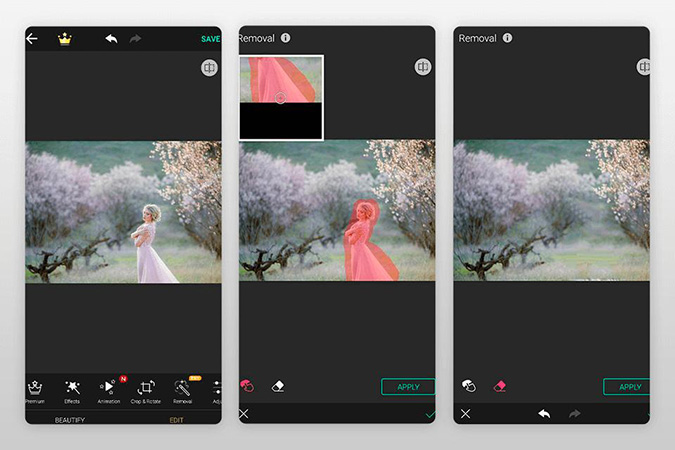 Cons
The non-premium version contains ads
The premium version requires a subscription, as no one-time purchase is offered
5. Adobe Photoshop Fix
The expertise of Adobe shines through the Photoshop Fix app that erases people using its sophisticated brush. It also allows you to tweak the hardness of the healing brush to edit your photos accurately.
Changing the background using another photo is also possible using the clone stamp feature.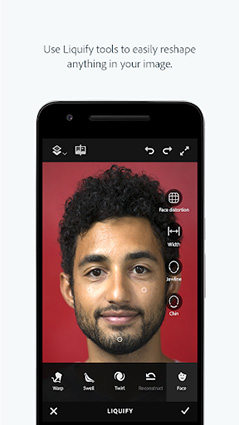 To remove unwanted people:
1.

Download the app and import the image into it.

2.

Select the editing pen and draw around the person you want to erase.

3.

Make sure you're drawing fine lines for more accurate editing.
Now turn those lines into selection by clicking 'Make Selection.' Set the Features Radius to 0 and click Ok. Open Edit and select Fill. A dialogue box will open where you have to select the content-aware option with the normal blending mode and choose 100% opacity for best results.
Cons
Needs subscription
Can experience some bugs
Some tools can be fiddly 
Part 3. FAQs about Removing Person from Photo App
Can I edit someone out of the photo?
Yes, you can edit people or objects out of the photo on both Android & iOS with apps like Snapseed, YouCam Perfect, TouchRetouch, etc. 
What Other Features Should I Look For in an App That Removes People From Photos?
Some other features to look for in object removal apps are background replacement, blur tool, clone tool, exposure settings, animated effects, sharpness settings, HDR, etc.
Part 4. Ultra-tips: 100% Remove Unwanted Person of Your Images on Windows and Mac
HitPaw Watermark Remover is a highly sophisticated, AI-powered tool that lets you seamlessly remove object, person or watermarks from your images. Instead of impeding other editors, it enhances your work and refines it. After removing person from your images, you instill new life into them. They look and feel as if there was no strangers in the first place, and no editing has been performed. 
It is free and doesn't contain nauseating complications, so that everyone can use it effortlessly. Its AI capabilities make HitPaw Watermark Remover highly accurate, making your editing experience pleasant. With its unique features like smooth filling, edge filling, texture repair, etc., you can be sure to produce high-quality images without the annoying unwanted person and stamps.
Some of the main features of HitPaw Watermark Remover are:
Remove unwanted person from your photo without any skills required.
Smooth filling is your best friend if your image has a single color because it makes a smooth and fast transition using the edge pixels.
Edge filling also uses the edge pixels to fill the watermark from outside to inside.
Texture repair is the best option when your image is multi-colored.
It has 24/7 support and comes with a 30 days money back guarantee and you get free updates for a lifetime.
How to Remove Unwanted Person in HitPaw Watermark Remover
Let's learn how you can clean up your images by removing watermarks from them using the HitPaw Watermark Remover.
Step 01 Download and install the program on your computer. Drag and drop your favorite images that you need to remove unwanted person into HitPaw Watermark Remover to edit them.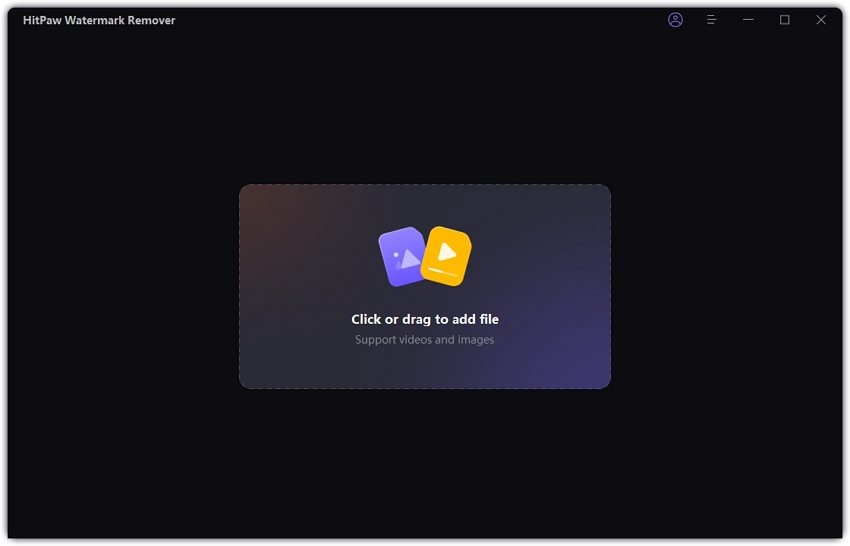 Step 02 Select the unwanted person by adjusting the selection box. You can choose between smooth filling, edge filling, and texture repair. Select undo or redo if you have made a mistake and want to correct it. Also you can Enlarge the image using the Hand or Zoom tool to edit it more accurately.
Step 03 Get rid of the unwanted person by pressing "Preview". If you have successfully removed the unwanted people, click "Export" and save the image.
Conclusion
Now that you know about all the essential tools you need, you can go on and create some fantastic, clutter-free images. You don't have to worry about pesky photo bombers at parties and beaches. Just click yourself at the moment and make changes to it later.
HitPaw Watermark Remover is also helpful for those who want to remove person from photos. There are also no ads would bother you when you enjoying its powerful functions. So you definitely should try it.