The Best 6 Photo Stamp Remover for Beginners (Desktop/Online/App)
A photo may contain watermarks, defects, stamps, and other unwanted objects. Like I had the convocation picture that I was proud of, but it has a signature by the photographer. I could not make peace with that small signature in the corner. I was then introduced to photo stamp remover programs that saved me from further frustration. A photo stamp remover comes to the rescue in such situations and can help remove all these issues to produce a clean photo of better quality.
Best Photo Stamp Remover for Mac & Windows
1.Softorbits Photo Stamp Remover ( Photo & Windows Only)
The most recommended program by us is the photo stamp remover by Softorbits Photo Stamp Remover. It has intelligent technology to remove distractions. It blends up the selected area by filling it with the texture generated from the pixels of the surrounding area. This takes a few minutes and you get a clean and clear picture with no distraction.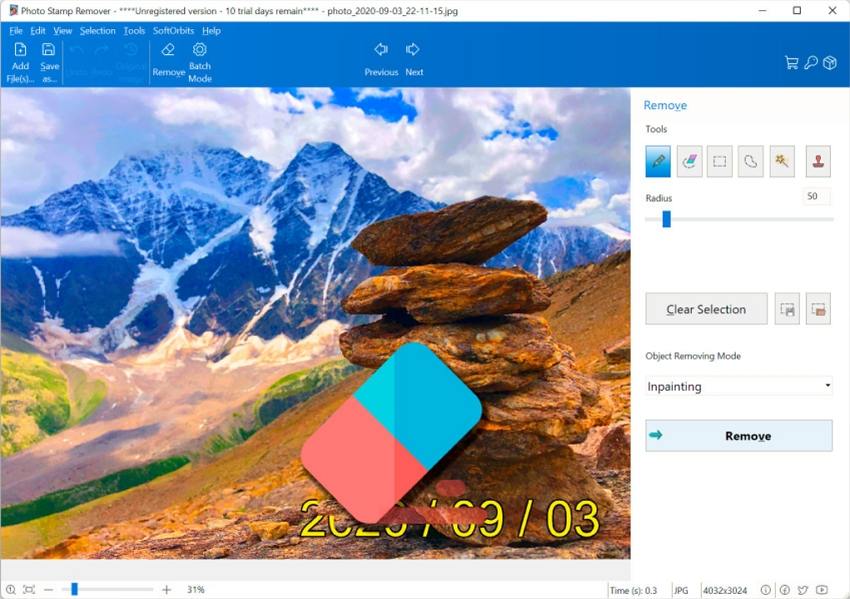 Softorbits Photo Stamp Remover's Features:
Eliminate date stamps and any other unwanted objects from photos.
Easy-to-use and straightforward, user-friendly process.
Batch mode allows to process more than one photo at a time.
You can even select the object to remove by color
Steps of use:
Step 1: Download and launch the program.
Step 2: From the top-left of the taskbar, click Add File to add your photo.
Step 3: Use the marker tool to highlight the date stamp area and click the Remove button.
2. HitPaw Watermark Remover (Photo & Video, Windows & Mac)
HitPaw Watermark Remover is a photo stamp remover software that works for both photo and video. It is compatible with Windows and Mac systems. We highly recommend you to try this impressive program. It offers a highly intuitive UI, therefore you can remove the annoying texts or logos with just a few clicks.
HitPaw Watermark Remover's Features:
It is not free but has very affordable and accessible download options. Free update.
Removes watermark from all kinds of videos and images.
Three unique modes with different effects of removing watermarks. Smooth Filling, Edge Filling, and Texture Repair.
Redo, undo, zoom and move tools are available for selection.
Steps to Use:
Step1: Download, install and launch HitPaw Watermark Remover on your computer.
Step2: Click 'Remove Image Watermark' and then 'Choose File' button to upload your file.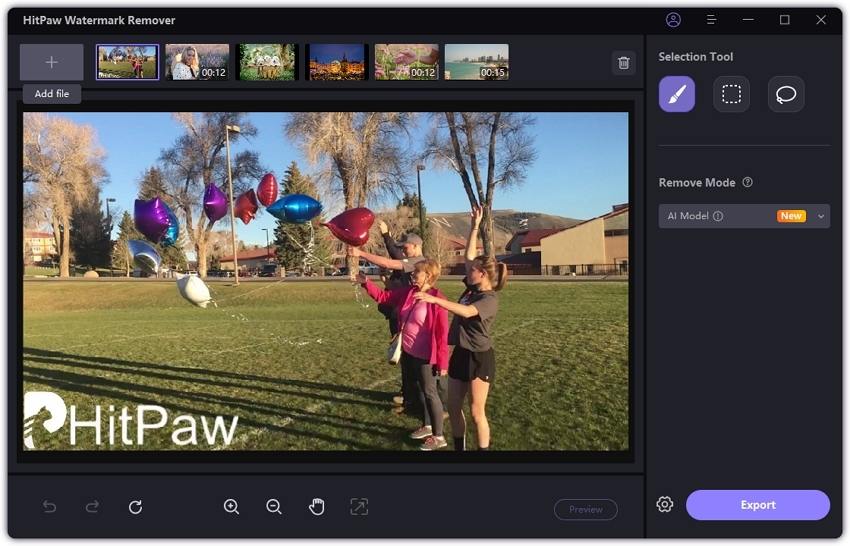 Step3: Mark the watermark on your image. Press, hold and drag your mouse to cover the entire area of the watermark. To drag the timeline bar, you can adjust the duration of the watermarks.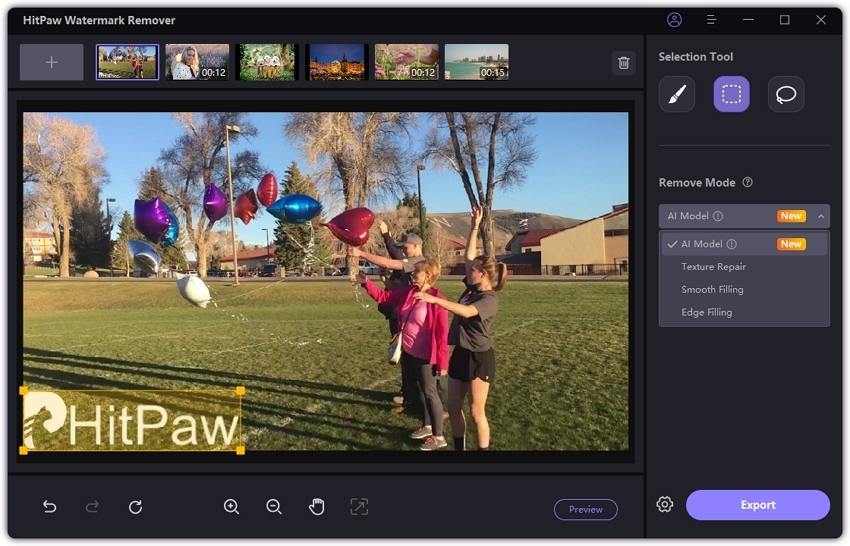 Step4: Click 'Remove Now 'to delete the photo stamp.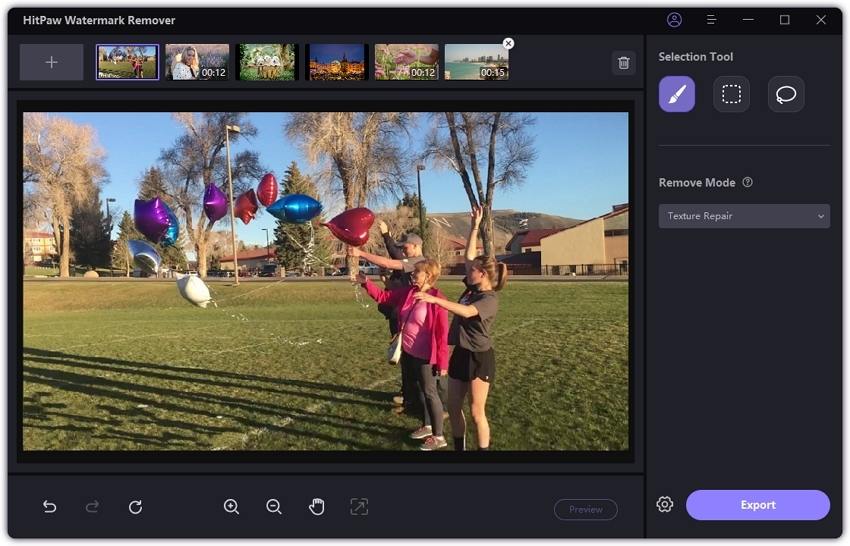 Step 5: Finally, click 'Export' button to save the file. Then, you can select 'Open Folder' to find the image without watermark.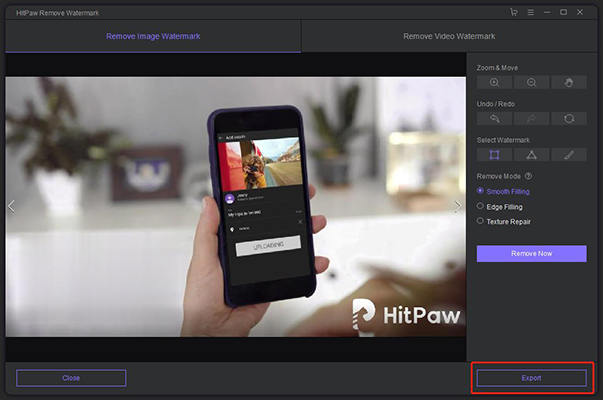 Photo Stamp Remover Online Free (No Watermark is Added)
1.Inpaint
If you are looking for a free photo stamp remover, you may want to give Inpaint a chance using its free trial. Inpaint is an impressive stamp remover that deletes the unwanted distractions from the images using intelligent, content-aware technology.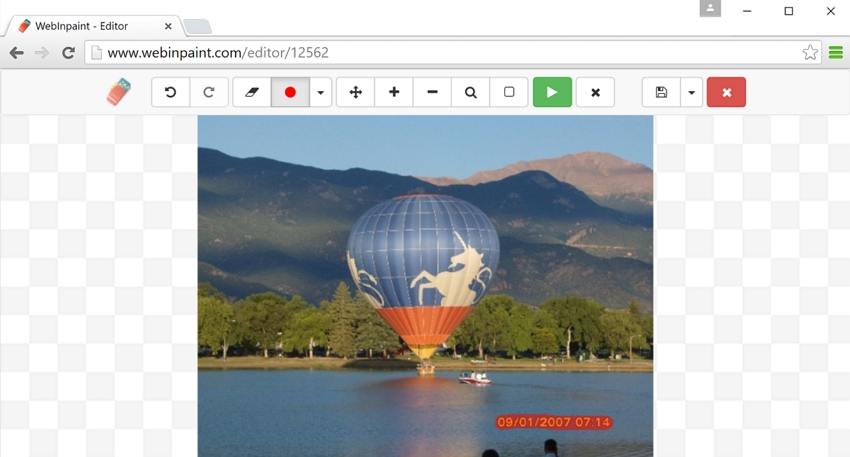 Inpaint's Features:
You can use its stamp remover online version to erase logos.
It is a free photo stamp remover that can restore old photos.
It also removes blemishes and spots on portraits.
Steps to Use:
Step 1: Launch Inpaint and open the photo you want to edit.
Step 2: Mark the object you want to remove with the red marker. Click Erase button on the top bar.
Step 3: Click Erase button on the top bar. Inpaint will clear them in a few seconds.
2.Pixlr
A photo stamp remover online free has features to make you go dancing with excitement. Yes, it is our old buddy, Pixlr. It is a fully-featured photo correction tool used by so many people so far and has satisfied them the most.
Pixlr's Features:
It is portable and can be used anywhere because it is an online free photo stamp remover.
It is a professional style tool as it supports layers and masks.
Steps to use:
Step 1: Head to pixlr.com and click open Pixlr editor. You may have to enable flash if not already done.
Step 2: Now you can create an image, upload an image from a computer or a URL. Choose your option and then follow the wizard.
Step 3: Go to the Heal tool and click on the date stamp, repeat the healing process until all the date stamps are removed.
Step 4: Alternatively, you can use the clone tool to fill the date stamp area with patterns from the image.
Photo Stamp Remover App for Android & iOS
1.Unwanted Object Remover(Android)
Remove Unwanted Object is a free app and works for Android devices. It provides easy to use selection tools called "Eraser" and "Lasso" tool for deleting unwanted object instantly. Also, this app will save time in processing your image.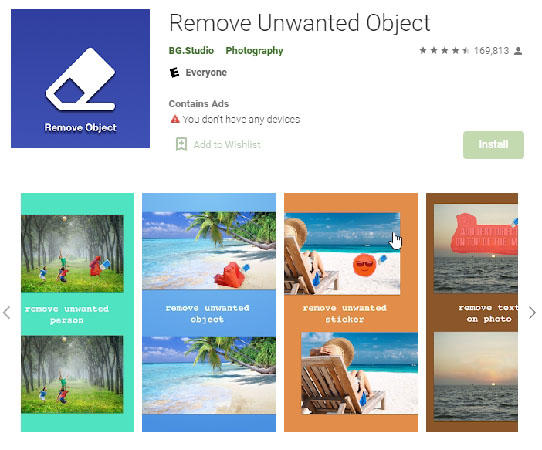 Remove Unwanted Object's Features:
Retouch to remove photo stamps.
Local tonal and color corrections.
Tone & Color to give your pictures a proper look.
Filters for your photos and textures to add depth and richness to your photos.
Steps to Use:
Step 1: Install the app from the Play Store.
Step 2: launch it and then tap the "Gallery" icon to import the photo you want to edit.
Step 3: Use either the "Eraser" or "Lasso" tool to select the unwanted object.
Step 4: Once selected, tap the "Process" button to process and see the result of your image. When it's done, tap the "Save" icon to save it into your photo gallery.
2.AirBrush(iOS)
AirBrush  is a popular photo editor and a watermark eraser app for iOS users. It offers you cool filters, natural and beautiful photo effects and helps you remove watermarks.
AirBrush's Features
It helps you whiten your teeth and brighten eyes as well as change your skin color with perfection.
It has natural and radiant filters. You can share the final selfies to any popular social sites like Facebook, Instagram, Twitter and Snapchat.
Summary
After using many such tools, both online and downloadable, we recommend HitPaw Watermark Removeras it is not only easy-to-use, friendly for beginners, but also allows you to get rid of watermark on videos or images. With all these features, this is the perfect watermark remover.