7 Best Movie Trailer Voice Generator for PC and Online in 2023
Adding dramatic and unique voices to your movie trailers is the best way to get some attention. These voices can enhance your video quality and add some excitement to your content.
However, as we all know, not everyone has a deep and attractive voice that they can use in their movie trailer. So that's where Movie Trailer Voice Generator comes in handy to create realistic and attractive movie trailer voices.
So, in this guide, we have rounded up the 7 epic movie trailer voice generators available online; these tools will allow you to add some amazing voices to your movie trailer in no time.
What is a Movie Trailer Voice Generator?
A Movie trailer voice-over generator is a program that allows content creators to add some realistic voice effects to their video content. By adding these voice effects, they can make their movie trailer more attention-grabbing.
These voice generators possess some key functions such as Deep Resonant voice, TTS technology, AI assistance, Emotion and intensity.
With the help of TTS, technology users can create a narrator for their movie trailer in different voices. You can add voice effects of Celebrities, Singers, Politician and Cartoon Characters.
Below, we have mentioned the top Movie Trailer Voice generator online free; read till the end to find out.
3 Movie Trailer Voice Generators for PC/Mac
Here are the best Movie trailer voice generator Apps for PC/Mac that will help you create stunning video content.
1. HitPaw Voice Changer (Win & Mac)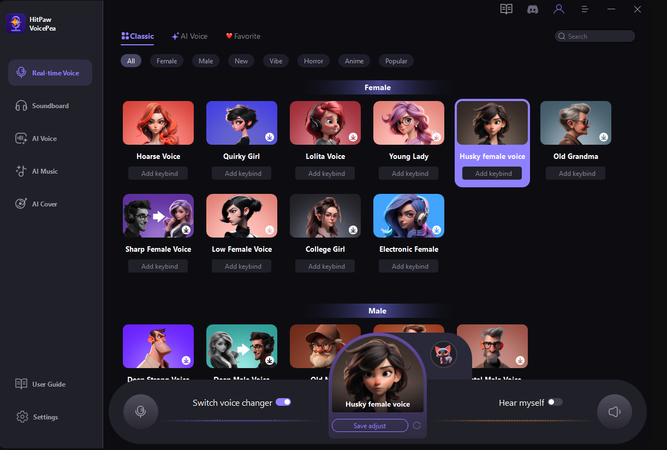 HitPaw Voice Changer is the best movie trailer guy voice generator on our list because this tool has all the functions that are required to create attractive content. With the help of HitPaw, users can easily add voice effects and filters to their movie trailers in no time. This program includes voice effects of celebrities such as Morgan Freeman, Drake, Donald Trump and more.
Further, this tool has the best TTS technology that will help you create speeches from just text in your favourite voices.
HitPaw voice changer seamlessly integrates with many programs like Discord, Twitch, Zoom and more. It has a user-friendly interface that allows users to navigate through settings easily.
Pros
This program allows users to add voice effects to movie trailers easily
Easy-to-use interface makes it beginner-friendly
TTS features allow you to create a narrator for your movie trailer
Integrates with almost all famous platforms, such as Twitch, Zoom and Skype
Includes functions like Pitch adjustment, Soundboard, Noise cancellation and more
Provide High-Quality Outputs
Price: $15.95 Per Month
2. Replica (Win & Mac)
If you need talented voice actors for your movie trailers but can't afford their services? Replica is an all-in-one solution to that problem by providing the best AI voice actors.
This Epic trailer narrator voice generator is trained by professional voice actors working in the industry, so you will get their actual voices. With the help of this program, you can make them say whatever you want in your movie trailer without hiring professionals.
Replica allows you to replicate the voices of celebrities, cartoon characters, and more. This program also allows you to customize existing voice effects according to your needs.
Pros
It has a straightforward interface that will help add voice effects in movie trailers easily
Uses the AI technology
Customization tools to get voice effects that fulfil your needs
All the voice effects are trained by professional's
Price: $36 Per Month
3. Clipchamp
ClipChamp is one of the best video-making solutions that comes with all the features that are required to create a great video, including movie trailers.
This program is also an Epic voice guy generator that comes with realistic voice effects that you can add to your content to make it more attractive.
Furthermore, this tool has a user-friendly interface that allows beginners to create a movie trailer with realistic voice effects.
With this program, users can save videos directly to a computer for free in HD resolutions such as 480p, 720p and 1080p.
Pros
Professional tool to create movie trailers
User-friendly interface
Includes functions like speed up and down, screen recording, trim and merge
Allows you to use this program for free
Save videos in HD resolution like 480p, 720p and 1080p
Cons
The free plan has limited features
Price: $11.99 Per Month
4 Useful Movie Trailer Voice Generators Online
Here are the list of the top 4 Movie trailer voice generator free. All the tool that we have mentioned below are a web-based program that doesn't require any downloading and installation.
1. Veed.io
Veed.io is an epic trailer voice text-to-speech tool that allows users to create movie trailers in natural-sounding voices. This program supports multiple languages and is compatible with famous programs such as YouTube, Dailymotion and more.
Veed also allows you to add subtitles to your movie trailer, making it more accessible to a wider audience.
Further, with the help of this tool, you can create speeches with various sound effects such as aliens, monsters, robots and more.
Pros
Offers cut, trim and crop features to adjust the length of a movie trailer
Add natural-sounding voice effects
It's a social media video creation that can create videos in no time
With the help of the Add Images feature, users can add a creative touch to their videos
Cons
Bit expensive as compared to others
Price: $18 Per Month
2. Voicebooking
Voicebooking is another trailer guy voice generator to create professional-looking movie trailers. With the help of its TTS feature, users can easily convert text to movie trailer voices.
This program offers a wide range of voice effects, which includes voices like Alien, Monsters, Robot and more. Voicebooking also allows you to select the part of the text and customize it according to your needs. You can add different voice effects or insert a silence, which is an impressive tool to create a realistic movie trailer voice.
Pros
Allows you to create HD voiceovers for your movie trailer
TTS features can create realistic movie trailer speeches
You can customize its speed, pitch, volume and more
Create voiceovers in no time
Easy to use
Cons
Take time to edit and create new voiceovers for movie trailers
Price: $265
3. Sonantic
Looking for the best free movie trailer voice-over generator? Then don't look further! Sonantic is the best program that will transform your script into audio and then insert that audio into the movie trailer.
This program produces high-quality voice content and then downloads it in a WAV file. With this program, you will get voice effects like aliens, chipmunks, monsters and more. Further, Sonantic has a user-friendly interface that allows you to operate the program easily.
Pros
Ability to transform movie trailer script into voiceover
Includes a wide range of voice effects and filters
It has a User-friendly interface
Users can download audio files in WAV format for free
Cons
Available only in the UK and USA
Price: $9.99 Per Month
4. Lovo.ai
The last movie preview voice generator on our list is Lovo.ai. Lovo is an all-in-one voice generator that allows users to create voiceovers of their video content in different voice effects.
This tool has a wide range of voice effects to choose from.
Pros
Multiple voice effects to choose from
Create HD quality voiceovers for movie trailer
It has a straightforward interface
Can create voiceovers in different languages
Cons
Some cuts are not that useful
Price: Free
FAQs of Movie Trailer Voice Generator
Q1. How do you get a movie trailer voice?
A1. If you want realistic movie trailer voices, then use a movie trailer voice generator. With the help of these AI tools, you won't have to hire any professional voice actors.
Q2. Who is the voice of most movie trailers?
A2. Don LaFontaine is also known as the movie Trailer Guy. Due to his deep and distinctive voice, he is the perfect voice actor for movie trailers.
Final Thought
This is the end; in this guide, we have explored the top 7 Movie trailer voice generators for PC/Mac and online. But the best among them is the HitPaw voice generator; this program has a wide range of realistic voice effects that you can use in your movie trailer.