5 Perfect Voice Cloning Software in 2023
Thanks to AI technology users can easily clone their voice in different accents and languages through Voice Cloning Software.
These voice cloning programs have gained immense popularity among Content Creators, YouTubers, Bloggers, and more. With the help of these programs, users can not only enhance their voices but can also sound like someone else.
In this guide, we will introduce the best voice cloning software available on the market that will help you clone your voice. Ensure to read this guide till the end to find out more about these programs.
Basic Info about Voice Cloning Software?
Voice Cloning Software is software that allows users to generate a voice that sounds similar to their own. These programs use AI Technology to produce similar copies of your voice in different accents and languages.
How does this AI voice cloning software work? These programs work by inspect the recorded audio clip of a person's tones, pattern, vocal, pitch, and other characteristic to create an accurate voice effect.
This technology is used in various applications such as Films, Video Games, and Advertisements.
Below we have mentioned the top 5 AI voice clone software that you can use to create authentic voiceovers for your projects. We will also mention the pros and cons of each program along with their pricing.
5 Best Voice Cloning Software You Should Try
Here are the best free Voice Cloning Software that you should try.
1. Murf.ai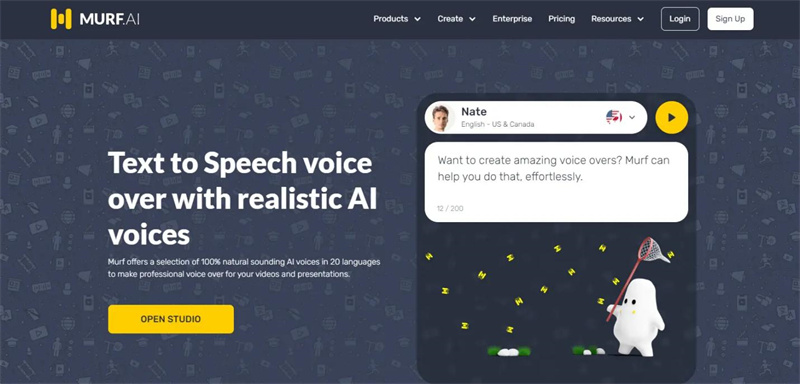 Murf.AI is the best voice cloning software downloader available on our list because it allows you to create realistic voices. This program uses the AI algorithms to mimic human emotions and personality to create a real-time experience.
With the help of this program, users can create different types of AI voice clones different situations such as video games, cartoons, and more. It also allows you to adjust the pitch, tone, and speed of your voice effect to make it sound natural.
Other than cloning this program offers hundreds of voice effects including, Alien, Monsters, Boy, Girl, and more in 20+ languages. Murf.AI has a straightforward interface that allows users to operate this program easily.
Pros
Offers built-in editing tools to create natural sounds
Ability to adjust pitch, speed, and tone of voice effects
Create Human-like voice clones
Offers a huge library of built-in voice effects in 20+ languages
Protects your data with the latest security system
The hassle-free voice cloning process
Cons
Takes time to generate voice clones
Voice cloning is available in single-language
Best For
YouTube Videos, Podcasts, Advertisements and More
Pricing
2. LOVO
Lovo is another incredible voice cloning software used by thousands of content creators. This program allows you to create realistic human-like voices with 25+ natural emotions.
It offers a vast library of voice effects that can be used in various situations such as marketing, podcasts, social media, and explainer videos. All the voice effects are available in 100+ languages so you can easily engage an audience worldwide. Its user-friendly interface can be used by beginners easily.
With the help of LOVO, you can also add background music and sound effects to your videos. This program comes with 4 different prices and offers voice cloning software free for 14 days.
Pros
Free voice clone software for 14 days
Has a straightforward interface
Supports 400+ styles and languages
Affordable pricing
Offers realistic quality
Cons
Voice cloning only on demand
Best For
Generate voice-overs, Creating Gaming Character dialogue, Script Writing
Pricing
3. Play. Ht
Play.HT is a Microsoft voice cloning program that is used by Podcast owners and content Creators to create voice-overs. It allows its users to generate High-quality, realistic voice clones within a few hours.
With the help of its TTS features users can create speeches from text in their voices. With its Play button, you can preview the clone of the voices before downloading them in MP3 or WAV files. It also offers API integration for more customization options.
Pros
This program is powered by IBM, Amazon, Microsoft and Google
Offers voices in multiple languages such as English, Spanish, and more
Export your recordings in MP3 and WAV files
Offers a play button to preview clone voices
High-quality Microsoft voice clones
Cons
Not allow you to clone other people's voices without their permission
Only the paid version allows API integration
Best For
Generating audio files, Podcasts, Voiceovers, YouTube Videos
Pricing
4. Respeecher
If you are a content creator and looking for an AI voice clone-free program then Respeecher is the best option. This program generates accurate voice clones with emotions so that the cloned voice doesn't sound robotic.
With the help of this program, users can easily turn an adult person's voice into children and children's voice into an adult person. You can also adjust the voice pitch and tones according to your needs without even recording.
Pros
Quick results every time
Ability to alter your voice in real-time
Offers an option to tweak the voice to match your requirement
Can turn an adult voice into a child's voice
Has an intuitive interface
Offers realistic voices that don't sound robotic
Cons
Less build-in voice effects as compared to others
Best For
Filmmakers, Dubbing, Game Developers, Audiobook and Podcasts
Pricing
5. Resemble.AI
The last voice cloning software free downloader on our list is Resemble. AI. With this program, users can easily produce human-like voices and then clone them in different languages.
It has a built-in tool that can identify all the emotions in your voice and create a same to same voiceover without formatting it. All you need is a microphone to record your voice sample.
This program has a user-friendly interface with affordable pricing making it a perfect choice for those users who are looking for an efficient voice cloning solution.
Pros
Create a voice clone within 12 minutes
Offers an API Integration
Automatically create a voice clone with a voice sample
Multi-language Support
Cons
Doesn't offer high-quality voice effects
Best For
Generating Speeches, Game Developer, Podcasts
Pricing
Starting from $0.006 Per Second
HitPaw is one of the best voice changers available for PCs in 2023. This program can alter your voice in real-time during live conversations and while playing games.
HitPaw offers a huge library of realistic voice effects including human-like voices, celebrity voices, politician voices, and singers. With the help of this program, you can transform your voice into someone else voice on more than 300 PC programs including Discord, Twitch, Zoom, COD, Fortnite, Cs: Go, and more.
It has a simple and user-friendly interface that allows beginners to operate this program easily. All the output voices are of high quality. It also provides you with an option to preview the altered voice.
Features
Allows you to alter your voice during live calls and online gaming
Offers a wide range of realistic voice effects
Option to voice cloning free
Has a simple and User-friendly interface
It provides a real-time voice preview option
Download the altered voice in popular formats such as MP3 and WAV
High-Quality Output
FAQs of voice cloning software
Q1. Is it possible to clone a voice?
A1. Yes, with the help of a voice cloning free program, anyone can clone their voice in any language and accent. Above we have mentioned the best voice cloning programs that allow voice cloning.
Q2. How much does voice cloning cost?
A2. Each program has its price plan. The cost can range from free to paid version. However, if you choose the free version then you will face some limitations but the paid version has no limitations when it comes to voice cloning.
Conclusion
That's all, in this guide, we have mentioned the best 5 voice cloning free programs available on the market. Each tool has the ability ensure to read this guide properly to find out which tool suits you the best.
At the end of this article, we have mentioned the best voice changer for PC known as HitPaw Voice Changer. It has some amazing features that will enhance your voice-changing experience.