Top 4 Male Voice Generators to Create Realistic TTS Voiceovers
When it comes to voiceovers for video projects or audiobooks, a deep and resonant male ai voice possesses a magnetic quality that instantly captivates the audience. However, only some are blessed with such a charismatic voice.
Fortunately, male voice generators have emerged as powerful tools to bridge this gap, allowing anyone to create realistic male AI voices effortlessly. The applications of male character voice generators are practical and incredibly fun, offering many possibilities for content creators and businesses.
This article will explore the top 4 male voice generators that deliver exceptional results, empowering users to align their voiceovers with their intended brand image and character traits while captivating listeners professionally and engagingly.
Part 1. Top Male Voice Generators
The following 3 male AI voice generators are available online and on desktop.
1. HitPaw Voice Changer
HitPaw Voice Changer is a real-time voice changer software for Windows and Mac. It can automatically convert female to male with custom settings.
Main Features
It comes with lots of voice changing options
It works with all your favorite games and integrates perfectly with Discord, Steam, Twitch, TikTok Live Studio, Audacity, etc
Change voice with awesome effects: celebrity, robot, demon, swap genders, etc
Real-time and realistic
How to Generator Male Voice with HitPaw Voice Changer
Free download and install this voice changer to a computer. Launch it and follow the steps below:
Step 1: Click on Settings on the main interface to select your input and output devices, as well as the keybind settings.

Step 2: Select your desired voice and effects.

Step 3: You can adjust the voice volume, pitch and timbre, toggle Hear myself, Voice changer, and Noise reduction buttons on according to your demands.

Step 4: Now, you can use the male voice on games, live streams or online meetings.
2. VEED
VEED's male voice generator offers many features and capabilities, making it a go-to tool for content creators and YouTubers.
Main Features
VEED offers powerful and user-friendly text-to-speech software straight from your browser, eliminating the need for complicated downloads or apps.
To generate male voices, simply type or paste your text into the text field and add the audio file to your project - it's that simple! VEED allows you to choose from various male and female voices to read your text aloud, with the option to preview the voice before finalizing.
This incredible AI voice generator ensures that your text is read by a natural human-like voice, eliminating the need to hire voice actors for your projects.
Strengths and Standout Aspects
One of the standout aspects of VEED's male voice generator is its accessibility and cost-effectiveness. It is particularly useful for YouTubers and content creators on a budget who need professional voiceovers for their videos.
The ability to create text-to-speech videos for various social media platforms, including YouTube and TikTok, enhances its versatility and appeal. Additionally, VEED offers a range of video editing tools, such as animated text, images, subtitles, emojis, and drawings, to create professional-looking videos effortlessly.
A Simple Step-by-Step Guide
1. Upload or Record Your Video:

Upload your video to VEED or use the free webcam recorder to record new content. Alternatively, drag and drop your videos into the editor.

2. Add Text and Convert to Voice:

Access the Audio section from the left menu and select Text to Speech. Enter your desired text into the text field and click "Add to Project." This will generate an audio file in the timeline.

3. Export Your Creation:

Once satisfied with your text-to-speech video, click Export. You can then download your video or audio to your device for further use.
3. FlexClip
When creating captivating video content, having a versatile male voice generator is essential for content creators, especially social media enthusiasts. FlexClip's male voice generator and AI video maker offers comprehensive features and capabilities that elevate your video editing experience.
Main Features
FlexClip's male voice generator provides access to an extensive collection of 200+ realistic AI male voices across 140 languages and accents. This diverse selection ensures that you can find the perfect male voice to match your video's theme and tone.
With the ability to customize a male AI voice's age and voice styles, such as cheerful, friendly, newscast, assistant, and chat, you have full control over the voice's personality. Moreover, you can adjust voice speed and pitch and add natural pauses, giving your video narration a more natural and engaging flow.
Converting text to male voices seamlessly within FlexClip's intuitive online video editor. Simply paste your scripts, preview the AI-generated male voice, and save the file as a separate WAV format to your PC for backup.
Strengths and Standout Aspects
FlexClip's male voice generator shines in its vast collection of royalty-free music tracks, sound effects, and customizable video templates. With over 74,000 music tracks, you can create captivating vibes and depth for your videos, perfectly complementing the realistic AI male voice.
The AI auto subtitle generator further enhances the user experience, allowing you to convert male voices to subtitles with up to 90% accuracy. This valuable feature ensures that your video content remains accessible and engaging for viewers who prefer to watch with the sound off.
A Simple Guide to Using FlexClip's Male Voice Generator
1. Upload Your Video Assets:

Upload your video assets from your PC, phone, Google Drive, One Drive, Dropbox, or Google Photos. Alternatively, explore FlexClip's vast library of 4M+ royalty-free stock photos and images for your projects.

2. Customize Male AI Voice:

Select the language and accent you need and choose from a wide range of AI male voice avatars with customizable voice styles, speed, pitch, and pauses. Copy and paste your scripts, preview the voice, and save it as a separate file.

3. Add Male Voice to Video Scenes:

Add the AI male voice to match different video scenes, adjusting volume, trimming, or applying fade in/out effects for seamless audio transitions.

4. Auto-Generate Subtitles:

To make your video content accessible, use FlexClip's AI auto subtitle generator to add burned-in subtitles to male voices or songs with lyrics in one click, supporting over 140 languages.

5. Enhance Your Video:

Add royalty-free music, sound effects, customizable text animations, and visual effects to create a captivating and engaging video.
4. Murf.AI
If you're searching for a full-featured male voice generator that effortlessly converts text and recorded voiceovers into natural-sounding male voices for your slideshow or video projects, look no further than Murf. AI. This powerful tool is sure to be your go-to choice.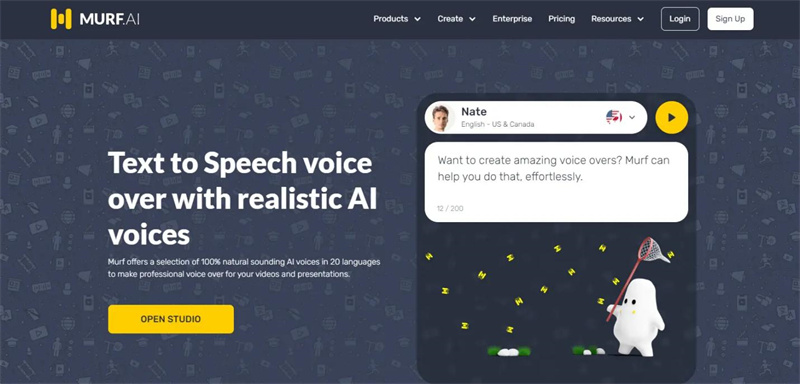 Main Features
Murf.AI boasts an impressive array of features that elevate it above the rest. You have access to over 100 natural-sounding male AI voices in more than 20 languages and a wide range of options.
The voice filter enables you to select a male voice that perfectly matches your video projects: ads, audiobooks, explainer videos, YouTube content, or product demos.
Strengths and Standout Aspects
The customization options for male voices are outstanding.
Easily adjust the voice style, speed, and pitch, add pauses, emphasize specific words, or alter pronunciation to suit your precise requirements.
You can also bookmark your favorite AI male voices for future use.
Simple Guide to Converting Text to Male Voice with Murf
1.

Access Murf.AI and click "Create Project" to initiate your audio/video project.

2. Paste your text into the dialogue block and open the AI voice library by clicking the AI voice profile image. Use the filter to select the desired language, male voice, age group, and project type. Preview the AI male voices and choose the one that suits your liking. Alternatively, you can import text files or recorded voiceovers to convert them into realistic AI male voices using the "Import Script" or "Voice Changer" options.

3.

Preview the AI-generated male voice reading your text and customize it using features like pitch, speed, and pause settings.

4.

Enhance your project by adding images and videos to the timeline using the "Add Media" option.

5.

Once your project is ready, click "Export" to save it as an MP4, MOV, or audio file.
Murf.AI offers unparalleled versatility and convenience, making it an exceptional tool for creating professional male voiceovers that elevate your projects to new heights.
Part 2. Best 5 Male Text To Speech Voices
In the world of text-to-speech, finding the perfect ai male voice for your project is essential to captivate your audience effectively.
Fortunately, Typecast's diverse selection of male voice actors makes it a breeze to discover the ideal voice for any content, from gaming to documentaries and everything in between.
Let's delve into the top 5 male text-to-speech voices and why they have become so popular:
1. Alex
Alex stands out as a younger male voice, making him incredibly versatile for gaming and animation projects. With the ability to embody many characters, he brings life to your virtual worlds. Alex's quick switch between emotions is particularly valuable for gaming, where immersive storytelling is paramount. Alex stands out as a younger male voice, making him incredibly versatile for gaming and animation projects. With the ability to embody many characters, he brings life to your virtual worlds. Alex's quick switch between emotions is particularly valuable for gaming, where immersive storytelling is paramount.
Additionally, his text-to-speech avatar's youthful appearance makes him relatable to children and young adult gaming audiences, making him an excellent choice for educational games or family-friendly titles.
2. Hans
Hans shines as the ideal male voice for compelling documentaries and product reviews. His deep and soothing voice lends gravitas to complex topics, making them more accessible to listeners.
Hans expertly engages audiences with his captivating delivery, perfectly suited for longer-form content. With a wide range of emotional and tonal expressions, he offers the flexibility to add depth and authenticity to your documentaries.
3. Matthew
Matthew's clear and concise delivery stands out regarding news reporting and announcements. His ability to convey information succinctly makes him a natural choice for broadcasting.
Matthew's projected voice is perfect for large venues or events, ensuring your message reaches every corner of the room. With emotional expression available, he maintains a human touch despite being a text-to-speech voice, making him a reliable option for delivering professional and consistent tones.
4. Oscar
Oscar's warm and inviting tone sets the stage for engaging content in radio and podcasting. His voice creates a sense of comfort, making listeners feel right at home.
Oscar's talent for maintaining a conversational tone makes him an excellent choice for interviews and chat-style content. Although he may not be the best fit for forceful deliveries, adjusting his speed and tone settings allows for greater versatility in various audio projects.
5. Dollar Jr.
Dollar Jr. brings the energy and excitement needed for music and entertainment content. His fun and dynamic personality keeps audiences entertained and engaged. Whether it's live events or shows, Dollar Jr.'s ad-libbing and improvisation skills shine through.
Furthermore, tweaking his tone and inflection can evoke different moods, making him an ideal choice for movie trailers or previews.
The Bottom Line
In the ever-evolving world of digital content creation, having access to top-notch male voice generators is essential for conveying expertise and professionalism. The right voice can make all the difference for YouTube videos, product demos, or explainer videos.
After exploring the top male voice generators, it's evident that HitPaw Voice Changer stands out as the ultimate choice, offering both realistic AI male voices and many AI video editing tools.
For those seeking flexibility in text-to-voice conversion, Murf emerges as a close second, providing versatile options. Whichever tool you choose, these male voice generators empower creators to deliver impactful and engaging content easily.