5 Best Corpse Voice Changers for PC & Online in 2023
Corpse Husband, also known as Corpse is a famous Youtuber and musician. He is also popular for narrating horror stories using his unique and deep voice. However, do you know many people say that it's not his actual voice and he uses Corpse voice changer. Well, if you are also curious to know the truth. So keep reading this guide to learn about Corpse Husband and why he has a corpse voice.
Who is Corpse Husband?
Corpse Husband is a popular streamer on YouTube and Twitch known for his deep and low voice. He has a huge following on streaming platforms all because of his voice. He uses his voice to tell horror stories.
Many people are impressed by his deep voice, and users have claimed that he uses a corpse voice changer app to make it like this, but according to Corpse Husband it is his original voice.
As per reports, at 12, he suffered from a rare disease known as Gastroesophageal reflux, which disturbed his vocal cord due to which his voice became deep and low. He guarantees that he doesn't use any voice changer. However, you can get the same Corpse Husband voice through a voice changer. In the below section, we have mentioned the top Corpse Husband Voice changer Apps available.
3 Powerful Corpse Voice Changer for PC
Many voice changer programs are available online that allow you to copy Corpse Husband's voice during a call or for recording. Let's discuss some of the best voice changers to sound like a corpse.
HitPaw voice changer is the best voice changer corpse available on the internet. It allows you to quickly change your voice by applying voice filters. This program uses AI Techniques to analyze speech patterns and modify your voice in real-time.
With the help of this program, users can easily mimic different voices, change gender, alter accents, or create a new voice.
Whether you are playing games or live streaming, this voice changer offers high-quality voice changes without affecting the sound quality. The best part of this program is that it is compatible with most streaming and gaming platforms, such as Twitch, Discord, YouTube, and more.
Pros
Generates High-quality voices
Ability to adjust pitch, tone, and speed
Offers a range of voice effects and filters
Remove background voices or enhance the clarity
Compatible with famous platforms such as Discord, Twitch, and Skype
Cons
A new program in the voice changer industry
Pricing
Individual: Monthly $15.95
Individual: Yearly $35.95
Individual: One-Time $65.95
Business: Yearly 5 PCs $109.95, 10 PCs $229.95, Unlimited PCs $559.95
How to change your voice into Corpse by using HitPaw voice changer?
Follow the below steps to change your voice into Corpse.
Step 1: Go to HitPaw's official site and download, and install the voice changer on your PC.

Step 2: Launch the program and go to the Setting. Now click and select the input and output devices. Adjust the volume of your devices.

Step 3: Choose the Corpse effect.

Step 4: Now turn on the Voice Changer, and Hear Myself options available below. Try to speak on the microphone to listen to what your voice sounds like after adding effects. If you are in noisy surroundings, turn on the Noise reduction option.

Step 5: In the end, adjust the volume according to your preferences.
Looking for a voice-changer to get Corpse Husband voice? Then don't look further because Clownfish voice changer is the best tool to make your voice so deep that it would sound just like Corpse Husband.
This program has multiple voice and sound effects; with these sound effects, you can easily change your voice in real-time. Clownfish is a popular voice changer developed by Shark Labs. With this tool, you can also convert your text into speech.
Pros
A wide range of sound effects is available
This program is very easy to use
Supports many famous platforms such as Discord, Skype, Twitch, etc
Availability of a Sound Player to listen to the created recordings
Pricing
VoiceMod is another Corpse Husband voice changer downloader to depend on to get a high-quality voice-changing process. This program will provide different AI voices and offer theme-based effect choices.
Voicemod is a voice changer that uses AI technology to create realistic voices. If you want to change your voice into Corpse Husband, Voicemod is your best choice. On this tool, you can also access the Corpse Soundboard to modify your voice as you require. With this program, you can easily add effects to your voice on different platforms such as Skype, Twitch, Discord, and more.
Pros
Different themed sound filters are available.
You can use this program to change your voice on platforms like Skype, Twitch
Easy to use
20,000 + meme sounds for free
Cons
Not suitable for Smartphones
Shows annoying Ads
Pricing
2 Useful Corpse Voice Changer Online
After mentioning the top 3 powerful Corpse voice changers for PC, we will introduce you to the 2 Corpse Husband Voice Changers Online. You can easily convert your voice into Corpse voice online through these tools.
Voicechanger.io is an online tool that allows you to change your voice into a high-quality corpse-like voice. Using the recording feature, you can record your voice on this platform or import media files from your PC to make changes.
The best part of this program is that it is a free Corpse voice changer tool, which means you don't have to spend a single penny to change your voice.
If you are a fan of Corpse Husband Voice, then this program is best for you. However, this program doesn't have advanced editing features.
Pros
Various Sound effects are available on this platform
Just Tap and add the corpse effect to your recordings
Support direct uploading
Free to use
Cons
Editing features are limited
Not always provides high-quality recordings
Pricing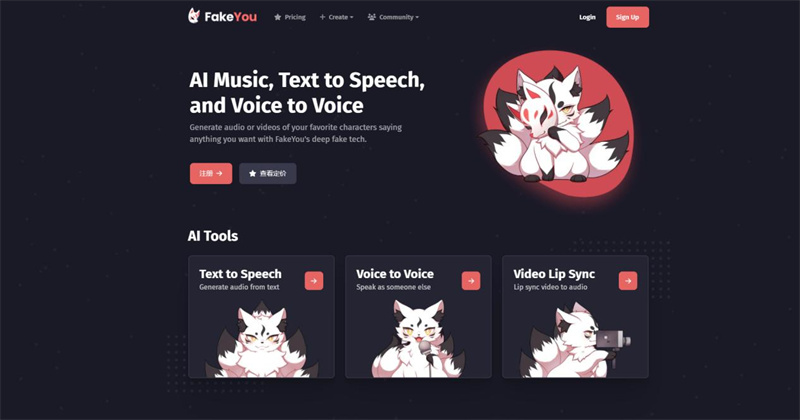 Fakeyou is another online voice changer tool that can generate voices from input text. It has over 2,400 voices that you can use to copy the voices of many celebrities and Cartoon Characters.
Fakeyou program includes voices like Corpses, Robotic, Female, and Regular to create realistic content. This program provides a Corpse Husband Soundboard to adjust the sound effect according to your preferences.
Pros
An Extensive library of voice filters up to 2,400
Save your audio clips in popular formats
The web-based design makes it easy to use
New filters are added regularly
Cons
It uses an internet connection to convert your voice, so slow internet connection users may have to wait for a while
Only support TTS
Pricing
Part 4: FAQs of corpse husband voice changer
Q1. What is the best voice changer to sound like Corpse?
A1. HitPaw Voice Changer is the best Corpse voice changer downloader available online. This program will make your voice so deep that it will sound exactly like Corpse Husband. It also offers many amazing features, such as a wide range of sound effects, AI Assistance, an Excellent editor, and more.
Q2. Why does Corpse use a voice changer?
A2. Corpse Husband doesn't use any voice changer; it is his natural voice. Corpse told his subscribers that at 12, he suffered from a rare disease known as Gastroesophageal Reflux Disease, which made his voice low and deep.
Final Thought
As we have told you above, Corpse Husband doesn't use a voice changer to get a deep voice. However, if you want to change your voice like Corpse Husband, you can use the Corpse Voice Changer applications mentioned above to convert your voice into corpse. You can also create Corpse videos or Prank your friends with this new voice.