5 Powerful Alternatives for Vocaroo AI Voice in 2023
As we all know, many AI voice recorders are available online, and Vocaroo AI Voice is one of them. Vocaroo AI Voice is a high-quality voice recording application which records voices as well as share audio files.
With the help of this software, you can create a professional recording effortlessly. Further in this guide, we will give you a brief introduction to Vocaroo and introduce its 5 alternatives. Read this article until the end if you want to learn about Vocaroo and its alternatives.
What is Vocaroo AI Voice Recorder?
Vocaroo AI Recorder is an online application that helps users to record and share voice messages via audio files. This is an online platform, which means you don't have to download the program to record and share audio content.
The good thing is that you don't have to complete the signup process to use the application. This program has a straightforward interface just like Google Docs. With no account or login required, you can easily download and share your audio with the help of a link.
5 Alternatives for Vocaroo AI Voice Recorder
Vocaroo AI voice recorder is an amazing tool used for sharing audio clips. With this app, you can easily record your voice as well. However, there are some drawbacks to this application. For example, Vaccaro doesn't provide advanced functions, and the audio recording is not of good quality. If you are looking for other options, then look no further; in the next section, we will introduce you to the best 5 Vocaroo Alternatives you can use for audio recordings.
1.HitPaw Voice Changer- Best Alternatives for Vocaroo AI Voice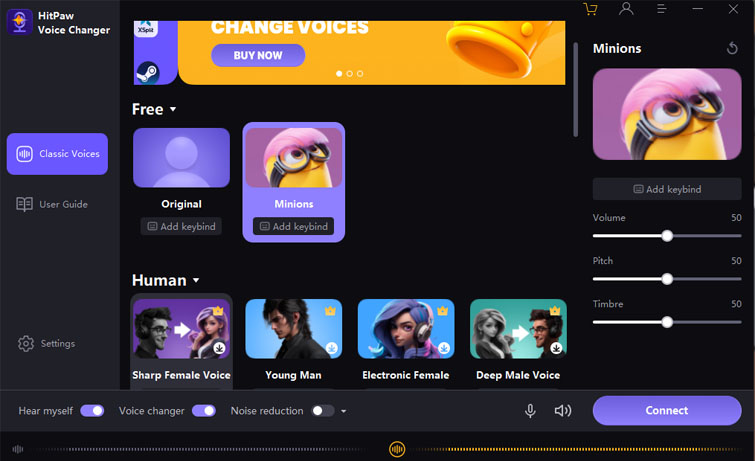 HitPaw Voice Changer is the best Alternative to Vocaroo because this program has the advanced editing features that Vocaroo lacks. This program allows its users to change their voices while recording audio.
HitPaw Voice Changer is also a real-time voice changer for online gaming and streaming platforms. It got all the features that you need in a top-notch voice changer. With the help of this tool, you can change your voice into any anime character, Celebrity, Robotic, and more. If you want to have fun or prank someone, this program is best for you.
Pros
Compatible with Social Media Platforms such as TikTok, FaceBook
Straightforward and easy to use
Easy Registration process
Offers a wider range of built-in voice effects
Powered by AI to generate natural voices
Excellent Sharing Feature
Pricing
Individuals
1 Month: $15.95
1 Year: $35.95
One-Time: $65.95
Business
2.MorphVOX
MorphVox is a real-time voice changer program built by Screaming Bee. This software provides a superior voice-changing experience to its users with voice learning technology. Additionally, MorphVox offers plenty of voice effects you can use while recording audio. You can also use the soundboard function and the background sounds. Soundboard allows you to send different sounds to surprise your friends, and you can also use the background sounds to pretend that you are in a completely different place.
Pros
Supports popular online games
Soundboard adds instant sound effects
Voice Compare function
Built-in Sound effects
Cons
The free version has limited voices
Not compatible with different audio settings
Poor sound quality
Pricing
3.Apowersoft Free Online Audio Recorder
Apowersoft is another great audio recording software with a wide range of tools that make this software one of the best. It's an ideal audio clip recorder for both casual and professional users.
When you open this program, you will be amazed by its simple and clean interface. This software has amazing editing features such as cutting, copying, pasting, inserting, and more. And it is compatible with almost all file forms like WAV, MP3, MPC, APE, and AMR.
Pros
Easy to use, even for beginners
Free of Cost
Equipped with MP3 search engine
Allows direct transfer to other platforms via a link
Cons
No Linux Version
Only for Audio recordings
Pricing
4.BearRecord Voice Recorder
BearRecord is one of the best Vocaroo Voice alternatives because it allows you to record your voice directly from a web browser using a microphone. The recording is produced on the computer; you can record as many times as you want. You can also save the recording on the BearRecord server and get a link to share it on any platform.
All the recordings are downloaded into an MP3 file. This program is free, with no hidden payment, activation fees, or extra charges.
Pros
Completely Free No hidden charges
Just click on the red button to start recording
Offer cut and edit option
Audio saved format, MP3, WAV, OGG
All the data uploaded is safe and secured
Cons
This Platform is not that popular
Pricing
5.Reverb Online Voice Recorder
Reverb online recorder is a free voice recorder that allows you to record and share your voice with anyone at any time. With the help of this tool, you just have to record your audio and then share it with a link.
All your recordings are stored online on this platform until you manually delete them. The good thing about this program is that it doesn't ask for any registration, and everything is web-based, which means you don't have to download this program.
If you don't want to share your identity, then this program is your best choice because all the recordings shared via Reverb are anonymous.
Pros
Anonymous Voice Recorder
One-click recording
No sign-up or registration required
Recordings are stored online
Online and Free
Pricing
FAQs of Vocaroo AI Voice
Q1. How long do recordings last on Vocaroo?
A1. All the recordings created on the Vocaroo Record can be shared as a link on different platforms. The recording will last for three months; after three months, the recording will automatically expire or delete from Vocaroo. So, we recommend downloading the recordings instantly to avoid any issues.
Q2. How do you use Vocaroo to record your voice?
A2. If you record audio from the Vocaroo AI voice generator, follow the steps below.

Open your web browser and go to www.vocaroo.com
Then click on the record button.
Click the Allow option to give access to Vocaroo of your microphone
Start recording your voice
Once the recording is completed, click on the red square button to finish
Click on the Play button to listen to your recording
Q3. Is Vocaroo in MP3 format?
A3. The recordings on Vocaroo can be downloaded in different formats, such as MP3, OGG, Flag, and WAV. Ensure to always download your audio files into MP3 format because almost all platforms and devices support MP3 format. If the Vocaroo downloaded audio file does not support your device, then check its format and try downloading the files again. Sometimes, due to slow internet connection, users might face issues regarding the downloading process.
Final Thought
That's it; now you have learned about Vocaroo and its alternatives. After reading this guide, you have noticed that Vocaroo alternatives share some common features but have some unique functions as well. If you are unsatisfied with it, we recommend you choose a program with superior features. All the alternatives have more functions as compared to Vocaroo.
If you want our recommendation, we suggest you choose HitPaw Voice Changer because after recording your audio on this platform, you can modify your recording to make it more fun and exciting. Thanks for reading this guide till the end. Hope this guide will help you find the best Voice recorder.