5 Best Vtuber Voice Changers to Become A Vtuber in 2023
Whether playing games online, streaming, podcasting, or more, VTubers want to double the fun by changing their voices. VTuber normally uses animated avatars to interact with their fans, but having a voice-like animated character is crucial. A voice changer for VTubers allows them to transform their natural voice into different animated characters, tones, or language, making their content more engaging. You are in the right place if you are a VTuber and looking for a voice changer VTuber program. We have listed the 5 best voice changers to fulfill your dream.
5 Great Vtuber Voice Changers Vtubers Use
A VTuber voice changer is available online that allows you to hide your identity by replacing your natural voice with a fake one. Whether you want to change your voice for playing games or pranking your friends, you can use these voice changer programs to get into character.
Here is the list of the top 5 VTuber AI Voice Generators for online use.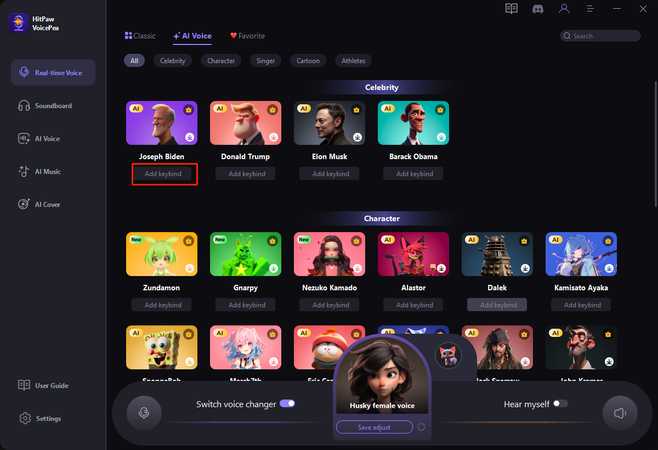 Rating: 5 Stars
Pros
Generates the most realistic and natural voices
Has the ability to remove background noise
Supports popular platforms such as Zoom, Discord, Skype, Twitch and more
Best for Live Streaming and online gaming
It offers a huge library of voice effects and filters
It allows you to adjust pitch, tone, and speed to achieve a natural voice
Cons
The free version has limited voice effects as compared to the paid version
Compatibility:
Pricing:
1 Month Package for $15.95
1-Year Package for $35.95
One-Time Package for $65.95
How to use HitPaw voice changer to create voice effects for VTubers?
If you are a VTuber and want to create a VTuber AI voice, then follow the below instructions:
Step 1: Open your web browser and go to HitPaw's official site. Download the program on your PC and install it.

Step 2: Once the installation is complete, launch the program and navigate to Settings. Click on the Input and Output drop-down buttons and select the devices you are using.

Step 3: Go back and choose your favorite VTuber voice effect; as we have told you before, this program has a huge library of voice effects to choose wisely. Click on the voice effect to apply it.

Step 4: Now turn on the hear myself and voice changer toggle to apply the voice effect. After adding effect, speak to your microphone to listen to your voice's sound.

Step 5: After previewing the sound effect, you can use the sound control panel to adjust the volume according to your preferences.
2. VoiceMod
Rating: 3.4 Stars
VoiceMod is a real-time voice changer available for Windows users. It builds audio tools that help VTubers to create a realistic audio identity in the metaverse. This program is simple to use and has powerful voice changer features that allow users to transfer their voice into any character, including a girl, robot, alien, astronaut, and more.
The main reason behind its popularity is the fantastic set of features and functionalities. The best part of this program is that it is compatible with a vast arsenal of platforms such as Zoom, Minecraft, World of Warcraft, Skype, Fortnite, WhatsApp, and much more.
Pros
Real-time voice changer
Over 100+ voice effects can complete your voice
You can create a custom voice filter by using the Voicelab feature
Perfect integration with software like Twitch, TikTok Live Studio, Omegle, and more
VoiceMod effects do not affect your game performance
Cons
Doesn't work with a poor network connection
Compatibility:
Pricing:
Free Version
Pro Version for $52.00
3. Clownfish Voice Changer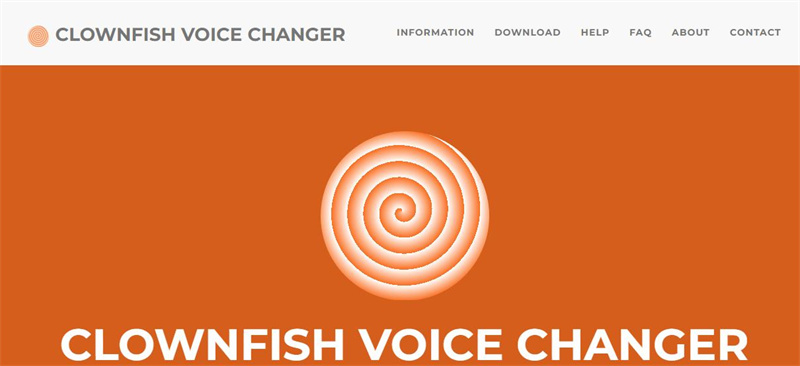 Rating: 3.3 Stars
Clownfish voice changer is a VTuber voice changer free tool that works with Discord and supports other chat applications like Skype, Zoom, Team, and more. This program works as a sound modification system, which means you can run this program in the background and easily transform any audio coming from the microphone.
It has a huge stack of voice effects, including voices of Alien, Atari, Clone, Mutation, Male Pitch, Female Pitch, Helium Pitch, and more.
This program is simple and fast, and it is compatible with all versions of Windows.
Pros
Smooth integration with apps like Team, Zoom, Team Skype, and Twitch
Offers advanced features like Text-to-speech, hotkeys, and automatic tune
Customization options with audio control
Supports the VST plug-in
Use it as a background music player
Keystrokes and speech level tags to generate realistic sounds
Cons
No new updates on this program
Compatibility:
Pricing:
4. Voxal Voice Changer
Rating: 3.3 Stars
Another VTubers voice changer software, Voxal voice changer, is a voice alteration program that modifies your voice into another one. This program is mainly used for fun, but with its advanced features, you can also use it for professional and educational purposes.
The highly customizable software offers over 100+ voice effects to create new voices.
This program uses the same technology as professional sound studios. With the help of this tool, you can create realistic voices to fool others into believing that the person behind the microphone is someone else.
This program has many advanced features such as Pitch shit, Echo Effects, and Text-to-Speech. The program is very easy to use and requires no training to use properly.
Pros
Compatible with Different devices and doesn't take up system space
It has a straightforward interface with different voice effects
Dashboard has hotkeys
Allows you to change voices on different apps like Skype, TeamSpeak, Zoom, and much more
Cons
Create issues while making videos on YouTube
Compatibility:
Pricing:
Home Use Only For: $34.99
Commercial License For $39.95
5. MorphVOx
Rating: 3 Stars
The last VTubers voice changer on our list is MorphVox. This program is available in multiple packages, Morphvox Junior and Morphvox Pro. Junior is the free version and only comes with three sound effects Kid, Female, and Male. You can use these voices while playing online games or prank a friend via an instant messaging app.
However, the free version of this program is not best for VTubers; if you want the perfect quality and range of sound effects, go for the pro version.
The premium version offers a large library of voice effects and features like live vocal visualization, frequency adjustments and more.
Pros
This program possesses the Ultra-Quiet Background
Morphvox upgrades its feature regularly
It has a free version with free voice effects
Offers features like voice parsing detection, stereo microphone support, voice tuning, and more
Cons
Pretty Challenging for first-time users
Compatibility:
Pricing:
Junior Version For Free
Pro version For $39.99
Find the Most suitable Vtuber Voice Changer for You Quickly
If you are unable to decide which Vtuber AI voice changer is best for you, then here is a comparison table that will help you decide:
| VTuber Voice Changers | Pricing | Compatibility | Rating |
| --- | --- | --- | --- |
| HitPaw | Starting from $15.95 | Win/Mac | 5 Stars |
| VoiceMod | Pro for $52.00 | Win/Mac | 3.4 Stars |
| Clownfish | Free | Windows | 3.3 Stars |
| Voxal | Home use for $34.99 | Win/Mac | 3.3 Stars |
| MorphVox | Pro for $39.99 | Win/Mac | 3 Stars |
FAQs of Vtuber Voice Changer
Q1. What voice changer does VTuber use?
A1. Hipaw is a popular VTubers voice changer program available online, allowing the content creator to transform their voice in real time.
Q2. What do streamers use to change their voice?
A2. Streamer uses a voice changer to change their voices on Live Streaming, Online Gaming, Podcasting, and more. Voice changer allows them to create unique content for their channel.
The Bottom Line
In the World of VTubers, having a unique voice is difficult. However, to make their voice unique, they use a VTuber voice changer to help them transform their natural voice into a unique one.