FakeYou Deep Fake Text to Speech Review and Best Alternative
FakeYou has turned out to be well-liked among users. The tool utilizes synthetic voices generated by algorithms to produce human-like speech thus you can easily use an AI-generated voice of celebrities to suffice their needs. Today, we will have a look at a brief review of FakeYou com as well as see some of the best alternatives to it that can create AI-based voice easily.
Part 1. What Is FakeYou Text to Speech?
Fake You text to speech is an online-only platform that can create voices that users select from input text. It has more than 2,400 voices that users can use to imitate different characters and celebrities for any text that they feed. These voices also comprise of regular people's voices to make a more realistic output from users' input feed. In addition to this, users can edit and save their content in popular formats to use it later. Below you will find some of the features that this platform offers. Have a look.
Features
FakeYou[dot]com AI offers one of the best text to speech outputs and it is realistic
The platform has an easy-to-use UI, thanks to the AI technology operating in the background
It comes with a huge library of quality voices of up to 2,400
The tool provides enhanced quality of voiceovers with regular updates
You can edit and save their content on Fake You.com in popular formats to use later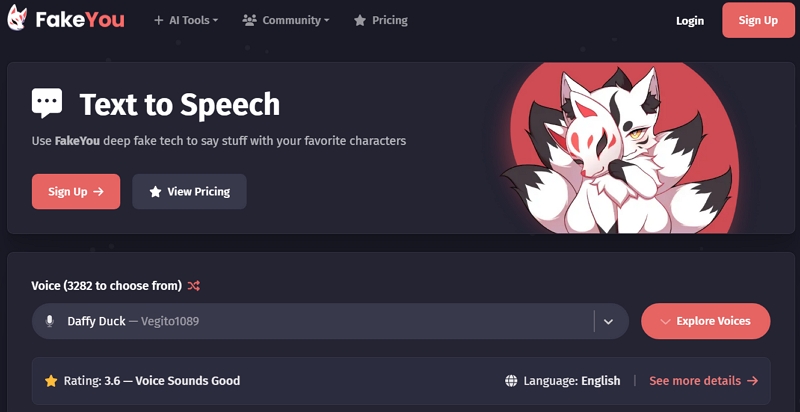 Part 2. Reviews on FakeYou Text to Speech with Pros and Cons
Now that we had a look at FakeYou text to speech platform and its features, let us review the tool. The platform is mainly used by people who TikToker or YouTuber. The in-built text-to-speech features of these social media platforms help users create voiceovers for the videos. However, these features offered do not have much flexibility.
Using Fake You text to speech, users can make voiceovers with more than 2400 voices it offers. From high-quality input options in different languages such as Spanish, English, German, and Arabic to funny audio to prank your friends, FakeYou AI assists users work efficiently and suffice their needs.
Below are pros and cons of using FakeYou voice generator. Have a look.
Pros
The web-based design makes the platform really simple to use from anywhere
Users can use it on any device with a web browser internet connectivity
FakeYou AI text to speech platform will always be free since it gets funding from users and fans
All the voices can be improved and tweaked for enhanced output
The number of voices is increasing every day
Cons
Users have complained about FakeYou not working sometimes
The platform does not have recording at the moment and supports only TTS
The text to speech conversion by the tool might take longer relying on your internet connection speed
Part 3. FakeYou Not Working? Try FakeYou Text to Speech Alternatives
With users complaining about FakeYou.com not working, the need to get an alternative is more than ever. Below are some of the best options that you can try. Keep reading to know more.
1. Murf.AI
Speaking of FakeYou alternative, Murf.ai is one of the best options that we have. It is an enhanced voice-generation platform that uses AI technology to create realistic voiceovers. It has a simple UI and houses more than 130 AI voices across different accents and languages. The platform also lets customization, enabling users to experiment with the intonation and delivery of the premium voices inhouse.
You can customize the voiceover as per their needs with features such as introducing punctuation, adjusting pitch and tone, and adding emphasis. The platform provides a series of AI tools, such as Voice Editing, Voice Changer feature, a Grammar Assistant, and Time Syncing. With this FakeYou. Com alternative, users can easily create high-quality voiceovers.
Features
8000+ licensed soundtracks
120+ voices
Collaborative Workspace
Transcription
AI Voice Changer
2. Speechify
Speechify is the next FakeYou. deep fake text to speech alternative in our list. The tool is a well-known text-to-speech program and makes it simple to get written data translated in real-time into text format. This enables users to take their audio libraries anywhere. With this tool, the audio library is synced across all users devices, making it easy for users to transition to listening on their phone or tablet from listening to audio on their computer.
The platform also has the capability of keeping users' place in the audio files (including .wav and .mp3 files), so users do not waste time trying to find where they left off when they come back to listening after a break or switch devices. Users can get a natural-akin listening experience not unlike listening to their favorite podcast while multitasking or while on-the-go. This FakeYou app alternative works with PDFs, emails, HTML, Word documents, websites, and more. It is also already simple to use, but there are many tutorials to assist users get even more adapted.
Features
Listen at any speed
Official celeb voices
Natural-sounding human voices
Listen on desktop or mobile devices
Free audio file download
Multi lingual and high quality natural sounding voices
Document upload
3. Listnr
Listnr is one of the top fake voice text to speech option with voice personalization features. The tool enables users to make personalized and unique voices that can be used in different platforms and applications. With this tool, users can adjust pitch and tone, and even include effects to the voice to make it unique. The platform sets itself apart from other options with its enhanced voice personalization features. With this tool, users can generate a truly customized voice that fits your personality or brand or needs.
Features
Podcast Hosting
TTS Editor
Audio Player
AI Podcast
Text to Speech API
4. Typecast
Typecast is another Fake You deepfake text to speech alternative that we have for you. This AI voice generator is well-known for its ability to generate realistic sounding voices. The tool uses generative AI and deep learning to generate natural sounding speech. While many text to speech tools enable users to convert huge amounts of written info into speech, not many provide speech avatars or virtual characters as part of their free plan. The tool's unique selling point, in addition to its enhanced deep learning features, is a vibrant library of virtual humans designed to fit users' needs.
The tool comes with Angela, a virtual human character by Typecast. It has an accent that comprises different speech transitions. This make the voice a perfect candidate for generating a company's promotional or marketing videos.
Features
Can control emotions
Alter tones to customize your narrative
300+ Typecast voiceovers
Text to speech options for education, audiobooks, documentary, sales, and training
Part 4. FAQs about FakeYou DeepFake Text to Speech
Q1. Is FakeYou Text to Speech Safe?
A1. FakeYou is completely safe for use as it is used by numerous people daily who fund and support the web-based platform. If there were any security concerns, a huge chunk of the community would not have supported and funded it.
Q2. How much does FakeYou Text to Speech cost?
A2. To use the fake text to speech feature of FakeYou, users does not have to shell any money since it is free of cost. On the other hand, the tool comes with paid subscriptions as well. The Plus plan comes for a price tag of $7 per month. On the other hand, the Pro plan comes for a price tag of $15 per month and the Elite plan comes for a price tag of $25 per month.
Q3. What is the best FakeYou alternative?
A3. Users can choose any of the tools mentioned above. This is completely a subjective question and depends on the users' needs.
Extra Tip: Best FakeYou Voice Changer Alternative to Change Voice In Real-time
Fakeyou voice to voice feature allow users to change voice to favorite characters but it fails to work occasionally. If you are looking for a voice changer service, I recommend HitPaw Voice Changer. It offers increasingly realistic and versatile voice transformations. Whether for entertainment, creative expression, accessibility, or privacy, voice changer software provides a fun and innovative way to experiment with the possibilities of vocal manipulation.
Features:

Provide effects like echo, robot, or supernatural or fictional character voices
Generate the highly realistic and natural-sounding voice
Add voice effects to videos, live streams, or online gaming
Customize various parameters, such as pitch, speed, modulation, and effects
Best voice changer for content creators, streamers, and gamers
Here're easy steps that how you can use HitPaw Voice Changer.
1.Go to "Settings", click & select the input and output you are using. Then adjust to the volume as you prefer.

2.Choose the effects you want and try speak into the microphone to listen to the transformed sound of your voice.

3.You can adjust the sound effect in the sound settings,you can adjust volume, pitch, timbre of the sound.

4.Simply click the "connect" to changer your voice on other platforms like Twitch, Discord, Steam, etc.
Conclusion
To cater to different people and users, different text to speech platforms have their own unique perspectives and styles. FakeYou is also one of them. But most of the users think that it is not suitable for them. Hence, we provided you with a list of best alternatives that can cater to your needs.
HitPaw Voice Changer as the best Fakeyou voice changer alternative, will be your best choice for real-time voice changer.