X-minus.Pro Review and Alternatives
Nothing beats the feeling of being creative and taking control of your audio projects. In this digital era, editing music has been made easier with advancements in technology.
With powerful vocal removers like X-minus.Pro in the market, you can now easily remove vocals from any song and create your own unique remixes, instrumentals, and even acapella.
But is X-minus.Pro really worth it? Let's find out in this comprehensive review. We'll also discuss its alternatives and whether they bring something different.
Part 1. In-depth Review of X Minus Pro
1. What Is X-minus.pro?
X-minus.Pro is a powerful vocal remover that can help you create clean, instrumental versions of songs with just a few clicks and some simple steps. It helps you change the pitch of any track, create playlists, and more.
Not only that, but it also allows you to reverse audio, remove vocals from background noises and even mix multiple files together. It's a great tool for any music producer or hobbyist looking to take their audio-editing skills to the next level.
No one likes to hear a track spoiled by intrusive vocals, and now with x-minus.pro, you can easily remove them from any song. It's perfect for creating instrumental versions of songs and allows you to add effects like reverb and echo to make your music come alive.
2. Is X Minus Pro Safe?
Yes, x-minus.pro is completely safe to use. All of the audio files are protected with strict encryption and security protocols to ensure your data is kept safe and secure. The site is also certified by independent auditors to make sure it meets all industry standards.
So, you can rest assured that your audio files are in safe hands with x-minus.pro.
3. How to Remove Vocals with X-minus.Pro?
To remove vocals using x-minus.pro, follow these steps:
Visit the x-minus.pro website: Open your preferred web browser and navigate to the x-minus.pro website.
Upload the audio file: Once you're logged in, locate the option to upload an audio file. It may be labeled as "Upload" or "Add File." Click on this option and select the audio file from your computer that contains the vocals you want to remove.
Choose the "Vocal Removal" feature: After uploading the audio file, find the "Vocal Removal" feature in the x-minus.pro interface. This feature is specifically designed to separate vocals from the rest of the audio.
Apply the vocal removal: Click on the "Vocal Removal" feature and x-minus.pro will process the audio file to isolate and remove the vocals. The time taken for this process can vary depending on the length and complexity of the audio file.
Download the modified audio: After completing the vocal removal process, x-minus.pro will provide you with a link or option to download the modified audio file. Click on the download button or link, and save the file to your computer.
Verify the results: Open the downloaded audio file and listen to it to ensure that the vocals have been effectively removed. It's important to note that vocal removal algorithms may not always achieve perfect results, especially if the original audio file has complex arrangements or overlapping vocals.

Adjust settings if needed: If you're not satisfied with the initial results, x-minus.pro might offer additional settings or options to fine-tune the vocal removal process. Explore the interface to see if you can adjust parameters like vocal intensity, stereo separation, or frequency range to improve the outcome.
4. Free VS Premium
Free
Premium
Better AI models
Yes
Yes
Max song duration
8 min
from 15 to 25 min
Stems
inst, vocals
bass, drums
inst, vocals
Max file size
70 MB
from 150 MB
YT links support
Yes
Yes
WAV/FLAC
Yes
Yes
5. Verdict
X-minus.pro offers powerful vocal removal capabilities, with an easy-to-use interface and a range of features to suit both casual users and professionals.
The free version offers basic options and short song durations, but the premium plans offer more flexibility and longer song durations. It's a great tool for vocals-only tracks, with fast loading times and many options.
So, if you're looking to quickly eliminate unwanted instrumentals in your recordings, you can't go wrong with x-minus.pro.
Part 2. What Are the Alternatives to X Minus Pro?
If you're looking to get a little more creative with vocal removal, or if the limitations of x-minus.pro isn't up to scratch, and then we have five great alternatives for you to check out.
Our list not only includes websites, but also desktop and mobile apps for Mac, Windows, Linux, and Android.
So, whether you want to remove vocals from a podcast, bring out hidden melodies in an MP3 song, or create karaoke tracks on the go, here are the five best alternatives to x-minus.pro.
1. HitPaw Video Converter - Best AI Vocal Remover for Windows and Mac
The first one on our list is HitPaw Video Converter. This desktop software integrates an AI Vocal Remover feature to help you remove vocals from any video and audio with ease.
With its advanced AI algorithm and 120x faster parsing speed, you can extract the vocal tracks from music without sacrificing the quality of sound. Plus, you can even isolate clean vocal tracks from 1000+ formats of audio and video with just one click.
Main Features
AI-powered algorithm to remove vocals automatically
Supports 1000+ video and audio formats
Separate voice from music to make your own song, extracting high-quality vocal and instrumental tracks from any video and audio file
No quality loss
Works on both Windows and Mac computers
How to Use HitPaw Video Converter to Remove Vocals?
Step 1:

Download and install the software to a PC or Mac computer. Launch it and open Vocal Remover feature from the Toolbox.

Step 2:

Add or drag a video or audio file to the program.

Step 3:

Wait for the program to analyze and remove the vocals.

Step 4:

In a short while, you will get two audio tracks, instrumental track and vocal track. Click the Export button to export both or one of them.
2. Vocal Remover and Isolation [AI]
The next one on our list is a website that helps you create vocal-free music. Vocal Remover and Isolation use AI to automate the process of extracting vocals from an audio track. You can choose from several audio formats and even upload an original song, allowing you to create karaoke versions of your favorite songs.
The user-friendly interface is easy to navigate and makes creating vocal-free music a breeze. With a few clicks, you can quickly get a vocal-free track in just minutes.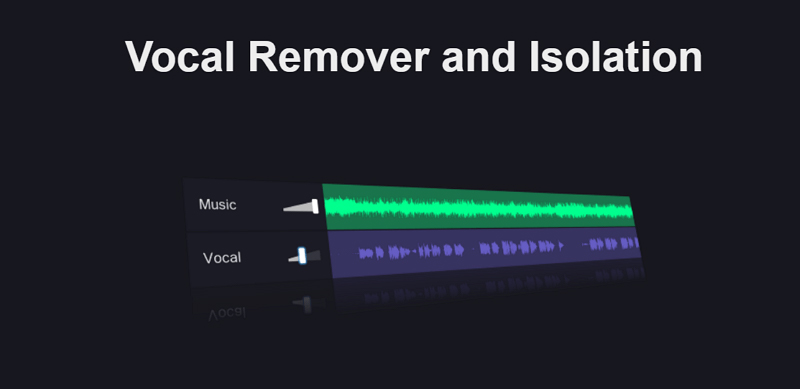 3. Tunebat
Tunebat is the perfect choice for music enthusiasts and producers of all levels. This website offers a wide selection of audio tools, including vocal removal and isolation. It uses sophisticated algorithms to identify the vocal track within a song and isolate it from other audio elements.
With Tunebat, you can easily remove vocals from your favorite songs and create new karaoke versions in minutes. You can also enhance the sound of existing tracks with advanced audio processing tools and even create unique remixes with the Remix Maker.
To top it all off, Tunebat makes sharing your creations easy with built-in support for streaming services like YouTube and SoundCloud.
4. Lalal.ai
Next up on the list is Lalal.ai, a powerful audio editing platform with an intuitive and user-friendly interface. Its range of features includes the ability to add effects, adjust frequencies, and even isolate vocals from any track.
As for sharing your work, you can export audio files in multiple formats and share them with others. Plus, its AI technology makes it easy to search for specific sounds in your library.
Whether you're a DJ or an audio engineer, Lalal.ai has everything you need to make your tracks sound great.
5. PhonicMind
Finally, there's PhonicMind, an AI-driven audio processing platform for vocalists and producers. It offers classic effects like reverb and compression, as well as advanced features like vocal isolation and source separation.
With PhonicMind's intuitive interface, you can quickly make adjustments to your mix without relying on expensive hardware or software. It's a great tool for on-the-fly sound design, and its AI algorithms can even help you match the sound of popular songs.
So if you're looking for a unique spin on your tracks, PhonicMind has you covered.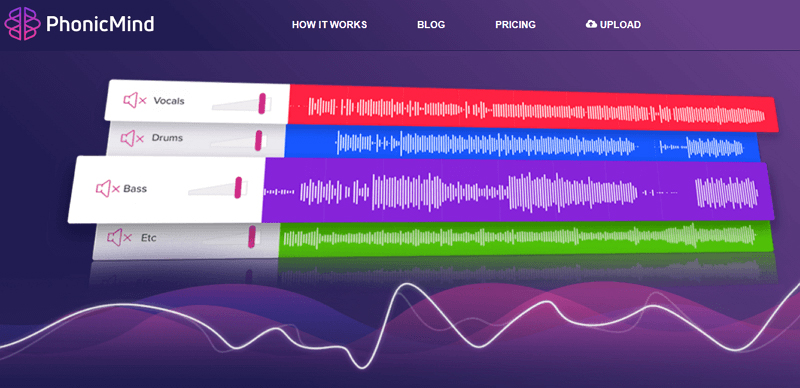 The Bottom Line
To sum up, X-minus.Pro is a great vocal remover tool that aims to eliminate or reduce the vocals from an audio track, allowing users to create instrumental versions of songs. The free version limits to 8 minutes 70MB. If you have large files to get rid of the vocal, you can consider the alternatives to X Minus Pro.
The desktop version HitPaw Video Converter's AI Vocal Remover feature utilizes the most cutting-edge AI algorithms to accurately remove vocals from any songs and videos. We also recommend several other alternatives so you have multiple choices.