5 Free Siri Voice Generators Online in 2023
The virtual assistant Siri has now become pretty useful in content production. You might have seen editing circulating in TikTok offering the wonderful voiceover generated through text.
Opting for the Siri voice generator text-to-speech can make your video look ten times more exciting than ever. This post shows how to generate the voiceover courtesy of the brilliant online text-to-speech generators.
Part 1: What is Siri Voice Generator
Siri Voice Generator is a terrific tool that relies upon AI technology to replicate Siri's voice. Siri is a mind-blowing virtual assistant that helps you to turn text into speech.
The Siri sound generator helps you produce text-to-speech audio in Siri's recognizable and familiar voice. Using it, you can produce voice-overs, audio content, personalized messages, etc.
To generate the audio from speech, all you need to do is enter the input text and then start turning that text into speech without taking much time. Whether you're generating Siri voice overs for creative projects, simply for fun or professional purposes, the Siri voice simulator helps you to generate a voice like Siri in a few moments.
The Siri voice generator has various applications, including interactive voice responses for services and apps that enhance accessibility features. It has a brilliant user experience, making it simple for audiobooks, virtual assistants, and voice-based applications.
Part 2: 5 Siri Voice Generator Text to Speech Online
Getting the most reliable Siri voice generator online has become simple courtesy of the following flawless Siri text-to-speech generators.
1. Voicegenerator.io
If you're aspiring for a mouthwatering Siri sound simulator, you can look at Voicegenerator.io. It supports Siri's voice, and you can generate a voiceover containing the sound of Siri. Apart from offering various options, this Siri voice generator text-to-speech enables you to customize the audio by managing the speed and pitch.
Comes up with multiple Google voices to select from
Adjust the speed and pitch of Siri.
Offers the effortless user interface
Blesses you with the built-in browser synthesis, allowing you to hear the variations in your voice.
Pros
Provides a free trial
Offers the multiple voice options
Cons
It asks you for registration.
Pricing : Free
2. Voicebooking
Another effortless, effective Siri voice generator that can help you produce breathtaking voiceovers is Voicebooking. By offering an intuitive user interface and supporting multiple languages, Voicebooking asks you to select from multiple voices.
To produce the voiceover, it only asks you to visit the official website, create the account, enter the prompt text, and start turning it into speech in no time.
Features
Supports multiple languages
Easy to use
Offers the multiple voice options
Customize the generated voiceover wonderfully
Pros
Realistic voice
User friendly
Effortless
Cons
It might take some extra time to generate the voices
Pricing : Starting at €250
3. Woord
Despite having some clear limitations, Woord is worth trying when looking for an appropriate Siri voice generator. Since Woord is a paid tool, you'll need to pay to acquire the premium package.
However, you can get the free version to explore some wonderful features. The interface of this Siri robot voice generator is nothing less than exemplary, allowing you to turn the text into excellent voiceovers quickly.
Features
Produces the realistic voices
It supports 50 voices
Compatible with the 28 languages
Allows the free users to generate two audio voiceovers per month
Comes up with the AI technology
Pros
Helps you to download the audio file in MP3 format
Easy to use
100% safe
Generates the realistic voices
Cons
The free version comes up with the limitations.
Pricing : Starts at $9 per month
4. Murf
You can explore some more mesmerizing Siri sound generators, and Murf is surely one of them. It helps you generate realistic voices for various purposes, including games, business presentations, etc.
It blesses you with the feature-rich AI voiceover studio, including the built-in video editor. Apart from producing the audio voiceover, this Siri voice generator can generate video voice overs without asking you to do much.
Features
Offers the intuitive user interface
Supports the multiple languages
Blesses you with the brilliant free trial version
Helps you to explore multiple voice options with ease
No installation is required
Generate the voiceover in Male or Female voice
Pros
Helps you to include voiceovers with videos and paragraphs quickly
Offers the realistic voices
Offers the brilliant free trial version
Cons
Backing music selection now comes up with the limitations.
Pricing : Start at $19/month
5. VoiceMaker.in
The final Siri voice generator text-to-speech that makes it into our list of great online Siri voice generators is VoiceMaker.in. It is an interesting free Siri voice generator that has features you'd like to see in a Siri generator.
From offering various voice options to supporting multiple languages, VoiceMaker.in could be the dream text-to-speech generator. On top of that, it doesn't ask you to download any software to put things in order.
Instead, all required is to visit the official website of VoiceMaker.in and then enter the prompt text, press the play icon, and select the voice option to enjoy the entertaining voiceover. Apart from typing the text, it allows you to paste the prompt copied from anywhere.
Features
Comes up with the AI-powered technology
Offers the intuitive user interface
Comes up with the affordable rate
Supports 130+ languages, including Chinese, Arabic, English, etc
Pros
Offers the 700+ voices
Comes up with the multiple tones
Easy to use
Allows you to customize the generated
Cons
The system tends to get crashed frequently.
Pricing : Starts at $5/month
Bonus Tip:

Best Voice Changer to Make More Realistic Voice

If you are looking for the Best real time voie changer for Pc. HitPaw Voice Changer will be a good choice. It provides an array of voice effects and filters that can be seamlessly applied to the user's voice. The interface is designed to be user-friendly, allowing effortless navigation through various settings and effects.
Generate voices that sound realistic and like real human voice
Convert voice to the most realistic and natural voices in real time
Instantly transform voice to imitate famous characters, celebrities, or iconic voices
Integration with Streamlabs OBS and other Streaming Platforms
Feature a user-friendly interface that is intuitive and straightforward to navigate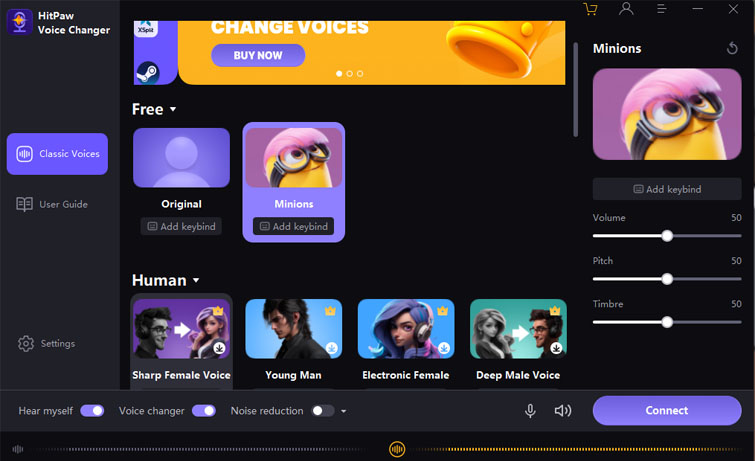 Part 3: FAQs of Siri Voice Generators.
1. How do you make Siri voice-over?
You can easily generate the Siri voiceover as you don't need to work hard to complete your job.
Here's how to do it.
After activating Siri, you must say '' Turn off Voiceover'' or ''Turn on Voiceover''.
Click on the home or side button thrice, provided you have opted for the Accessibility Shortcut.
Click on the Control Center and navigate to the Accessibility settings. Turn on the Voiceover option to start producing the Siri Voiceover.
2. Are there any free Siri sound generators available?
Hundreds of online free voice generators have been made available in the market, but only a few are reliable. You can look at the 5 tools we gathered in this post and try using them for free to see how it pans out.
3. Can I use Siri Voice Text to Speech for commercial purposes?
Unfortunately, you can't use the Siri Voice Text-to-speech generator for commercial purposes. You can only generate the Siri voiceover for personal purposes, aiming to have some fun with your friends.
Summary
Selecting the eye-catching and realistically sounded Siri voice generator will make a way to produce the picture-perfect voiceover for multiple purposes. After researching for hours, we have listed the 5 amazing online text-to-speech Siri generators that can assist you in taking the content to the next level.
Apart from revealing the features, advantages, and disadvantages, we have mentioned the pricing of all the tools.