3 Best TF2 AI Voice Generator to Create TF2 AI Voice in 2023
This is the era of AI, and the wonders that AI has achieved through its awe-inspiring functions are beyond appreciation. One of such wonders is the generation of artificial voices and voice manipulation. This wonder of AI is being used by the masses for a variety of purposes, including voiceovers, live gaming, live conversations, and so much more in which people substitute their voice with that of a cartoon character, movie character, game character, animal, supernatural being, and a host of other possibilities. Talking of live gaming, one deeply crazed after the game is TF2, and its fans have been going crazy with TF2 AI voice generators! Let's talk about this amazing tool, i.e, TF2 AI voice generator.
Part 1: What is Team Fortress 2 (TF2)?
So, what is TF2, why is it so popular, and why do its users use AI voice generators while playing it? All these questions must be popping up in your mind if you're reading this article, and we'll answer them all!
Let's first introduce TF2 to you. Basically, TF2 is a shooting game, which has a multiplayer setting and is developed by Valve. This multiplayer shooter game works in first person, where the user can choose from any of the 9 classes available, each of which offers different playing characteristics and styles. After choosing a particular class, the players form diverse teams and engage in interactive team play where characters take part in thrilling battles with each other.
The continuously increasing popularity of TF2 owes, obviously, to the super interactive and engaging gameplay that it offers to its users. In this era, gamers have an appetite for interactive live gameplay that offers them the kick that they desire, and TF2 does just that! Not only does it thrill the players with its amazing gameplay, but it also has an outstanding interface, including well-designed maps and navigation. Not to mention the various roles that players can take on in this game, which adds to their interest and, ultimately, the popularity of the game.
Part 2: 3 Useful TF2 AI Voice Generators You Should Try
Having received all the interesting information on TF2 and TF2 AI voice generation, you must be wondering what options are available for it. Wonder no more, as we'll introduce you to the 3 best TF2 voice generators, including TF2 text-to-speech AI software tf2 tts tf2 tts. You can use these TF2 TTS software to generate amazingly creative character voices in TF2. What are you waiting for? Let's dive straight into it!
1. Elevenlabs.ai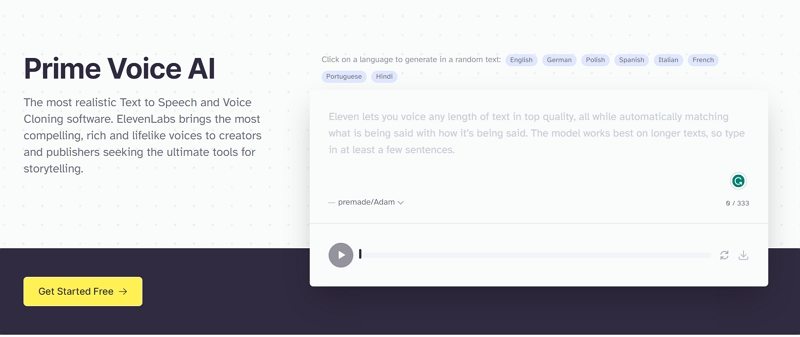 If there's one AI text-to-speech software that brings the most realistic, creative, and life-like voice generation to life, it has to be Elevenlabs.ai. It uses the excellence of AI to generate the most authentic and closest-to-reality voices that help content creators and gamers thrive in their respective crafts. It can help you generate amazing TF2 voices for characters. Let's discuss the price, ratings, and pros and cons of elevenlabs.ai.
Price: $5/month
Rating: It has received a massive rating of 4.8/5.
Pros
Extremely realistic voices
Customizable voices
Easy and fast voice generation
Creation of new AI voices
Cons
Occasional app instability
Some voices may sound unnatural
Best For: Voice cloning, realistic speech synthesis.
2. FakeYou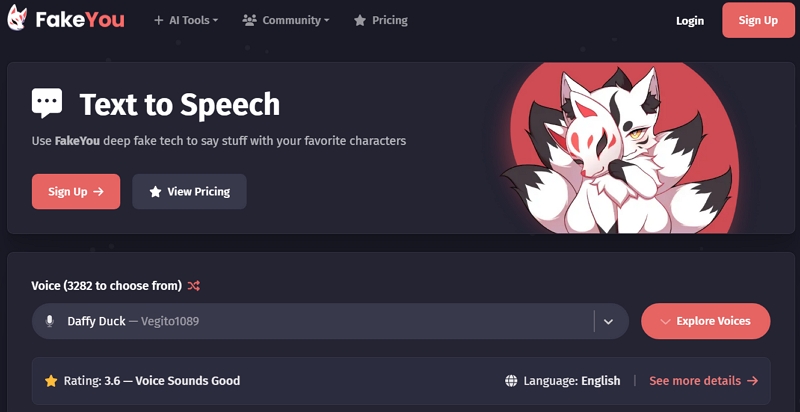 FakeYou is another text-to-speech AI voice generator that you can use to generate celebrity voices, animal voices, alien voices, and practically any voice that you want. Considering the versatility of FakeYou and the hundreds of voice generation features that it offers, you can create extremely unique and fun voices for your TF2 characters. You can even create regular, random human voices to include in your games or live conversations.
Price: $7/month
Rating: It has garnered a rating of 3.6 out of 5.
Pros
High-quality voices
Extremely user friendly
Fast voice generation
Multiple voice options
Cons
Limited options for voice customization
May need a fast internet connection
Only offers TTS voice conversion
Best For: Funny and creative voice generation.
3. UberDuck.ai
This is the 3rd best AI voice generator for TF2 in our list which utilises the expertise of AI in an impressive way. From celebrities to avatars, uberduck.ai lets you transform your voice into anything you wish!
Price:

It's free for people who use it for non-commercial purposes. For creators and businesses, it offers 2 plans:

1.Creator: It's priced at $96 per year. It is best for commercial use and offers features like API access, lower latency, and AI-generated raps.
2.Enterprise: It's priced at $500 per month, and offers the lowest latency, along with customised voice cloning options, collaborative functions, templated audio generation, and much more.
Rating: It has a rating of 2.7 out of 5.
Pros
Excellent pitch adjustments
New and updated voices
Very user friendly
Cons
May sometimes make errors
Needs an account for signing up
Best For: AI-generated songs.
Part 3: Choose the most suitable one for you effortlessly
| Software Name | Price | Rating Out Of 10 | Prominent Pros | Best For |
| --- | --- | --- | --- | --- |
| Elevenlabs.ai | Starting from $5 | 4.8 | Easy to use, customizable voices, realistic voices | Voice cloning |
| Fakeyou | Starting from $7 | 3.6 | Fast voice generation, multiple voice options | Funny voice generation |
| Uberduck.ai | Free | 2.7 | New and creative voices, pitch adjustment | AI-generated songs |
Bonus Tips: HitPaw Voice Changer - Best Voice Changer for PC
Players use TF2 voice generator AI to create realistic and immersive voices for their characters, which adds a lot of interactive boost to their game. TF2 voice AI generators have become extremely popular over the years because of their ability to add a whole new dimension of creativity to the game, which players and content creators enjoy a lot. Here's a bonus for you: HitPaw Voice Changer for PC. This is a real-time voice changer that PC users can use to integrate into all online games and software, including TF2 game.
Features:
Creates noise-less and echo-less sounds
Seamlessly changes voice live
Adjustable pitch, audio, and volume
100s of sound effects
Integrates with every game, voice platform, and VOIP software
Part 4: FAQs of TF2 AI Voice Generator
Q1. Why TF2 is so popular?
A1. It's popular because of its interactive gameplay, multiple characters, and thrilling story.
Q2. Is TF2 Text-to-Speech Suitable for Character Voice Generation?
A2. TF2 text-to-speech is perfectly suitable for character voice generation.
Part 5: The Bottom Line
By using the abovementioned 3 best AI voice generators, including Elevenlabs.ai, FakeYou, and Uberduck.ai, you can create mind-blowing creative voice effects for your TF2 characters.