What is 8K Upscaling Software & How Does It Work
As consumers demand better and clearer visuals, the industry responds with innovations that promise to deliver unparalleled clarity and detail. This article goes into the concept of 8k upscaling software, its workings, and its significance in the current TV market.
Part 1. What is 8K Upscaling?
8K TVs get their name from the impressive resolution they pack: around 8,000 pixels wide, to be precise (7,680 pixels in width and 4,320 in height). In comparison, 4K TVs feature about 4,000 pixels width-wise (3,840x2,160 to be exact). So, in essence, 8K TVs give you quadruple the pixel count of 4K TVs. The catch? There's a notable lack of content shot in 8K. Enter the solution: upscaling.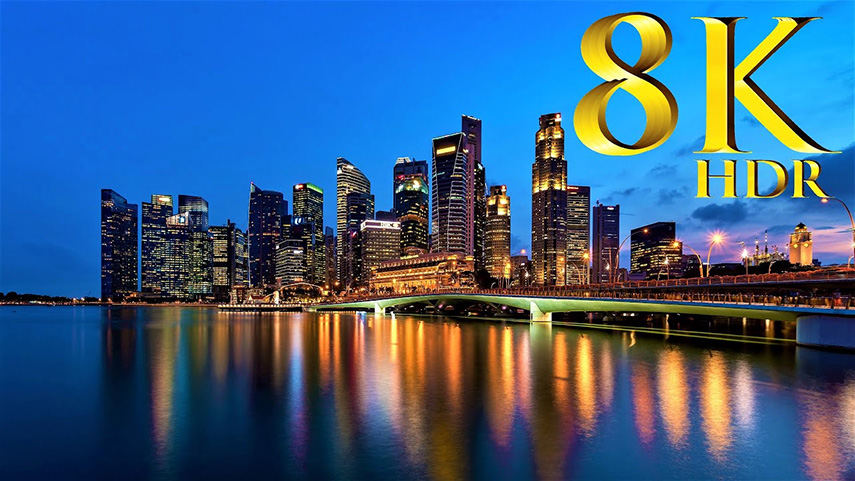 Upscale video to 8k is all about expanding an image to fit a bigger resolution screen. Take a 4K video, for instance, which has a resolution of 3,840x2,160. To upscale, you'd stretch this video to suit an 8K display, which boasts a 7,680x4,320 resolution. The rudimentary way to do this is to let a single 4K video pixel occupy four pixels on the 8K screen. Yet, contemporary TVs have a more sophisticated approach. Instead of just replicating pixels, they scrutinize the image and approximate how it would appear at a loftier resolution.
AI Upscaling takes this a step further. Instead of just estimating based on nearby pixels, AI upscaling allows the TV to analyze the entire image and recognize what's being displayed. Through machine learning, the software is trained using thousands of images, helping it identify a range of scenes and objects. During the upscaling process, the software leverages what it has learned to apply specialized algorithms, ensuring the enhanced image appears as authentic and detailed as it can be.
Part 2. Top 3 8K Upscaling Software
1. HitPaw Video Enhancer
Videos play a pivotal role in storytelling and communication, the quality of these videos is paramount. HitPaw Video Enhancer emerges as a 8k upscaling software for those seeking to elevate their video quality to cinematic levels. Touted as one of the most recommended video quality enhancers, this software is not just about upscaling; it's about redefining clarity and precision using AI algorithms.
Features
AI-Powered upscaling, capable of enhancing low-res videos up to 4K/8K
Advanced noise reduction capabilities to eliminate blur
Specialized AI for repairing videos of anime and human faces
Ability to colorize black and white movies with high precision
Supports over 30 input formats including popular ones like MP4, AVI, MOV, MKV, and M4V
7 AI models available for different video types and needs, including General Denoise Model, Animation Model, Face Model, Colorize Model, and more
Preview functionality to check the enhanced video before exporting
Pricing
Free version available with all major features.
Pros
Uses mature AI technology to upscale videos with precision
Simple and clean interface, making it user-friendly
Ability to preview enhanced videos without watermarks
Multiple AI models cater to different video enhancement needs
Steps to Use HitPaw Video Enhancer
Download and Install:
Begin by downloading the software package from the official HitPaw Video Enhancer webpage.

Upload the Original Video:
If you've installed the software, now is the time to put your video in this to upscale.

Select an AI Model:
The software offers seven AI models tailored for different video types and enhancement needs.

Preview and Export:
After selecting the desired AI model, click on the "Preview" button to process and view the enhanced video. If satisfied with the results, click the "Export" button to save the enhanced video.
For those looking to upscale multiple videos simultaneously, HitPaw Video Enhancer also offers a batch enhancement feature. Simply upload all the videos, select the desired AI model, preview each video's effect, and export them once satisfied.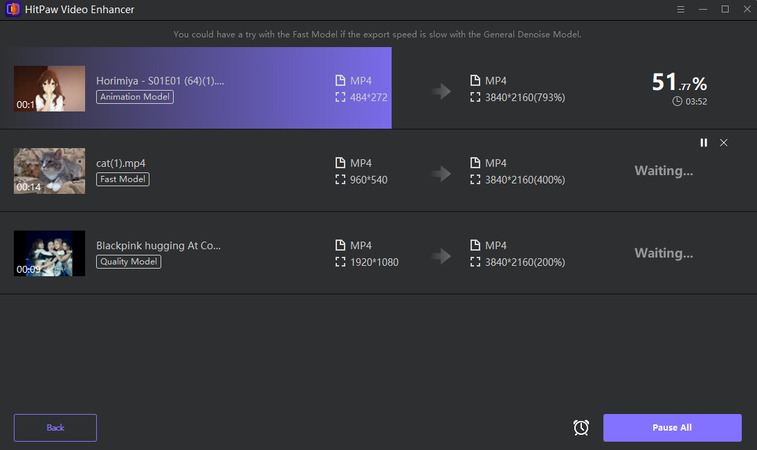 2. Video2X
Video2X is one such gem in the world of video enhancement. Crafted with precision and backed by powerful algorithms like Waifu2X and Anime4K, this software is not just another upscaler.The success of Video2X truly highlights the power of community-driven collaboration among developers. Whether you're a film enthusiast aiming to breathe new life into vintage scenes or a professional aiming to polish visual materials, Video2X provides a suite of top-notch features without breaking the bank.
Features
Video2X is a free open-source AI video upscaler
It is based on various state-of-the-art algorithms like Waifu2X, Anime4K, SRMD, and RealSR
The software is written in Python 3 and is designed to upscale video, GIF, and image files
It can increase the resolution, frame rate, and sharpness of media files, transforming low-resolution videos to 4K or even higher
Pricing
Free and open source.
Pros
Uses advanced algorithms to upscale old low-resolution videos to 4K
Can upscale GIFs and images
Completely free and open-source
Cons
Only works on Windows
Not particularly beginner-friendly
Can be slow, especially on systems with weak processors and graphics cards
3. GDFlab
GDFLab is a cutting-edge solution for all your video upscaling needs. Hailing from the tech-savvy corridors of South Korea, GDFLab's pikaVue is not just another upscaler. It's a web-based marvel that harnesses the power of AI to breathe new life into your old videos. Imagine watching your cherished memories in up to 16K clarity, devoid of any pixelation or haziness. With pikaVue, that's not just a possibility; it's a reality.
Features
pikaVue is a web-based upscale solution developed by GDFLab, a software company from South Korea
It uses AI technology to upscale low-quality videos up to 16K without compromising image quality
The software can enhance old movies and TV shows to high definition, eliminating pixelation or haziness
It features AI denoise, detection, and boost engine for faster video processing
Pricing
300 coins for a 300-second video.
Pros
The built-in G-Enhancer feature uses advanced AI algorithms to increase video resolution by up to 400%
It's a cloud-based AI video upscaler, so there are no hardware limitations
Offers a free trial
Cons
Only accepts videos in H.264/H.265 codec and 864x480 pixels
Limited file size for the free version
Part 3. FAQs of 8K Upscaling Software
Q1. Can VLC upscale video?
A1. Yes, VLC Media Player, a popular open-source multimedia player, has the capability to upscale videos. Through VLC's settings, users can adjust the video resolution, allowing for upscaling to achieve a higher resolution than the original video file. However, it's essential to note that while VLC can upscale videos, the quality might not be as refined as specialized upscaling software. The upscaling process in VLC involves interpolating the existing pixels to fit the desired resolution, which might not always result in the sharpest image.
Q2. Is upscaled 8K better than 4K?
A2. Yes, it's 16x more clearer and sharper than 4K resolution. The difference between 8K and 4K is noticeable, especially as television technology continues to advance. The human eye can perceive and appreciate the enhancements of 8K resolution. However, the viewing experience also depends on factors like screen size and viewing distance.
Q3. Is 8K TV worth it in 2023?
A3. By 2023, 4K TVs are predominantly available in the market, though those thinking ahead are increasingly turning to 8K TVs. However, it's worth noting that content designed for 8K is still emerging, necessitating much of the content to be upscaled. Upscaling lower resolutions like 480p or 720p might enhance visuals on a 4K TV, but the real difference is noticeable with premium sources such as 4K UHD Blu-rays or high-performance gaming PCs. Hence, for those mainly accessing high-quality content, opting for an 8K TV can be a strategic investment, keeping their entertainment setup ahead of the curve for the years to come.
Final Words
The world of television technology is ever-evolving, with 8K TVs marking the pinnacle of visual experience as of 2023. While the benefits of 8k upscaling software are evident in terms of resolution and clarity, the availability of native 8K content remains a factor to consider. Upscaling software, like HitPaw Video Enhancer, bridges this gap, allowing users to elevate their existing content to near-8K quality. Give HitPaw Video Enhancer a try and step into the future of quality upscale video to 8k.