Discover the Best Online Audio Enhancers and Audio Enhancer Apps in 2023
In today's world, audio quality is a must-have for most people. From music enthusiasts to podcasters, clear and crisp audio can make all the difference in the listening experience.
In this article, we'll explore the top 8 online audio enhancers in-depth, providing you with insights into their features, pros, and cons. By the end of this article, you'll be equipped with all the knowledge you need to choose the best audio enhancer for your specific needs. So, let's dive right in.
Part 1. Recommended Online Audio Enhancer
If you're looking to enhance the quality of your audio files, here are seven recommended online audio enhancers that offer a range of features and benefits:
1. Audio Alter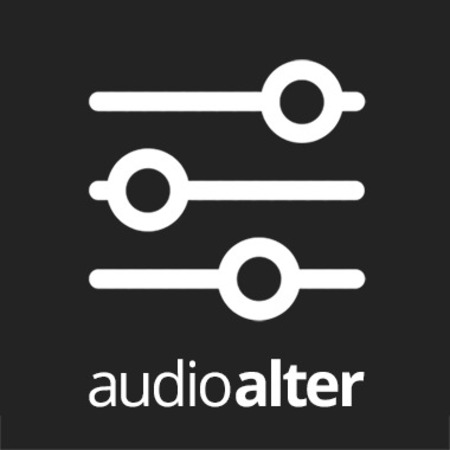 Audioalter provides a comprehensive range of AI-powered audio enhancement tools that can cater to various requirements. Whether you want to eliminate noise from audio recordings, remove background noise or add watermarks to your files, Audioalter has a solution that can address your specific needs.
Pros & Cons
Audioalter provides a wide variety of audio enhancement features to cater to multiple requirements.
The tool effectively removes background noise from audio recordings, ensuring clear and crisp sound quality.
Users can add watermarks to their audio files using Audioalter, which can help protect their intellectual property and prevent unauthorized usage.
No option for previewing or comparing the original and enhanced audio files.
2. Adobe Audio Enhancer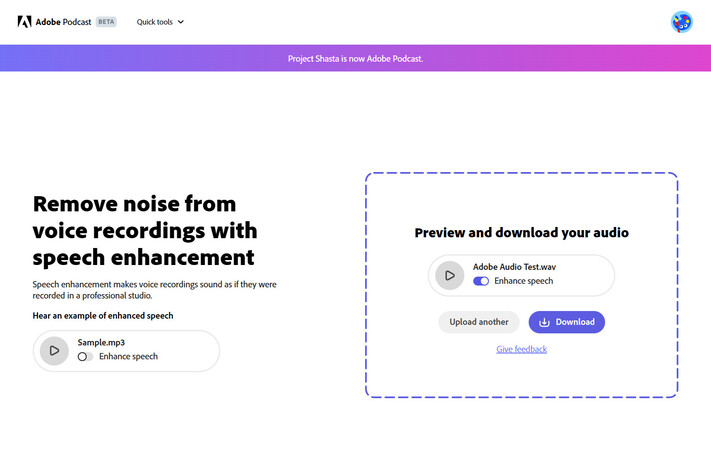 Adobe Audio Enhancer, also known as Adobe Speech Enhancer, is the leading choice for improving recorded speech quality. It uses the AI technology "Adobe Sensei" to analyze audio recordings for unwanted noise and reduce distortions, background noise, and reverberations.
In addition, it contains several features to enhance audio, like its built-in restoration and noise reduction tool, the ability to apply filters, and advanced audio processing techniques like time stretching and spectral editing. Also, you can make your voice recordings free from unwanted noise as if you have recorded them in a professional studio.
Pros & Cons
Offer an intuitive interface.
Support batch processing and automated tasks.
Provide professional-grade audio editing capabilities.
Compatible with a wide range of hardware devices and audio file formats.
May experience performance issues with complex projects.
3. Krisp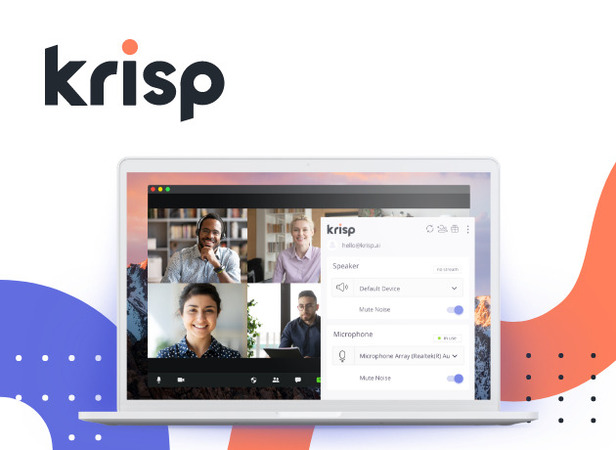 Krisp is an AI audio enhancer online free that utilizes the open device architecture of PCs and Macs to filter out background noises such as sirens, barking dogs, and other unexpected sounds. It significantly improves speech quality in video call services without adding any latency to the call.
Pros & Cons
Filters out unwanted background noises
Enhances speech quality during video calls
Maintains clarity in quiet settings
Free plan with only 60 minutes per day
4. Neural.love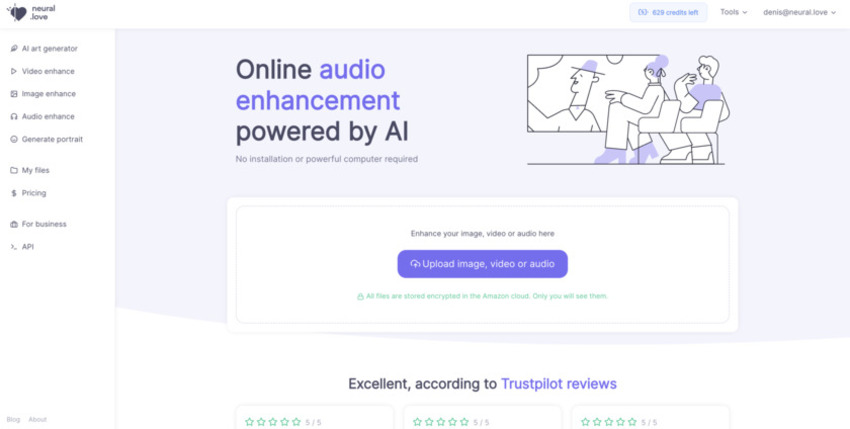 Neural.love is a voice enhancer online tool that specializes in enhancing voice quality and eliminating any background noise from a recording. Whether you've recorded an interview, a lesson, or a phone call, their AI technology can automatically reduce noise and clear up the audio.
The platform offers users three preset options to choose from, which control the level of aggressiveness with which the noise reduction is applied.
Pros & Cons
Enhances voice quality and removes background noise
Offers three preset options for noise reduction
Removes vocals and other unwanted sounds to isolate music, ambient, and nature sounds
Only enhances 15 seconds of audio in free version
5. AI Mastering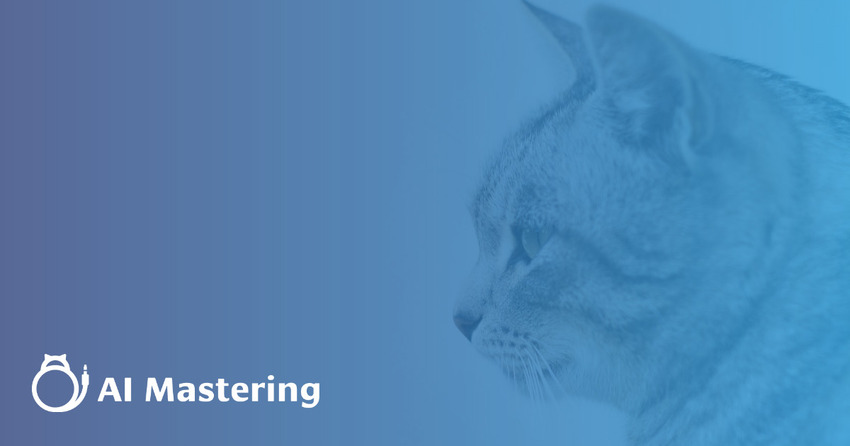 AI Mastering is an AI audio enhancer tool that prioritizes its user experience. To ensure maximum convenience, AI Mastering offers various easy alternatives for users to sign up, including using their existing GitHub, Google, or Twitter accounts.
Pros & Cons
Offers alternative sign-up options
Provides automatic audio conversions
Has a fast-growing audience
Limited features
6. VEED.IO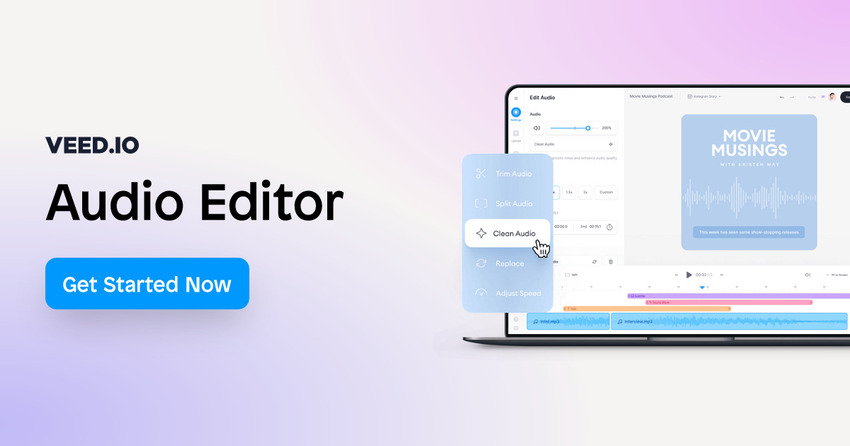 VEED is an AI audio enhancer tool that effectively eliminates background interference with the click of a mouse. This tool gets rid of the need for sound-blocking microphones and improves audio quality online.
Using VEED is a simple three-step process: upload your video, choose the "Clean Audio" option to allow AI to automatically remove all background noise, and once finished, you'll have an MP4 version of your video that can easily be shared on social media platforms.
Pros & Cons
Intuitive user interface
Advanced audio features
Simple three-step process
Easily shareable on social media
Expensive pricing plans
7. AudioDenoise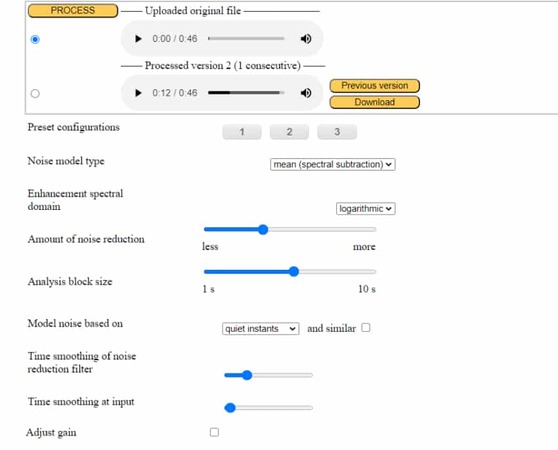 AudioDenoise is a powerful AI audio enhancer tool that simplifies the process of enhancing an audio file. Users can effortlessly enhance their audio files by selecting a file from a cloud storage platform or their own computer.
The tool offers users access to a broad range of sound settings and options, such as Noise Model Type, level of noise reduction needed, temporal smoothing, and many other customizations.
Pros & Cons
Easy-to-use interface
Free tool for users
A wide range of sound settings and options are available
The process speed can be slightly affected by the computer performance
8. Audo Studio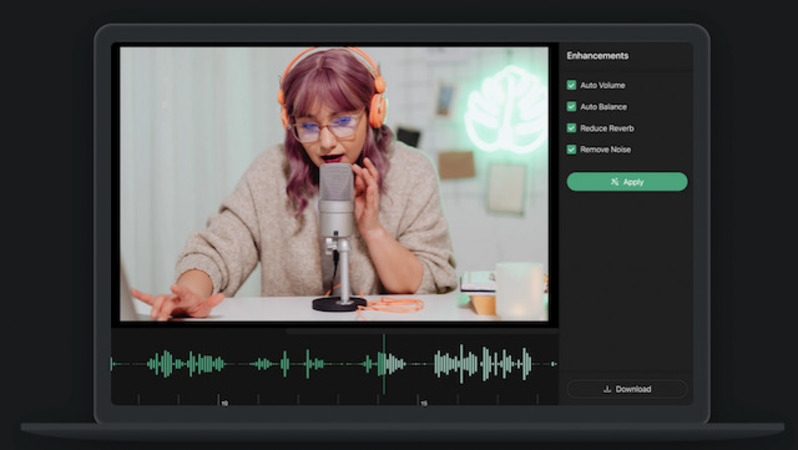 Audo is a leading AI audio quality enhancer online that allows users to produce professional, high-quality audio projects with ease.
The tool boasts an intuitive and straightforward user interface that enables quick uploading and editing of sound files or recording directly in the app.
It's AI technology and audio engineering makes it effective for all levels of audio editing, from beginner podcasters to experienced sound engineers.
Pros & Cons
Easy and intuitive user interface
Allows uploading and editing of sound files
Recording feature within the app
Only 20 minutes of audio per month
Part 2. Top Sound Enhancer App for Android and iOS
1. Neutralizer (for Android)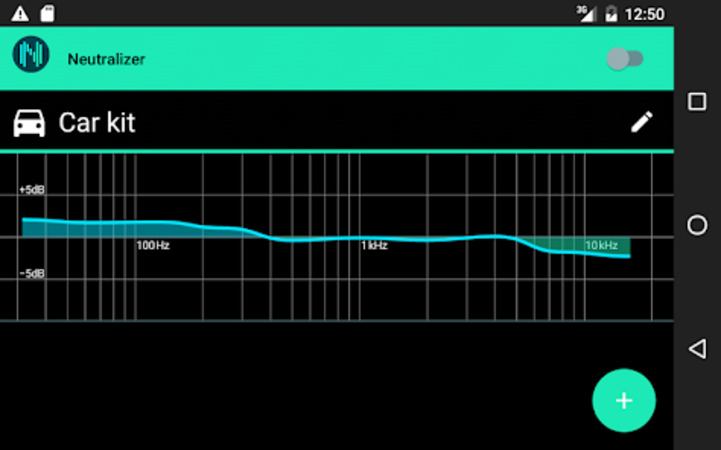 Neutralizer is an audio enhancer app that brings out the best in your music by customizing sound settings. It features a five-band equalizer with various presets and a bass booster. The app also provides audio effects such as reverb and virtualizer.
Compatibility: Android devices
Pros & Cons
Five-band equalizer with various presets
Bass booster and audio effects such as reverb and virtualizer
User-friendly interface
Free version includes ads
2. Audio Noise Reducer & Recorder (for iOS)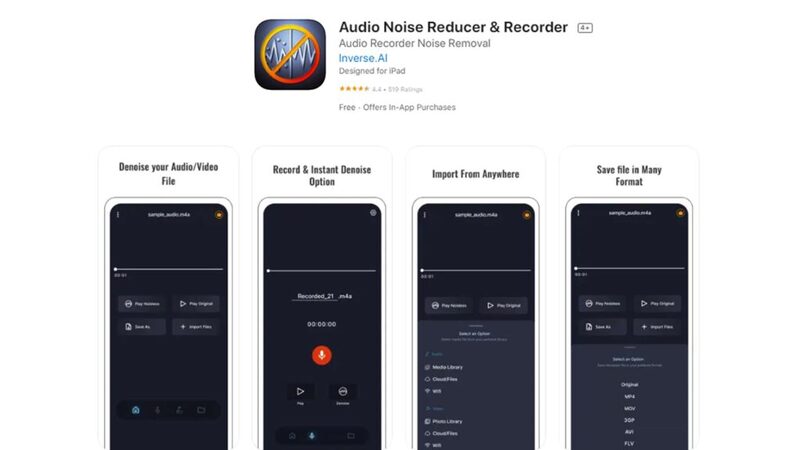 Audio Noise Reducer & Recorder is an app for iOS devices that helps reduce background noise in audio recordings. It allows users to record, trim, and export audio files. The sound enhancer online app features multiple noise reduction options and gains control configurations.
Compatibility: iOS devices
Pros & Cons
Reduce background noise in recordings
Multiple noise reduction options and gain control configurations
User-friendly interface
Some users may experience difficulty in reducing noise in extremely noisy environments.
Part 3. All-in-one Video Audio Enhancer to Improve Video and Audio Quality
HitPaw Video Enhancer is an all-in-one video enhancement program that allows users to improve the quality of their videos with just a few clicks. The software features various options to enhance video quality, such as upscaling videos to 4K resolution, removing video noise, and adjusting brightness and contrast automatically.
In addition, HitPaw Video Enhancer will soon come out with a new function that enhances audio while enhancing videos at the same time. This feature will enable users to enhance the audio quality of their videos without the need for separate audio enhancement software.
Highlight features and steps of HitPaw Video Enhancer
Utilizes new and advanced AI technologies to enhance videos.
Effectively repair video in batch.
Provides 4 AI models to improve audio quality.
Enhances video resolution up to 2K, 4K, and 8K.
Allows users to change the video format and resolution as needed.
Provide a high quality Anime enhancer
How to use HitPaw Video Enhancer to enhance your audio
Step 1. Download and install HitPaw Video Enhancer on your device.

Step 2. Launch the software and either click the "Choose File" button or use the drag-and-drop feature to import the video that needs to be upscaled.

Step 3. Select one of the four available AI models; General Denoise Model, Face Model, Animation Model, or Colorize Model. These models can improve different types of videos such as scenic, portrait, old animated, and black and white videos.

Step 4. Click on the "Preview" tab to check the enhanced video quality. You can adjust the resolution and format according to your preferences.

Step 5. If you're satisfied with the preview, save the enhanced video by clicking the "Export" button. Note that this feature is only available for paid users.
Part 4. Conclusion
There are numerous online audio enhancers available that can effectively enhance audio quality for various purposes. However, after an in-depth review of the top 8 online audio enhancers, it is clear that HitPaw Video Enhancer stands out as the best choice for enhancing audio quality in videos. With its advanced AI technology and four different AI models, it can improve the audio quality of videos significantly.
Overall, if you want a voice recorder enhancer for your videos, we highly recommend using HitPaw Video Enhancer to achieve remarkable results.