5 Best Morse Code Audio Generators in 2023
Morse code is a process that is used to encode different text characters, symbols, and even numbers into short and long signals. In short, it uses the symbols and converts them into dots and dashes. This technique was created in the 1830s by Samuel Morse and Alfred Vail. Morse code can be used for different purposes, including Amateur Radio Operators, Army, Emergency Services, Hobbyists, and more. However, it is important to note that it is not a simple process and requires expertise to convey the right message.
Luckily, there are many Morse Code audio generators that can make your life easier. Yes, you heard us right. With these Morse code sound generators, you can easily generate the code within minutes. Let's discuss how to convert Morse sound to text using these Morse sound generators.
Part 1: What is Morse Code Audio Generator?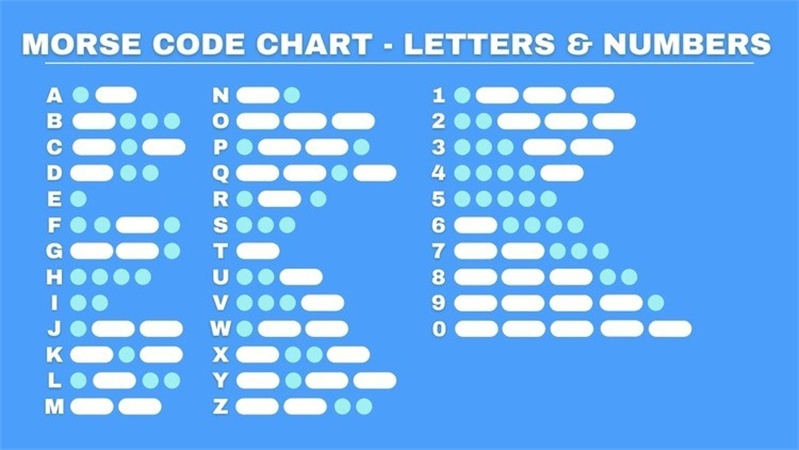 As mentioned above, Morse code helps to convert each character into unique dots and dashes using different patterns. Some top examples of Morse code include A: .- N: -. 0: -----, B: -... O: --- 1: .---- and so on. In the past, it was also used in telegraph and radio communication systems for long-distance communication. But now, users can download different Morse audio generators that convert Text to Morse code audio. In fact, Morse code audio generators can also be used for educational purposes and in emergencies as well.
A Morse code sound maker can be useful for several reasons, such as:
Learning Morse Code: Those learning Morse code can use these Morse audio generators to pronounce the words more accurately. In fact, these tools can help learners in converting Morse audio to text.
Radio Communication: These generators can help amateur radio operators who use Morse code as a way of communication. In this way, they can make the communication better and accurate.
Educational Purpose: Another reason why you should use the Morse code generator is that it helps you with different projects and experiments, such as educational activities, electronic projects, and more.
Emergency: The last reason for using Morse audio generators is to control emergency situations. These tools can help to send distress signals via sound when other methods are not present.
Part 2: 5 Great Morse Code Sound Generator Highly Recommended
Learning Morse code from the beginning can be complicated, so it is important to use Morse code sound generators if you want to learn Morse code immediately. With these Morse code sound generators, you can convert Morse sound to Text and vice versa. In fact, all these applications are easy to use and helpful for beginners. Let's discuss these Morse code audio generators and how they work.
1. Meridianoutpost

Meridianoutpost is an advanced Morse code sound maker that converts the text into a specific Morse code. The tool generates the audio file in .wav format, which you can open easily on your PC. Moreover, it also shows the dots and dashes, which will give you an idea about the Morse code. To use this software, you have to enter the text, and it will convert it into Morse code.
Pros
Adjust the speed and frequency of the audible Morse code
Convert Morse audio to text
Easy to use and has a straightforward interface
Users can also clear the history
Cons
Sometimes, it doesn't show the exact results
It is a bit slow
Price:
A free version is available
2. Radio-amater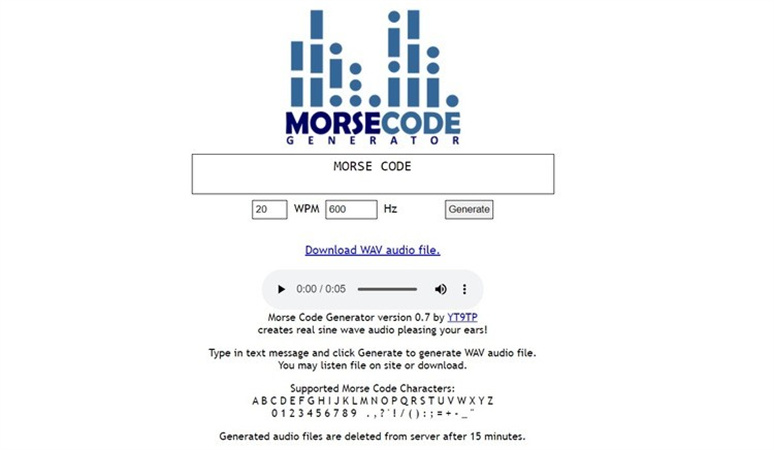 Radio Amater, as the name indicates, is a Morse code sound generator that converts text into a Morse code. With this software, users can type the text, select the frequency, and adjust the settings. Once done, the program will generate the results. You can also download the file in .wav format and use it on your PC.
Pros
Convert text into Morse code with one-click
Best Morse code sound generator online
Support multiple Morse Code Characters
100% safe as generated files are deleted after 15 minutes
Cons
It generates slow results as compared to other Morse audio generator
Price:
Users can use this tool for free on all browsers
3. Morsecode.world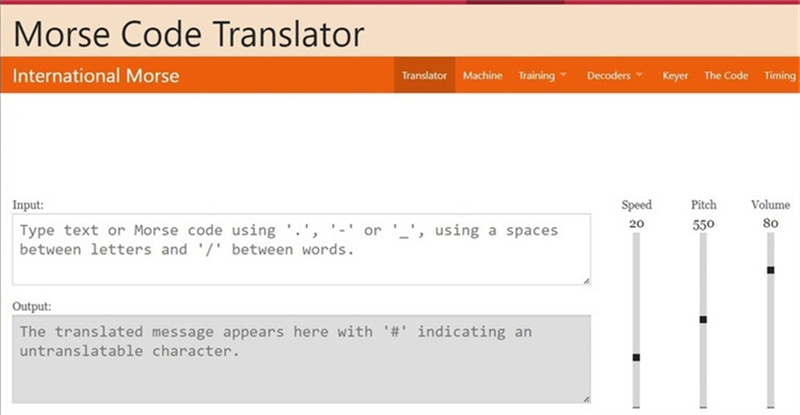 If you are searching for a tool that can convert Text into Morse code, you can try the Morsecode World application. It is an online Morse code sound generator, which means you don't have to download it on your PC. Just type the Input text, and the application will provide the output on the basis of your Text. Users can also adjust the settings of the audio file. Moreover, it offers other options, such as light adjustment, configuration, and more.
Pros
Free online Morse code sound generator for beginners
Encode morse code in different audio formats
Adjust settings, such as Pitch, volume, and speed
Easy to use and has a straightforward interface
Can convert Morse audio or code to text
Cons
Should include more advanced features
Doesn't have a proper interface
Price:
Users can try this application for free
4. Tetralark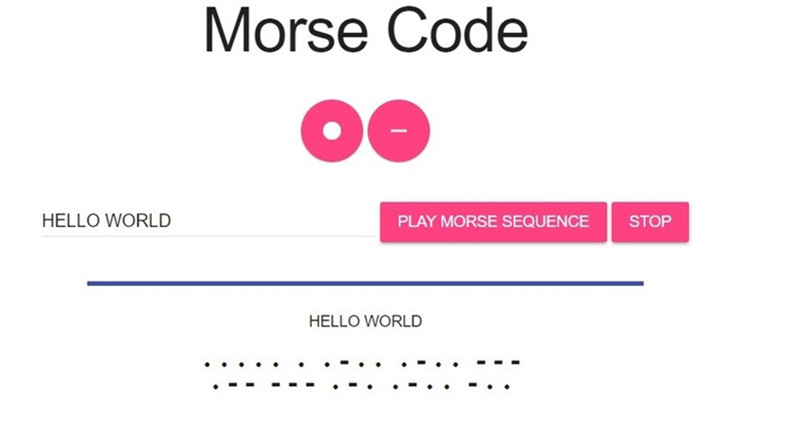 When it comes to searching for Morse code audio generators, there are many options that you can find, but if you need a simple and easy-to-use application, we recommend using Tetralark. To use this app, all you have to do is enter your text, click the Play Morse option, and it will generate the results for you.
Pros
Generate Morse code within seconds
Super fast as compared to other Morse code tools
The interface is simple and easy to use
Have sound wave around 800Hz tone, 100ms, and 300ms for both dit and dah
Cons
Users can't adjust the volume, pitch, and speed
Price:
5. Morsecoder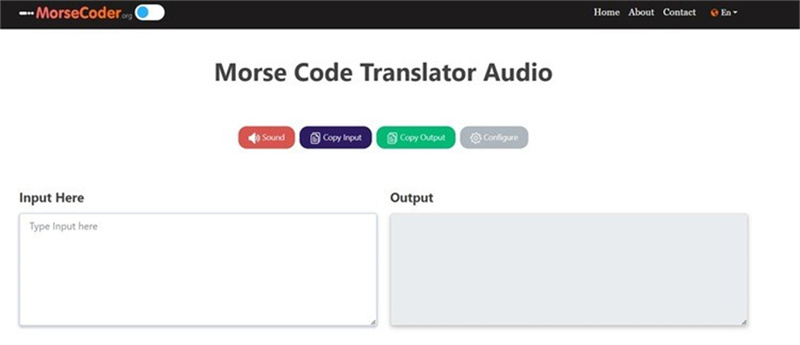 Morsecode translator, as the name implies, is a tool that converts Morse code sound to text. It is very easy to use and generates the results within seconds. The tool is helpful for visually impaired people and the blind. You don't need to be a pro to use this software, as it is ideal for beginners.
Pros
Quick way to learn the Morse code
Ideal for Visually Impaired person
Faster Morse Code Reader
Convert the text into Morse code without any hassle
Cons
Sometimes, it doesn't show the appropriate results
Price:
Bonus Tip: HitPaw Voice Changer - Best Voice Changer for PC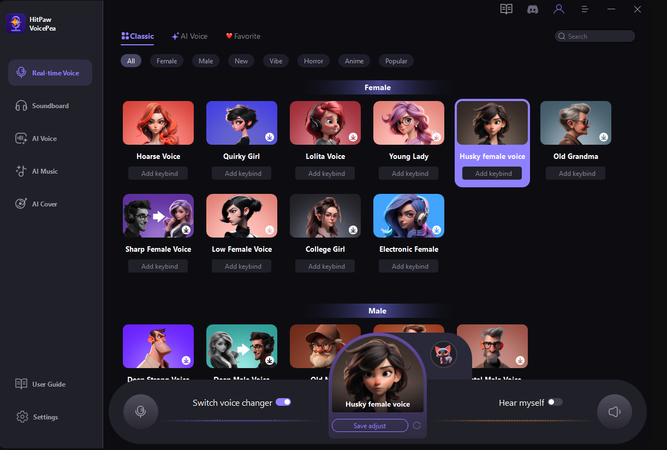 HitPaw Voice Changer is the best voice-changing application for PC users. It has lots of options that you can try and change the voice in no time. Live voice changer option is also available, which means users can change their voices while playing games and use other social media platforms like WhatsApp, Zoom, and more.
Key Features:
Easy to setup and available for both Mac and PC
Noise Reduction option is also present
The best voice changer for gamers, streamers, vtubers, and meetings
Change voice effortlessly into different characters, celebrities, and more
Seamlessly change voice on all popular games and programs, including Minecraft, Rocket League, Fortnite, WhatsApp, Google Meet, and more
Part 3: FAQs of Waveform Sound Generator
Q1. Can you use Morse code with sound?
A1. Yes, Morse code can be transmitted via sound signals. In fact, Morse code was developed for communication using telegraph systems so that messages can be conveyed easily. It consists of two different components: sound signals and Auditory Reception.
Q2. Is there an app that can listen to Morse code?
A2. Above, we have discussed 5 different applications that you can use to listen to Morse code. In fact, with these apps, you can convert Morse code into audio.
Part 4: Final Thought
Converting text to Morse code audio is not a difficult task if you know the right applications. In fact, you can use these Morse code audio generators to learn the Morse code. Above, we have mentioned the top tools that can be used for encoding Morse code. Also, we have discussed about HitPaw Voice Changer, which will convert your voice according to your requirements.