5 Useful Online Tone Generators in 2023
A Sound frequency generation, also known as Tone generator, is an instrument that can be useful in many situations, including audio equipment calibration and scientific experiments. With these Tone generators online, users can do lots of things, such as adjust frequencies, add tone, adjust pitch, and more. So, it won't be wrong to say that with these Tone generators, you can create necessary tones in a straightforward manner. Want to know some of the best sound frequency generators online? Continue reading this article as below we have mentioned 5 useful online Tone Generators that you can use in 2023.
Part 1: What is Audio Tone Generator?
Before using these online frequency generators, it is important to learn about what they are and why you need to download them. Basically, an Audio tone generator is an application that helps to tune music, conduct scientific experiments, and more. In fact, different studies have shown that a low-frequency tone application can be helpful in treating a medical condition called Alzheimer.
Moreover, an audio tone generator can also offer different audible tones and frequencies, which are helpful for your projects and different experiences. With these online frequency generators, you can do lots of different things, such as:
Test Audio Equipment: Different audio engineers and technicians use high-frequency sound generators to test different devices, such as speakers, amplifiers, and microphones.
Check Frequency Response: With these sound frequency online generators, users can easily analyze the frequency response and see how an audio system produces different sounds and frequencies.
Musical Instrumental Tuning: A sound tone generator can also be used by different Musicians and instrument technicians to tune musical instruments, which include pianos, guitars, and violins as well.
Educational Purposes: Audio tone generators can be used for educational purposes as well, such as teaching concepts of sound, waveforms, and frequencies.
So, these were the top benefits of using sound tone generators. If you are looking for some reliable online sound frequency generators, continue reading below; we have mentioned some of the top tools that you can use.
Part 2: 5 Highly Recommended Online Tone Generator
Are you looking for the best online sound generators? Don't know which ultra-high frequency sound generator will work for your experiments? We've got you covered. In this section, we have introduced some of the best online tone generators that you can use in 2023. Let's discuss these sound tone generators, along with their pros and cons.
1. Online Tone Generator
If you are looking for a hertz sound generator, we recommend using the Online Tone Generator application. It is a reliable online sound frequency generator that comes with various features and options. With this app, you can easily change the pitch of your files while uploading them online. You can also adjust the frequency volume and the waveform. In fact, this online sound generator also allows you to add the frequency of your own choice. The options that it offers include Sine, Sawtooth, Triangle, and Square.
Pros
Ideal for beginners and technical users
Compatible with almost all the web browsers
Provides a variety of sound configuration features
Operates with four distinct waveform options
Cons
Advanced tone-generating features are missing
2. Szynalski Online Tone Generator
Szynalski Online Tone Generator is a straightforward application that allows you to select any wave type like Square Wave, Sinewave, Sawtooth Wave, and Triangle Wave. With these waveforms, you can create your tone according to your preferences. This sound tone generator offers a user-friendly interface that provides frequencies ranging from 1 Hz to 20,154 Hz. You can do many amazing things with this ultra-high frequency sound generator, such as perform science experiments, test musical instruments, and more.
Pros
Ideal for novice users and has a straightforward interface
Controlling tone frequency is simple
Works for all the browsers
Volume and balance options are also available
3. Rapidtables - Tone Generator Online
Rapidtables is a hertz sound generator that offers frequencies from 100Hz to 440 Hz. It is an online tone generator, which means you don't have to download it on your PC. You can easily test the frequencies by choosing them and clicking the "Play" option. Users can also choose different waveforms and adjust the volume according to their requirements. You can also download the file and share it with others.
Pros
This online tone generator is simple and easy to understand
Used for testing the speakers and the electrical wiring of the speakers
Adjust the waveform according to your preferences
You can also add the duration limit for tuning
Cons
Sometimes, it delays the results
4. Gieson TonGen
If you are searching for an easy-to-use audio test tone generator, we recommend using the Gieson TonGen application. With this free online audio tone generator, you can change the frequency of your tone by setting the Hz slider as well as the Fine Tune Hz slider. In this way, you can effortlessly find the frequency of your tone. Just like other free online tone generators, you can also select the waveforms. Professional users can also use this application for performing different experiences.
Pros
Simple and easy-to-use application
One of the best online tone generators for professional users
Works on all the browsers
Cons
You can't save the output
Sometimes, it is difficult to find the ideal frequency tone
5. Wavtones Audio Online Frequency Generator
Wavetones Audio online frequency generator is an online audio tone application that helps create acoustics applications. With this app, you can produce different tones, adjust amplitude and frequency. In fact, you can also use this audio tone generator for creating original compositions. It offers both paid and free versions. Moreover, you can also download the tone up to 300 seconds and adjust it according to your preferences.
Pros
One of the best sound frequency generators
Paid version comes with many advanced features
The interface is intuitive and straightforward
Customize frequency and amplitude according to your requirements
Helps with the audio & acoustics applications
Cons
The free version has limited tunes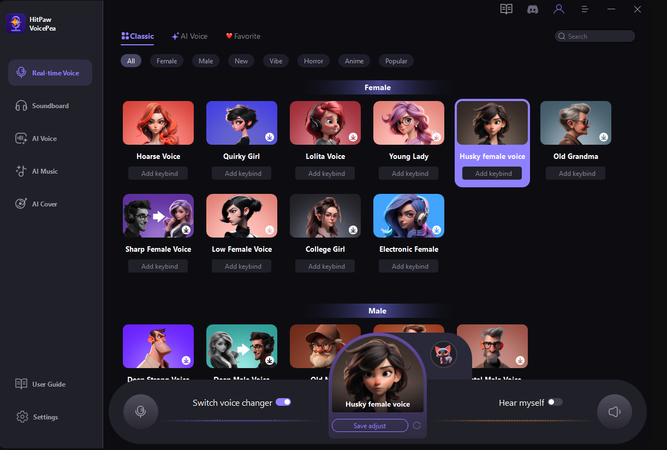 When it comes to voice-changing tools, there are numerous options that you can find, but if you are looking for a reliable voice changer, we recommend using HitPaw Voice changer application. It is simple and easy-to-use software that offers different sound effects, voice options, etc. You can download this application for your Mac and Windows devices.
Key Features:
Seamlessly change voice into different characters and animations
Has an intuitive and straightforward UI
Ideal for beginners and novice users
Offers both paid and free versions
Compatible with multiple operating systems
A real-time voice-changing option is also available
Part 3: FAQs of Sound Tone Generator
Q1. What Does Audio Frequency Generator do?
A1. Audio frequency generators can do different things, such as generate Specific Frequencies, adjust tone, produce electrical waveforms, control amplitude, adjust Frequency Modulation, and more.
Q2. What is the App that Creates Sound Frequency?
A2. Online tone generator, Szynalski, and Wavetones audio generator are the apps that can easily create sound frequency. With these apps, you can easily adjust frequencies according to your requirements.
Part 4: Final Thought
In summary, sound frequency generators are versatile tools that help produce specific audio frequencies, adjust tone, check sound pitch, and more. These tools can be used for experimental purposes, checking different devices, such as microphones and speakers. Apart from that, if you want to use a voice-changing application, you can use HitPaw Voice Changer to change your voice into different animations and characters.