5 Best Audio Waveform Generators You Should Try in 2023
When it comes to generating audio waveforms, there are numerous programs that you can download, but not all provide accurate results. So, in this article, we have mentioned some of the top Waveform sound generators that you can use in 2023. All these tools are safe and will create and manipulate audio waveforms with ease. Apart from that, these tools are perfect for beginners and experts as well. Before using these Audio Waveform generators, you should first understand what is Waveform and why it is necessary.
An audio waveform, also known as waveform, is a graphical representation of how the audio signal changes over time. You can see the changes in amplitude, which shows the intensity and loudness as well. Moreover, it also helps to show the sound in different forms, such as music, speech, and more. Continue reading to find out the best free Audio waveform generators.
Part 1: What is a Waveform Sound Generator?
Audio waveform generators are tools or applications which can easily create and edit audio waveforms. With these audio waveform video generators, you can do lots of things, such as generate waveforms according to music production. Apart from that, you can use these apps in different fields, such as sound design, audio testing, and also scientific research as well. The good thing is that you can find both software as well as hardware audio/sound waveform generators online and offline. With these software, you can create audio waveforms according to your preferences.
Moreover, using an audio waveform generator can help you in many ways, such as many music production houses use these tools to manipulate the blocks of audio, which include generating sine, square, and triangle waves. With these music waveform generators, they can also create unique sounds and different sound effects. In fact, the Sound design also uses many sound waveform generators for modifying sounds like footsteps, explosions, and more.
If you want to use the free audio waveform video generator, we got you covered. Continue reading the article, as below we have mentioned some of the top programs that you can use.
Part 2: 5 Great Audio Waveform Generator
Are you searching for the top audio waveform generator online and PC? Look no further, as below we have mentioned some of the top audio waveform video generators that you can download and use in 2023. With these audio soundwave generators, you can create waveform videos from audio. Let's discuss these music waveform generators and see how they work.
The first audio waveform generator for PC on our list is Veed.IO application. It uses AI technology to generate the soundwave. Plus, it has a straightforward interface and creates the audio on the basis of your text. Users can also convert Audio to Text within minutes. You can use this application for creating music, sound effects, and different other projects.
Pros
Best audio waveform generate
It is ideal for creating subtitles, sales videos, meetings, and communication
Video compressor option is amazing for those who want to reduce the video size
It offers free trials for beginners
Customer support is exceptional
Cons
Users face issues after the updates
Phone support is not good
Price:
The basic plan starts from $12 per month.
The second waveform audio generator in our list is WaveVisual. It helps users generate unique sound waves within seconds. To use this app, you have to upload your audio, choose the song, and let the app handle the rest. You can also add the songs from Spotify if you are out of ideas. As compared to other free waveform generators online, this program is the ideal choice.
Pros
Free audio waveform video generator for expertise and beginners
Provides different custom templates, including space, forest walk, cotton candy, and more
Add background images to make your audio waveforms attractive
Convert audio to waveform with one-click
Cons
It is slow
Sometimes, just download the images, not the audio files
Price:
The basic plan starts from $8.99/ design
Kapwing is a versatile audio waveform graphic generator that can easily add audio waveforms to your videos. The advantage of using this waveform sound generator is that it is free, which means you can get multiple styles, designs, colors, and more. It can create a waveform with one click within minutes.
Pros
One of the best audio waveform animation generators
Create sound wave art for music videos, podcasts, and social posts
Offers different templates so users can create the sound waveform accordingly
There is no need to worry about spam and advertisements
Cons
Customer support is terrible
Price:
Pro version is around $16 per month
Audiogram is an easy-to-use audio waveform graphic generator that creates waveform in a few minutes. With three simple steps, you can get the audio waveform according to your requirements. It can also automatically transcribe captions, provide custom templates, and more. This program is perfect for music producers, podcasters, and more.
Pros
Get audiowave graphical representation within minutes
Choose a design to add to your audio
Offers multiple templates so you can custom the designs
Free audio waveform generator for beginners
Cons
Can't integrate it with other applications
API support is not available
Price:
The pro version starts from $19 per month
Eachowave.io is an all-in-one audio waveform maker that offers audio visualization, subtitles, effects, and more. With this app, you can also create engaging videos, add sound effects to all videos, and do lots of other things. Users can also add animations and share them on social media platforms.
Pros
This free online audio waveform generator is ideal for podcasters, musicians, creators, and more
Has a user-friendly and straightforward interface
Add audio visualizers with one-click
No need to install it as you can open it on your browsers
Cons
The free version leaves a watermark
Price:
The pro version starts from $7.46 per month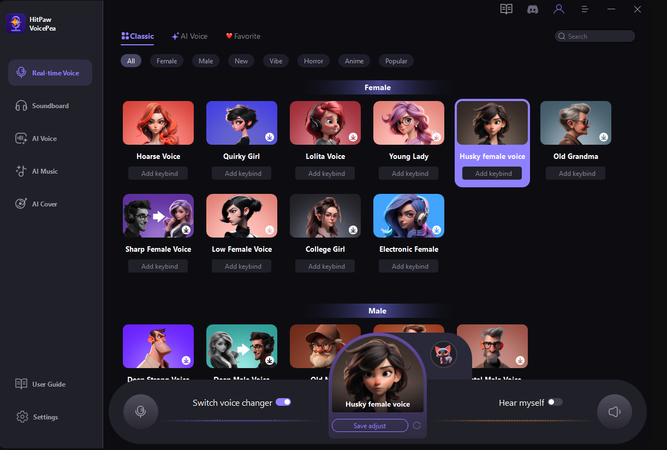 After reading about the best music waveform generators, if you are looking for a voice changer application, then download Hitpaw voice changer app. With this app, you can change the voice of your sound waveforms and adjust them according to your requirements. It is a perfect application for content creators, YouTubers, vloggers, and social media influencers. In fact, different brands and businesses can use this application to create their advertisements.
Key Features:
The top features of Hitpaw voice changer as mentioned below.
Change voice to your favorite character within minutes
Real-time voice changer application with magic sound effects
Ideal voice modifier for gamers and live streamers
Adjust the noise reduction, pitch, and volume with one click
Easy to setup and available for different operating systems, including Mac and Windows
Part 3: FAQs of Waveform Sound Generator
Q1. How do I Create a Soundwave?
A1. You can use different online and offline audio waveform generators to create a soundwave. There are different online tutorials available on the internet, which you can also follow if you don't know how to use a free audio waveform video generator.
Q2. What Waveform is Sound?
A2. Sinusoidal waveform is the common type of waveform used to represent Sound. The reason it resembles a Sine wave is because it is smooth and has a repetitive curve. Sound waves can be divided into different categories, such as Pure Tones, Complex Sounds, noise, and more. In fact, there are different sound waveform generators available which create a Sinusoidal waveform.
Part 4: Final Thought
That's all, folks; we have listed some of the top and best waveform sound generators that you can try to create an audio waveform. With these audio waveform generators, you can effortlessly create sound for your movies, music albums, podcasts, and games as well. Apart from that, you can also add animations and get the graphical representation of each waveform.