5 Best Audio Transcript Generators to Convert Audio to Text
Are you wondering what are the best audio transcript generators to download in 2023? We have your back, as in this article, we have mentioned some of the top tools to convert recordings to text. With these applications, you can convert your audio recordings to text without requiring any technical skills. Yes, that is correct. In fact, we will also tell you the top features of these transcript generators so you can decide the best tool for yourself. Let's see what are these free audio transcript makers.
Part 1: What is Audio Transcript Generator?
An audio transcript generator is a tool that can convert your spoken language or audio content into text. It basically uses text-to-speech feature to analyze the audio and provide output in the form of written texts. Manually transcription of audio files can be time-consuming, so it is a great idea to use audio transcript generators. Moreover, these tools are less expensive and require less time to generate results.
On the other hand, audio transcript generators can convert the audio into multiple languages, so you don't have to worry about learning new languages. Just upload the audio, choose Settings and Language, and within a few minutes, you will get the output. Once you have the file, you can decide the format, and that's it.
Part 2: 5 Useful Tools to Convert Audio Recording to Text
If you are planning to download some of the best transcript generators from audio for free, we've got you covered. In this section, we have mentioned some of the top useful tools that you can use in 2023, which can convert audio recordings to text within minutes. All these applications have free trials, so you can use them before purchasing the premium plans. Let's discuss these tools and their main features.
The first audio transcript generator in our list is Veed.io. It is an advanced audio to text generator that can transcribe different things, such as your meetings, interviews, conversations, and lectures as well. It can easily convert audio recordings to text and perform different things, such as editing text, generating subtitles for your videos, and more. The tool has 95% accuracy as compared to other audio transcript generators.
Key Features:
The interface is straightforward and easy to use
It can transcribe a 60-minute file in 10 minutes using AI technology
It can convert audio recordings to text within minutes
This transcript audio generator supports all audio formats, including MP3, WAV, etc
Users can get access to unlimited transcription downloading
Veed.io can translate Transcripts to Over 100 Languages
Price:
It has a free trial, but if you want to use the basic plan, it starts from $12 per month
Transkriptor is an application that allows you to convert the recording to text. It can generate automated notes for your important meetings, convert the audio with one click, and more. It is an advanced audio transcript generator that can Transcribe in almost 100+ Languages. It supports almost all the famous audio formats, which means you don't need to worry about converting the files. It is fast, accurate, and affordable as well.
Key Features:
It is the free audio transcript maker for beginners
It comes with an advanced speech recognition feature
This tool supports multiple audio formats, including MP3, WAV, FLAC, and other audio content
Users can transcribe content into multiple languages
It is an easy to use audio to text generator and has a simple interface
Transkriptor provides options to export the transcript in multiple formats, such as plain text, Microsoft Word, or PDF
Price:
The lite version starts from $4.99 per month, and the premium one is $12.99
Happyscrible is an all-in-one audio to text converter for beginners and experts. With this software, you can Transcribe audio to text and get the results in different languages. It supports 45+ formats and converts audio recordings to text with ease. By following three simple steps, users can convert recordings to text and use them anywhere they want.
Key Features:
One of the best audio to text generators for beginners and professional users
It is super-fast and 85% accurate as compared to other apps
Users can import files from Google Drive, YouTube, Dropbox and more
You can get 10 minutes of automatic transcription for free
Users can get a transcript of their podcast and transcribe the audio from class lectures
HappyScribe allows users to export transcripts in various formats, including plain text, Microsoft Word, PDF, and subtitle formats like SRT (SubRip).
The customer support is fast and helps you fix the issues
Price:
The basic plans is for individuals and it starts from $18 per month
If you are searching for an online audio transcript maker for free, then Flixier would be your ideal choice. With this software, users can effortlessly convert audio files into text and upload the content as well. It analyzes the audio and converts the spoken words into written text. Moreover, users can adjust the words according to their requirements. Users can also export the data from different platforms, such as Microsoft Word, PDF, and plain text. It is compatible with all the popular formats, including WAV to MP3, WMV, MKV, MP3, or AVI. Business and office users can also get Zoom meeting transcripts and edit videos and audio offline.
Key Features:
It is one of the best audio to text generators online and offline
With this software, users can generate synchronized subtitles automatically
It can convert audio recordings to text by analyzing it
With three simple steps, you can convert audio to text
It is a free audio transcript maker for businesses, office users, vloggers, and more
This software supports 25 different languages, including English, Chinese, Russian, French, Spanish and Hindi.
Users can convert 5 minutes of audio to text in the free version
Price:
The free version starts from $0 per month, and the pro version is for $13 per month.
Maestra.ai is an AI-powered transcript creator from audio, which converts audio to text within minutes. With this software, users can upload files directly from their browser and get the transcript in no time. It is super-fast and has a built-in text editor from where you can edit your audio files and text. Once the data is converted, users can export the text as a Microsoft Word document, a PDF, or a plain text file. It has a high accuracy rate, which means you can get the results without any issues. Maestra.ai also has a custom dictionary where you can add technical terms.
Key Features:
The interface is simple and less complicated
It can deliver transcripts in 80+ languages, such as German, English, Spanish, Italian, Portuguese, and more
It supports different audio formats, such as MP3, AAC, FLAC, M4A, OPUS, WAV and WMA
Users can export in Word (DOCX), PDF, TXT, SRT, VTT, MaestraCloud
It offers a free trial and is 100% secure
Price:
The premium subscription starts from $5 per month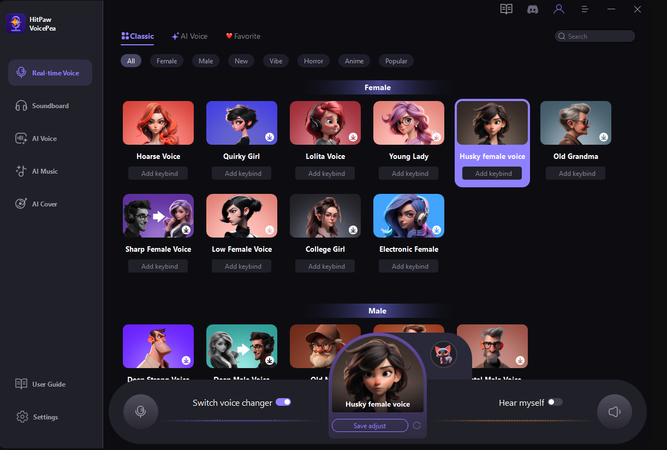 HitPaw Voice Changer is one of the best voice changer applications for beginners. With this application, users can change their voice according to their desires. Moreover, it offers different advanced features, such as Pitch modulation, voice effects, Background noise suppression, and more. With this software, you can adjust the pitch volume and reduce the noise by choosing the noise cancellation option. The program is compatible with both Mac and Windows.
Key Features:
You can change the voice effortlessly without any technical expertise
Users can remove noise with the help of noise cancellation option
It is a perfect application for gameplay, content creator, Vtuber, or live streamer
Users can custom their voice on different platforms, including Zoom, Skype, Google Meet and Discord
A live voice changer option is also present
You can change your voice while playing Minecraft, Rocket League, Overwatch, Rust, Fortnite, Valorant, etc.
Part 3: FAQs of Audio to Text Generator
Q1. How can I Convert Audio to Text Fast?
A1. You can download different audio to text generators to convert your audio to text. Above, we have mentioned some of the top programs in which you can download and convert the audio into text in no time. All these programs have advanced analyzers that can detect your audio and convert it into text.
Q2. Is there a free Audio to Text Transcription?
A2. Veed.io, Happyscribe, Flixier, and Maestra.ai are some of the free audio to text transcriptions that you can download and accurately transcribe audio to text within seconds.
Part 4: Final Thought
In 2023, several free transcript creators from audio generators are available for download. These transcription software applications utilize text-to-speech technology to convert your audio files into text. Additionally, for those interested in altering the voice within their audio, the well-known HitPaw Voice Changer application is available for installation on both Windows and Mac platforms.