Using Text to Song Generators to Create Songs Quickly in 2023
A Text to Song, as the name implies, is a process that allows you to convert your Text into Song. In other words, it helps music composers to transfer words into wonderful musical compositions with ease. In fact, users can now try different Text to Song AI tools, which offer amazing features so that users can easily convert their Text into music. Below, we have mentioned some Text to Song generators that you can use to convert your Text into Music.
Part 1: What is Text to Song AI?
Text to Song AI is a method that can be used for music composition. Apart from that, there are different tools available that help songwriters, musicians, and composers to convert the lyrics into music. Moreover, this feature also helps content creators, marketers, and vloggers to convert their Text into music, which they can add to their videos, podcasts, and more. Many people don't know how Text to Music AI works, but it is really simple: you have to choose an appropriate Text to Song AI tool, type the text, and that's it. The application will convert your Text into Music.
Once you have the music, you can add it to your videos, projects, advertisements, audiobooks, presentations, and more. In fact, you add them to weddings and birthdays as well. Moreover, you can also start music therapy, where you can assist people and improve their mental health conditions and reduce stress.
Part 2: 2 Recommended Text to Song Generators and Detailed Guide
In this section, we have mentioned different Text to Song Free generators that you can use to get Text to Speech songs. You can try downloading these applications and get wonderful songs within minutes. In fact, these AI song generators from Text are easy to use, and anyone can use them with ease. So, if you don't have any experience of writing songs and want to try something different, these Text to singing generators are ideal for you. Let's try these AI song generators from Text one by one and see how they work.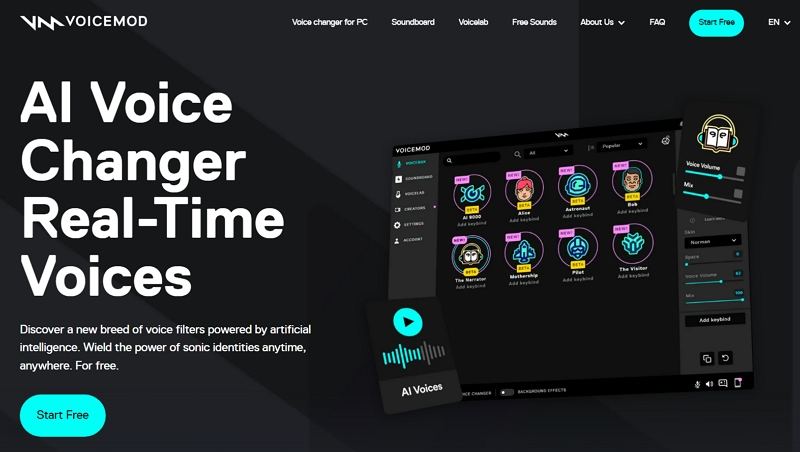 The first Text to Song generator in our list is VoiceMod. It is a simple Song generator from Text which offers the results instantly. With this application, you can easily transform your text into different musical memes. It offers numerous options of singers and instruments from which you can choose the themes according to your desire. It also allows you to generate different covers that you can use for your projects and share them with others as well. In fact, it is a free AI Text to Music generator, which means you can try some of the features for free. Want to know more about this Text to Song tool? Check out the features mentioned below.
Key Features:
User-friendly application with a free trial as well
Ideal for singers, music composers, content creators, vloggers and more
Users can also create different Musical memes
You can download this app for different operating systems
It also has an enhanced voice customization option, which offers different filters that you can use to make your song experience better
It offers different instrumentals, including Levitate, Lazer Beam, Stay with Me, and more
How to Use Voicemod AI Music Generator from Text
1.

Go to the official website, look for the Text to Song feature, and click it. You can click this link to go directly to the website.

2.Next, click the "Generate Song" option and pick your favorite song, which you will see on the screen.

3.

Once you have selected the song, click the "Next" option.

4.Next, choose your Singer and again click the "Next" option.

5.Type the Text which you want to convert into Song and click the "Create Song" button.

6.

It will create the song for you. To download the audio, you have to complete the sign-in process, and that's it.
2. Wotja
Wotja is another amazing AI Text to Song generator that offers unique and amazing features for songwriters. It is also a user-friendly application, which means anyone can use it without any issues. It has a wide range of features for everyone, including artists, musicians, and more. It is a free application and generates songs in no time. It can run seamlessly on different devices, such as laptops, desktops, watches, and more. So, if you want to get music within a short time, this application is perfect for you. Let's discuss its features.
Key Features:
It works on different devices, such as TVs, watches, tablets and more
It generates MIDI and offers multiple music ideas
This app also offers AUv3/VST3 plug-in
It offers multiple song filters so you can enjoy the process of generating lyrics from Songs
How to Use Wotja AI Music Generator from Text
Let's see how you can use this AI text to Music generator.
1.

Visit the official website of Wotja website and download the application.

2.

Once you have downloaded it, launch the application and follow the instructions on the screen.

3.

Next, choose the music that you want to add.

4.After that, type the words under the Random Words option.

5.Adjust the Settings, such as TTM custom, and within a few minutes, your audio will be ready. You can also check out the quick tutorial from where you can get more ideas about the tool and how you can use it.
If you are looking for another AI text-to-song generator, then you should definitely try downloading Hitpaw voice changer. With this app, you can easily convert your Text into Song by following 5 different steps. Apart from that, it is an easy-to-use application and works for almost all devices. So, if you are a songwriter and want to get quick lyrics, this tool would be the perfect choice. Let's discuss the top features of this application so you can get more ideas about it.
Easy to use application and works perfectly for Songwriters and music composers
Has a user-friendly interface and provides results within minutes
You can download it for different devices, including Windows and MAC
Offers different voice filters that you can use to create songs
Users can adjust pitch and other settings according to their preferences
It has a free trial, which you can use to check the application
Offers high-quality results and removes noise with one click
These were some of the top features of this Text to Song AI application. So, if you are planning to use this application, we recommend trying its other packages so you can get premium features.
Part 3: FAQs of Text to Song Generator
Q1. How do I turn text into a song?
A1. You can use different Text to song generators to convert your Text into a Song. With these apps, you can type your text choose the singer and song, and within seconds, the apps will generate the results for you. You can also adjust their settings according to your songs requirements.
Q1. What is the best AI song generator?
A1. HitPaw Voice changer is the best AI song generator that you can use in 2023. This application has lots of features that you can try and get your favorite song within seconds.
Part 4: Final Thought
If you are planning to get a song using the Text to Song feature or software, then above, we have mentioned three different apps that you can try. All these applications have an AI Text to Song feature that you can use to get your desired lyrics within seconds. If you want a fast application, we suggest using HitPaw Voice Changer, as it can be the ideal choice for musicians and songwriters.