Everything You Need to Learn About Audio Description Generator
The concept of Audio description was famous back in the 1970s, but nowadays, only a few people know about it and how it works. Audio description is designed to make the audiovisual content more accessible for the blind. However, most people are not familiar with it. Well, if you don't know about audio description and what it is, we've got you covered. In this article, we will tell you about the best audio description generators that you can download this year.
Part 1: What is Audio Description?
Audio Description, also known as AD, is a tool designed to make audiovisual content more accessible for individuals, including the blind and visually impaired. This service uses important visual information which is difficult to convey using regular applications. People can also easily understand the media term via Audio description software. On the other hand, it is now easier to check the visual information found in movies, theater productions, and other multimedia platforms.
Moreover, the Audio description is divided into 3 different parts: Narration, visual elements, and timing. In fact, many famous production houses, theaters, streaming platforms, and television shows use sound generator description tools to generate audio descriptions.
Part 2: Why Do You Need an Audio Description Generator?
An audio description generator is an application that generates audio descriptions for your multimedia content, such as videos, so that the blind and visually impaired can easily understand it. Nowadays, it is used by different production houses who want to target the blind audience. These audio description software can be beneficial in many ways, such as:
It is essential to use audio description generators because they work faster than manual methods. With these software, users can create accessible content.
You can save a lot of money by using voice description software, as you don't need to hire professional audio describers.
The audio description generators for PC are ideal because they can produce large amounts of content in a short time. In fact, you don't have to fix the formats once the data is generated.
These tools support multiple languages, which means you can generate the Audio descriptions in different languages.
Part 3: 3 Useful Audio Description Generators You Should Try
Are you searching for the best Audio description generators? Look no further; in this section, we have added some of the top audio description generators for PC and Online. You can try these applications and create the audio descriptions with ease. Let's discuss these free audio description generators along with their features.
1. Videotovoice
The first sound description generator in our list is VideotoVoice. It is a reliable audio description generator PC that comes with numerous features. It comes with a text-to-speech feature, which means you can add the text and get the audio in no time. This free audio description generator is ideal for creating content for blind audiences. Furthermore, users can generate the voice using three simple steps, which include selecting voice, adjusting the mix settings, and, in the end, choosing the Mastering Settings. Let's discuss its features.
Key Features:
Choose from around 50+ languages
Voice tuning option is also available
Users can adjust the custom settings with one click
Reduces production cost and time
Download the results in different formats
2. Verbit.ai
The next audio description generator for PC in our list is the Verbit AI program. It uses AI technology to generate audio descriptions. Users can create engaging descriptions for those who are blind or have low vision by adding images and using visual narrative. They also have a video guide from where users can get ideas on how to use it. Moreover, it is a good choice for virtual events, announcements, webinars, meetings, and more. The tool is easily available for PC users and offers custom plans, which means you can contact the support and get the offer according to your requirements.
Key Features:
It offers 24/7 customer support
Generates Clear & Concise Descriptive Audio
Support ADA and WCAG standards
Perfect for audiences who are blind or have weak vision
Easy to use and has a straightforward interface
Businesses, media production, government, and education systems can use this application
3. Overdub
The last online Audio description generator in our list is Overdub. It is an advanced Audio description program that comes with lots of amazing features. It is an AI-based application that generates results within seconds. It can create multiple voices using different settings. Moreover, users can adjust the style and tone according to their requirements. On their website, they have published some samples which users can click and check the voices. For example, you can see samples of different advertisements, including BMD, products, and more. It also allows you to generate the voices of celebrities and different famous people.
Key Features:
User-friendly program and generates the results within minutes
Best sound description generator for students, productions, individuals, and more
Choose from a diverse library of stock voices
Text-to-Speech feature is fast
Has other features, such as transcription, a screen recorder, and publishing
Get the voices of different celebrities, advertisements, singers, and more
Generate audio descriptions for blind and low-vision people, including the elderly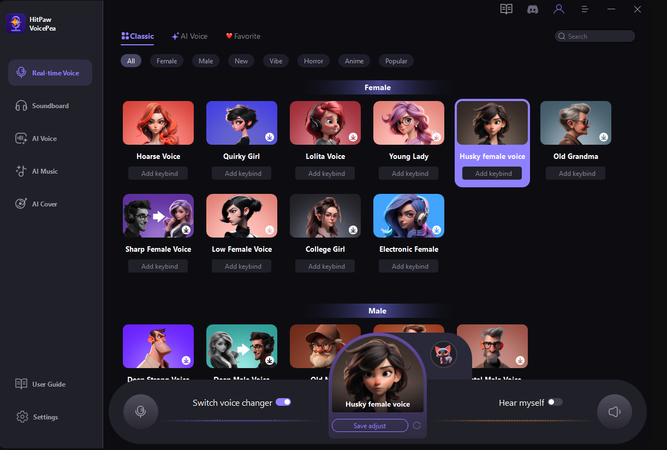 HitPaw voice changer is the best voice changer for PC, including Windows and Mac. With this software, users can get audio descriptions and other voices within minutes. It uses advanced technology to generate audio descriptions. Moreover, you can use this application to change voices into different languages and characters. Users can convert the voice from male to female and vice versa. Also, it has the option to adjust the settings, which include pitch adjustment, volume settings, and more.
Key Features:
Change your voice using different filters in real-time
Compatible with Windows and Mac
Users can integrate it with different games and platforms
Remove noise and echo with one click
Change voice effortlessly without worrying about the settings
The interface is user-friendly and easy to manage
Change voice into different characters, such as Space Marine, Yoda, Mario, and more
Part 4: FAQs of Audio Description Generator
Q1. How to do an Audio Description?
A1. In order to create an audio description, it is recommended to use a reliable audio description generator or software that can easily create the audio for you. Above, we have mentioned some of the top voice generator descriptions that you can use. All these programs are wonderful and will create the descriptions in no time.
Q2. What is a good Audio Description?
A2. HitPaw voice changer, Videotovoice, Verbit, and Overdube are some of the best audio description programs. However, if you are looking for a fast voice changer, we recommend using HitPaw voice changer because it is easy to use and has an intuitive interface. Apart from that, it works with almost all devices, including Windows and Mac. Furthermore, users can generate the results seamlessly without seeking any professional help.
Part 5: Final Thought
These were some of the top Audio description generators that you can download and use to get perfect audio descriptions. Moreover, these applications have a user-friendly interface, which means anyone can use them without any issues. Apart from that, you can download HitPaw Voice Changer application, which allows you to change your voice without any hassle. This software comes with lots of features, which include changing voices into different characters and celebrities. The app also creates audio descriptions for blind people.