Top 7 Free AI Text-to-Song Generators in 2023
Text to Song is an AI technology that allows users to create their favorite songs from written text. This technology uses advanced machine learning algorithms to quickly convert your written text into a song.
This technology creates poems, lyrics, rhythms, and even lyrics by analyzing the databases from other songs.
If you are looking for the best Text to text-to-song generators to create songs from lyrics, then you are in the right place because, in this guide, we will explore the top AI Text to text-to-song generators available on the internet.
How to Choose a Useful Text-to-Song Generator?
To choose a useful Text-to Song AI Generator, you must focus on major elements such as price, User-friendliness, AI-powered, and more.
Below is a comparison table that will help you decide the best Song Generator on our list.
| Text to Song Converter | User-friendliness | Price | AI-Powered |
| --- | --- | --- | --- |
| HitPaw | 4.50 | Paid | Yes |
| VoiceMod | 4.00 | Free | Yes |
| Veed.io | 4.00 | Paid | Yes |
| Wotja | 3.00 | Free | No |
| Melobytes.com | 3.50 | Paid | Yes |
| Vocal.ai | 3.00 | Free | Yes |
| Songr.ai | 4.00 | Free | Yes |
7 Useful Text to Song Generators
Here are the top 7 Text-to-Music AI Generators resonating in today's market. Each tool has its unique feature that may suit your specific needs.
Looking for the best AI Music Generator from Text? Then don't look further because HitPaw is the best AI text-to-song generator in 2023. With the help of AI, this tool gives your lyrics a new voice.
It allows you to create songs from text in different genres, such as Pop, Rock, Jazz, and much more. HitPaw provides an easy-to-use interface that allows musicians and songwriters to operate this program easily.
Further, it also provides amazing features like voice changing, voice cloning, noise reduction, and more. This program has a huge library of voice effects that can be used to alter your voice in real-time. The library includes voices of celebrities, Politicians, singers, TV Anchors and many more. The best part of this program is that it seamlessly integrates with platforms like Zoom, Discord, Twitch, Skype, and more.
Pros
Allow you to change the Genre of the song into Rock, Pop, and Jazz
Ability to create song from text only
Includes features like Voice Changing, Voice Cloning, Noise Reduction, etc.
Seamlessly integrates with platforms like Zoom, Twitch and Discord
Supports various Operating Systems like Windows and macOS
Offer Key Binding Controls
Cons
Text to Song feature has recently included
Price: $15.95 Per Month
How to Transform Text to Song with HitPaw Voice Changer?
Step 1:Click on "AI Music" in the left sidebar, and choose the "Transform text to melodies.

Step 2:Enter the music lyrics you want to generate in the top prompt box, and choose the music theme you preferred.

Step 3:After choose the music theme, you can simply click "Generate" to create music in few seconds, then you can see your imagine music in the right sidebar. Join as a member to download music.
2. VoiceMod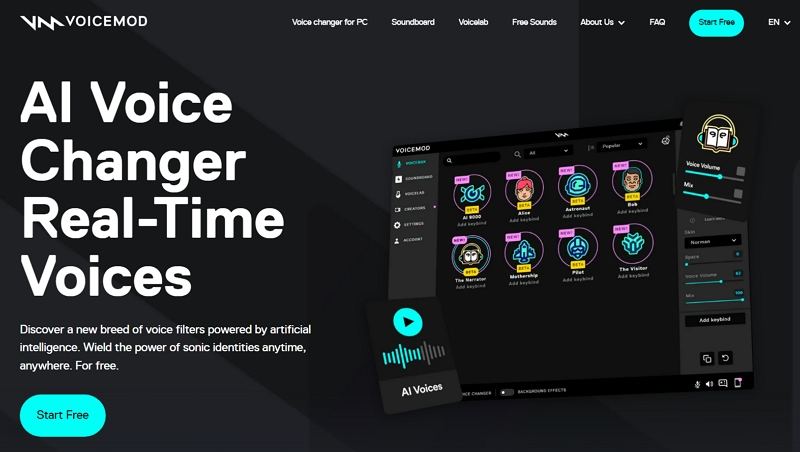 VoiceMod is another AI tool that can turn Lyrics into a Song. It provides a free AI singing voice generator that enables you to create Songs from Text in seconds. It's an online AI Song generator, meaning that you can easily create songs from Text online directly from any device or Brower.
With this tool, you can send your friends and family happy birthday songs directly through WhatsApp and Facebook Messenger. It also supports social media platforms like TikTok, YouTube Shorts and Instagram.
VoiceMod lets you choose from 7 different singers and many different instrumentals from genres like Classica, Trap, Hip Hop, and more.
Pros
Turn my words into a song-free
Option to choose from 7 different singers and instrumentals
Includes Genres like Pop, Hip Hop, Classica, and more
Easy-to-use interface
Online programs and can be used directly from mobile phones and web browsers.
Allows direct sharing on Apps like WhatsApp and Messengers
Cons
Crashes when using soundboard
Price: Free
3. Veed.io -Text to Song
Want to convert lyrics to songs? Then select Veed.io Text to Song Generator; this tool is where words get converted into powerful music. Whether you're a professional songwriter, musician, or content creator, Veed.io allows you to transform your text into melodies that can be added to your videos.
Simply input the text into the tool, and with the help of AI technology, Veed.io generates a unique song based on the emotions and style you desire. This program allows you to select a vibe such as Hip-Hop, Rock, Dance, and Chill.
Pros
Allows you to create music from Text in seconds
It offers vibes like Hip-Hop, Dance, Rock, and Chill
Best for Musicians, Songwriter and Content Creators
Simple steps to generate music from text
Affordable pricing
Cons
The free version doesn't include the Text to Song feature
Price: $18.00 Per Month
4. melobytes.com
Melobytes is one of the fastest websites to transform words into music. This AI generator includes dozens of music styles that can be used in your songs. The range includes from old school to classic symphonies like Chopin, Vivaldi, and Beethoven.
Users can select temp, bars, instrument notes, and audio effects. Once you have successfully created an AI song, you can download it in an MP3 file. With the help of this tool, you can easily create a 5 minutes song in just 10 seconds.
Pros
Offers dozens of music styles
Allows you to choose elements like temp, bars, and more
Create a 5 Minute song in 10 seconds
Download files in MP3 Format
Straightforward Interface
Cons
Output quality is lower as compared to others
Price: $12.90 Per Month
5. Wotja
Wotja is a unique and intuitive music system that allows you to turn words into a song online for free. With the help of its user-friendly interface and a wide range of features, singers and music composers can generate songs in no time.
This program can run seamlessly on Windows, Android, macOS, and iOS devices. So, if you are looking for an App to convert your words to a song, this program is the perfect choice.
Pros
Compatible with devices like Windows, Android, macOS and iOS
Functions as AUv3/VST3 Plug-in
Ideal to explore endless music ideas
User-friendly interface
Cons
It is not popularly compared to other text-to-song generators
Price: Free
6. Vocol.ai
Vocol.ai is a free text-to-music tool that turns your text into captivating melodies. With its advanced text-to-song feature, musician can easily convert their written lyric into beautiful songs in no time.
Further, it provides an easy-to-use interface that allows beginners to operate this platform easily.
Pros
Free-to-use tool
Offer a wide range of singers and instrumentals
Easy-to-use interface
Best for musicians and songwriters
Price: Free
7. Songr.ai
The last AI Music Generator from Text Free is Songr. AI. This program uses AI technology to generate songs from Text. Simply input the text, select your favorite genre, and click the Generate button. Your written text will convert into a song within seconds.
Songr.ai offers high-quality output that you can download on your device in MP3 format.
Pros
Create a song from text within seconds
Download Songs in MP3 format
Offer High-Quality Output
Simple to use program
Cons
Lacks on advance features
Price: Free
FAQs of text-to-song generator
Q1. How can I convert text into a song?
A1. You can use a Text to song generator to convert text into song. With the help of these programs, you can convert any type of text into a song within seconds. You can also adjust the song settings according to your requirements.
Q2. What app turns lyrics into a song?
A2. HitPaw Voice Changer is the best tool to turn AI text into music. This program has some amazing features that you can try.
Final Thought
If you want to generate songs using the Text-to-Song feature, then above in this guide, we have mentioned the top 7 Text-to-song generators; these tools will help you create beautiful melodies within seconds.
But if you are looking for a program that provides high-quality songs, we suggest you choose HitPaw Voice Changer because it is the best choice for creating High-Quality songs from the text.