5 Best 2pac AI Voice Generators Free Online to Create Tupac AI Voice
Tupac, widely known as 2Pac, he was an American rapper and actor whose music mainly focused on social issues and inequality. After the tragic death of 2Pac, his music continued his legacy, and now many fans want to harness his voice.
Luckily, with the help of the 2Pac AI voice generator, users can now clone their voice in no time. In this article, we have mentioned the five best 2Pac AI Voice generators available online that will allow you to speak in the voice of 2Pac on multiple platforms. Ensure to read this guide till the end to find the most suitable option for you.
Who is 2pac?
Tupac Amaru Shakur, also known as 2Pac, was a famous American rapper and actor. He was one of the most successful rappers of all time, with over 75 million records sold worldwide.
His music mainly focuses on social issues in the world, making him the voice of inequality. 2Pac started his music career in 1991 with his debut album, 2Pacalypse now. After the release of his album, he became a central figure in America.
Sadly, at the age of 25, he was shot to death in 1996, but his legacy continues and still has a big impact on the music industry to this date.
If you are a fan of 2Pac, then you must be delighted to hear that with the help of AI, you can now mimic 2Pac AI voice in no time.
Top 5 2pac AI Voice Generators Online
Here are the top 5 Tupac AI Voice Generators available online that will allow you to alter your voice into a 2PAC voice.
1. Uberduck.ai
Uberduck.ai is one of the premium platforms with Tupac AI voice. This tool allows artist, fans, and content creator to harness the voice of iconic rappers and then uses that voice in their projects.
It doesn't matter whether you are working on a creative project or simply want to pay tribute to the rap legend; this tool offers you a seamless and user-friendly experience.
Uberduck AI offers a wide range of voice effects like 2pac, Kayne West, Nicki Minaj, and many more. This program also offers a Text-to-Speech function through which you can easily convert written text into speeches with different voice effects.
Pros
Premier program with 2Pac voice effects
With the Voice Clone feature, you can create your voice clones
Chatbots and AI to provide users with unique content creation
Offers a wide range of celebrities voices like Kayne West, Nicki Minaj and more
Synthetic Media Creation allows you to create synthetic videos
Offers a User-Friendly Experience
Cons
Uberduck AI is a powerful tool but can be misused
Price: $9.99 Per Month
2. FakeYou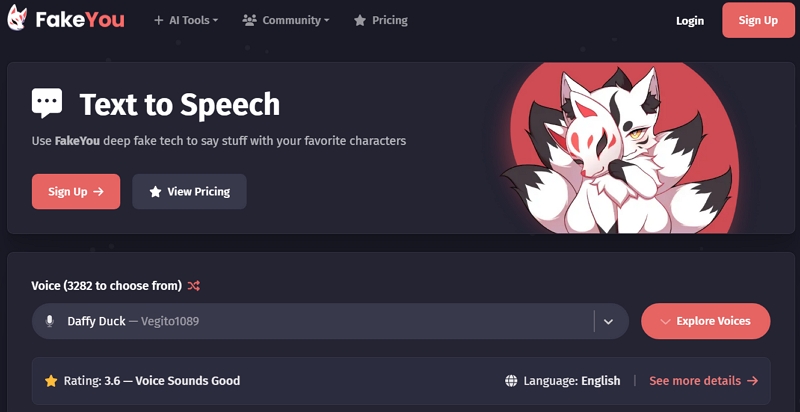 FakeYou is a web-based Tupac voice generator that offers high-quality voice effects in multiple languages. With the help of its TTS feature, users can easily convert any text into speech. Just type the text you want to convert, select a voice effect, adjust the speed and pitch, and in the end, click on the generate button. An audio file will be generated that can be downloaded in MP3 format.
Further, this tool supports several languages, including English, Spanish, Chinese, Japanese, and Italian. This program has over 3200 voice effects to choose from, like 2pac, Minions, SpongeBob, and many more.
Pros
3200+ voice effects to choose from, including 2Pac.AI voice
Offers a user-friendly interface that is easy to use
Options to edit and customize your voice recordings before saving them in popular formats such as WAV and MP3
Amazing TTS feature that will convert your Text into speeches in no time
Affordable Pricing
Cons
Need a good internet connection
Price: $7.00 Per Month
3. 101 Soundboards
Looking for a 2Pac AI voice generator free online? Then don't look further because 101 Soundboards is the program you were looking for. This program provides the most comprehensive library of free voice effects.
The best part of this tool is that you can easily generate songs and raps with the help of AI. With its customization features, you can also mix audio clips to create a new and unique voice effect and then use it for fun.
It has a simple and easy-to-use interface that allows users to operate this program easily.
Pros
Possesses a simple and easy-to-use interface
A web-based program that can be used on various devices
No installation and downloading is required
Completely free to use
Allows you to save the audio in MP3 format
Cons
Some voice effects are too long
Price: Free of Cost
4. voicechanger.io
Voicechanger.io is an online Tupac AI voice generator that allows voice modification in real-time. This tool provides an amazing list of voice effects, and the best part is that all these voice effects are free to use.
With the help of this tool, you can alter your voice into an Alien, Child, Batman, Bane, and so many more with a click of a button. Users just have to record their voices via a mic and then select a voice effect.
Pros
Offers free voice effects like Alien, Child, and Bane
It is an online platform and doesn't require any registration or downloading
Free to use
An excellent option to create 2Pac AI songs
Simple to use
Cons
Gamers and streamers have to look for another voice changer because this program doesn't integrate with games and live chat applications.
Price: Free of Cost
5. Lingojam
Lingojam is an online TTS voice generator that allows you to create speeches in your favorite voices. This program has amazing voice effects, which includes the voices of Singers, Celebrities, and many more.
Further, this tool is simple to use, making it the best voice changer for beginners. If you want to create Tupac AI Songs from just text, then this tool can do it for you.
Pros
One of the best voice translators available online
Includes some amazing voice effects such as alien, monster, and more
Simple interface best for beginners
Can create songs by using text
Cons
Some voice effects sound robotic
Price: Free of Cost
Bonus Tip: Best Tupac AI Voice Generator for PC: HitPaw Voice Changer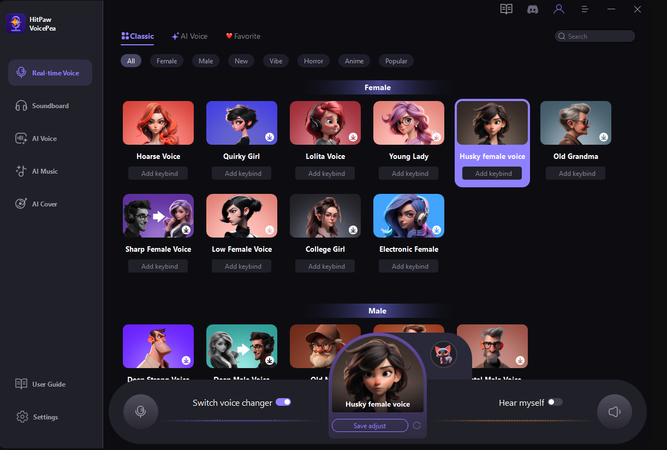 If you are looking for the best Tupac AI voice generator for PC, then don't look further. HitPaw is the best voice changer for PC that includes some amazing voice effects like 2Pac, Drake, Taylor Swift, and more. All the voice effects available on this program are realistic and sounds natural.
This tool has a beautiful interface that allows users to navigate through settings easily. Moreover, if you want to prank your friends while playing games or chatting in 2Pac AI voice, then this program has this covered for you because it seamlessly integrates with Gaming and Streaming platforms such as Discord, Twitch, Zoom, Call of Duty, and more.
All the voices generated from this program are in HD.
Features
It has an attractive and easy-to-use interface
Integrates with gaming and streaming platforms such as Discord, Twitch, Zoom, and more
Includes voice effects of famous singers and rappers such as Drake, 2Pac, and Taylor Swift
Alter your voice in real-time
Compatible with Windows and macOS
Offers multiple packages to choose from
FAQs of 2pac AI Voice Generator
Q1. How do you get the AI rapper voice?
A1. To get the AI Rapper voice, first, choose a voice changer with a rapper voice effect and then Apply the voice effect to alter your voice in real-time.
Q2. What is the AI that mimics rappers' voices?
A2. HitPaw is the best AI program that can mimic the rapper's voice easily. This program offers realistic rappers' voice effects, such as Drake, 2Pac, Nicki Minaj, and more
Final Thought
That's it; in this guide, we have explored the best 2Pac AI voice generators available online for free. But the best voice changer with a wide range of voice effects and features is HitPaw.