Top 10 Video Enhancers to Upscale Video with Easy Steps
Even with today's state-of-the-art digital technology and high-powered cameras, the vast majority of videos still need to be refined before they can be used effectively.
The available light, climatic circumstances, and the recording device all have a role in the overall quality and aesthetic appeal of a video clip. Movies with massive budgets in Hollywood still utilize video quality enhancers to ensure the best possible end result.
Using a video enhancer is essential if you want to produce a high-quality, engaging video project.
The quality of your video clip may be enhanced by using a video enhancer to adjust the colors, remove flaws, and so on. It might be difficult to find the best video enhancer software to meet your needs and the needs of your project, no matter what your level of editing expertise is.
Part 1. Best Video Enhancer to Improve Quality of Video with AI Video Upscaling
The potential uses for HitPaw Video Enhancer are practically limitless. The launch of the HitPaw AI Video Enhancer was predicated on the idealism and originality of its creators. Using a HitPaw video upscaling tool is a great way to release your creativity because of the intuitive digital user interface.
Also, when HitPaw Video Enhancer takes on the responsibility of being an excellent Video Upscaler, it does so by providing 4 stunning AI models. As the best video quality enhancement tool, AI-trained tech of HitPaw Video Enhancer will help you improve your video quality without any professional skills.
And you don't have to worry about the complicated program interface that will overwhelm you, because the interface and the steps of HitPaw Video Enhancer is the simplest.
The following are the top features of HitPaw Video Enhancer:
Trained Artificial Intelligence has been used to power the program.
With only one click, you can make your movies seem better than ever due to the software's built-in AI features.
A low-resolution video may be made to seem as good as one shot in 8K.
Using its upscaling function, it eliminates distracting noise so that your videos come across as crisp and clear.
Custom-built AI program that can modify both human faces and anime videos.
Learn how to enhance low quality video to high quality with ease:
Here are the steps of how you can use HitPaw Video Enhancer to enhance your videos:
Step 1.First, you need to download and Install HitPaw Video Enhancer.

Step 2.You may start the AI-enhancement process by uploading the original video.

Step 3.Choose the appropriate AI models from the available three

Step 4.Watch a preview of the finished version.

Step 5.In order to save your revised video, select the export option.
Part 2. Alternative 4K Video Quality Enhancer to Upscale Low-Quality Videos on Desktop
1. Topaz Labs Video Enhance AI - Nice for Slow Motion
Compatibility:

Windows, Mac

Rating:

4.5/5

Price:

30-day free trial, then $199.99
Topaz Labs' Video Enhance AI is a potent video quality enhancer free capable of making even the oldest videos seem digital.
The slow-motion effects, in particular, benefitted greatly from this video quality booster.
Technicians at Topaz Labs have worked out how to produce fresh frames that are indistinguishable from those taken with the camera without the stuttering that is inherent in standard time interpolation.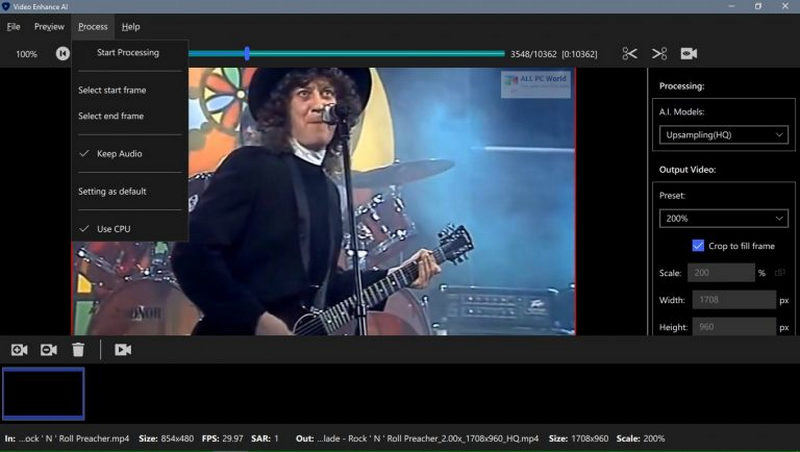 Pros:

Effective video repair power

Slow video 2,000% seamlessly.

Cons:

Computer resource-intensive

Lack of video-editing software
2. AVCLabs Video Enhancer AI - Powerful Facial Recognition
Compatibility:

Windows, Mac

Rating:

4.3/5

Price:

5-day free trial, then $39.95/month
There is also AVCLabs Video Enhancer AI, which uses artificial intelligence to do the same thing. The software's facial recognition features stood out to us since they are unlike anything else we've seen in a video quality booster.
By evaluating and deblurring many faces in a single image, AVCLabs may improve the clarity of a single moving face or a group of faces that are all still.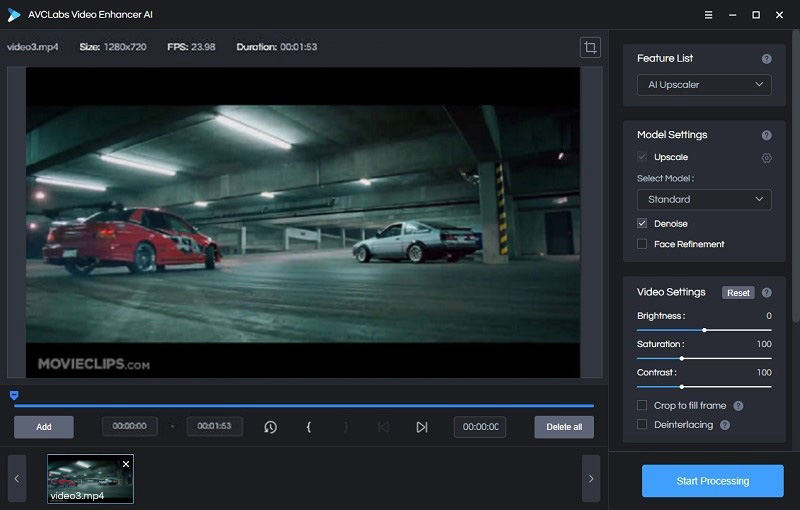 Pros:

User-friendly design

Super-high-resolution (8K) video upscaling

Cons:

Having to rely on a high-powered computer

No video editing tools
3. Adobe Premiere Pro – Good for Editing Professionals
Compatibility:

Windows, Mac

Rating:

4.5/5

Price:

7-day free trial, then $20.99/month
Premiere Pro offers a wide variety of options for improving video quality. It has a Lumetri Color Tool, a nonlinear editing platform, which allows for limitless gradation and color adjustments. The clip's exposure, contrast, shadows, and white balance may all be modified using this tool, and the changes can be activated at any time in the clip with keyframes.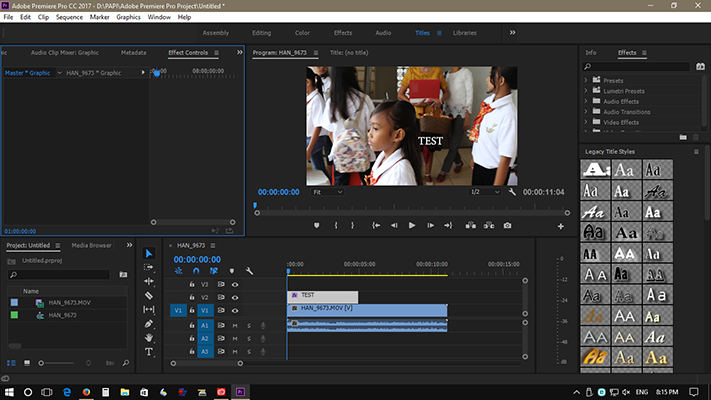 Pros:

Advanced color-adjusting software

A versatile and nonlinear interface for editing

Compatibility with a wide range of video editing programs

Cons:

Complicated interface

Lacks features without Adobe's After Effects
4. DVDFab Video Enhancer AI - Friendly for Beginners
Compatibility:

Windows

Rating:

3.8/5

Price:

$59.99/month
DVDFab Video Enhancer AI, powered by artificial intelligence, is an easy-to-use tool for improving video quality. Import your video, then select the option to expand, denoise, or sharpen to get professional-looking results without fiddling with a number of options.
If you're technically knowledgeable, you may have a greater say in the final product by tweaking the optional parameters.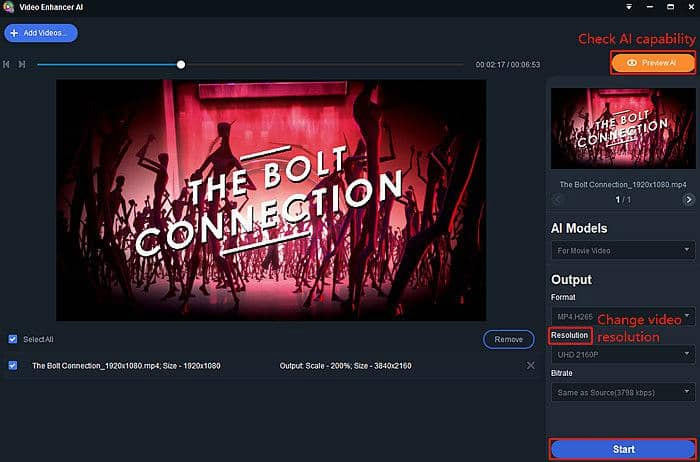 Pros:

An easy-to-use tool for newbies

A robust video enhancer driven by AI

Cons:

Extremely slow operation

Necessitates a fast, spacious, and modern computer.
Part 3. Video Enhancer Online to Increase Video Quality with Ease
1. Pikavue
Compatibility:

Web-based

Rating:

3/5

Price:

Basic Free Version
Upscaling video using Pikavue is possible since it is a tool that does just that. You may improve video quality without worrying about exceeding any hardware limitations. This program may upgrade your standard-definition video to high-definition quality.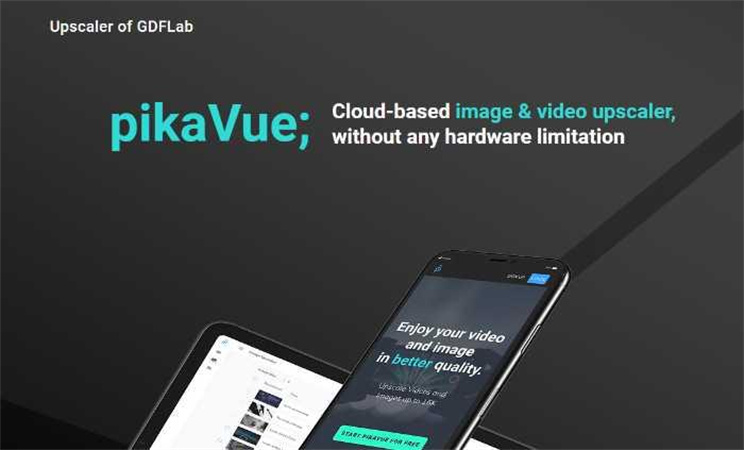 Pros:

4x the size and 4k video enhancer online free.

It simplifies the process of reducing the video's size.

Cons:

Very limited editing features.
2. Pixop
Compatibility:

Web-based

Rating:

3.5/5

Price:

$21 for 18-minute video
Pixop's mission is to make video upscaling and improvement easy and affordable by employing AI (artificial intelligence) and ML (machine learning) with the most cutting-edge algorithms in the market. Due to Pixop's web-based nature, image resolution may be increased from anywhere with internet access. It is the best way to improve video quality online
Pixop is an artificial intelligence video upscaling platform that is hosted entirely in the cloud. This is an entirely cloud-based operation that requires no initial investment or additional software or plugins of any kind to get going. Windows, macOS, Linux, iOS, Android, Chrome OS, etc., are all supported. Access Pixop with only a browser by visiting app.pixop.com.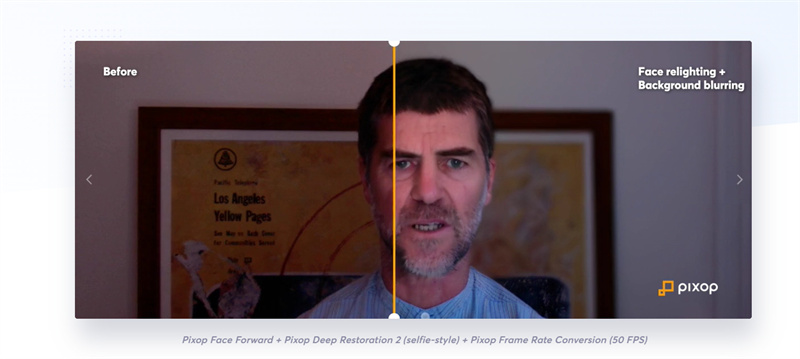 Pros:

Simple and easy-to-use

AI video enhancer with no additional downloads.

Cons:

No video editing

No free version
Part 4. Video Enhancer Apps to Upscale Low-Quality Videos on iPhone and Android
1. Videoshop
Compatibility:

Android, iOS

Rating:

4/5

Price:

$3.99
Videoshop Video Editor provides an abundance of options for modifying videos, allowing you to create virtually any effect you can imagine. The program has been updated 15 times since its release a little over a year ago, so new features are being added regularly.
You'd be hard-pressed to find any video editing tool with greater functionality than Videoshop, despite the UI problems.
It can be hard to tell at any given time whether a given app is worth the asking price of $1.99 because of the rapid pace at which it evolves.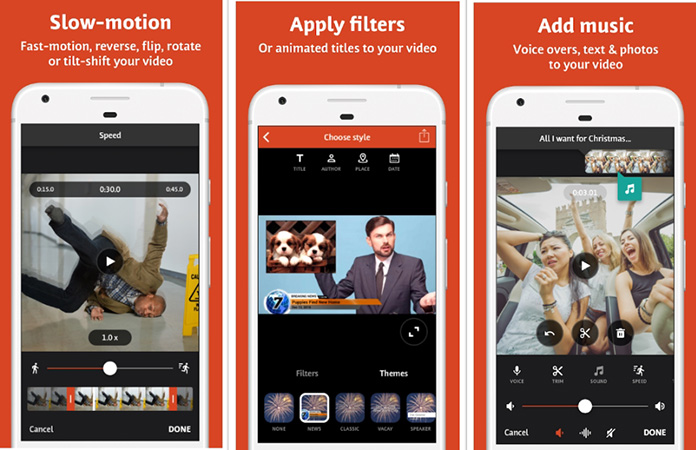 Pros:

Simple, fast, and reliable.

Great video editing features.

Cons:

UI issues.
2. InShot
Compatibility:

Android, iOS

Rating:

4.5/5

Price:

$3.99 per month
As a video editing application, InShot packs quite a punch. Videos and images can be cut, split, combined, or compressed with this software. In addition, the application offers a wide variety of edits like filters, effects, sticker faces, and more. With these in-built tools, you can quickly and simply give your video a professional polish.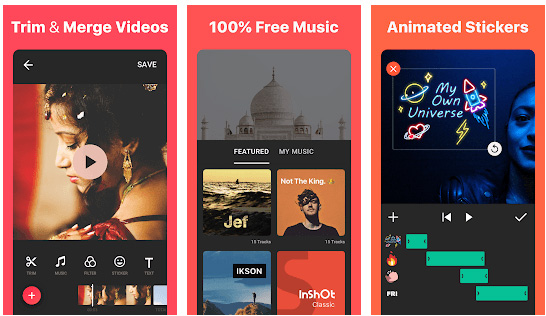 Pros:

Best for beginners.

All editing features.

User-friendly interface.

Cons:

Only one timeline track is supported.
3. PowerDirector
Compatibility:

Android, iOS, Windows, and macOS

Rating:

4/5

Price:

$12.50/ month
It doesn't matter if you've never edited a video before or if you're a seasoned pro. PowerDirector includes everything you need to make high-quality videos, from simple to complex tools for adjusting colors and sounds to robust artificial intelligence restoration options.
Lighting, video denoise, and white balance tweaks will help your video seem better. With video stabilization, you can get steady shaking from handheld or action sports footage. And make your music sharp and pure using audio denoise, wind reduction, and de-reverb.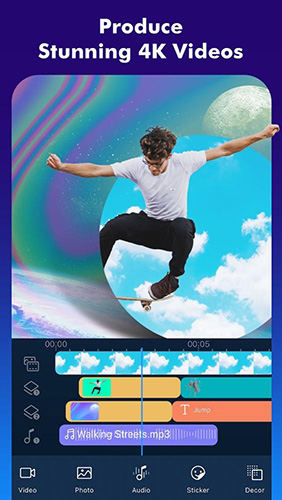 Pros:

Hardware and software for expert video editing and enhancement.

Simple and straightforward UI.

Video editing in 360 degrees and Ultra HD 4K resolution

Cons:

CPU-heavy activities
Part 5. What is the best video quality enhancer?
| Software/Features | Operating System | AI Enhancer | Editing Tools | Rating |
| --- | --- | --- | --- | --- |
| HitPaw Video Enhancer | Windows, Mac | Yes | Yes | 4.8 |
| Topaz Labs Video Enhance AI | Windows, Mac | Yes | No | 4.5 |
| AVCLabs Video Enhancer | Windows, Mac | Yes | No | 4.3 |
| Adobe Premiere Pro | Windows, Mac | Yes | Yes | 4.5 |
| DVDFab Video Enhancer | Windows | Yes | Yes | 3.8 |
| Pikavue | Web-based | Yes | No | 3 |
| Pixop | Web-based | Yes | No | 3.5 |
| Videoshop | Android, iOS | Yes | Yes | 4 |
| InShot | Android, iOS | Yes | Yes | 4.5 |
| PowerDirector | Android, iOS | Yes | Yes | 4 |
Part 6. FAQs of Video Enhancer
1. What is Video Enhancement?
Video Enhancement is a process that allows people to enhance video footage for a variety of purposes. From improving video quality for surveillance footage or editing out unwanted parts, this feature makes it easy to refine digital videos. With just a few clicks, videos can be edited smoother and sharper while the authenticity of their content remains undisturbed.
2. How to Choose the Best Video Enhancer
Several factors influence the selection of the optimal video quality enhancer online. We detail those factors below to assist you in picking the correct tool for your requirements.
Price:

Budget is a key aspect of any selection when paying for a video quality booster. Our list includes solutions for a variety of budgets, so you may discover what you need regardless of whether you or your employer is paying the price.

Ease of Use:

We've also highlighted video enhancers across a variety of ability levels, from first-time users to editing specialists.

Video Editing Tools:

Some video enhancers are full-featured video editors, while others offer only fundamental editing features, yet others exist solely to upscale footage.

Features:

What are the challenges you normally experience with your videos? If you frequently take videos with an action camera while traveling, you should invest in a video stabilizer and lens correction software.
Part 7. Conclusion
It's essential to use video upgrades if you want your videos to seem professional and attract an audience. A video enhancer is useful even if you merely publish videos to social media sites like Facebook and YouTube for enjoyment.
We recommend you use HitPaw Video Enhancer to enhance your videos to a professional level. It is a free video enhancer that not only allows you to enhance your videos but also lets you edit them based on your needs.