Top 8 Video Quality Enhancer Apps to Improve Video Quality in 2023
You will never post a boring or uninteresting video to YouTube or any other social media platform without first adding some sort of filter or effect. Like being bored with a bad movie. It's true that everyone strives for perfection since nobody likes having their work criticized.
Now that we live in a technologically advanced era, many different kinds of video enhancer for free exist specifically to address this same problem. The only real issue is that it's not always obvious which free video enhancement software will do the greatest job.
In this article, we took a quick look at eight of the greatest video quality enhancer apps available on iOS and Android. When you're done reading this article, it's up to you to decide which low quality video enhancer app is going to help you the most with enhancing the quality of your video.
Part 1. Top 8 Video Quality Enhancer Apps to Improve Video quality
1. KineMaster
Platform:

iOS and Android

Price:

Free, Premium Monthly for $3.99, Premium Annual for $22.99

Rating:

4.7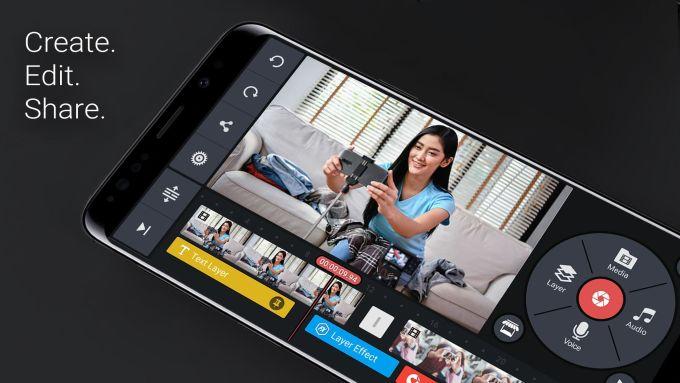 KineMaster is now one of the most flexible video enhancers to increase video quality available on both platforms. It's versatile and can do everything from basic clipping to applying filters and other effects to images. It is the best video enhancer app.
The program supports 4K (2160p) video at 60 frames per second and can be used for editing and managing such files. In addition, it can automatically upload your videos to platforms like YouTube, TikTok, Facebook, and Instagram, and it supports features like video layering, overlays, and frame-by-frame cutting.
Because of its user-friendliness and extensive set of tools, KineMaster is our top option for an all-purpose video quality enhancer. You can easily edit high-quality films, montage clips, and professional slow-motion graphics using KineMaster.
Pros:

Switching between devices

The KineMaster Asset Store has almost 2,000 assets.

Optional aspect ratios (16:9, 9:16, 1:1)

Cons:

Watermark in the free version
2. Videoshop
Platform:

Android and iOS

Price:

Free Trial, Lifetime Pro for $89.99

Rating:

4.9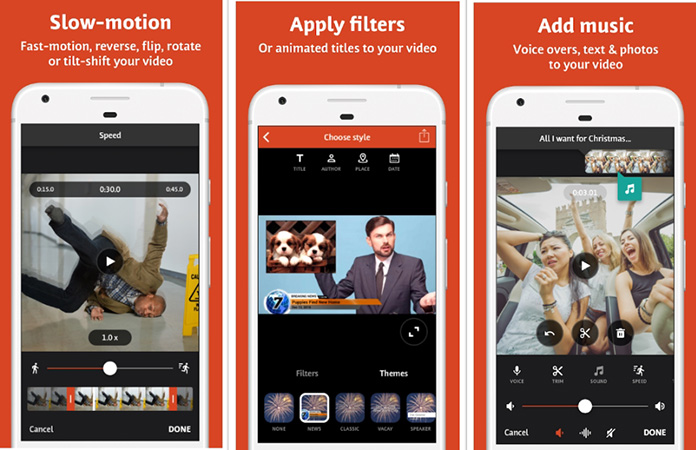 Videoshop features a great user interface, making it one of the better choices here. Videoshop is an alternative to KineMaster that offers the same capabilities but with improved filters, animated transitions, and the ability to resize videos. It is a enhance video quality free app.
It's a lot more user-friendly than other video editing apps, yet it does all the essentials well. The program is geared toward producing more unusual and entertaining effects, such as stop motion, Ken Burns, and lip sync.
The free edition of Videoshop only offers a handful of features. Since they also offer annual and monthly memberships, you may choose whichever works best for you.
Pros:

Instagram-like filters

Intuitive design for ease of use

Function for synchronizing lips

Cons:

One recording at a time
3. PowerDirector
Platform:

Android and iOS

Price:

Free Trial, Premium Monthly for $5.99, Premium Quarterly $9.99, Premium Annual for $34.99

Rating:

4.6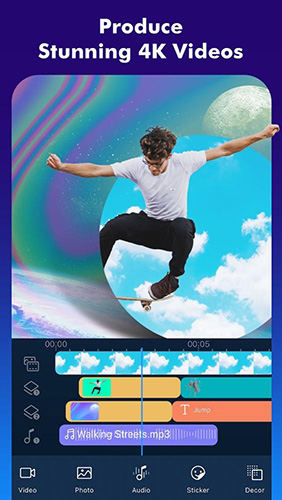 Although PowerDirector was originally designed for Windows PCs, a mobile app that improves video quality is now available for both Android and iOS. PowerDirector, albeit more recent, provides more options than KineMaster or other apps to improve video quality.
With this, users can do everything from adjusting the pace to adding effects like overlays and blend modes. A chroma-key green screen editor, keyframe controls, and support for 4K video were all added in the latest upgrades.
For serious video editing on the fly, PowerDirector is the best option. It's a portable version of Windows, complete with all the features and capabilities of the full version. In the event that you need a high-quality, portable editing app, this is the one to choose.
Pros:

Huge collection of freely available images

Allows for 4K video playback

Customizable User Interface

Cons:

Watermark in free version
4. InShot
Platform:

Android and iOS

Price:

Free, Pro Monthly for $3.99, Pro Annual for $14.99, Pro Lifetime for $34.99

Rating:

4.9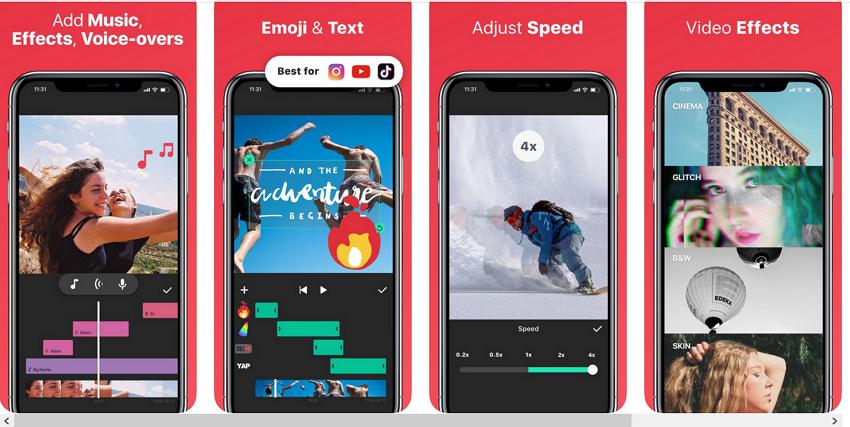 It offers all the fundamental tools, such as the ability to clip and trim videos, combine many videos into one, adjust the playback speed, add narration, and adjust the level of background music. The photo and video effects, the variety of filters, and the simplicity of this program are its strongest points.
Your 10-second Instagram glory might be in your hands with InShot even if you've never used video quality enhancement software before.
Pros:

Photo-editing tool

Library of video and photo filters

Simple and easy

Cons:

Watermark in the free version
5. Splice
Platform:

Android and iOS

Price:

Free, Premium Monthly for $9.99

Rating:

4.7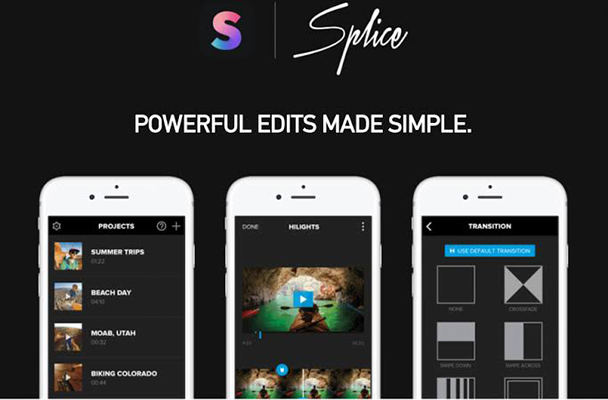 Splice, made by the same people who made the GoPro camera, shares its founders' vision. It has a solid and reliable user interface that can handle most situations. It is a free video enhancer app.
There are transitions, a chroma key, playback speed controls, layers for adding text or images, and more. The app's access to the Artlist and Shutterstock collections, together with its vault of more than 6,000 pieces of royalty-free music, is its crowning feature. It is the app to improve video quality android.
We recommend Splice if you're traveling somewhere with a slow Internet connection or if you just need to make fast adjustments to your films in a pinch. Also, this is why it's the top mobile app for improving video quality.
Pros:

6,000 royalty-free songs in the library

There are no watermarks.

Connectivity with iTunes

Cons:

Limited filters
6. CapCut
Platform:

Android and iOS

Price:

Free

Rating:

4.3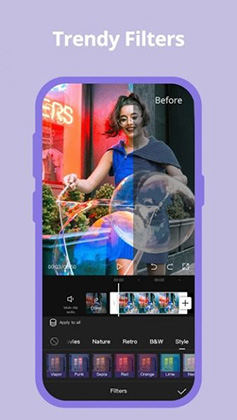 ByteDance, the developers of the popular video-sharing software TikTok, has released yet another niche app called CapCut. It is also the top improve video quality app android.
This time, though, it has been designed with TikTok in mind from the ground up. CapCut, formerly known as Viamaker, has the same fundamental capabilities as its competitors. It allows for easy use of a green screen, video zooming, filters, effects, and a respectable assortment of stickers.
ByteDance developed CapCut to provide TikTokers with a comprehensive mechanism for using the app. The video export modes in CapCut are optimized for TikTok videos because of this. When it comes to making videos for TikTok, this software is invaluable.
Pros:

Easy to use and simple

A lot of stock songs

Best for Tiktok users

Cons:

Contains bugs
7. Pinnacle Studio Pro
Platform:

iOS

Price:

3 pricing edition(s), from $54.95 to $109.95

Rating:

4.7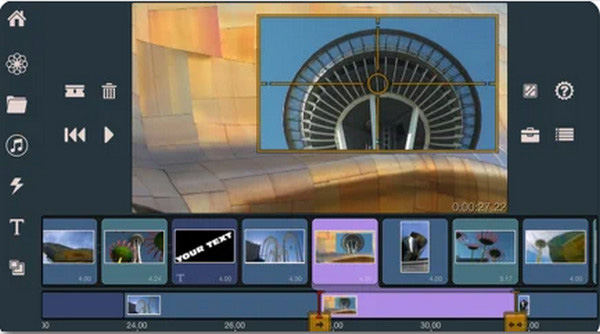 Pinnacle Studio Pro is an innovative video editor for the iPhone that may significantly improve the quality of your videos. Users of Apple's iOS who enjoy making videos, especially movies, will find this software to be a useful tool.
This program makes it simple and well-organized to improve the quality of your videos. The app's timeline is where you'll do all of your video editing, including the addition of transitions, titles, and effects. This software also supports the highest available resolution for the iPhone and iPad, 1080p.
Pros:

It's straightforward to use.

Ability to upload videos straight to major popular platforms.

It works with a high-quality resolution.

Cons:

As opposed to the previous version, the upgraded one has a few bugs.
Part 2. FAQs about Video Quality Enhancer App for Android and iOS
1. What is the best video quality enhancer?
| Apps/Features | Supports 4K | Video Filters | Editing Tools | Rating |
| --- | --- | --- | --- | --- |
| KineMaster | Yes | Multiple filters | Advanced | 4.7 |
| Videoshop | No | Instagram-like filters | Advanced | 4.9 |
| PowerDirector | Yes | Multiple filters | Advanced | 4.6 |
| InShot | No | Multiple filters | Basic | 4.9 |
| Splice | No | Limited filters | Basic | 4.7 |
| CapCut | No | Limited filters | Basic | 4.3 |
| Pinnacle Studio Pro | No | No filters | Limited | 4.7 |
2. How to improve video quality in iPhone Settings?
The settings on your iPhone provide the obvious solution to improving video quality. Here's a simple guide to making your videos seem smoother.
Open your iPhone's settings.
Scroll down and tap the Camera button.
Tap Record Video and choose the highest resolution that your iPhone will let you.
Part 3. Best AI Video Enhancer to Upscale Video Quality with Easy Steps
No doubt, all these mobile video quality enhancer free apps are easy to use and make it much easier for you to edit and enhance the videos in a couple of minutes. However, with the advantages of these apps comes drawbacks as well.
As many of us know that these applications show a lot of pop-up ads that can highly affect the user experience. Moreover, these apps do not have advanced video enhancement features. So there is a best automatic video enhancer you can choose.
We want to introduce HitPaw Video Enhancer which uses an AI-powered enhancer to enhance the video or movie quality easily. Multiple movies can be improved at once using the batch processing feature.
Why we would need video enhance ai, because AI video enhancer will help the people who does not have the professional skills to complete the task. As a well-known AI video upscaler, you can upscale your video in one click with HitPaw Video Enhancer.
Learn how to enhance the video to 4K with HitPaw AI Video Enhancer from this video:
The following are the most common features of HitPaw Video Enhancer:
Best AI video enhancer with automatic video editing using AI technology
Supports batch processing
Raise the maximum video resolution to 8K
Highest quality noise suppression
Now, let's take a look at how to use HitPaw Video Enhancer to enhance your video quality:
Step 1.Get the latest version of HitPaw Video Enhancer from their website, and then install it on your PC.

Step 2.Use the "choose file" button to upload the video you have.

Step 3.Choose an AI model that best fits your requirements.

Step 4.By selecting the "preview effect" option, you may get a quick view of the improved video.

Below is a before and after comparison of video quality enhancement.

Step 5.To download the video, select the "export" button.
Part 4. Conclusion
Apps designed to improve video quality on mobile devices may lack the variety and depth of their desktop versions.
The good news is that they are adequate for the vast majority of your needs. Even if you don't think you can produce the next big Hollywood movie on your phone, you can probably use one of these applications to arrange some old home movies and viral videos.
However, the quality of the original video and the device used to record both have a role in the final output, regardless of the apps used. So, we recommend you use HitPaw Video Enhancer if you want to enhance the quality of your video or any other old movie. It is the best apps that enhance video quality without any difficulty with premium features.