How to Upscale 1080P to 4K Video Fast and Easily
Videos are the most successful digital content because it is easy to recall this media. But in a blurry video, you cannot make out the details. So, what will you remember if you can not even see it clearly? Ultimately, a blurry video will cause a loss of conversion rates and audience.
So, grab on tight to your audience because, in this article, you are about to find ways to take the video quality from better to best with AI-powered tools. Here's a rundown of the best way to upscale 1080P video to 4K with AI video enhancer. 
Part 1. Best Way to Upscale 1080P to 4K with AI Video Upscaler
Some businesses interlace the video to increase the quality, and by doing so, they actually compromise it. An interlaced video has poor quality and cannot display rapid motions without blurring. You can use de-interlacing tools, but they cannot remove all the errors. Wrong focus, incorrect resolution, and problems with video compression are also factors that cause blurring in videos.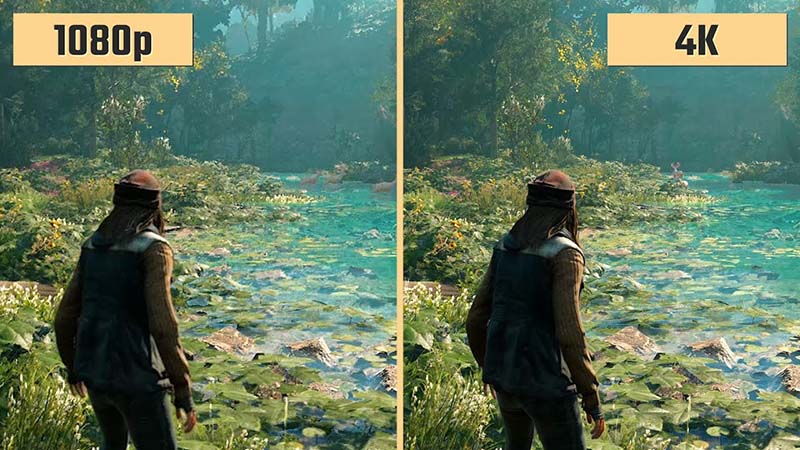 The best way to solve this problem is to use an AI video enhancer. One such user-friendly AI video enhance tool is HitPaw Video Enhancer. It is your best bet and should always be a top priority because it has cutting-edge technology and advanced features to help you enhance any video. You can easily upscale 1080P to 4K with a simple click.
More so, you can batch convert videos, and without even much hassle, you can denoise and enhance the video quality in no time. The endless features of HitPaw AI Video Enhancer can accelerate your business double-fold. So, let's have a look at some of the prominent features of this AI upscaling tool.
Features of HitPaw Video Enhancer
HitPaw Video Enhancer packs the complete package. It can directly upscale the clarity from 1080P to 4K. Here are some of the features HitPaw Video Enhancer provides:
A 1080p to 4K Video upscaler with Beginner-friendly UI so you can understand everything at a glance. Beginner-friendly UI so you can understand everything at a glance. 
The AI video enhancement tool increases the number of pixels, which prevents quality loss with easy steps.
It comes with 4 AI models to help achieve the desired result.
Lightens the underexposed video parts to provide a clear display quality. 
The AI Face Model can spot human faces and improve their features to make them flawless.
It supports previewing before & after effect without watermarks.
Batch processing lets you edit as many videos as you need.
Steps to Enhance 1080P Video to 4K with HitPaw AI Video Enhancer:
Step 1.Download the HitPaw Video Enhancer on your device. Then, get started by opening the software.

Step 2.Choose the video you need to enhance and open it in the software.

Step 3.HitPaw Video Enhancer has 4 AI models. Select the required AI models and preview the video.

Step 4.Preview the enhanced video.

Step 5.Click the export button and download the final footage. 
Learn more about HitPaw Video Enhancer:
Part 2. Upscale 1080P/HD to 4K for Free Using Neural.love Online Service
Online tools are internet-based and accessible from anywhere at any time. They save time and increase efficiency. These services are cost-effective and offer discounts that do not break the bank. Seamless upgrades without interaction at the user end are another charming point of online tools.
There are a number of such 4K video enhancer online free tools, and one such service to upscale 1080P to 4K online is Neural.love. It is an automatic cloud-based service accessible through the web, API, or licensing. Neural.love is a tool for online image, audio, and video enhancement.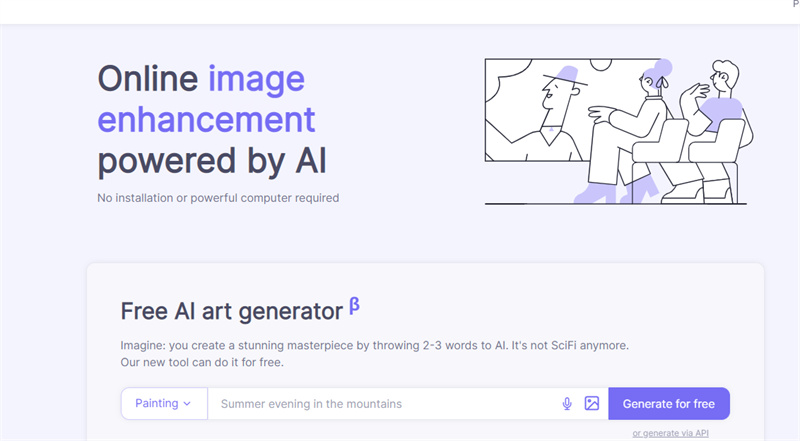 Features of Neural.love Online AI video enhancement
Neural.love uses the power of AI to enhance video resolution. As an online service, it provides a list of features to take video quality to the next level. With Neural.love, there are no hardware requirements. Thus, no load on your device. It also comes with colorization models to color the black-and-white video. On of all, you can easily upscale 1080P to 4K online. 
How to Use Neural.love to upscale video to 4K?
It is an easy-to-use tool for video upscaling. Just follow the steps below:
Step 1.Open the tool and upload the video for editing. You can also drag and drop the chosen video.

Step 2.Enhance your video using AI filters such as motion smoothing, cinematic slow-down, facial restoration, or upscaling to 4K.

Step 3.After choosing the AI filters, tap the preview button to get a glimpse of your video.

Step 4.After previewing the video, save the video if you like the result. The video is saved in MOV format and ProRes 422 Codec.
Pros and Cons of Neural Love
Pros:

You don't need to pay for essential functions.

It's convenient to be able to use online.

Beginner-friendly and responsive UI.

Cons:

Servers can break down while you are working.

No free video preview and high pricing.

The results is not so satisfactory. 
Part 3. Enhance HD Video to 4K on Mobile with PowerDirector App
Often you need to edit videos on the go. In such situations, mobile apps are handy to use. They store the data locally instead of the cloud-based storage of online services. Thus, making data retrieval easy. They further save time by storing users' preferences. 
For instance, PowerDirector is an app that makes video upscaling 1080P to 4K possible on mobile. It is an Editor's Choice award-winning app on the Google play store. With over 100 million downloads, PowerDirector provides its users with all the essential features for quality upscale.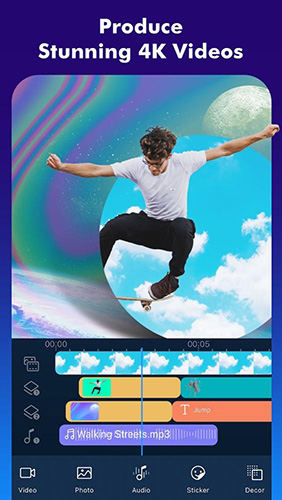 Features of PowerDirector Mobile Video Upscaler
It is a professional-grade app to refine videos. PowerDirector is loaded with many tools and features if you're looking for mobile video upscaling 1080P to 4K. It comes with multi-track editing for layering soundtracks. The built-in filters help you adjust the appearance of any video. 
How to Use PowerDirector to Enhance the Video from SD to HD?
Follow the steps below and edit your videos on the go:
Step 1. Tap on the new project and select the aspect ratio.

Step 2.Upload multiple videos. Select as many videos as you like and clip them together.

Step 3.Edit the video by either using audio, text, or sound effects.

Step 4.Tap the produce button and select the desired resolution.
Pros and Cons of PowerDirector
Pros:

Free installation.

Upscale 1080P to 4K video is available.

Abundant editing features.

Cons:

4K is only available with the premium version.

Too many ads.

Trouble syncing audio with video. 
Part 4. FAQs of 1080P to 4K
1. 1080P VS 4K: What's the difference?
The primary difference of 1080 vs. 4K is given below:
1080P and 4K are for the number of pixels in the screen or video resolution.
1080P has a resolution of 1920x1080 pixels, 4K has a resolution of 3840x2160 pixels. 
1080P has total 2 million+ pixels and 4K has 8 million+ pixels.
4K contains four times the pixels of 1080P resolution.
The marketing name of 1080P is HD, and for 4K, it is UHD.
2. Why should you upscale 1080P to 4K?
Upscaling 1080P to 4K is vital to keep up with modern display screens. The higher the resolution, the sharper and smoother the picture will be. For TV displays such as 4K, upscaling 1080P to 4K is necessary. 
It is also necessary to upscale 1080P to 4K for YouTube, as it will run smoothly and with more bitrates. YouTube will then use VP9 to encode your video. Thus, allowing high-quality streaming at low internet speed.
3.Is it worth upgrading from 1080p to 4K?
It is worthing because 4K is better, it's a new trend and it's on its way to becoming a new standard.Furthermore, 4K TVs usually have a wider color gamut, higher brightness and contrast, HDR support, OLED technology or LED local dimming and similar features that are important for better image quality.
Conclusion
Upscaling 1080P to 4K has becoming the latest trend and for the future development. In this article, we've covered the best upscaling tools for PC, online and mobile use. De-interlacing the video can improve the quality.
But for direct video clarity, professionals prefer using HitPaw Video Enhancer as it is the best 1080P to 4K upscaler software. So, go ahead and choose the best video upscaler for that perfect resolution.