Revolutionize Your Viewing Experience with HD Upscaling | Everything You Need to Know
HD upscaling is a method to upgrade your video's resolution and quality to a clearer imaging. But what exactly is upscale SD to HD, and why is it so crucial in today's digital era? Let's get into the intricacies of this full HD to 4k upscaling technology and its transformative impact on our viewing experience.
Part 1. Why HD Upscaling is Important?
HD upscaling is used for much more than clearing the image and video quality. Today, every home has a HD TV and older videos with low-res quality will not give the experience of viewing. So, to increase the pixel count of the videos and making it watch worthy in HD is what upscaling is. Upscaling's advanced algorithms analyze each pixel and determine how to fill in the gaps, ensuring that the upscaled content retains its original quality. Sony, for instance, has developed technology that reads data on standard DVDs and maximizes video resolution to fit HDMI compatible TVs, enhancing video performance.
The Difference Between Upconversion and Upscaling
It's essential to differentiate between upconversion and upscaling. While upconversion changes the connection type through which the video travels, upscaling modifies the resolution of the displayed video signal. Upconversion might improve the connection quality, but it doesn't enhance the video's resolution or quality like HD to 4k upscalers.
Part 2. Best Choice: How To Do HD Upscaling With an AI Video Enhancer
Among other HDR upscaling tools, HitPaw Video Enhancer is the best choice to upscale and enhance video quality. It's not just about increasing resolution; this software offers a comprehensive suite of features to make videos look their absolute best.
Features
AI-Powered Upscaling: Transform low-res videos up to stunning 4K/8K quality.
Noise Reduction: Get rid of unwanted blur and background noise.
AI Repair: Specially designed algorithms for enhancing videos of anime and human faces.
Colorization: Breathe life into black and white movies, making them vibrant and colorful.
All-inclusive Free Version: The free version of HitPaw include all the features that comes in paid version.
No Watermarks: If you're worried about getting a watermark in free version, don't be. HitPaw gives you your final product without any watermarks.
Steps to Use HitPaw Video Enhancer
Step 1. Start With Downloading and Installing The Software
First step is to get your tool ready. Go to their website and download the software. Then, install it.

Step 2. Next Upload Your Video
In this step, you need to upload your video that you want to upscale. You can simply choose the file or do drap and drop. Moreover, you can upload multiple format videos like MP4 and MOV, and even AVI.

Step 3. Choose Your AI Model
Choose from seven AI models based on your video's requirements. Whether it's denoising, animation enhancement, or face detail retouching, HitPaw has you covered.

Step 4. Check and Save
After making your selections, preview the enhanced video. If satisfied, export the upscaled content and enjoy a transformed viewing experience.
For those looking to do HDR upscaling multiple videos simultaneously, HitPaw offers a batch processing feature, ensuring efficiency and consistency across all enhanced content.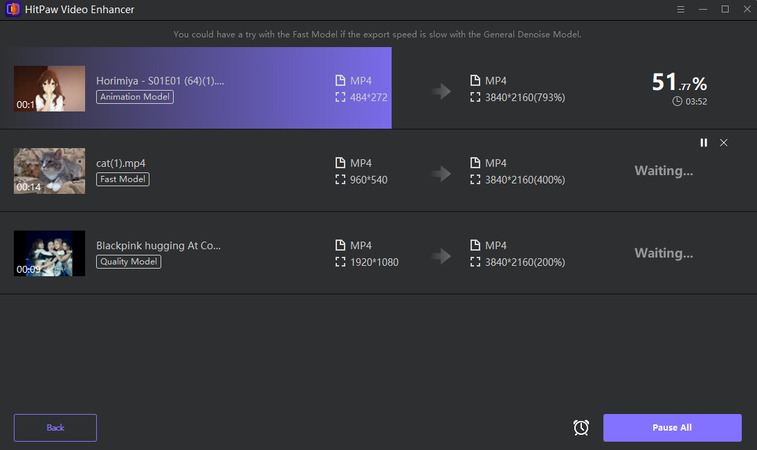 Part 3. How To Upscale HD to 4K Online?
While the desktop version of HitPaw Video Enhancer offers a comprehensive suite of features, there's also an online variant for those who prefer a quick and hassle-free experience of upscale HD to 4k. The HitPaw Online Video Enhancer is a streamlined solution designed to upscale and enhance videos directly from your browser.
Features of HitPaw Online Video Enhancer
AI-Powered Enhancement: With just one click, you can unblur and upscale your videos using advanced AI algorithms. This online tool is perfect for enhancing low-resolution videos and can upscale content to resolutions of 1080P and 4K effortlessly.
Four AI Models: Depending on the type of video you have, you can choose from four distinct AI models:
General Denoise Model: Ideal for real-world scenes like landscapes, buildings, animals, and more
Animation Model: Tailored for old or blurry animation videos
Face Model: Designed to clarify portrait videos, ensuring faces are clear and detailed
Colorize Model: Perfect for adding vibrant colors to black and white or grayscale videos
Simple Steps to Use HitPaw Online Video Enhancer for HDR Upscaling
Upload A Video: Navigate to the online tool and either click or drag your video to upload it.

Choose an AI Model: Depending on your video's content, select one of the four AI models.

Check Upscaled Video: After the AI processes your video, you can download it and also receive a link in your email to check the enhanced content.
Part 4. How To Upscale SD to HD on iOS/Android?
Are you interested in full HD upscaling but does not want to do it on PC or Laptop? Here's an option for you. There are many apps now for android and iOS which can be used for 4k ultra HD upscaling:
1. InShot (iOS Solution)
InShot is a powerful upscale HD to 4k video and photo editor packed with professional features. It allows users to add music, transition effects, text, emojis, and filters to their videos without leaving any watermarks. The app is designed to cater to both beginners and professionals, ensuring that anyone can create stunning videos with ease.
Features
Video Editing: Trim, cut, merge, and adjust the speed of videos.
Filters and Effects: Apply cinematic filters and unique effects like glitch and noise.
Video Transitions: Combine clips with smooth transitions.
Picture-in-Picture: Add video and photo layers on the main video.
Keyframe: Add motion to layers using the keyframe tool.
Pros
User-friendly interface suitable for both beginners and professionals.
Extensive library of music, effects, and filters.
No watermark on the final output.
Cons
Some features require a premium subscription.
Might be overwhelming for first-time users due to the plethora of options.
2. Magisto (Android Solution)
Magisto, powered by Vimeo, is an AI-driven video editor that allows users to create captivating videos in minutes. With over 120 million users, it's a popular choice for those looking to turn their photos and clips into share-worthy content.
Features
AI-Driven Editor: Magisto's smart editor edits your media intelligently, adding graphics, effects, filters, and music.
Customization: Add text, choose fonts, change orientation, and use different colors.
Stickers: Enhance videos with hundreds of colorful stickers.
Pros
Quick and easy upscale video to HD
AI technology ensures the best parts of footage are highlighted.
Regular updates with new features and improvements.
High-quality video output.
Cons
Limited manual editing capabilities.
Some features are locked behind a paywall.
Mixed reviews regarding the app's subscription model.
Part 5. FAQs of HD Upscaling
Q1. Does HD upscaling really work?
A1. Yes, HD upscaling genuinely works. The process involves converting a lower resolution video or image to a higher one, like turning a 1080p content into 4K. While upscaling doesn't add details that weren't present in the original, it makes the content fit screens with higher resolution, making images and videos appear clearer and less pixelated on bigger screens or those with higher resolution.
Q2. What is the benefit of upscaling?
A2. Upscaling offers multiple benefits. Primarily, it ensures that images and videos look sharper and more detailed on high-resolution displays, preventing them from appearing blurry or pixelated. Upscaling also allows creators to repurpose older, low-resolution content and present it in contemporary settings that demand higher resolutions, such as modern-day televisions or monitors. Moreover, upscaling saves time and resources as you don't need to reshoot or recreate content in a higher resolution.
Q3. What software is used to upscale SD to HD?
A3. One of the top recommendations for this purpose is HitPaw Video Enhancer. Here's why:

●Even for those unfamiliar with video editing, HitPaw Video Enhancer offers an easy-to-navigate platform.
●The software uses sophisticated techniques to upscale videos, ensuring that the final product retains quality and clarity.
●HitPaw Video Enhancer provides a range of other video enhancement tools, making it a comprehensive solution for all video enhancement needs.
●With optimized processing capabilities, users can upscale videos in relatively shorter times without compromising on the quality.
Bottom Line
HD upscaling has now become a need in every household and commercial places. Without it, your video viewing experience will not be enhanced no matter what. And with tools like HitPaw Video Enhancer at your disposal, achieving upscale full HD to 4k has never been easier or more efficient.