5 Best Kanye AI Voice Changers to Get Kanye Voice 2023
Are you interested in playing pranks on your friends with a voice note or audio or creating music that mimics Kanye West's distinctive voice? Or want to make In recent years, AI technology has made noteworthy advancements in several fields, including voice manipulation. One attractive application is the capability to change one's voice to copy that of another person. Kanye West, a famous artist & cultural icon, has inspired many, leading to the development of AI voice changers precisely designed to produce Kanye's exclusive voice. In this article, we will explore the top 6 AI voice changer kanye & how you can use them to make your own Kanye West AI voice. The versatility of Kanye West AI voice generator opens up anempire of unlimited opportunities.
Who is Kanye?
Kanye West is a well-known and brilliant American songwriter,producer, and rapper. After winning the 21 Grammy Awards, Kanya West has certainly become one of the most famous artists. With over one billion views on YouTube & 18+ million Instagram followers, Kanye West is one of the most-watched personalities worldwide.
Kanye West's voice is a vital element that describes his music and artistic expression. It possesses a distinctive tone, cadence, & flow that have captivated listeners worldwide. His vocal style ranges from soulful & melodic to aggressive & rapid-fire, showcasing his versatility as an artist. Many fans as well as aspiring musicians are mesmerized by Kanye West's voice and aspire to emulate his exclusive style.
5 Useful Kanye West Voice Generators You Should Try
Kanye West voice changer must be authentic and offer a realistic voice mask of Kanye's trademark style. Introducing 5 Kanye AI voice changers—innovative software that empowers you to manipulate and craft music in the unique style of this extraordinary artist. Get ready to modify & create with the iconic sound of Kanye's voice.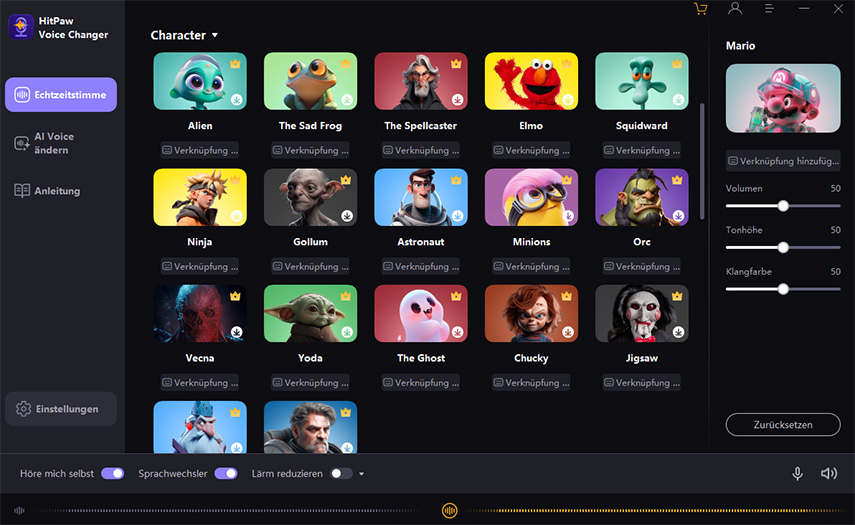 When opt for voice cloning, you may have noticed that doing that may help you in replicating the voice desired in a suitable quality, but it needs more excellence. The sound you explore may have some deviation and distortion, which will not serve your purpose.
However, the HitPaw AI voice changer Kanye West has made producing realistic voices naturally. Besides highly commendable voice filters, HitPaw kanye voice changer offers diverse audio customization options, maintaining excellent sound quality.
Price: 15.95/Month
Pros
Explore realistic voices.
Get ready to imitate popular celebrities, characters, or iconic voices.
Turn the voice into natural and realistic voices in real-time.
Integrated with several online streaming platforms like Streamlabs OBS
Offers the instinctive user interface
Cons
New product to the market.
Here're easy steps that how you can use HitPaw Voice Changer.
1.Go to "Settings", and click the drop-down button to select the input and output you are using.

2.Choose the effects you prefer and click to apply it.

3.Turn on the "Voice Changer", "Hear myself" and try to speak to your microphone to listen how your voice sound like. If the surrounding environment is noisy, you can manually activate noise reduction. Please don't set the noise reduction level too high, as it may filter out some sounds.

4.After selecting the desired sound effects and previewing them, you can adjust the volume according to your preferences.

5.Change Voice on Discord:Open "Discord", Click your "User settings" and go to "Voice & Video, Then select "HitPaw Vitrual Audio Input" from the drop-down list of input device.

2. FakeYou

Another popular option for producing an AI Kanye West voice is FakeYou. This platform uses advanced text to speech technology to make realistic vocalizations that can be used in a diversity of applications. FakeYou is particularly impressive, featuring a wide range of intonations & inflections that capture the rapper's exclusive style.

Price: $15/month

Pros

Available on any web-enabled device
Around 2500+ voice filters
Realistic voice filters

Cons

Only alters text to speech
Not made for recording or live morphing

3. UberDuck.ai

Uberduck.ai is a leading provider of AI-generated voices for a diversity of applications, including YouTube videos, podcasts, and even social media content. Their Kanye West voice generator uses machine learning algorithms to scrutinize the rapper's vocal patterns & replicate them with dramatic accuracy. With just a few clicks, you can produce an audio file of Kanye West's voice that can be used in your next project.

Price: $96/year

Pros

Free 4,000+ voice filters
Offer an extensive free trial
Support five different languages

Cons

Costly monthly subscription
Not perfect for beginners

4. Speechelo

Speechelo is AI-powered text-to-speech software that offers a human-like Kanye West voice for voiceovers. With over 30 voices to select from and support for numerous languages, Speechelo Kanye West AI voice generator gives expressive voices with three dissimilar tones: joyful, normal, & serious. This software uses artificial intelligence to make realistic voices and lets you to adjust the speed and pitch of the voice to suit your requirements.

Price: $47/One-time Payment

Pros

Cloud-based app
Text-to-speech works flawlessly
Around 20 language options

Cons

A bit costly
Not for beginners

5. Sonantic

Sonantic increased to fame in early 2021 and became even more famed when movies like Top Gun: Maverick started using it. Yes, that is right; Top Gun producers used it to create the voice of Val Kilmer's character in the 2022 super-hit movie.

The Kanye West AI voice generator is possessed by Spotify, and that's why it offers exceptional quality on both PC & Mac. But you will have to be a premium user to access preferences, for example the Kanye West text-to-speech generator. So, if you can get past that, then there are hardly ever any options better than this one.

Price: Custom Pricing

Pros

It can be used as a voice changer for YouTube
Ability to copy any character/celebrity
Generate custom voice filters

Cons

It is a bit costly
Only for advanced users
FAQs of Kanye AI Voice
Q1. How do I change my voice to Kanye AI?
A1. You can change voice to Kanya AI with different voice changers available in the market.
Q2. What is the AI voice like Kanye?
A2. The AI voice generator Kanye West software leverages artificial intelligence to precisely replicate and change Kanye's distinctive voice. With the cutting-edge tool, users can unleash their creativity & produce music infused with Kanye's exclusive vocal style
Final Thought
The trend of turning celebrity text into speech is interesting, but getting the best celebrity voice text-to-speech creator isn't simple. This guide aims to make your job easier while choosing a reliable AI voice text-to-speech celebrity by stating the top-notch tools across the platforms.
Whether you are looking for an online tool, desktop app, or mobile app, we have all the features covered in this guide. On top of that, we have also recommended the HitPaw Kanye AI voice changer as the most excellent tool to make your voice sound realistic & original by exploring the thrilling voice effects.