5 Useful Morgan Freeman Voice Generators for PC/Mac & Online
If you are a big fan of Morgan Freeman and want to add his voice to your videos, then it's time to use a powerful Morgan Freeman voice generator. Recently, many online tools have been launched which allow users to add voiceovers of different characters, actors, and more. Apart from that, you can also use different Morgan Freeman voice over generators to get his voice. Continue reading this article, as here we have mentioned some of the top Morgan Freeman AI voice generators.
Part 1: Best Morgan Freeman Voice Generators for PC and Mac
When it comes to creating Morgan Freeman's voice, there are lots of tools that you can try. But now all tools will give you reliable results. So, what are the best Morgan Freeman voice generators available online? If you are looking for AI voice tools, here is a list of two top apps that you can use on your PC. Let's discuss these apps and how they work.
1. VoxMaker
The first Morgan Freeman voice over generator in our list is VoxMaker. It is a highly recommended tool for creating Morgan's voice. It offers a wide range of voices of different movie stars, including Morgan Freeman. You can also use this app to make a clone of your voice. Moreover, it uses the Text-to-Speech feature, which is available in different languages and offers multiple voices. The interface of this tool is straightforward and easy to use.
Price:
1-Month Plan: $8.95 per month
1-Quarter Plan: $12.95
1-Year Plan: $19.95
Lifetime Plan: $39.95
Rating:
4.9 out of 5
Pros
It offers 3200+ realistic voices, including Morgan Freeman, Johnny Depp, and more.
You can get 500+ sound effects and memes in premium packages .
It is available in different languages, including Japanese, Spanish, and more.
This tool has access to different accents, including British and Aussie accents.
It is a reliable Morgan Freeman sound generator and has an intuitive interface.
Users can try other features such as trimming, editing, and recording to record the Morgan Freeman voice.
Cons
Should have provided more features in terms of voiceovers.
2. AV Voice Changer Diamond
The second Morgan Freeman voice generator free app in our list is AV Voice Changer Diamond. It is the best real-time voice changer app for PC. With this app, you can do different things, such as changing your voice into Morgan, trimming the voice, creating a clone, and more. With this tool, you can make your sound deeper and younger as well. It offers multiple voice preferences and voice effects, which you choose from. Those who are looking for Morgan Freeman Text-to-Speech voice generator should definitely try it.
Price:
$99.95
Rating:
3.5 out of 5
Pros
You can try different filters and effects, including the morphing
It provides add-ons that you can use to add the voices
A real-time voice-changing option is available
Users can also add Morgan Freeman's voice by recording it
Voice Mimicker and Parody Mixer features are also present
A free trial is also available
Cons
Lifetime payment is required to use it
Customer Support is not responsive
Part 2: Recommended Online Morgan Freeman Text to Speech
If you are searching for Morgan Freeman Voice generator online, here are the top 3 tools that you can use on your browsers. These applications have a Text-to-Speech feature which means you just have to add the text, and they will generate the results for you. Let's discuss these programs one by one and see how they can help to generate Morgan Freeman AI voice.
1. Uberduck - Morgan Freeman Voice AI
The first Morgan Freeman Voice simulator on our list is Uberduck. It is an easy-to-use Morgan Freeman Voice AI tool that can work on all your browsers. It creates high-quality voices which can closely resemble Morgan Freeman's. Furthermore, it has authentic voiceovers that can create engaging content for your audience. To generate Morgan Freeman Voice, all you have to do is choose a voice, select the format, and enter the text. Soon it will create the Morgan Freeman voice for you.
Price:
Free: $0
Creator: $9.99 per month
Enterprise: $500 per month
Rating:
3.1 out of 5
Pros
It has a wide range of library which have 5000 voices and different sound effects
It is a good choice for beginners who are planning to generate Morgan voice
Users can get Al-generated raps of different artists, including Cardi B, Justin, and more
It has the reference audio feature and provides API documentation
You can also build apps using the APIs
It is a safe Morgan Freeman Text to voice generator
Cons
It doesn't offer uniqueness and generates the same result
It lacks emotions, which means you will get a robotic voice
2. Fakeyou -Morgan Freeman Text to Speech
Fakeyou is another Text to Speech Morgan Freeman voice generator with lots of voiceover options. It is a user-friendly application and can generate the AI voices of different celebrities. You can also mimic Morgan, Obama, and Trump's voices. It has a vast library with 2000+ voice cloning options.
Price:
Plus: $7 per month
Pro: $15 per month
Elite: $25 per month
Rating:
3.1 out of 5
Pros
It has a user-friendly interface which is perfect for beginners
Copy and paste any text and convert it into voice
An audio transformation option is also available
A perfect tool for generating the voice of different celebrities, including Morgan Freeman
It can also be used for commercial purposes
Cons
Doesn't translate face-to-face sounds
Won't always provide accurate results
3. Fiverr - Morgan Freeman Voice Generator Online Free
The last Morgan Freeman Voice generator app on our list is Fiverr. It is an online app where you can hire professional voiceovers and ask them to create a Morgan voice for you. On this platform, you can find multiple freelancers offering voiceover services in different languages, including English, German, Spanish, and more. To use this tool, go to Fiverr's website, type Morgan Freeman Voiceover, and it will show the list of freelancers offering this service. You can then select the packages according to your requirements.
Price:
Prices depend on the packages offered by sellers
Rating:
3.8
Pros
It is a safe platform for both sellers and buyers who want to give and purchase Morgan Freeman voiceover services
Fiverr is a Morgan Freeman voice generator online free tool
It is easier to find freelancers who are giving Morgan voiceover services
The app is available for almost all the operating systems
It is cheaper as compared to other Morgan Freeman sound/speech generators
Cons
You have to pay an extra amount each time you buy any service on Fiverr
Part 3: Bonus Tip: HitPaw Voice Changer - Best Voice Changer for PC
Apart from AI voice generator Morgan Freeman, with cutting-edge voice-learning technology, HitPaw Voice Changer stands out as an exceptional choice for those seeking a top-notch voice changer for PC. It provides an array of voice effects and filters that can be seamlessly applied to the user's voice. The interface is designed to be user-friendly, allowing effortless navigation through various settings and effects. Furthermore, it enables real-time voice modulation during live conversations, rendering it invaluable for online gaming, voice chatting, and voice-over recordings.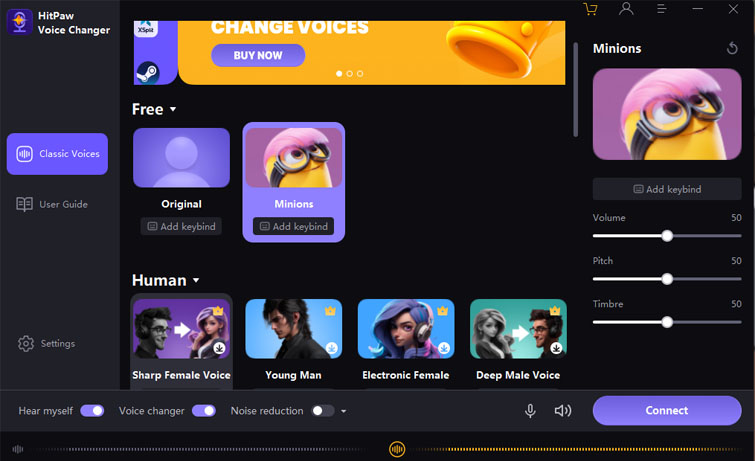 Features:
Change your voice with various voice-changing effect in real-time
Integrate perfectly with all popular games and programs
Perfect voice modifier for gameplay, content creator, Vtuber, or live streamer
Remove noise and echo while changing voices
Change voice effortlessly with high quality
Part 4: FAQs of Morgan Freeman Voice Generator
Q1. What is the AI Voice Changer to Morgan Freeman?
A1. If you are searching for the best AI voice changer to create Morgan Freeman voice, above we have mentioned some of the top tools that you can try. All these software are definitely worth trying.
Q2. How do you Turn Text into Morgan Freeman Voice?
A2. To turn the text into Morgan Freeman voice, type the text in the prompt box and choose the voice. The app will generate the results on the basis of your sentences.
Part 4: The Bottom Line
In this article, we have discussed Morgan Freeman and why people like him. Along with that, we have mentioned some of the top Morgan Freeman speech generators that you can use for your PC and online as well. Do let us know as well which is your favorite Morgan Freeman narrator app.