Learn About UberDuck AI And Its Alternative
Voice synthesis and text-to-speech technology have made significant strides in recent years, pushing the boundaries of what AI can achieve. UberDuck AI stands out among its counterparts, offering an array of cutting-edge features that cater to various creative and practical needs. From recreating famous voices to generating melodies in a rapper's voice, UberDuck AI opens up new realms of possibilities for artists, content creators, and enthusiasts alike.
Throughout this article, we will delve into the fascinating capabilities of UberDuck AI, providing a comprehensive understanding of its features and their potential applications. Additionally, we will explore alternative options to UberDuck AI, ensuring that you have a well-rounded view of the available choices in the market.
So, fasten your seatbelt and prepare to embark on an exploration of UberDuck AI and its alternatives. Get ready to discover how this remarkable AI technology is revolutionizing voice synthesis and text-to-speech conversion, empowering individuals to unleash their creativity in unprecedented ways. Let's dive into the world of UberDuck AI and uncover the possibilities that await.
Part 1: What is UberDuck AI?
UberDuck AI is an advanced artificial intelligence system that specializes in voice synthesis and text-to-speech conversion. By leveraging state-of-the-art deep learning algorithms, UberDuck AI is able to recreate famous voices, mimic rapper's flow, and even generate melodies in a rapper's voice. This groundbreaking technology has gained significant attention and popularity in recent years due to its unique capabilities.
Part 2: Features & Pricing of UberDuck AI
UberDuck AI offers a range of innovative features that make it a standout in the field of voice synthesis and text-to-speech technology. Let's dive deeper into each of these features:
1.Recreate Famous Voices
One of the most captivating features of UberDuck AI is its ability to recreate the voices of well-known personalities. By providing the system with a few voice samples, it can generate a voice that closely resembles the original speaker. Imagine having the opportunity to hear your favorite historical figure, actor, or musician speak in a new context or even engage in a conversation with them.
2. Do Fake Duets
UberDuck AI enables users to create captivating duets between different voices, whether real or fictional. This feature opens up endless possibilities for creative collaborations and unique audio experiences. You can simulate conversations between historical figures, have two celebrities sing a duet, or create comedic interactions between fictional characters. The ability to seamlessly merge voices creates a dynamic and engaging audio environment.
3.Mimic Famous Voices
With UberDuck AI, you can experience the thrill of hearing your own words spoken in the voice of a famous personality. By leveraging advanced voice synthesis algorithms, UberDuck AI can accurately mimic the voices of various celebrities, allowing you to immerse yourself in unique and entertaining experiences. Whether you want to impersonate your favorite actor or add a touch of celebrity to your content, this feature offers a remarkable level of realism.
4. Write New Lyrics
UberDuck AI goes beyond voice synthesis and offers assistance in the creative process of writing lyrics. By analyzing existing lyrics and generating suggestions, it becomes a valuable tool for songwriters and lyricists. Whether you're looking for fresh ideas, wordplay inspiration, or assistance in refining your lyrics, UberDuck AI's lyric-writing feature provides a creative boost to musicians and aspiring songwriters.
5. Upload Your Own Voice
For those seeking a more personalized touch, UberDuck AI allows you to upload your own voice and apply various modifications. This feature is particularly useful for content creators, podcasters, and voiceover artists who want to enhance or alter their natural voice. You can experiment with different vocal effects, adjust tones, or even create a unique character voice. The ability to customize and refine your own voice adds a distinct touch to your creative projects.
6. Mimic Rapper's Flow
Rap enthusiasts will appreciate UberDuck AI's ability to mimic the flow and style of famous rappers. By analyzing the nuances, cadence, and rhythm of a specific rapper, UberDuck AI generates a voice that closely emulates their unique style. This feature allows aspiring rappers or music producers to experiment with different rap flows and explore new creative avenues.
7.Melodies in Rapper's Voice
In addition to voice synthesis, UberDuck AI can generate melodies in a rapper's voice. This groundbreaking feature combines text-to-speech technology with music production, opening up new possibilities for music composition and experimentation. By inputting lyrics or text, UberDuck AI can transform them into a rap melody, allowing musicians and artists to explore fresh ways of creating music.
UberDuck.AI Pricing and Plans
UberDuck.AI offers different plans to cater to various user needs. Let's explore the available plans and their respective features:
Free Plan
The Free plan is a great starting point for those who want to explore UberDuck.AI's capabilities without any financial commitment. Here's what you can expect from the Free plan:
Access to 4,000+ voices: Enjoy a diverse range of voices to bring your projects to life.
10 text-to-image renders: Convert your text into visually appealing images for added impact.
5 saved audio clips: Save and download up to 5 audio clips for your personal use.
Creator Plan - $10/month
If you require more advanced features and unlimited access, the Creator plan may be the right fit for you. Here are the features included in the Creator plan:
Unlimited text-to-image renders: Transform your text into striking visuals without any limitations.
Unlimited saved audio clips: Save and download as many audio clips as you need for your projects.
Commercial use of UberDuck Studio voices: Unlock the ability to utilize UberDuck Studio voices for commercial purposes, giving you the flexibility to create professional content.
When it comes to pricing, UberDuck AI offers various subscription plans to suit different user needs. The pricing details can be found on their official website.
Part 3: Top 3 UberDuck AI Alternatives
While UberDuck AI is a powerful tool, it's always beneficial to explore alternative options. Here are three notable alternatives to UberDuck AI:
Voicemaker.in is an AI-powered text-to-speech platform that offers a wide range of voices and languages. It provides an intuitive interface and flexible pricing plans, making it an attractive alternative to UberDuck AI.
FakeYou is a text-to-speech tool that focuses on providing natural-sounding voices for various applications. It offers a user-friendly interface and a diverse selection of voice options, making it a popular choice among content creators and podcasters.
Melobytes is an online text-to-speech application that offers a unique feature - generating melodies based on the provided text. It provides a simple and straightforward user experience. while delivering high-quality synthesized voices. Melobytes is an excellent alternative for those looking to explore the creative possibilities of text-to-speech technology.
Each of these alternatives has its own advantages and disadvantages, so it's recommended to explore their features, pricing, and user reviews to determine which one aligns best with your specific requirements.
Part 4. How To Make Your Text-To-Speech More Funny?
With advanced voice-learning tech, HitPaw Voice Changer can add more fun to your AI generated voices. It offers a range of voice effects and filters that can be applied to the user's voice. With user-friendly interface, you can easily navigate through different settings and effects. It supports real-time voice modulation during live conversations, making them useful for online gaming, voice chatting, or voice-over recordings.
A wide range of voice effects and filters include , echo, reverb, robot, alien, etc.
Modify your voice in real-time for online gaming, voice calling, or streaming platforms
Customize and fine-tune voice parameters such as pitch, formant, resonance
Eliminate background noise and enhance the clarity of the modified voice
An intuitive and user-friendly interface that makes it easy to change voices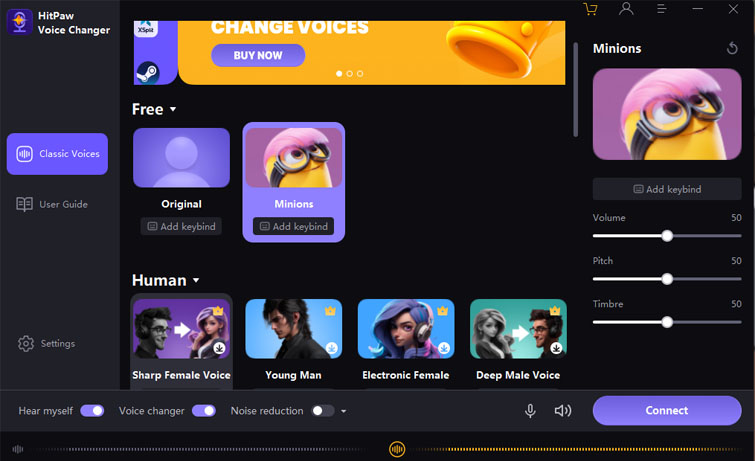 Part 5: FAQs of UberDuck AI
1. Is UberDuck copyright-free?
No, UberDuck AI does not grant copyright-free usage. It's important to understand and respect copyright laws when using the voices or generated content produced by UberDuck AI.
2. Does UberDuck have a limit?
UberDuck AI does have certain limitations depending on the specific subscription plan. These limitations may include factors such as usage restrictions, maximum duration per synthesis, or number of voices available. It's advisable to review the details of each subscription plan to understand any limitations that may apply.
3. How do I use a TTS reader app?
To use a TTS (Text-to-Speech) reader app, you need to install the app on your device. Once installed, open the app and input the desired text. The app will then utilize its text-to-speech capabilities to convert the text into audible speech. Different TTS reader apps may have variations in their user interfaces and features, so it's recommended to refer to the specific app's documentation or user guide for detailed instructions.
Conclusion
In conclusion, UberDuck AI offers an array of impressive features that revolutionize voice synthesis and text-to-speech technology. From recreating famous voices to generating melodies in a rapper's voice, UberDuck AI pushes the boundaries of what is possible with artificial intelligence. Also, HitPaw Voice Changer can add more fun to your Uberduck AI generated voices! Why not give it a try today!